As the 27th annual Specialty Coffee Association of America Event winds down today in Seattle, it is safe to say the wheels of commerce have been sufficiently greased.
Of course, sellers of all kinds choose the SCAA Expo to debut their latest and greatest products, taking advantage of the northward of 10,000 attendees filling the two massive showrooms and connecting skybridge inside the Washington State Convention Center. Hundreds of polished products and pitches make for a somewhat dizzying scene, and here we bring you just a smattering of the most-buzzed-about new products from this year's event:
Poursteady
Created by a Brooklyn-based team of product designers and engineers, the Poursteady 1.0 automatic pourover coffee system made its debut as a commercially available product. We reported on the Poursteady in November, when the design team made the decision to turn a pet project in robotics engineering into a viable commercial product. The five-cup station allows for the saving of different pour speeds and drip cycles for each of the cups that can be replicated with the push of a button. "This came from us loving coffee and seeing long lines in the coffee shop for pourovers, and then  trying to figure out how we can create a tool that addresses that problem," Stephan Von Meuhlen, one of the Poursteady's designers, told Daily Coffee News. "The goal for us is to help the barista and also help the coffee shop move more coffee at a really consistent level of quality."
Otfes Spiral Drip
While we're on the subject of automated pourovers, the SCAA show also saw the U.S. debut of the sprial drip commercial pourover coffee maker from Taiwan-based Otfes. The single-cup system similarly allows for setting and storing of drip cycles, with an adjustable speed for the spiral flow pattern. Three brew recipes can be stored at once.
Tastify
As if by magic, the Sustainable Harvest booth transformed overnight to become the Tastify booth on Saturday, following the official launch party for the green coffee importer's new cupping app. Sustainable Harvest's Oscar Magro (pictured above on the left) led the development of the web-based Tastify app, which the company says was designed to unify the language of flavor by generating visual representations of logged cupping results. We have more on Tastify here.
CM-100 Color Analyzer
Taiwan-based Lighttells debuted its CM-100 Coffee Roast Degree Analyzer, a push-button color meter for measuring roast levels of whole bean and ground that uses a scale based on SCAA cupping protocols. The CM-100 adds to the very short list of players in the roast-color analysis game.
Slayer Single Group
Slayer has been cranking out its single-group models since last summer, but the product was a main focus for the Seattle-based espresso machine manufacturer at this year's show. "I think they've been consuming half our production schedule, if not more," Slayer marketing director Chris Elliott told us. "It's designed to be a commercial machine. Everything the two- and three-group machines do, this machine can do. But we designed this to be a smaller package, and it turns out a lot of these are going into homes."
Linea Classic Mini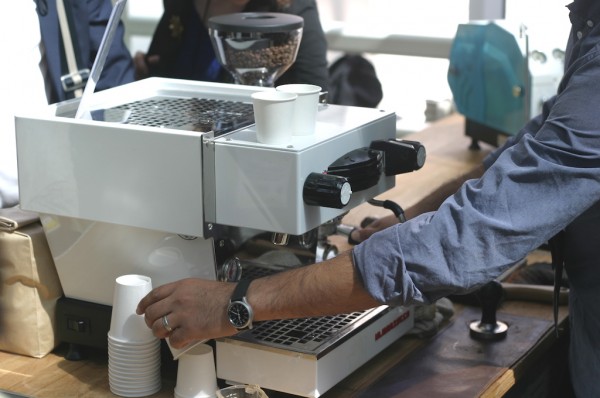 Speaking of single-group espresso machines with commercial platforms that are finding their way into high-end kitchens, here's the recently introduced La Marzocco Linea Mini. The Mini is a much smaller version of the workhorse Linea Classic commercial machine, and it is one of two machines under the La Marzocco Home brand umbrella. Here is more on the Mini.
Cropster Roast Ranger 2.0
Roast management and analysis software provider Cropster has completely revamped its popular Roast Ranger system, adding loads of new features to version 2.0, which debuted at the show. The new version includes immediate checking of predefined Roaster Intelligence goals, additional consistency monitoring points, and an improved interface for editing and assigning roast goals. "This overhaul comes from feedback from our key accounts — people who came to us and told us what they wanted in terms of consistency in meeting their goals," Cropster's Devin Connolly told us. "Roast Ranger 2.0 is us coming to them and saying, 'We were listening to you.' "
Ditting Cold Brew Gear
Longtime commercial grinder manufacturer Ditting used the show to unveil a retrofitting for its standard grinders that is designed to accommodate a much coarser grind setting for cold brewing applications. The modified gear extends the high end of the particle size from 880 to 1180 microns, representing a 33 percent increase.
Ikawa Sample Roaster
With a Kickstarter forthcoming, a London-based team presented the U.S. debut of the Ikawa roaster, pitched as either a home roasting unit or as a sample roaster for commercial applications. The Ikawa was designed for hands-free roasting, and is connected to an app for logging and storing roasts.
Acaia Lunar
The team at Acaia volunteered to make a sweet, syrupy espresso mess for our cameras all over the company's recently introduced scale, the Lunar. Acaia made a splash at the SCAA show last year with its app-connected Pearl scale, and the Lunar is a smaller version designed to withstand rigorous abuse atop espresso machine drip trays. Acaia is working with La Marzocco Home for pre-orders. Read more on the Lunar here.
Roast Magazine
Last but not least — in our hearts, anyway — is the May/June issue of Roast Magazine. Pick up a complimentary copy at booth #9046 while there is still time.
Nick Brown
Nick Brown is the editor of Daily Coffee News by Roast Magazine.