Big changes to Portland, Ore.'s vertically integrated Nossa Familia Coffee are coming this summer, as the B-Corp-certified company's lease is up in the building that houses its production facility, and the building itself is slated for redevelopment.
This is by no means a setback for the growing enterprise, however, for as it hunts for a suitable new industrial space for its roastery, the intention is to prepare for a potential tripling in production capacity. Four new cafes are also slated for opening soon, including Nossa's first outside the city of Portland.
The soonest opening is anticipated for early next month in Downtown Los Angeles. In a 200-square-foot space in the lobby of the CalEdison Building at 601 W 5th Street, a brand new, gleaming white La Marzocco Strada has been installed along with Mahlkonig grinders with a Fetco batch brewer soon to be unboxed. The shop will offer manually brewed options as well as light grab-and-go pastries.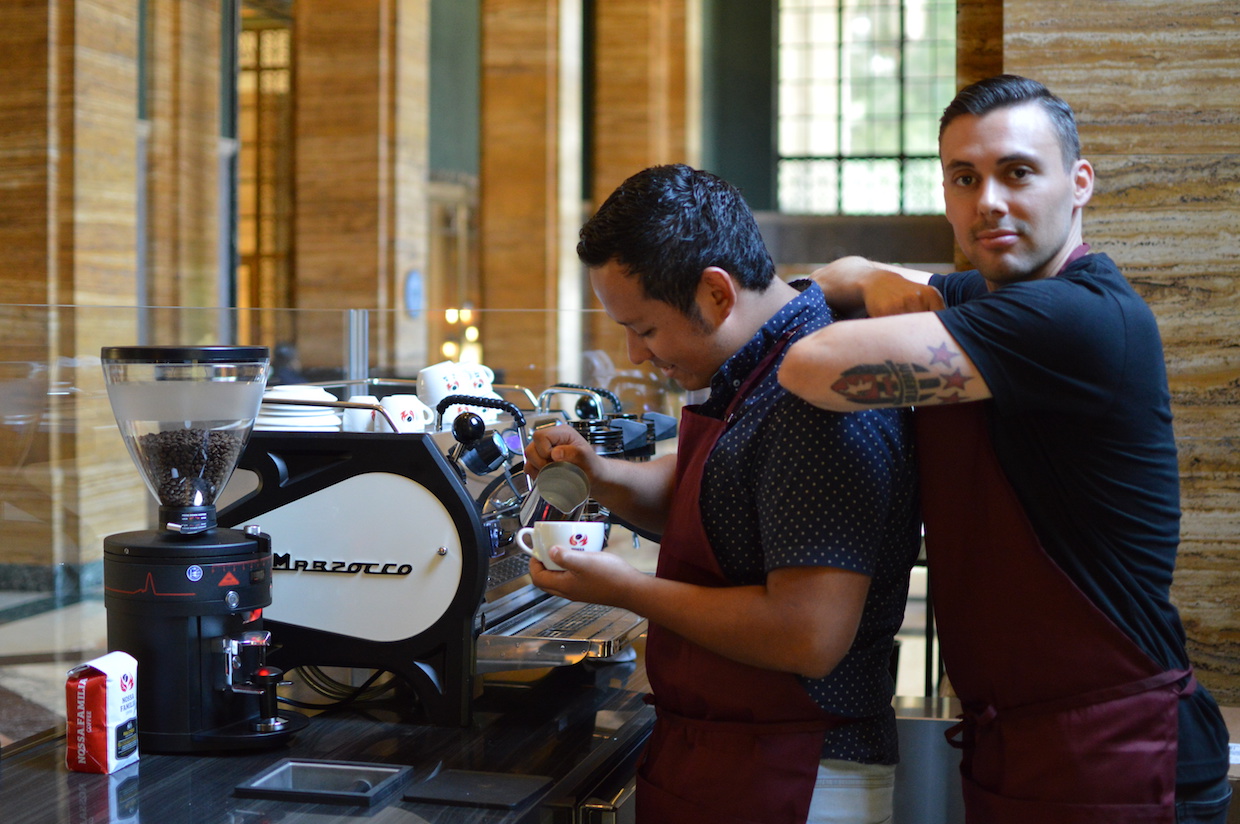 Meanwhile in Portland, the company's smaller Pearl District roastery-side espresso bar will be relocating to a smaller space in a newly renovated building just a couple blocks over, where it anticipates sharing some of the existing patio seating with whatever new restaurant also settles into an adjoining space. Early plans for that patio include some method of covering and possibly heating, in order to make it a year-round hangout. The company also hopes to take advantage of the space's high ceilings to hang plants and add other elements evocative of the cloud forests of Nicaragua and Ecuador.
Across the river in Portland's Southeast quadrant, two entirely new cafes are under construction, both of which will also be decked out with origin-themed flare.
At the Clay Creative building on SE 3rd Ave & Clay St., a café projected to open in August will serve coffee in hand-painted mugs from Guatemala, with décor featuring bright colors and textiles reminiscent of the country. At SE 20th Ave and Division Street, the next café is tentatively scheduled to open in early 2018, with a color scheme of blue, white and terra cotta, inspired by the color palette of Brazil.
"A lot of the cafés you walk into in Portland are very similar. We wanted to think outside the box, and to highlight the origin relationships that we have," Nossa Familia Marketing and Events Manager Karen Lickteig told Daily Coffee News, adding that the company now takes annual trips to a variety of origins and makes a point of encouraging employees from every department to come along. "We also see our brand as flexible. It's not just one thing, not just one aesthetic. It's more about relationships and people."
Lickteig added that while there may be varied looks from café to café, it is the welcoming, easygoing atmosphere of friendliness and diversity that is the intended commonality between them.
Both cafes in the southeast will have full kitchens that will turn out fresh South and Central American-inspired foods, although the focus will remain on the coffee.
Lickteig said that while the company has not yet identified the space for a new facility, it does know that the resettled production line will be an expanded one, with an additional Loring S70 Peregrine to be installed alongside the company's existing Loring S35 Kestral.
And in the midst of all these big things and upcoming installations, a smaller, zippier component has also literally rolled out this month, in the form of a customized Nossa Familia iced coffee bike.
"We do a lot of cycling-related events," said Lickteig, noting that they went with a two-wheeled bike over a trike for its greater maneuverability and its performance on longer distance rides. The Nossa-cycle is a Bullitt cargo bike with a wooden, 4-keg-capacity box built and installed by Portland company Badger Bikes.
A tap mounted on the top surface of the box dispenses Nossa Familia's Japanese-style RTD Iced Coffee, which remains a Portland-only product, available in bottles at select groceries and wholesale accounts, as well as in kegs at area cafes and events. Lickteig said that while the company does intend to ramp up the RTD cold coffee business eventually, there are no current plans to expand it to Los Angeles, nor to establish a California roastery anytime soon.
Howard Bryman
Howard Bryman is the associate editor of Daily Coffee News by Roast Magazine. He is based in Portland, Oregon.