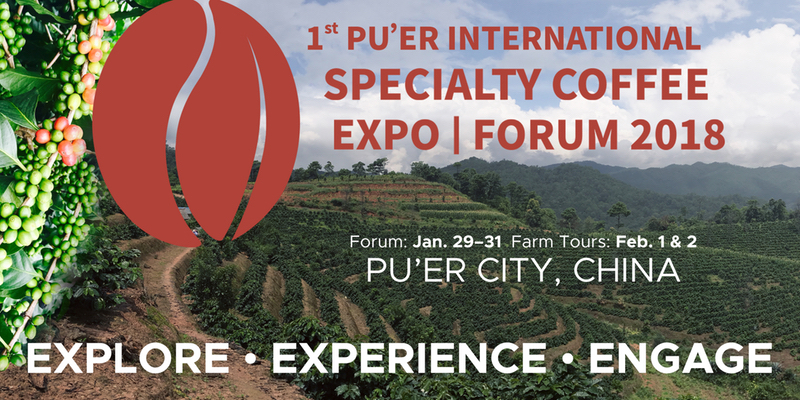 Though the Chinese coffee sector may still be in its nascency, the world's most populous country nonetheless is already estimated by the International Coffee Organization to produce more than double the amount of coffee grown by well-established coffee countries such as Kenya, Tanzania, El Salvador or Ecuador.
On the consumption side, China is by all accounts one of the fastest growing markets in the world, seeing double-digit consumption growth in recent years that has surpassed the total consumption found in Australia. There's a reason global coffee giants like Starbucks are placing big bets on Chinese coffee.
In this time of prolific growth both in production and demand comes the 1st Pu'er International Specialty Coffee Forum Expo, taking place in Pu'er City from January 29-31, 2018. Pu'er City is in China's Yunnan Province, where more than 90 percent of the country's coffee is grown.
Organizers say the event will bring together more than 300 international and Chinese coffee professionals to "share knowledge on global coffee trends, best practices, quality, sustainability, pricing, marketing, roasting, and retail operations."
The event's first day will focus on global trends and China's position within the global coffee community, while attendees can select from one of two tracks over the following two days — one designed for producers, and one designed for roasters and retailers. Following the forum will be two days of farm tours designed to immerse guests in production and processing practices in the Yunnan Province.
The event is being hosted by the Yunnan Coffee Exchange, which was formalized in 2015 and has in recent years been enlisted the help of the Coffee Quality Institute in working toward quality improvement and specialty coffee market access.
More on the 1st Pu'er International Specialty Coffee Forum Expo, including a list of confirmed speakers and registration information, can be found here.
Nick Brown
Nick Brown is the editor of Daily Coffee News by Roast Magazine.