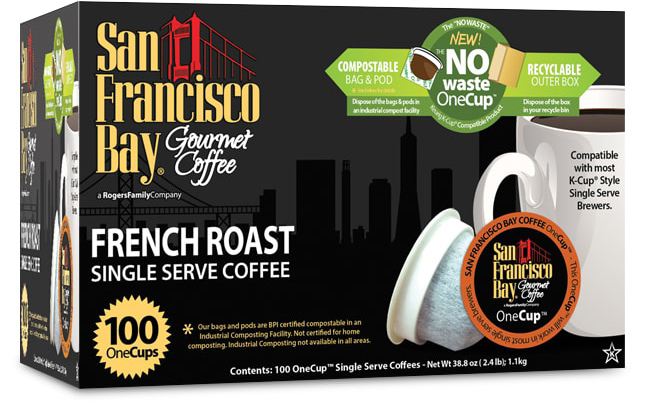 Costco and JBR Inc., the Roseville, California-based company that does business as San Francisco Bay Gourmet Coffee, have agreed to jointly pay $500,000 in the settlement of a consumer protection lawsuit involving coffee pods with false marketing claims related to biodegradability and compostability.
The suit was brought forth by 25 district attorneys' offices in the State of California, where there is an outright ban on biodegradability claims tied to any products containing plastic, while compostability claims must be backed by approved scientific testing showing that the plastic will break down in a commercial composting facility.
"California consumers trying to help reduce the problem of plastic waste in landfills are often misled to believe that plastic products labeled as 'biodegradable' will break down in municipal trash," Alameda County District Attorney Nancy O'Malley said in an announcement of the settlement. "But most landfills prevent biodegradation. In order to prevent misleading consumers, the Legislature banned the sale of plastic products labeled with language implying they will biodegrade."
It was in October of last year when San Francisco Bay unveiled its "100 percent compostable" Keurig-compatible "No Waste OneCup," while announcing the partnership to sell 100-packs of its French Roast pods through Costco. At the time, the company said the product was certified as compostable by the Biodegradable Products Institute (BPI) for commercial or industrial composting facilities, but that it was not certified for home composting.
"San Francisco Bay Gourmet Coffee's plastic coffee pods and the plastic bags containing the pods were labeled as '97 percent biodegradable' and 'biodegradable,' despite the legal ban regarding the sale of such products," according to the Alameda County's DA office. "Further, the company marketed the plastic coffee pods as compostable when the pod had not met compostability standards. The company also labeled its 'OneCup' coffee pods as 'No Plastic Cup,' when the ring, mesh, and part of the lid were all made of plant-based plastic."
In addition to paying the $500,000 in civil penalties and costs, Costco and JBR Inc. are prohibited from selling plastic coffee pods labeled as "biodegradable" in the state, and they must obtain a specific scientific certification in order to sell any pods boasting the "compostable" label.
Nick Brown
Nick Brown is the editor of Daily Coffee News by Roast Magazine.