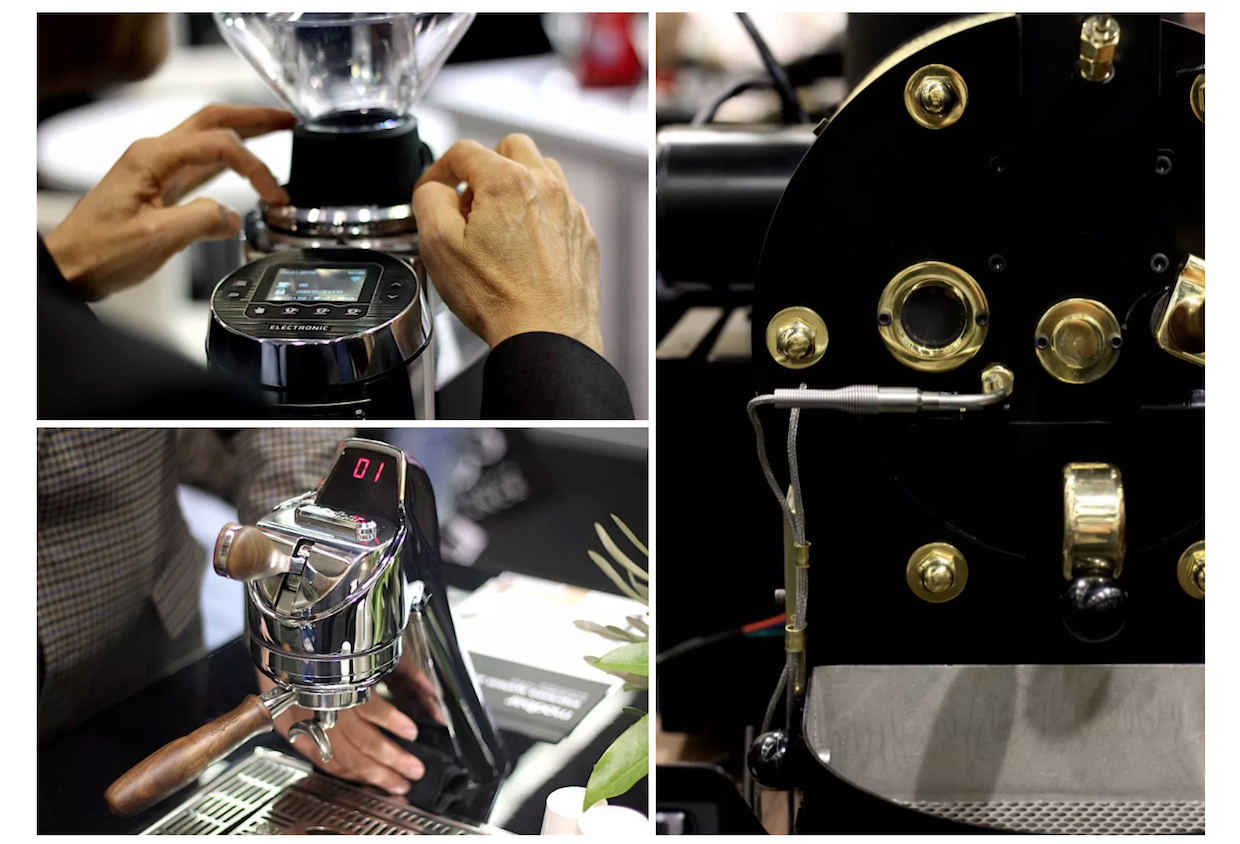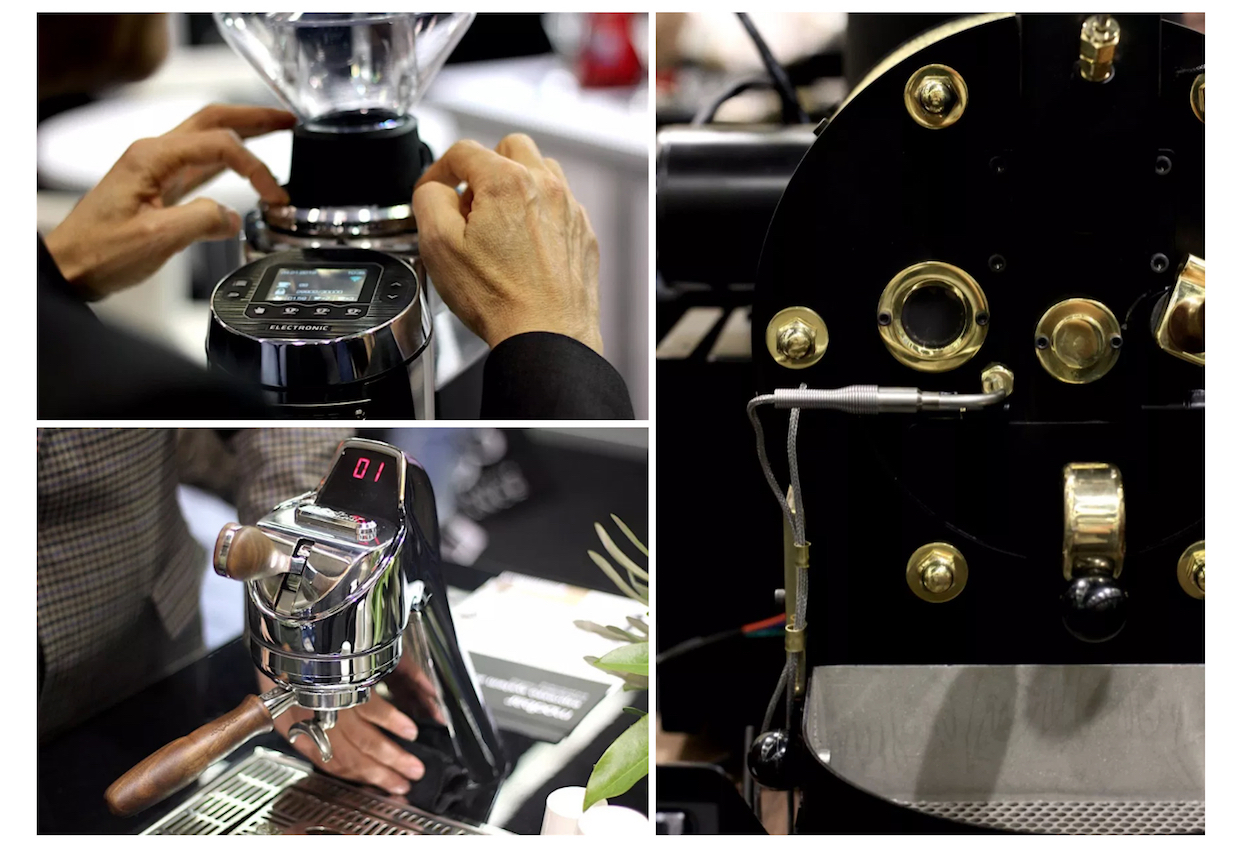 Each Spring, a flood of exciting news erupts from the annual Specialty Coffee Association Expo, most of which involves new and upgraded products and equipment. It's a season full of both anticipation and surprise, in the midst of which the industry's latest priorities and trends are simultaneously reinforced and steered in new directions.
Looking at this year's new products collectively, one recurring theme was cafe autonomy. Notable technology emerging from various manufacturers this year strives to give high-volume drink-sellers higher-precision tools for maintaining consistency in their beverages — the Modbar AV, the expanded Slayer Steam line, and the Curtis GemX each do this in various ways. Automated, small-footprint roasting solutions also leaped forward, as two very new yet very similar ventless electric in-house roasting machines made their debuts, both linked to their own green coffee sourcing systems and both with flexible, cloud-oriented roast profiling platforms.
For perspective on the scene as a whole, we present a round-up of what made waves in Seattle last month, plus click here for some additional 2018 product introductions and upgrades.
La Marzocco and Modbar Reveal the Modbar AV System at SCA Expo
Under-counter espresso machine manufacturer Modbar has revealed to the world the Modbar AV, the first entirely new machine in the company's product line since the original Modbar system launched in 2013… read more
Wilbur Curtis Unveils the GemX IntelliFresh Coffee Brewer
Commercial coffee equipment manufacturer Wilbur Curtis has unveiled the GemX line of batch coffee brewers, which represents the most significant refresh of the company's Gemini brewer design since its debut roughly 40 years ago… read more
S We Can: Mazzer Unveils the Robur S and Kold S Grinders
Italian grinder manufacturer Mazzer is on an innovation streak, displaying significant upgrades to its lineup for the second SCA Expo in a row. Following last year's introduction of the ZM line, the bulk of this year's new tech comes in the form of the Mazzer Robur S… read more
One Thing, Done Well: Saint Anthony Industries Unveils The Automatica
With so many devices striving to perform so many tasks at the expense of practically all of them, the field of kitchen appliance gadgetry is littered with jacks and bereft of masters. So goes the thinking over at Salt Lake City, Utah-based Saint Anthony Industries, maker of craft-oriented tools and accessories for coffee and espresso. Where others may see bells and whistles, they see noise, and so their line of brewers, glassware, filters and tools has always consisted of sturdy designs made specifically to achieve straightforward tasks… read more
Slayer Gets In the Groove With 'Box Set' of New Machines
After more than a decade of establishing its foothold at the high end of commercial espresso machinery, and now in the immediate wake of its acquisition by Gruppo Cimbali, Slayer has dropped the needle on a new marketing initiative highlighting two new machines that extend the Slayer Steam line… read more
Bellwether Coffee To Lead Cafes Into Roasting This Fall
Of the several fascinating new pieces of professional coffee roasting equipment on display at the SCA Expo in Seattle last month, the Bellwether Coffee roasting machine — paired with its proprietary roast profiling and inventory management software and an accompanying green coffee sourcing program — was among the more highly anticipated…read more
A First Look at the Simonelli Group's Mythos 2 Grinder
Visitors to the Nuova Simonelli booth at last month's Specialty Coffee Association Expo in Seattle were given an early glimpse of the highly anticipated Mythos 2 espresso grinder, designed to be bigger, faster, cooler and more controllable than its already successful predecessor… read more
GrainPro To Deliver New-Generation Storage System: The Cocoon Lite
Recent years have seen an increased industry-wide focus on coffee genetics, agronomy and post-harvest processing. Yet without responsible green coffee storage, any positive gains made in the field may be for naught. Knowing this, Concord, Massachusetts-based company GrainPro, has been offering a range of products for the storage, handling and distribution of various dry agricultural commodities for more than 25 years. Now GrainPro has announced an innovation of its own that the company is employing in its latest product, the GrainPro Cocoon Lite…read more
From Coffee Shop to Roastery: A Sleek New Countertop Roasting System Emerges
A new end-to-end roasting solution for coffee shops and cafes made a surprising appearance this Spring. Currently called simply Roastery, the system is centered around a ventless, electric, countertop-friendly roasting machine with a clean, streamlined aesthetic that links to proprietary software that can automate the roasting action while providing a portal to green coffee resources…read more
Rancilio Specialty Makes US Debut at SCA Expo
At one of the more attractively built-out booths at this past weekend's SCA Expo in Seattle, Italian espresso machine and grinder company Rancilio Group held the U.S. launch of of Rancilio Specialty, a new line of machines targeted specifically at craft-oriented, style-conscious coffeehouses in the United States…read more
San Franciscan Roaster Company Covers the Middle Ground With the SF10
The San Franciscan Roaster Company has added new machine to its lineup, the 10-pound-capacity SF10, sized strategically to land within the financial and sometimes legal means of start-ups and other companies in early growth stages. Previously the San Franciscan selection jumped from the SF6 straight up to the SF25. The new model bridges that considerable divide, while also falling just beneath a common air quality regulatory limit on roasting machines that can operate without a legally required smoke mitigation solution… read more
Howard Bryman
Howard Bryman is the associate editor of Daily Coffee News by Roast Magazine. He is based in Portland, Oregon.