The passions for quality and for experimentation, propensities to liven up any social situation and geek-caliber quests for intricate flavors and aromas are all ties that bind the craft beer and specialty coffee communities together. They're also now the founding characteristics of the new Milwaukee, Wisconsin, roastery/brewery concept Vennture Brew Co..
Figuratively situated in the center of the venn diagram of beer, coffee and community, Vennture Brew Co. is led by a trio of founders, Simon McConico, Robert Gustafson and Jake Rohde. Literally situated inside a 1920s bungalow-style building in the Washington Heights neighborhood, Vennture opened last month, brewing and roasting on site.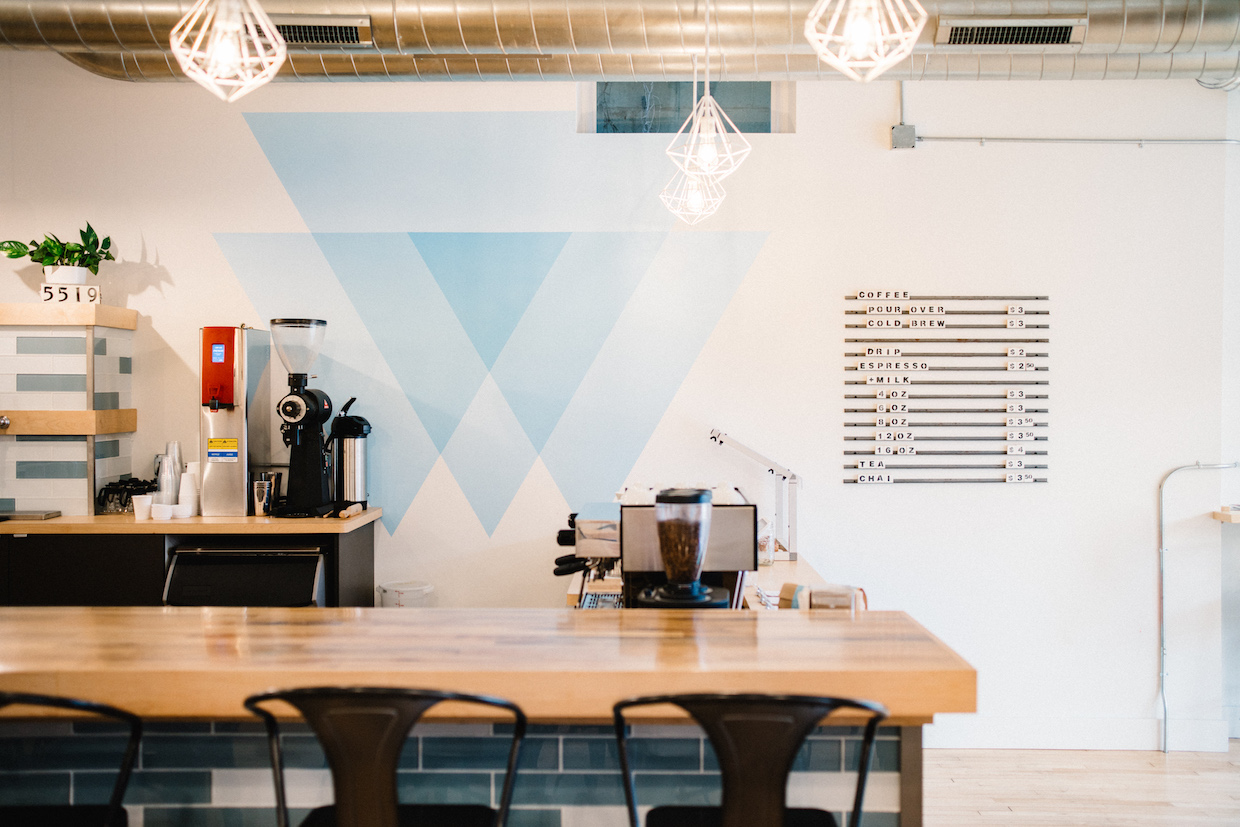 Aiming for a warm, natural feel yet with a clean and modern sensibility, the Vennture founders, all photographers, maintained the original floors and incorporated some recycled materials such as the bar surface made from wood flooring pulled from where the beer brewing equipment was installed.
The bar front is mostly blue with scattered white rectangular glass tile, echoed by the tap box behind the bar in the same tile but reversed colors, while mostly white walls are interrupted by a blue company logo and a series of 12 paintings Jake Rohde created himself to tie the space together.
"We did as many things as possible on our own, learning a lot of things along the way," Rohde recently told Daily Coffee News. "All in all though, we saved a ton of money on buildout by adding in that sweat equity."
For Rohde, the head roaster of the trio, the social aspects of each product are what most readily unite them.
"Both beverages bring people together, open conversations, and break down barriers," said Rohde. "Seeing both beverages interact in the same space at the same time is an amazing thing."
With the roastery located in "the loft" as they call it, upstairs in an open area that overlooks the brewery, Rohde roasts on an Ambex 2-kilo YM-2 with a cyclone chaff collector and a laptop outfitted with Logging Dynamics software capturing and visualizing bean and air temperatures and rate of rise, described by Rohde as "super helpful" when it comes to maintaining consistency amid lengthy sessions of many consecutive small batches.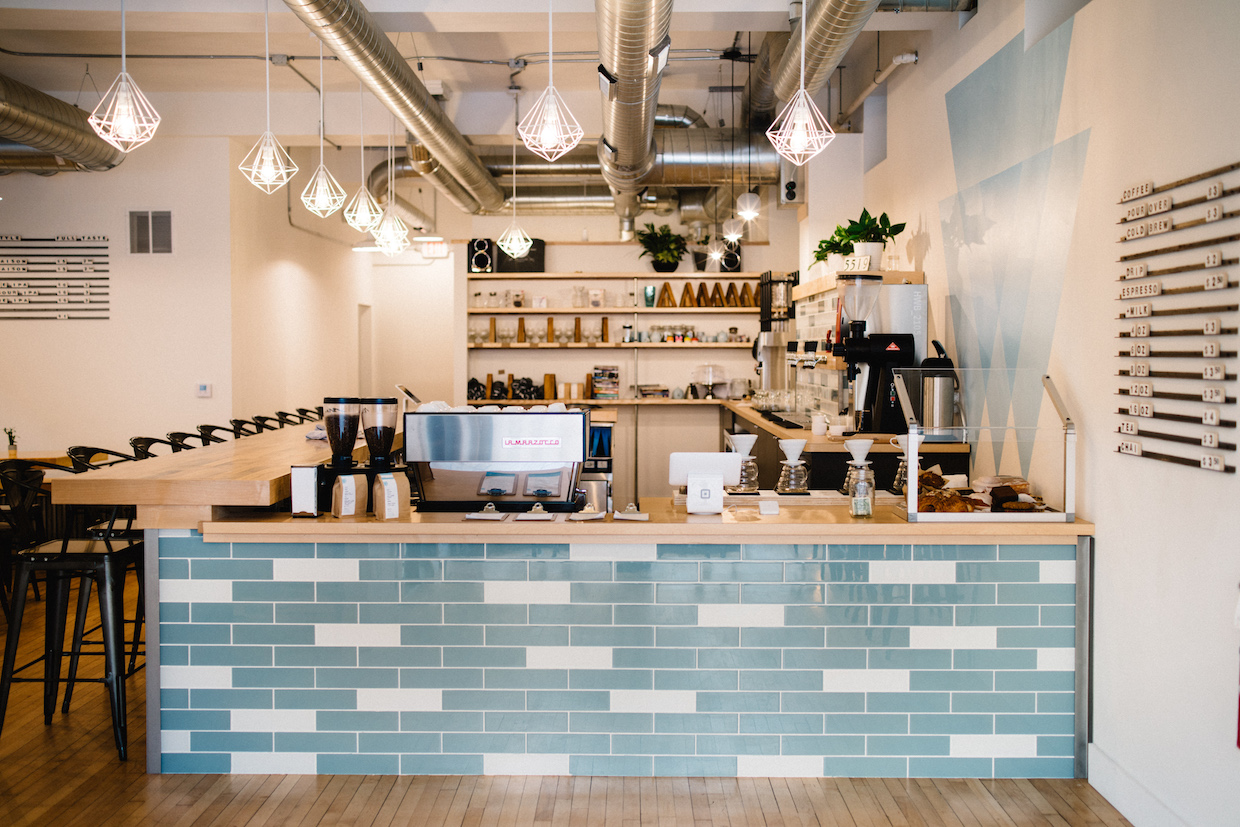 The self-proclaimed "coffee nerd and home roaster" said his deep dive into coffee began about eight years in Denver, where a visit to Corvus Coffee Roasters triggered an epiphany.
"Walking into their shop for the first time was a realization on a number of levels," said Rohde. "Presentation, service and quality of cup were all out of this world."
The experience sent him hurtling down the rabbit hole of brewing and then roasting at home, while McConico and Gustafson were headed down a similar path but for home beer brewing.
"Five years ago we started joking about opening a space that encompassed both coffee and beer," said Rohde. "Four years ago that joke became more of a serious thought. Three years ago we wrote a business plan. Two years ago we were looking for financing. And one year ago we started the physical build-out of Vennture Brew Co."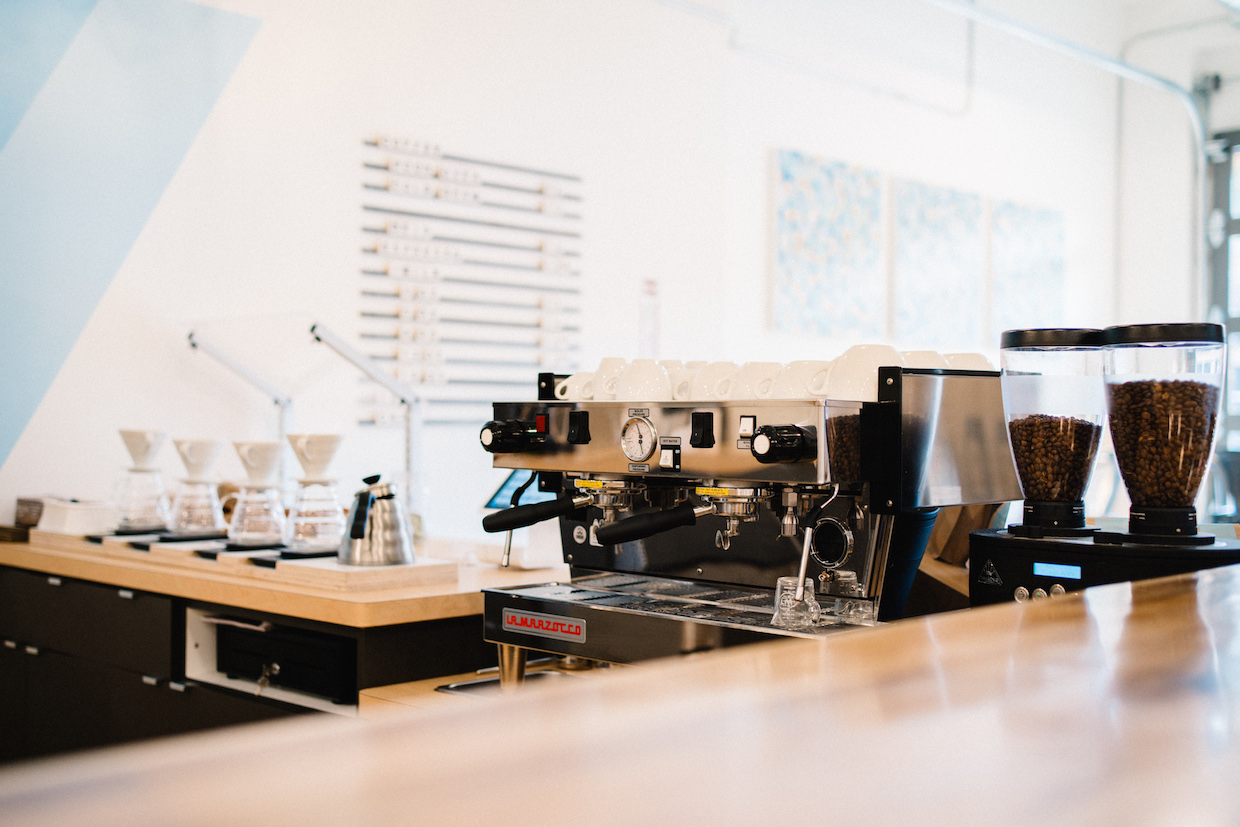 Central to the coffee bar is a manual four-cup V60 pourover station next to a 2-group La Marzocco Linea EE. A Mahlkonig EK43 grinds for drip and cold brew, while a Mahlknoig K30 handles espresso. Said Rohde, "Currently we are running all single origin options, so buying really good coffee is number one on my list."
A system of four tap lines sends four cold-brewed single origin coffees to the bar, offered by the 12-ounce glass or as a flight. Rohde encourages customers to pursue the latter option, to get them thinking about the differentiations in origin character. Yama cold brew towers put on a slow-drip show throughout the day. Additional brewing methods such Aeropress, Clever drippers and Yama siphon pots will be introduced as staffing expands, and of course it wouldn't be very "venn" if these products simply existed alongside each other — they also intertwine.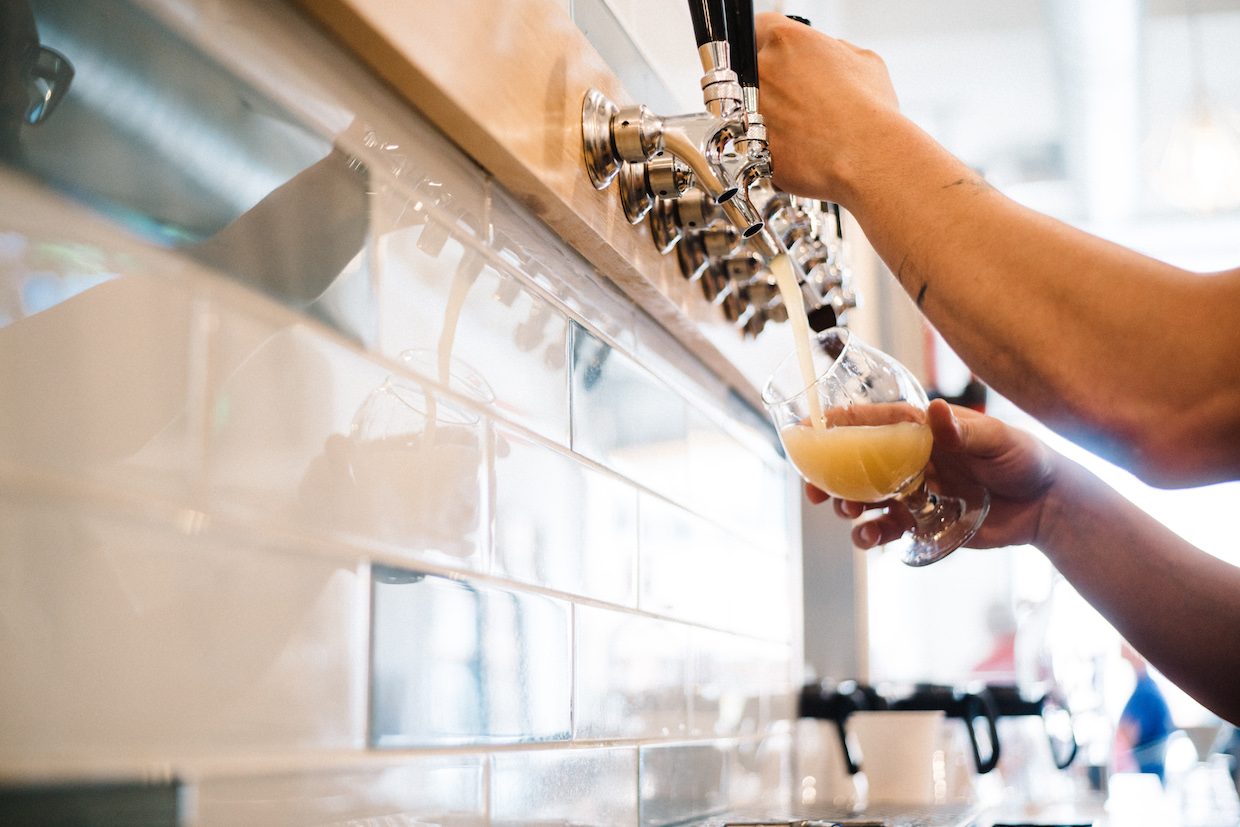 "Coffee stouts have been around for a long time, but we think coffee will play nice in a lot of different beer styles," said Rohde.
Vennture Brew Co.'s Bruv, a Berliner Weisse, can optionally be served with a dab of homemade cascara syrup. Critical Adjustment with Coffee is their tropical stout made with rum barrel-aged Brazilian coffee. The house stout has also lately been offered with an optional fresh iced espresso poured on top, which Rohde said develops a head thick and creamy enough to be served and consumed with a demitasse spoon, cappuccino-style.
Roasting, however, is not necessarily pursued with any particular beer interactions in mind. Rohde instead roasts the coffee "how it wants to be roasted," bringing each bean's tastiest attributes and notes to the fore for it to shine in independent presentation.
"Picking a coffee for a beer comes after the roast," said Rohde. "I talk to Simon and Rob about the beer and pair that up with a coffee that would taste best with that beer. This process is pretty loose, as in it is sometimes planned and sometimes a bit more spontaneous. If we have a coffee planned for a beer, but in the interim taste something that would be better for the beer, we switch things up. One perk of being a small place is a lot of flexibility."
Water is another overlapping concern between beer and coffee, and is a resource about which Vennture is both well-equiped and enthusiastically conversant.
"Tap water in Milwaukee is ok," said Rohde. "The TDS is almost good, but there is still a problem with chlorine and some other unwanted minerals. A carbon filter would get close, but since we are trying to make the best thing we can, close is not good enough."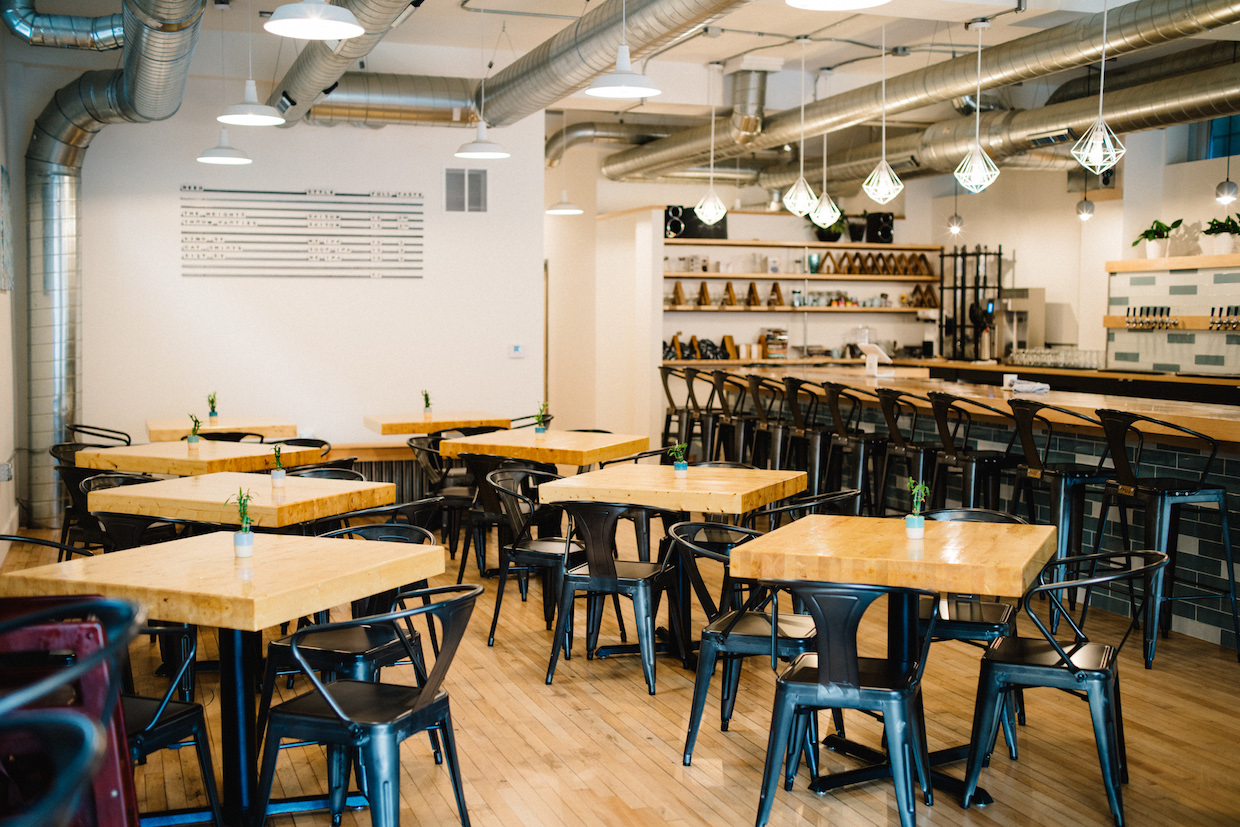 Vennture's full reverse osmosis system strips and then rebuilds its water to precise specifications prior to feeding it into the espresso machine, ice maker, hot water tank, batch brewer and one drinking water tap open to the public, yielding water so pure and delicious as to have earned the nickname "Vennture Clear," according to Rohde.
"We do not charge for the water, but do talk a lot about it," he said. "The simple act of serving the good water opens up that conversation about the water we use for brewing, and what it takes to make the best cup possible."
With its currently limited production capacity, Rohde said Vennture is not accepting wholesale orders at this time; it's focusing instead on fleshing out its menu and getting retail whole-bean products on its own shelves. The plan is to grow organically, and they do look forward to serving the wider local community in the future.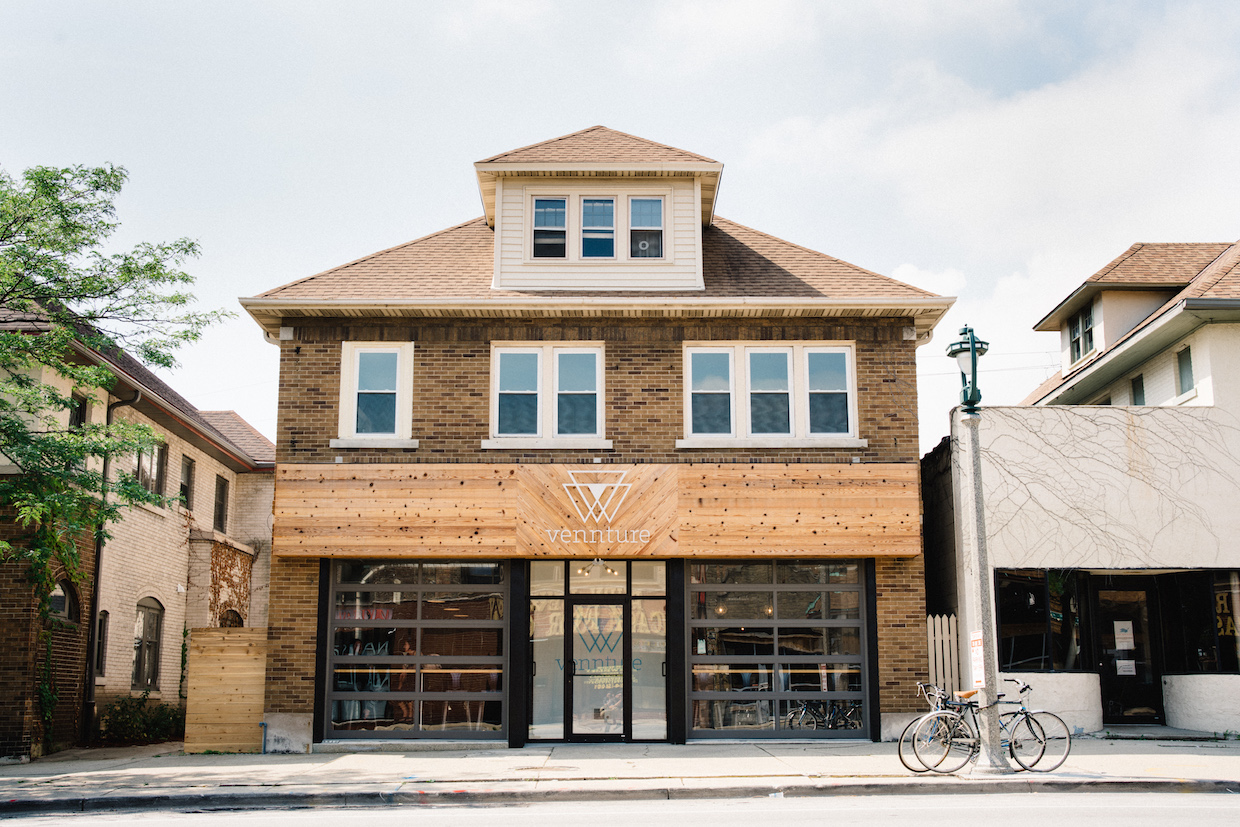 "We have gotten a lot of great advice from more established businesses," said Rohde. "It really is an amazing city full of quality people. The people here is what keeps me grounded in Milwaukee. Our friend Ryan Hoban of Pilcrow Coffee straight up told me he would slap me if I tried to run a wholesale program on a 2-kilo roaster. Roasting here for one month to feed retail sales from the shop, I would have to agree with him on that point. Plus I don't want to get slapped."
Vennture Brew Co. is open now at 5519 W. North Ave in Milwaukee.
Howard Bryman
Howard Bryman is the associate editor of Daily Coffee News by Roast Magazine. He is based in Portland, Oregon.