A comic book might seem an unlikely medium through which to convey the complexities of the coffee trade or inequity in the value chain, yet anything that gets the conversation started is a good thing.
A new comic book called "Ask Me About Cost of Production" was officially released last week as part of a public event hosted by the roasting company Junior's Roasted Coffee inside the Buckman Coffee Factory shared roasting facility in Portland, Oregon. Along with an introduction from Junior's Founder Mike Nelson, the event also included a presentation by Chad Trewick, founder of the consultancy Reciprocafé, as well as a large group dialogue on a range of issues affecting the health of the specialty coffee industry, particularly as it relates to the undervalued role of coffee producers.
"We were hoping for 50 [people in attendance], and we had over 60," Nelson told Daily Coffee News after the event. That cooperative audience of local coffee professionals split into smaller, more intimate groups to discuss questions provided by Nelson, then reoriented into different groups for further discussion, then reconvened to share their findings.
"I saw some pretty cool new alliances formed in the room," said Nelson. "People who hadn't talked to each other left Buckman walking out the door talking to each other. There were comments about forming new buying groups, new partnerships."
A thorough cross-section of Portland's specialty coffee industry was present at the event, including roasters, baristas and importers.
"There were no producers here, so, minus that part of the supply chain," said Nelson. "I think we had at least three different importers here, and I don't know how many roasters, but it felt like a good representation of the Portland coffee community."
Trewick's roughly 45-minute-long presentation delved deeply into a range of troubling trends in the global coffee industry in recent years that all contribute to its current state of crisis for producers. Slides provided visualizations of the static price of green coffee relative to other products over recent decades, the increasing market share of the top five producing countries over time, differences in harvest labor and other costs across Central and South America, and more.
The presentation painted a bleak picture of the industry's downward spiral, illustrating in detail how free market forces, consumer complacency, climate change and politics are working in concert to throttle coffee producers' ability and will to continue growing coffee of any kind. This applies to conventional and specialty coffee alike, according to Trewick, who emphasized that preserving lucrative conventional coffee production is of equal concern for the continued existence of specialty coffee.
"I want to make sure to always bring this room back — because we're a lot of fancy coffee people here — to the fact that if regular coffee doesn't exist and isn't a viable means to make a living in these countries, who do you think is going to stick around to produce the tiny little bit of specialty coffee?" Trewick said. "We have to know and understand where our vulnerabilities are, and recognize how we can play our role in finding the right equation here."
The equation, as Trewick explained to the group, differs from country to country, region to region, and is based on labor laws, environmental factors, geography, scales of production, policies, and more. When a country's minimum wage becomes unwieldy for farm owners, for example, Trewick said a farmer might then have to scale back her investment in other inputs, even one as basic as fertilizer, which leads to lower production and lower income the following year. In this scenario, the farm is also far from being able to invest in quality improvements, certifications or post-harvest processing infrastructure — all attributes that specialty buyers increasingly demand.
"As we have continued as an industry to elevate our expectations, we've failed to also remunerate people for those things, and actually pay what they cost," said Trewick.
The first of two questions put forth by Nelson in the World-Cafe-style group discussion phase of the event focused on how to make this topic resonate through a broader cross-section of people, among both consumers and industry professionals. All groups agreed that the central issue worth trumpeting is how a coffee's cost of production is an issue of farmers' livelihoods.
Some attendees suggested that consumer education now must extend beyond flavor notes and palate development, to include important cost-related facts and figures. Some further suggested that framing the data as an invitation to consumers into "righting" an endemic industrial "wrong," and correcting a flawed and unsustainable business model, will make the necessary changes (i.e. higher prices) seem less like an ethics-based charity case and more like the straightforward economic imperative that it is.
The second question sought opinions on what individuals from various positions within the industry can do to encourage more leadership in the pursuit of a more equitable value chain. In response, the general consensus was that buyers should ask more and harder questions of their suppliers; that sellers should proactively seek and share more information; and that we all should consider encouraging similar movements in other industries in an effort to further make transparency and equitability "trendy."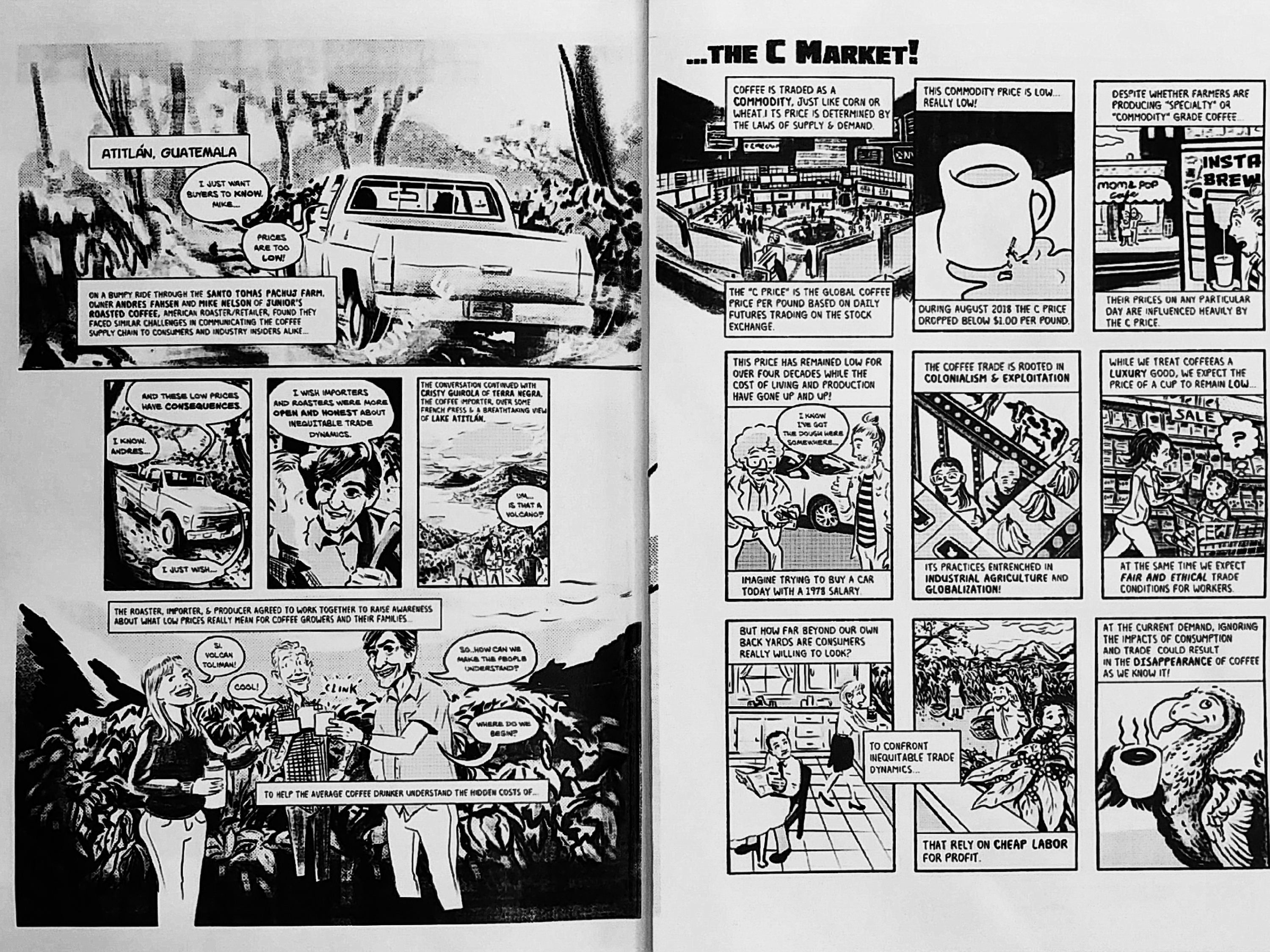 The cost of production transparency project by Junior's Roasted Coffee continues at the roasting company's Guilder cafe, where the shop recently changed the wifi password to "AskMeAboutCostOfProduction." The comic book is now available there as a free handout for customers to hopefully flip through while waiting on line, sipping coffee at tables or take with them to read later. (See part 1 and part 2 of our coverage of Junior's cost of production project.)
"Most of the conversation that we get is around the wifi password, honestly," said Nelson. "The comic book is going to be a whole new talking point with customers. That details everything. It details a very real topic, an uncomfortable topic, and what we did with the project — and even some next steps for the reader."
Next steps for Junior's include the release of detailed transparency reports, according to Nelson. By the end of this month, Nelson hopes to release one report breaking down Junior's price per bag of its Santo Tomás Pachuj offering, explaining why the company charges what it does. Next will come a report on Santo Tomás Pachuj's farm costs, detailing specific costs of production in what Nelson hopes is an accessible way.
Nelson said they're also putting the final touches on a pro forma template based on the Santo Tomás Pachuj experience that can be used by other farms Junior's hopes to purchase coffees from in the future. The template for farmers to use as a starting point for calculating their costs of production is intended to also leave room and flexibility to add new categories, "so we can start these projects up faster," Nelson said.
Howard Bryman
Howard Bryman is the associate editor of Daily Coffee News by Roast Magazine. He is based in Portland, Oregon.