When roasters and importers make an effort to highlight the amounts they pay for green coffee, the transparency is admirable, although those figures do not necessarily reflect what an individual farmer actually receives. And in the rare case that a consumer can learn what a farmer actually takes home for her efforts, the picture remains woefully incomplete without also knowing that farmer's costs of production.
That's why Mike Nelson, former academic and current co-founder and head roaster of Portland, Oregon-based Junior's Roasted Coffee and Guilder Cafe, has been working for years on a multifaceted project aimed at illuminating this critical, complex and often obfuscated supply chain data point.
"Working out cost of production does take work, but it's not impossible," Nelson recently told Daily Coffee News. "That isn't to say that we've figured out the master formula for doing it. But I think it's something that should be strived for."
Nelson worked in close coordination with Guatemalan producer Andres Fahsen of the farm Santo Tomás Pachuj to identify and track the actual costs to produce the lot purchased by Junior's for roasting and release this year, as well as with Ana Cristina De Salazar of the green coffee importer TerraNegra, which imported the coffee. The first fruits of that labor recently became available to Junior's/Guilder customers.
"It has been a very extensive, detailed and thorough work in progress and discussion," Fahsen told Daily Coffee News in a recent email. "We are thankful with Mike and Cristy for their time and dedication during this process, because we know that time has a cost, and, in many cases, there is information and discussions that oneself doesn't want to see or to hear, because it is a harsh reality."
Currently on shelves at the Guilder roastery cafe is a coffee from Santo Tomás Pachuj with a label that includes three figures: the C-market price of coffee at the time of the transaction; the farmer's cost to produce this particular coffee; and the price that was paid directly to the farm.
"It's the price paid directly to Andres Fahsen, who's one of the owners of the farm — what their family received," said Nelson. "Growing coffee is just not a profitable business. I shared many conversations with Andres about this reality. I'm trying to stay positive, I'm trying to keep hope so that we can share this with consumers and not depress people. At the same time, I mean, geez, people have got to start being realistic about the way they consume and the kinds of things they consume. I think that we have to stop dancing around it in the industry."
A fourth figure posted nearby is of course the retail price of the coffee, which is $18 for the 12-ounce bag of whole beans. Behind that figure is yet another complicated explanation that Nelson hopes to convey clearly and engagingly to customers, as Junior's has tracked its own costs of production for this project.
Later this year, JRC intends to publicly release two detailed transparency reports, one of which will elucidate the costs of production incurred by the roasting company for this particular coffee product. That will be followed, Nelson hopes, by public discussions that will cover topics such as Junior's margins and the reasons behind them, all to help the Portland shop's local community of consumers better understand what goes into these products.
"For this coffee last year, we certainly looked at our own costs, labor, etc., but this time we sat down and even broke it down to square footage of Junior's in Guilder and factored in that, packaging, transportation and things like that," said Nelson. "It got even more precise."
The other report will detail the costs incurred by Santo Tomás Pachuj, which are broken down into categories of fixed costs and variable costs.
"[It's] kind of like your average business pro forma." said Nelson. "We're looking at soil nutrition, pest and disease control, weed control, transportation, fixed hand labor, admin, farm management, milling, labor during harvest, export costs, depreciation of equipment…"
Nelson's list went on. To accomplish all this, specifically where spreadsheets and complicated determinations such as depreciation were concerned, Nelson enlisted his business partner Toby Roberts. Roberts designed the pro formas for Junior's and Guilder, and has done the same for other companies before. "This is what he does," said Nelson. "He breaks down business costs. He looks at profits and loss."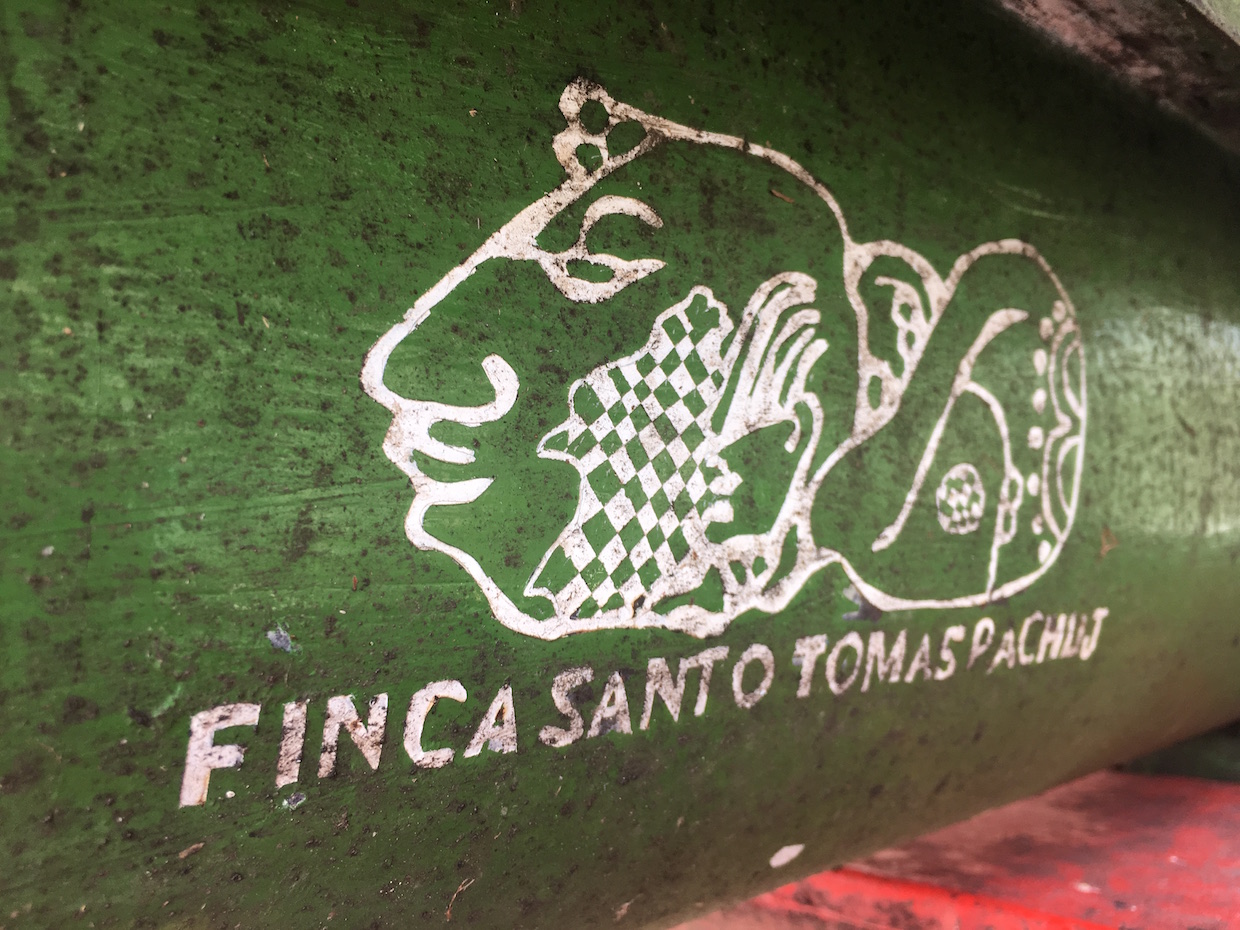 The picture that became clear was that in order for JRC to purchase Fahsen's coffee at a rate that would actually have the farm breaking even, a significant premium would have to be added. Given the longstanding relationship between the roaster and the producer, and that the coffee consistently cups up to Junior's stringent standards, JRC was happy to pay more for the benefit of all involved, today and into the future.
"We were able to come up with a premium," said Nelson. "TerraNegra, for this coffee, paid $3.25 to Andres. We added an additional $.75 per pound, to allow them to break even on this coffee. Andres is receiving $4 per pound on this coffee. With the premium, the price that we paid to TerraNegra was $5.62 a pound. Adding shipping, roast loss, labor, packaging, and everything else, this worked out to be an $8.10 per pound coffee [for Junior's]."
Finding partners that were willing, trustworthy and reliable enough to thoroughly gather and share this information was serendipitous for the first product, but will likely prove more challenging in the future. TerraNegra, being a new and idealistic company founded in 2016, had only just opened its books privately, let alone publicly.
"I was automatically on board, I wanted to learn as much as I could and be able to help as much as I could," TerraNegra's Ana Cristina De Salazar told Daily Coffee News. "Along the way we have been changing our financial model to be more efficient. Like everything new, it has been a learning process, but this has helped us also to establish the financial model that we are comfortable with."
In her short time at the helm of TerraNegra, Salazar said she's been inspired by the transparency of most of the players she's come in contact with, and has been particularly moved by Fahsen's courageous professional openness and desire to have the truth be known about his own farm and about coffee farming in general. Nelson, however, has had spottier experiences where forthrightness is concerned, with inquiries left unanswered in some cases and in others receiving conflicting information.
"To work out these relationships, it absolutely requires trust," said Nelson. "It requires the complete transparency of the producer, the exporter, the importer and us. While an importer may have a producing partner in mind that might want to collaborate on a project like this, whether or not the importer's going to be transparent, or the exporter, that's another story."
By the same token, Nelson also recognizes that sometimes even well-intentioned importers my not have access to cost of production info because some farmers might not want the information to be public, while others may not have kept very clear records.
"I think anyone would be a bit nervous to reveal all the details of their business operation," said Fahsen. "But I think that we are in the tipping point of the coffee market, where if we don't do something to improve the conditions of the producers of specialty coffee, our businesses will disappear sooner than later. I think that transparency is what the coffee market and most/some of its players in the chain lack, and that is why we are enthusiastic about this collaborative work we are doing with Mike and Cristy."
As for bookkeeping on farms, Salazar said that she's noticed in the midst of the current c-market downturn, more farmers are taking greater notice of their vulnerability and keeping closer track of expenses.
"The C-market price is very low, you cannot even cover 50 percent of the actual cost of production with that price," said Salazar. "Although for some [producers] it's harder to see the reality of the costs, [more] are starting to see if they are being sustainable. So maybe some of them don't have the numbers as Andres does, but they are starting to."
Now that Fahsen, TerraNegra and JRC have put the time, focus and communication into compiling the critical info, the next phase is to package and present it to consumers and to fellows in the industry, which is itself another multi-stage project. The label on the bag was only the first step.
DCN will have more on Junior's transparency coup in an upcoming piece.
Howard Bryman
Howard Bryman is the associate editor of Daily Coffee News by Roast Magazine. He is based in Portland, Oregon.