The popular co-working and office space provider WeWork today unveiled Made by We, a public retail concept that includes a full cafe from New York-based and self-described "Australian-inspired" coffee chain Bluestone Lane.
Located at 902 Broadway in the heart of Manhattan's Flatiron district, the Bluestone Lane bar stands at the center of the new concept from WeWork umbrella company The We Company, which signaled an intention to open more retail locations in the future.
While the Made by We location includes 100 bookable individual workspaces and meeting spaces for groups, it varies from other WeWork locations in that a subscription or booking is not required to enter.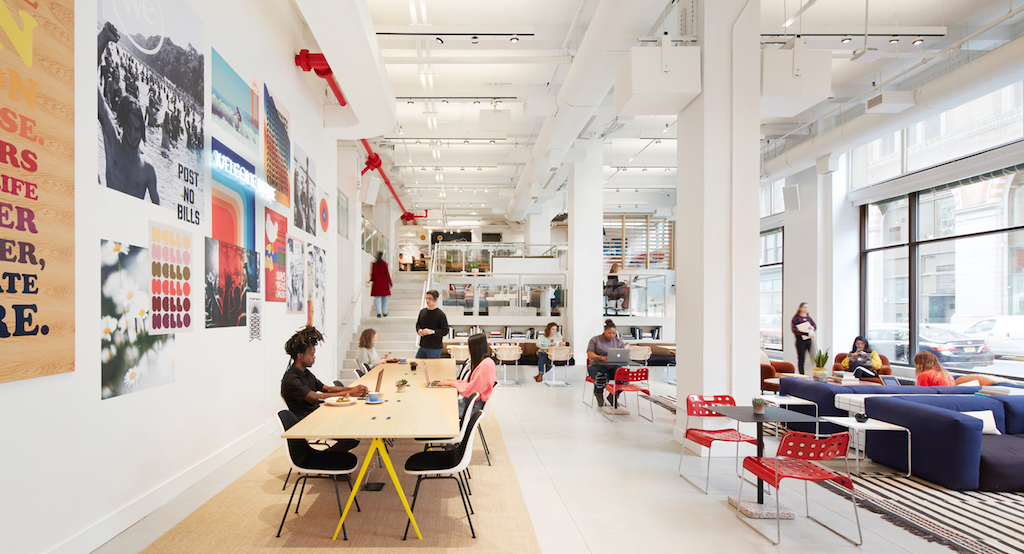 In addition to Bluestone Lane, there are other vendors within the retail space offering items like snacks, apparel and digital accessories. Bluestone Lane said it is including its full extensive coffee and espresso drinks menu, along with its freshly prepared toasts, and grab-and-go items including gluten-free pastries from Husk Bakeshop.
In a press release today, The We Company offered one of the most over-the-top descriptions of a cafe in the recent history of food-focused public relations: "Made by We will act as a new town square, revitalizing the neighborhood with a center of community where people can come together to work, grow, support mission-driven products and small businesses made by our members, and gather for events that help people build a life powered by connection and purpose."
There's also toast and coffee.
The cafe is Bluestone Lane's 35th retail location. While the majority of Bluestone Lane shops remain in the company's home city of New York, the roaster/retailer has also expanded in recent years to various parts of New Jersey, Pennsylvania, Washington D.C., and California.
Nick Brown
Nick Brown is the editor of Daily Coffee News by Roast Magazine.