Vancouver, BC-based Espro, maker of a range of coffee presses and other accessories, will debut two new products at the International Home and Housewares Show in Chicago later this week.
Both products mark strides into new categories for the brand. The new Cold Brew System is for making and storing cold brew, while a line called Coffee Tasting Cups will add to the nascent category of specialized, sensory-oriented coffee drinkware.
Cold Brew System
The stainless steel long-steep immersion system for cold brew is a straightforward kit built to the level of sturdiness and refinement for which the brand is known. Its dual filtration system involves a compostable paper filter and then a built-in "micro mesh" layer to keep particulate out of the finished brew that drains directly into a glass growler.
An auto-lock drainage valve built into the bottom of the brewer opens upon placement on top of the growler and closes automatically upon removal.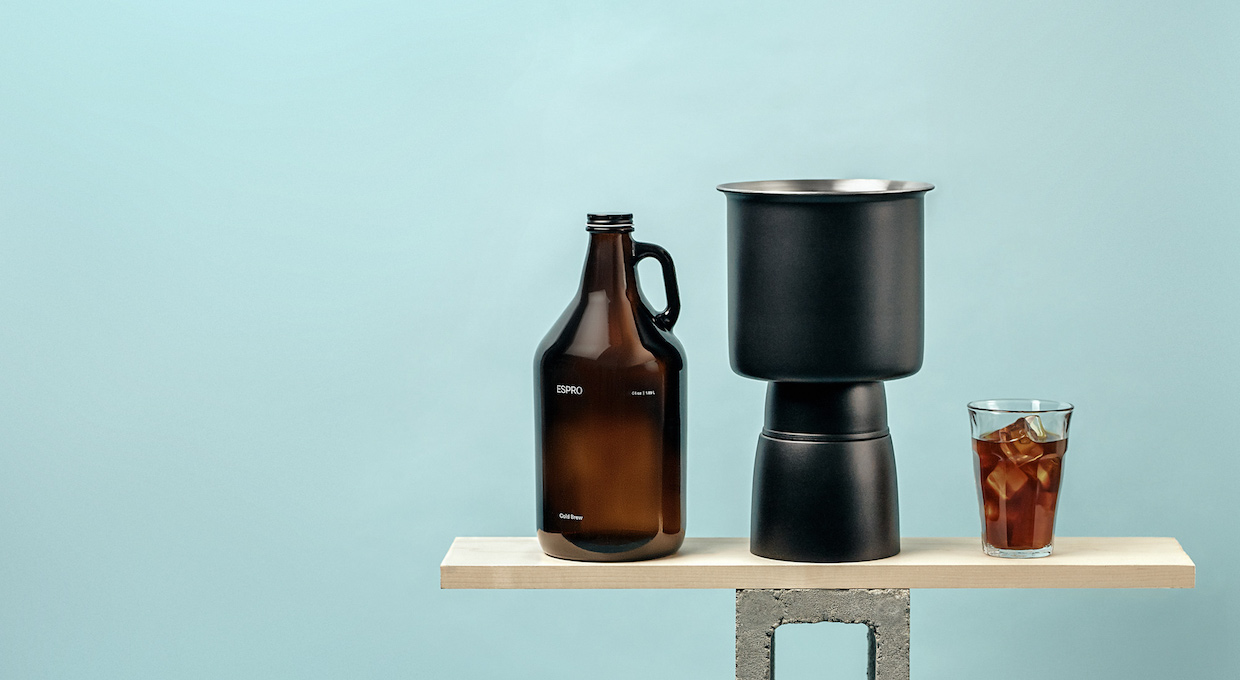 Coffee Tasting Cups
"There is a growing body of scientific research that supports that the shape of a cup impacts your perception of a beverage's taste and aroma," Espro President and Co-Founder Bruce Constantine told Daily Coffee News. "The wine, beer, and spirits industries employ this research in their glass designs. We dug into this research, and took inspiration from the SCA Coffee Taster's Flavor Wheel in the making of Tasting Cups."
The Espro cups are the company's first foray into ceramics — or, more specifically, magnesium-porcelain. Each differently shaped cup in the line of four cups is engineered to accentuate certain flavors prevalent in coffees from different origins. Cup designs are named for the flavors they aim to highlight, including Cocoa, Fruity Berry, Spicy Cinnamon and Floral Jasmine.
"Our cups can be used to amplify flavors in hot coffee, whether it's brewed using a French Press, drip machine, espresso machine, or pour over," said Constantine, noting that while the company is simultaneously rolling out its first cold brew equipment, the cups are a hot-coffee-specific accessory.
Espro's announcement comes several months after emergence late last year of another line of sensory-oriented coffee drinkware, Kruve EQ. The Espro Tasting Cups are scheduled to become available through retail channels this Spring, and will be made available for purchase directly from the company's website and from select retailers for $79.95 per set of four cups, or $19.95 per individual cup.
Howard Bryman
Howard Bryman is the associate editor of Daily Coffee News by Roast Magazine. He is based in Portland, Oregon.