A striking new manual lever espresso machine called the Francesca made its public debut at the World of Coffee event in Berlin earlier this month. The machine is the first product from the Stuttgart, Germany-based start-up manufacturing brand Manument.
The Francesca is a slimmer and more vertical take on the classic spring-assisted manual lever style of espresso machinery, with a compact pair of flow-through heating systems in lieu of bulky boilers for hot water and for steam.
"Our barista can set any given temperature between 88° to 98°C," Manument CEO Francesca Schulz told Daily Coffee News. "For each coffee extraction, we heat only 85 milliliters of water for a double shot. We measure the water temperature throughout our heating element and, if needed, adjust to the desired heat flow immediately."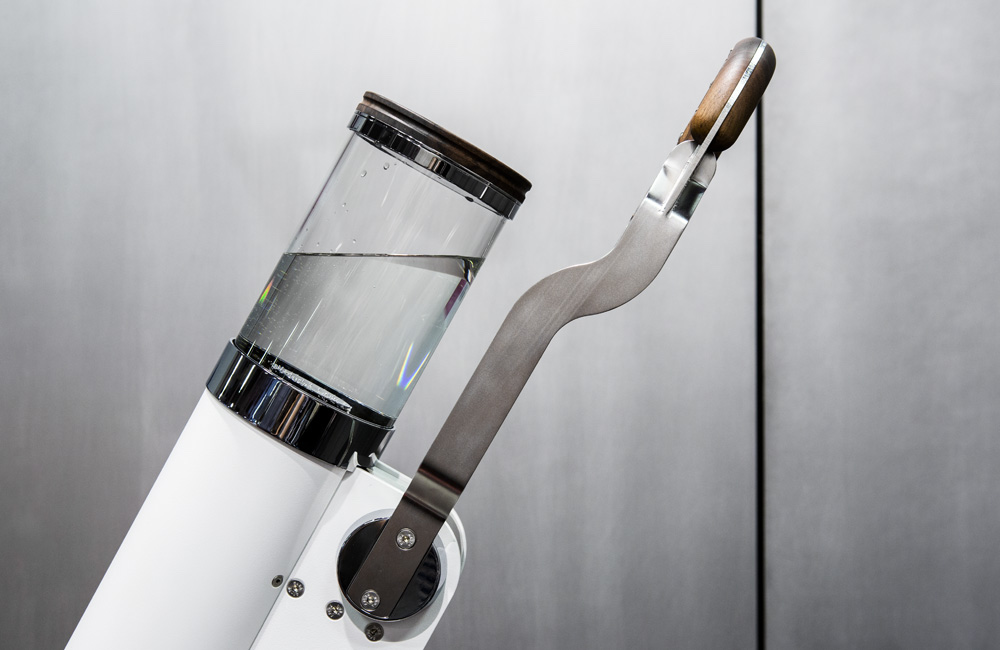 The steam system heats water to 170°C. As a column of water is brought up to pressure by the spring-loaded piston, its delivery to the 54-mm coffee bed is modified by the barista through what the company calls a "manual water-flow system," involving another internal valve controlled by smaller lever on the side of the machine. The barista uses the side lever to throttle or increase the flow of hot water among five designated aperture settings.
With its materials and design, the exterior of the entire machine remains safe and cool to the touch, and the machine generates no waste heat, according to the company. The roughly 30-inch-tall machine can feed independently from its own on-board glass reservoir of water, or water can be plumbed in.
"Our team in Switzerland started the development of this machine 18 months ago," said Schulz. "Our Swiss development team consists of engineers with experience in the medical field, and Thomas Liebe, an industrial designer who is a former barista champion."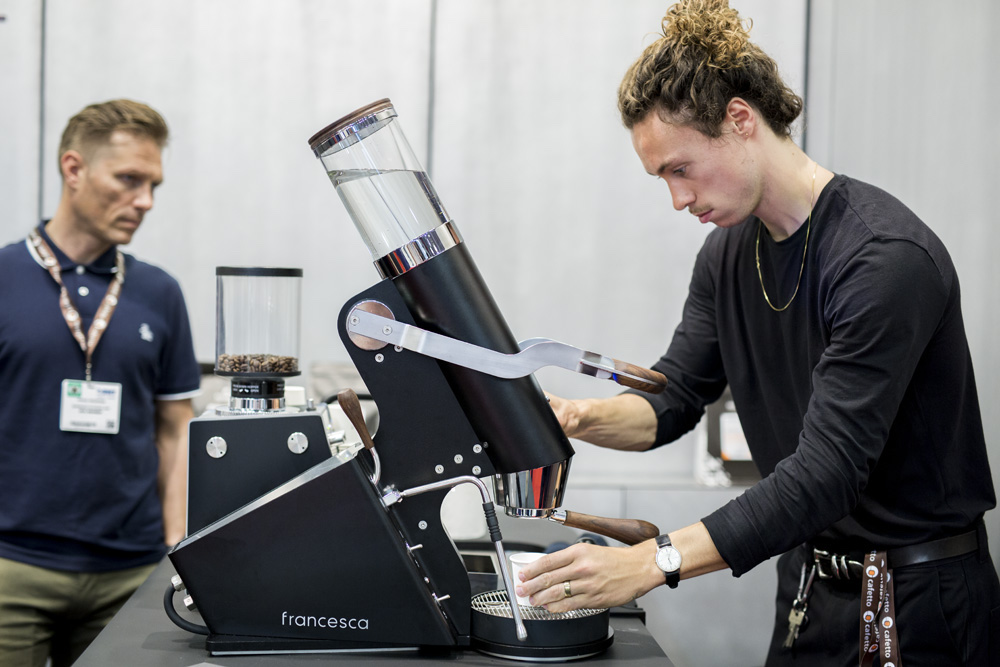 Francesca Schulz said that owner of the company, which was founded in late 2016, chose to name the machine after her after having tasked her with the execution of the project as CEO. Manument will establish pricing for the Francesca in time for the HOST Milan in October of this year, and expects machine shipments to begin in early 2020.
"The Francesca is our first product," said Schulz. "We have a few special ideas for smart and innovative products further down the line."
Howard Bryman
Howard Bryman is the associate editor of Daily Coffee News by Roast Magazine. He is based in Portland, Oregon.