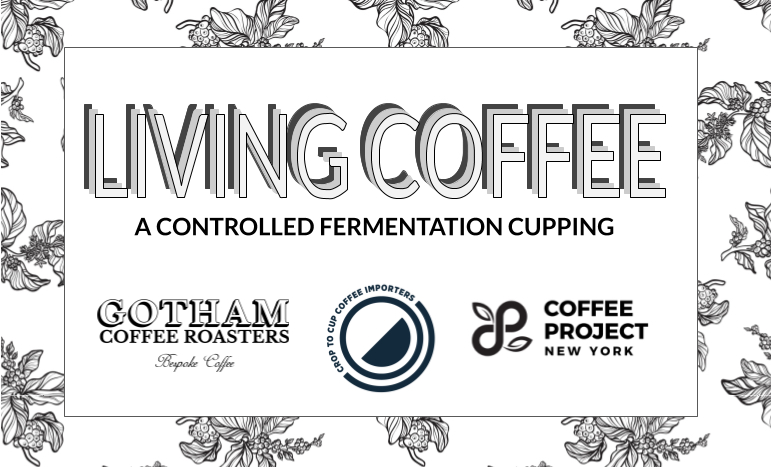 Three New York-based coffee companies are teaming up to offer fancy coffee hounds the rare opportunity to try a series of coffees where the main differentiating factor is the yeast fermentation process.
Gotham Coffee Roasters, a Pulley Collective roaster member whose cafe is likely familiar to frequent pedestrians in Midtown Manhattan's Flatiron District, is hosting the experiential cupping at the brand new Coffee Project New York coffee bar, roastery and training campus in Long Island City.
Called "Living Coffee: A Controlled Fermentation Cupping," the event takes place this Friday, Feb. 7, at the Coffee Project New York facility at 21-10 51st Ave in LIC.
Coffees for the event are coming courtesy of Brooklyn-based Crop to Cup Coffee Importers, which struck a deal in 2018-19 with Ethiopia's Girma Eshetu Estate and its proprietor, Girma Eshetu, to purchase experimental lots, including control lots alongside lots that were being fermented with yeast.
Digging even deeper into the experiment, the yeast itself was the Cima brand strain from Lalcafe. According to Crop to Cup, the yeast experiment represented only a small fraction of the Girma Eshetu estate's total output.
"Even if the experiment failed it wouldn't be detrimental to his overall harvest," Crop to Cup said in an announcement of the cupping. "We assured Girma that we would buy the experiment lots no matter how they turned out. He gladly agreed to give it a go."
The result are eight total lots, portions of which have made their way to LIC for a tasting event to determine what effects such fermentation processing can have on cup quality and characteristics, as well as how it may have affected green coffee storage. Along with the three control lots, participants will be able to taste the following:
30-Hour Yeast: 30-hour underwater yeast fermentation of freshly pulped parchment
40-Hour Yeast: 40-hour underwater yeast fermentation of freshly pulped parchment
60-Hour Yeast: 60-hour underwater yeast fermentation of freshly pulped parchment
Second Soak: Regular soak/fermentation for 12-24hrs, then yeast added for additional 24-36hrs
Cherry Hopper: 24hr soak of cherries underwater with yeast, prior to pulping
In the dead of winter in New York, Living Coffee may be just the ticket. Click here for event details.
Nick Brown
Nick Brown is the editor of Daily Coffee News by Roast Magazine. Feedback and story ideas are welcome at publisher (at) dailycoffeenews.com, or see the "About Us" page for contact information.