New York City-based progressive specialty coffee company Coffee Project NY has opened its third retail location inside a 3,750-square-foot space in Long Island City. The facility will soon also house the company's roasting operation, as well as the only Specialty Coffee Association (SCA) Premier Training Campus in New York, pending approval.
Co-owners Chi Sum Ngai and Kaleena Teoh opened the new shop in 21-10 51st Ave in far south Queens in December with impressive spreads of equipment for retail and for training. On the bar of the compact 350-square-foot cafe space, a Victoria Arduino Mythos 2 grinder breaks beans in the run-up to extraction on a Sanremo Café Racer Renegade espresso machine.
A Voga Ground Control Cyclops works its magic on larger batches of joe, while more deliberate drips are performed manually on Chemex, Origami, V60 and Kalita Wave brewers.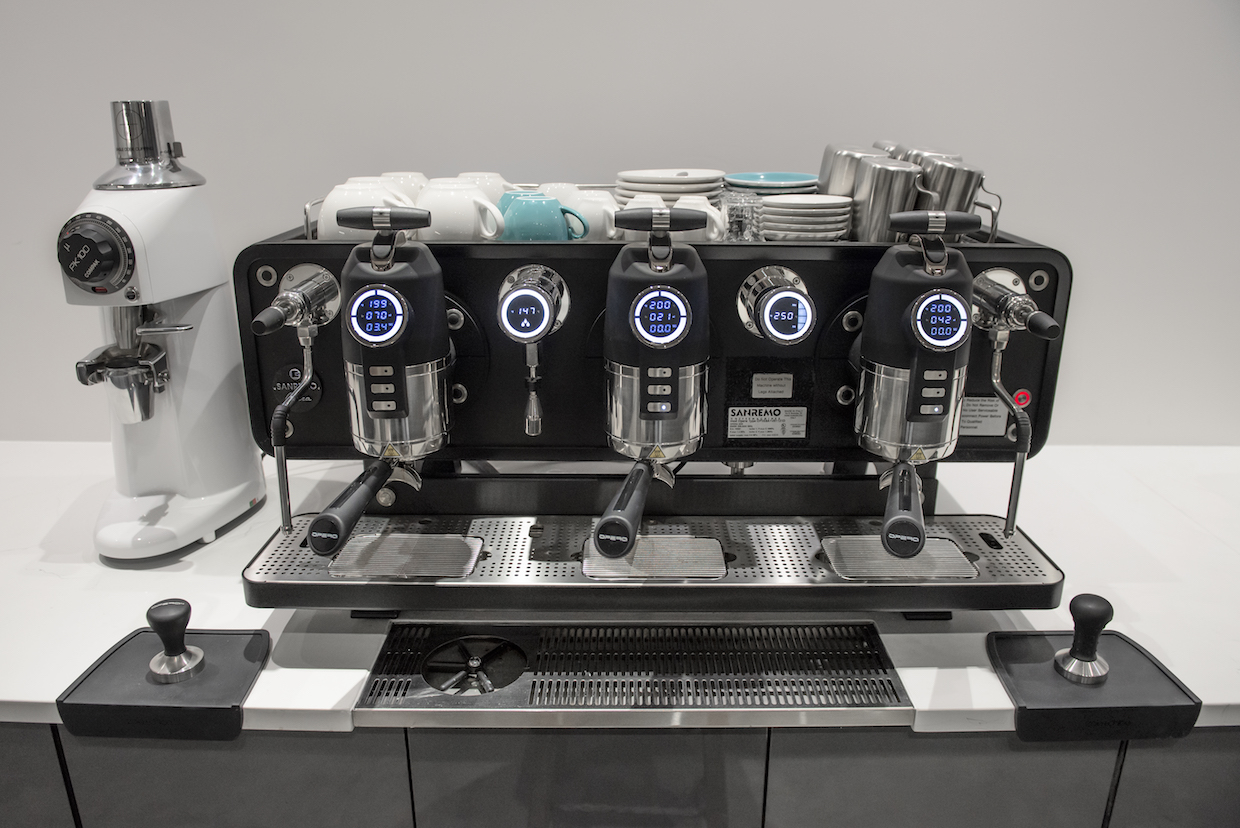 In the new lab, another Voga machine, the Ground Control Twin, brews exploratory batches alongside a more traditional Fetco batch brewer. A Compak PK 100 grinder and a Faema Groundbreaker grinder compete for the honors of prepping grinds for shots pulled on a gear geek's dream fleet of four espresso machines: a Faema E71E, a Sanremo Opera, a La Marzocco Linea Classic and a Victoria Arduino Black Eagle.
An Ikawa sample roaster is also present in the 1,500-square-foot lab for tinkering with profiles and learning about the processes poised to unfold in the new 1,000-square-foot CPNY roastery, where a 1-pound sample roaster will lay the groundwork for batches in the 25-pound-capacity San Franciscan SF25 production roaster. Currently the company's roasting takes place nearby in the Regalia Roasting Collective.
"We wanted the space to feel open and welcoming, so the partitions between the roastery, retail coffee bar and training lab are mainly glass," Ngai told Daily Coffee News. "The lighting that we chose for the retail coffee bar shines on the barista because we wanted to direct people's attention to our baristas' skills."
Lighting in the training lab is specifically designed for various purposes such as holding classes and training exercises, while red sensory test lighting can be used during triangulations in Q grading and recreational classes.
"There is a large, local audience for classes here because New York is so densely populated," said Ngai. "A lot of coffee industry professionals come through New York City for work and vacations and we hope they will consider taking classes with us during those periods, too."
Ngai and Teoh, both of whom are Authorized SCA Trainers (ASTs), will initially be the teachers for both the SCA and recreational classes. Over time, Ngai said she hopes additional staff members will join into a teaching rotation in order to offer more frequent courses. CPNY is coordinating with Texas-based Gather Coffee Company to offer Q grading and Q cupping essentials classes.
"I am working on getting my Q instructor license, [but] it will be a while before I qualify to teach the class," said Ngai. "We are open to collaborating with other like-minded instructors and trainers so we can offer these Q classes more often, too."
While the new facility provided an emphatic exclamation point to Coffee Project NY's 2019, this year should be just as action-packed for the CPNY team, with multiple members registered for the various 2020 US Coffee Championships events. Ngai said the company's fourth retail concept is also scheduled to open this year.
Said Ngai, "Suffice to say, 2020 will be a busy year and everyone on staff feels challenged in a good way with all the new opportunities."
Coffee Project NY is now open at 21-10 51st Ave. in Long Island City, Queens. 
Howard Bryman
Howard Bryman is the associate editor of Daily Coffee News by Roast Magazine. He is based in Portland, Oregon.