Coffee roaster and retailer Compass Coffee held voter registration events this week at eight of its 12 cafes around Washington D.C. and Arlington, Virginia, for National Voter Registration Day.
Compass is also the only independent coffee company currently listed as a partner in the nationwide Power the Polls movement, through which businesses are offering healthy, low-COVID-risk workers with paid time off should they choose to volunteer to staff polling stations during the upcoming presidential election.
After all, a representative electorate and a functioning democracy are true north for the company based in the nation's capital.
"It's important to recognize that a shortage of poll workers this election is a real concern, since many existing poll workers represent high-risk populations for COVID-19," Compass Coffee Vice President of Operations Max Deem told Daily Coffee News. "If people feel comfortable serving as a poll worker, it is a great way to serve our community, though we fully understand that this opportunity is not for everyone."
Deem also noted that, particularly in this time of COVID-19-related closures and constraints, not all businesses may have the opportunity to provide extra PTO for its workers for the cause.
"We are all facing many challenges these days," said Deem. "The best way to encourage voter participation will be unique to each company. I have to shout out the Civic Alliance, a non-partisan organization, that has provided us with a lot of resources to pursue this initiative. Any organization looking to promote civic engagement can definitely reach out to us for support."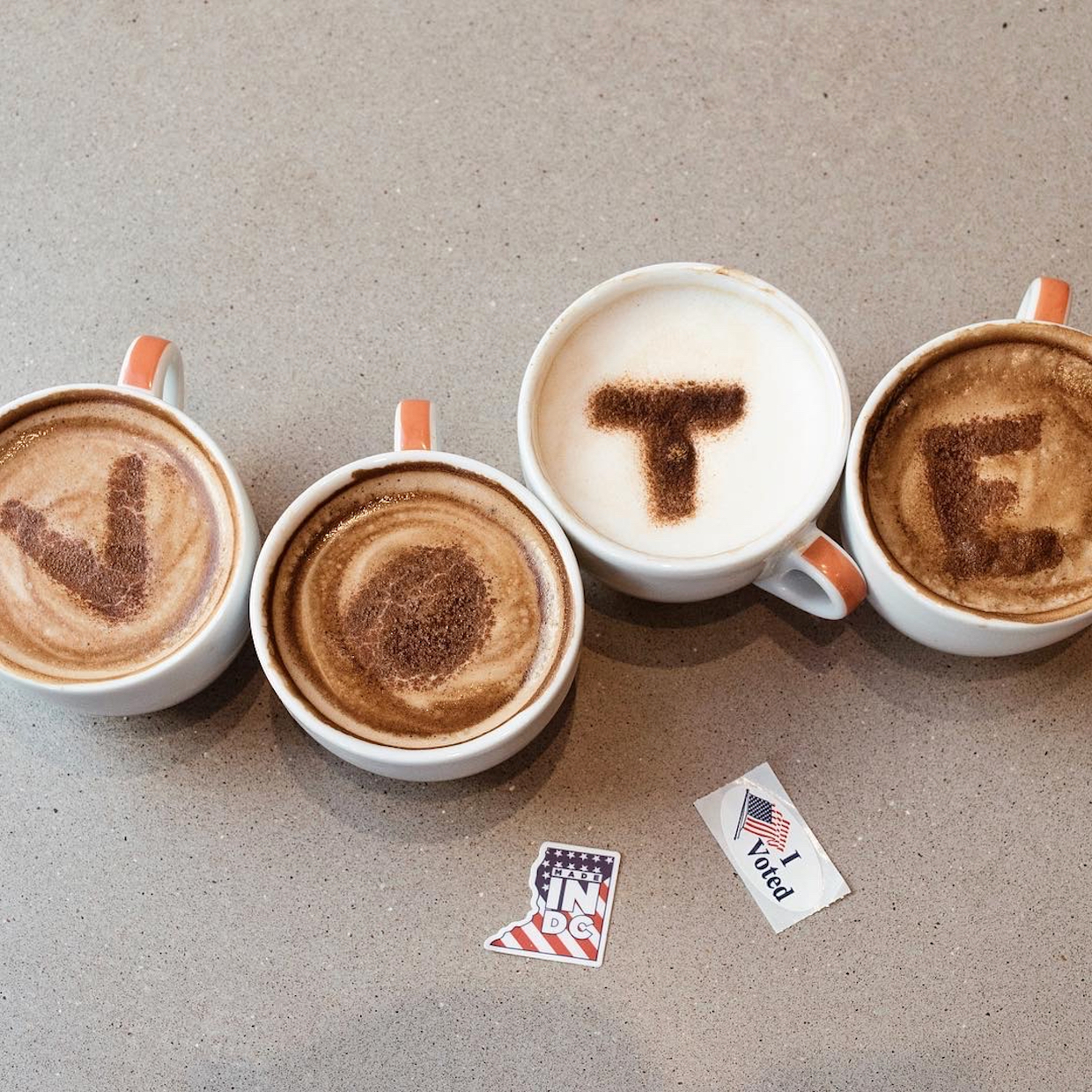 The Civic Alliance is a nonprofit coalition of nearly 250 companies working to increase voter turnout in November and beyond towards a more truly representative democracy.
On its website, its social media and in all its cafes, Compass also provides access to voter registration resources, info on polling stations and volunteer opportunities. Deem said all these efforts are in keeping with the company's mission to support its communities.
Despite a staff reduction and some closings precipitated by the pandemic, one way in which Compass has pursued that mission is by rising to the occasion when the governments of Arlington and D.C. put out calls for hand sanitizer supplies during the national shortage.
"We soon realized we could repurpose our simple syrup brewing facility for hand sanitizer production," said Deem. "It has been incredible to watch our team come together to produce hand sanitizer, a product that was in high demand, and helped thousands of people in our community stay safe and healthy."
When election day comes, there also will come the challenge of keeping all cafe and roasting operations up to speed, although Deem said that's a small price to pay given how many urgent, critical issues will be affected by the outcome of the upcoming election.
"We've definitely had to get a little creative with our staffing plans, but accommodating this hasn't been an issue," said Deem. "Our teams are working incredibly hard during this challenging time to fulfill our mission and take care of our customers. If we can remove a barrier to voting, and encourage people to help keep the polls open and safe, it's worth it for us."
Howard Bryman
Howard Bryman is the associate editor of Daily Coffee News by Roast Magazine. He is based in Portland, Oregon.