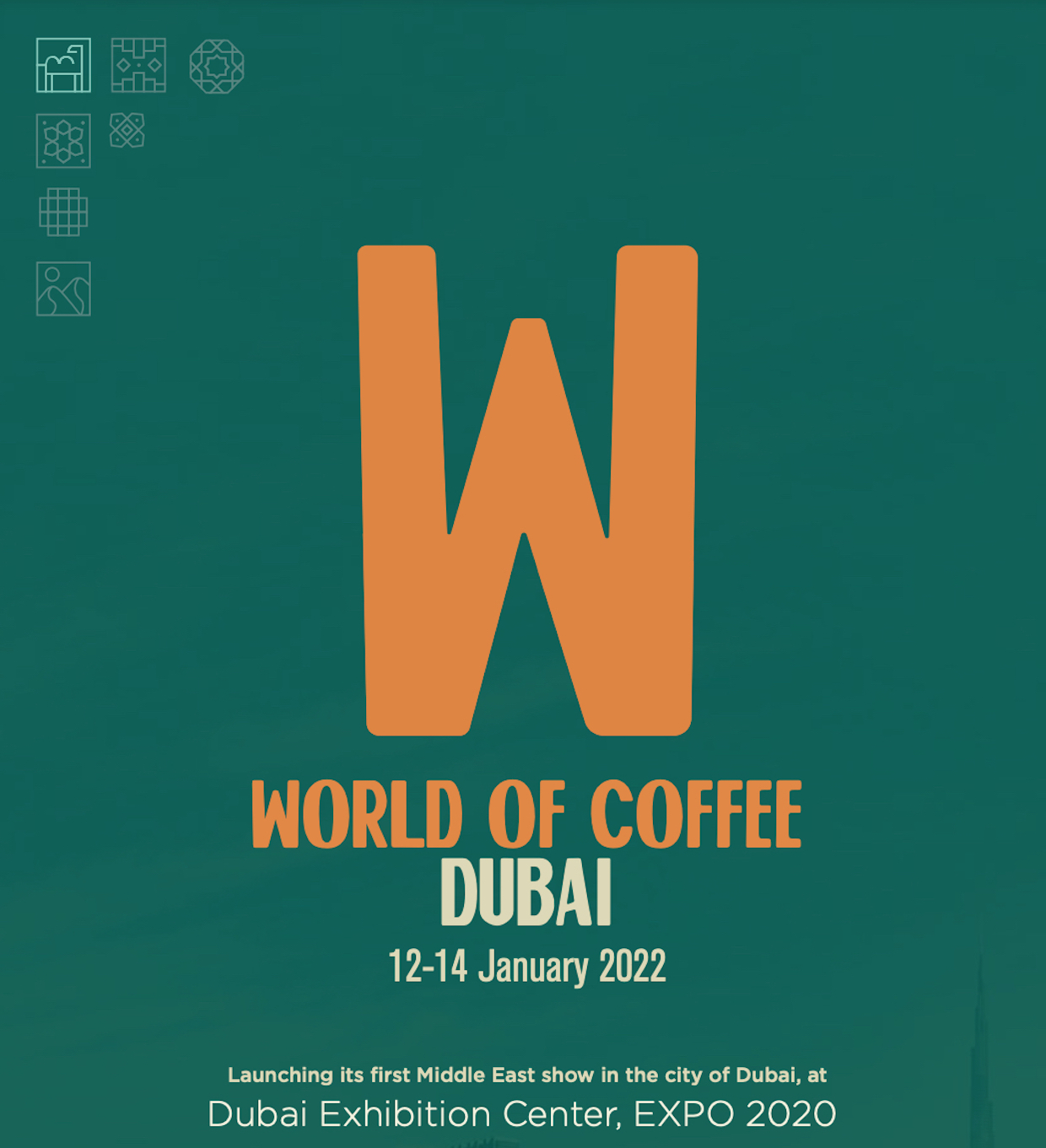 The Specialty Coffee Association (SCA) is launching a World of Coffee (WOC) trade show in Dubai, United Arab Emirates, taking place Jan. 12-14, 2022, at the brand new Dubai Exhibition Centre.
It will be the first time the world's largest coffee trade organization has brought its World of Coffee show to the Middle East.
Alongside the North America-based Specialty Coffee Expo, World of Coffee is historically one of two annual flagship trade shows under the SCA banner. The 2022 Dubai show, which is being held in conjunction with the Dubai World Expo 2020 (a COVID-19 carryover name), will be followed by the 2022 Specialty Coffee Expo in April in Boston, and the 2022 World of Coffee event in June in Warsaw, Poland.
While bearing the World of Coffee name, the Dubai show is being operated by local partner DXB Live, the events agency of the Dubai World Trade Centre, with support from the SCA UAE Chapter. On-site event management will not involve SCA staff, although the organization is providing branding and promotional support through a licensing arrangement.
Also unlike past WOC events, which take place in a different European city each year, WOC Dubai is expected to take place annually in Dubai, eventually coinciding with the annual GulfHost hospitality trade show.
The event will come just over four years since controversy erupted over the SCA's decision to host several World Coffee Championship events in the UAE. The decision was publicly criticized by numerous specialty coffee organizations that cited the country's laws against all sexual relations outside of heterosexual marriage, and its ongoing record of abuses against people in the LGBTQ+ community.
At the time, the SCA issued a  "deferment policy" for World Coffee Events competitors seeking to defer their participation to the next year in a different location. That was followed by a series of town halls and ad hoc committee formations as the SCA tried to move forward with the competitions in Dubai, despite public pressure from groups such as the SCA's own Canadian chapter, the former Barista Guild of America, and private companies such as Blue Bottle Coffee.
Ultimately, the SCA opted to relocate the 2018 World Coffee Championships from the UAE and systematically refine its criteria for competition site selection to promote inclusivity, while simultaneously signing a contract for future World of Coffee events in Dubai.
---
Related Reading
UAE Roaster Coffee Planet Signals Retail Ambitions with Dubai Opening
UAE Stakes Claim as Global Trade Leader with Massive DMCC Coffee Centre
The Middle East Has 9,084 Coffee Shops and Counting, Allegra Says
---
In a video call with reporters, SCA Community Experience Officer Vicente Partida noted that while the SCA's support of a trade show in Dubai will "not land well with some people," the show itself is designed to support the growing number of passionate specialty coffee professionals in the UAE and Middle East / North Africa (MENA) region.
Partida said that there has been an uptick in far-right hate-filled rhetoric in virtually every market in which the SCA operates, but that there are also "real people, progressive people, welcoming people," including many volunteers, who are helping to lead the region's booming specialty coffee industry.
Said Partida, "It's important to remember that that rhetoric and that hate is not representative of the specialty coffee community in Poland, or the specialty coffee community of Dubai."
The upcoming show will include existing WOC features such as The Roasters Village, brew and espresso bars, an SCA store, lectures and training, organized cuppings, and awards for products and design.
Nick Brown
Nick Brown is the editor of Daily Coffee News by Roast Magazine.