Italian espresso equipment maker Carimali has launched a new sub-brand called Heylo that will soon be rolling out a line of coffee and milk equipment that boasts induction heating technology.
Two machines on their way from Heylo include an espresso machine and a separate milk heater/frother, designed to either stand alone, stand alongside one another, or be part of a larger modular setup.
Each espresso module is a boiler-free, single-group espresso brewer that heats water through induction technology. Each milk module will also feature induction heating, plus frothing from an air valve rather than hot steam.
Carimali's induction technology was first displayed at the HostMilano trade show in Italy in 2019, and the company introduced the Heylo brand to the public at the same venue last month.
"Right now, it is a sub-brand, legally speaking," Diana Zuluaga, marketing content specialist for Heylo, told Daily Coffee News. "But the marketing and branding are entirely independent, and it is even working in a different direction."
While Carimali maintains a focus on traditional and super-automatic espresso machines, as well as grinders both traditional and those made by the Slingshot brand, Heylo will lead all efforts associated with the induction technology.
---
Related Reading
---
A previous attempt to apply induction technology to heating water for coffee took the form of the La Fenice espresso and drip coffee maker, which raised more than $200,000 through a Kickstarter campaign in 2014, but ultimately failed to enter production.
Heylo, which told DCN it has no relation to the people or tech associated with the La Fenice project, started development four years ago on its own induction heating solution.
Heylo's boiler-free system is designed to rapidly heat small quantities of water or milk for coffee drinks on demand by channeling the liquids through conductive metal tubes surrounded by electromagnetic induction coils.
When not actively brewing, the only power consumed by Heylo's espresso module is by the digital touchscreen, according to Heylo. When in the act of pulling a shot on the espresso module, the machine will consume somewhere around 600-700 watts of electricity or less, the company states.
Zuluaga told DCN that users can adjust the temperature of water within the duration of a single extraction, for temperature profiling. Flow and pressure profiling are also facilitated through the touchscreen.
The milk module operates using two inductors instead of one, providing a longer heated pathway designed for more precise temperature control than is achieved through steam. Milk is frothed through a steam-free fresh air valve that does not require heat, allowing for the option of cold foamy milk.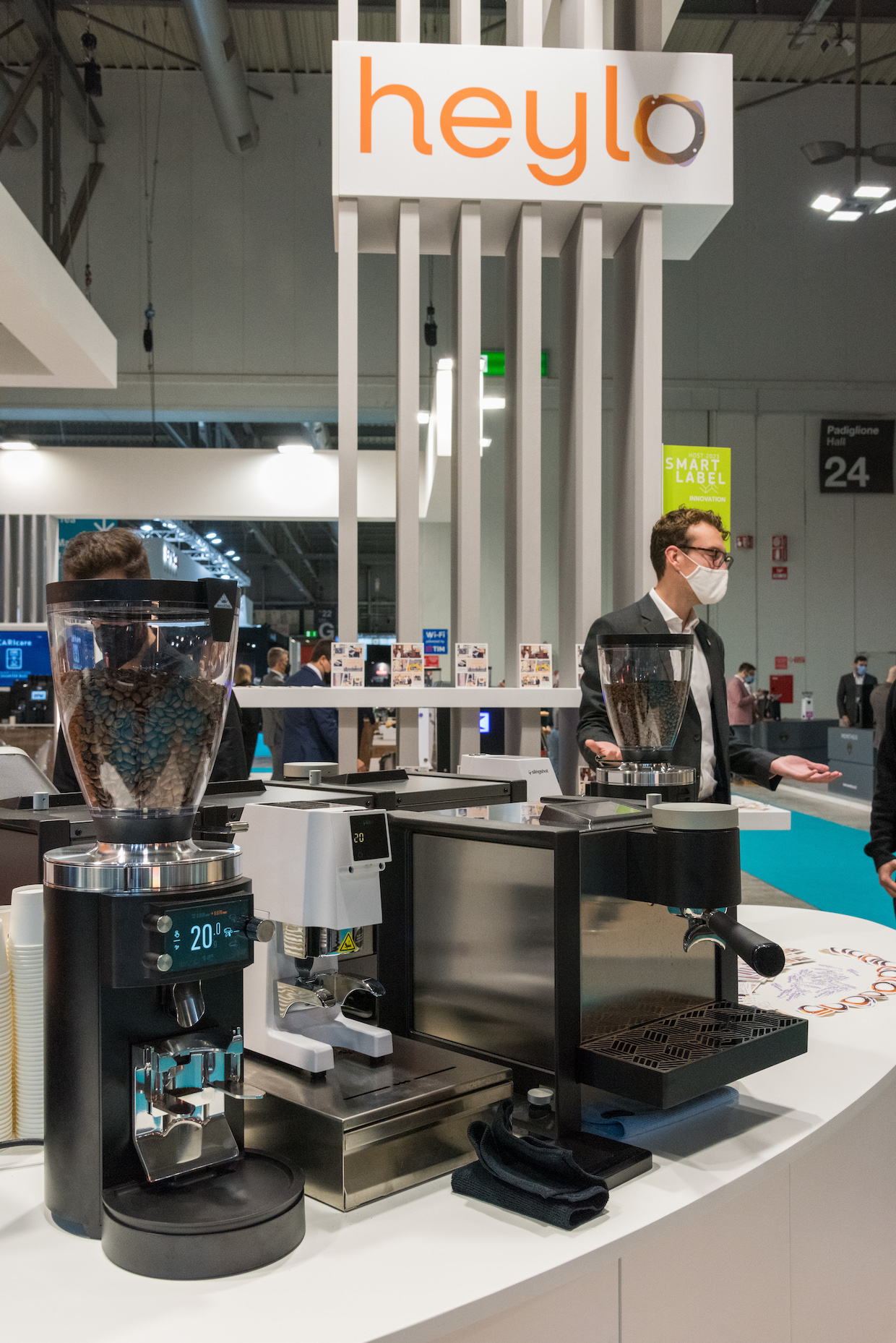 Both modules will also have the option of either being plumbed in or having on-board reservoirs.
"We expect to launch both at the same time so we can present the whole solution," said Zuluaga. "For the professional market, the espresso machine with no milk option would be quite incomplete."
The Heylo espresso and milk modules, both of which are yet to be officially named, are slated to launch for sale in the Spring of 2022.
Howard Bryman
Howard Bryman is the associate editor of Daily Coffee News by Roast Magazine. He is based in Portland, Oregon.