2020 was a colossally bad year for cruise ships, big weddings and live music.
Unfortunately for married UK couple Suzy and Alex Carrington, those were the three industries that sustained their livelihoods for the good part of a decade leading into the pandemic.
While professionally photographing dozens of weddings every year since 2012, and performing as a musical duo on a cruise line for the past five years, the couple also happened to become hobbyist roasters.
As fate would have it, the Carringtons formally launched a small roasting brand in 2019, and in 2020 that became the obvious pivot point for a new career path.
That turning point has resulted in this week's grand opening of the Carringtons Coffee Co. roastery cafe in the small town of Canforth in Northwest England.
"During the pandemic we lost all our wedding photography bookings and live music work, so decided to focus on growing our new coffee business online," Suzy Carrington recently told DCN. "We eventually needed a bigger space and so in August 2021, relocated from a small workshop in Warrington to a new unit in Carnforth."
---
Related Reading
---
Now, just 20 minutes by car from the site of their Dec. 2020 wedding in Lancaster, the Carringtons oversee a clean new industrial space with a Giesen roaster adjacent to a converted shipping container outfitted with a Victoria Arduino E1 Prima espresso machine.
A grand opening this past Monday brought more than 150 visitors to the tasting room, where the Carringtons led demonstrations and poured more than 100 flat whites. In the process, they raised more than £300 for the UK nonprofit  Blackdog Outdoors, which provides mental health programming focused on reconnecting with nature and the outdoors. The coffee business has pledged to continue to send 30p to Blackdog for every bag of coffee sold, plus 10% of its merch sales.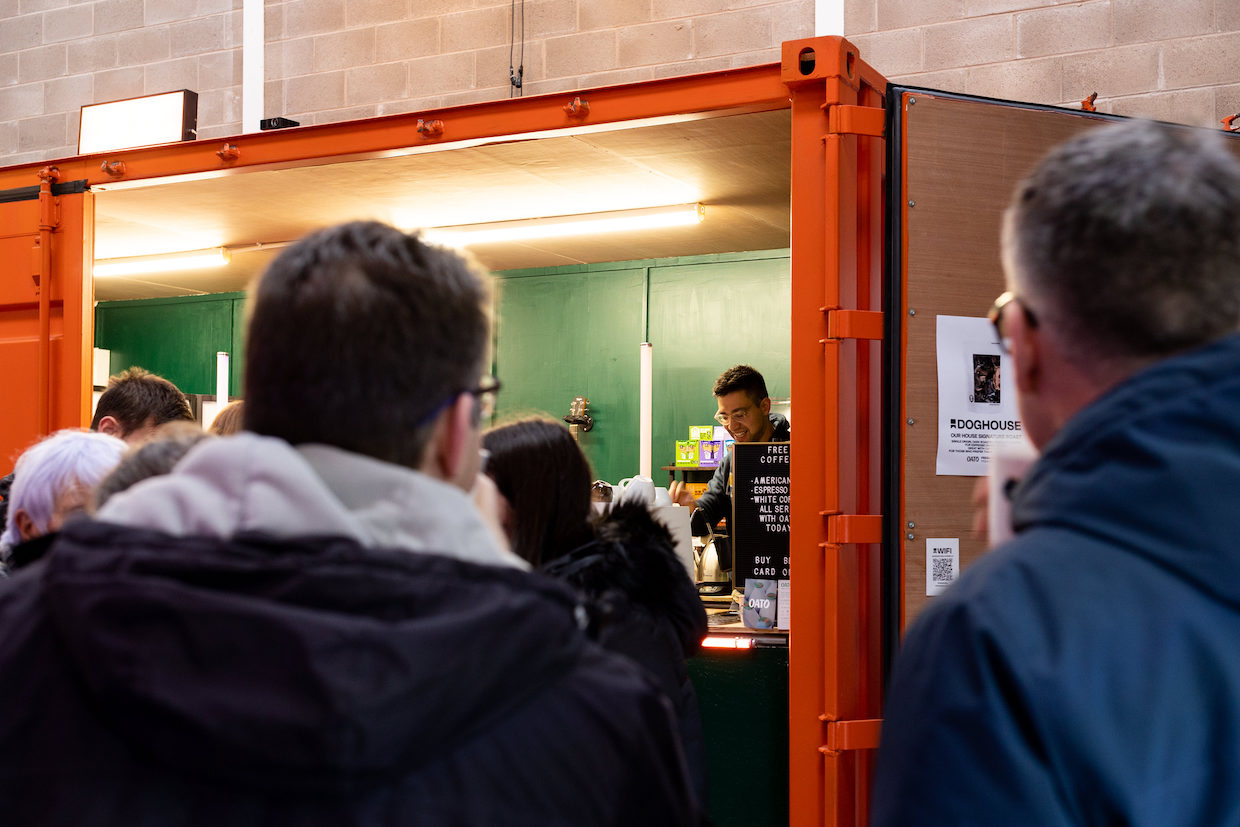 "The whole day was a whirlwind and far more people turned up than expected," Suzy Carrington said. "It was great to have so much support from the local community. I didn't think I would get as emotional as I did but by the end of the event I felt extremely proud of what Alex and I had achieved."
While formulating a business plan during their last cruise ship engagement, the duo soon after ventured to Colombia. A relationship built there with the Huila-based farm Finca Villa Natalia has led to a direct-trade channel through which the Carringtons say they are able to pay higher-than-market prices farmers.
Additional coffees in the roastery's opening-day lineup included single-origin offerings from Uganda and Ethiopia, the Doghouse blend for espresso, and a decaf from Guatemala.
"It was great to meet so many people from the local area as well as further afield," Alex Carrington said of the grand opening. "The highlight of the day for me was the rush I got from behind the espresso machine, being able to tell so many people about Carringtons Coffee Co. story and realizing that we are establishing ourselves in the community."
---
Carringtons Coffee Co. is now open at Unit 14C Keer Park, Warton Road, Carnforth, LA5 9FG. Tell DCN's editors about your new coffee shop or roastery here. 
Nick Brown
Nick Brown is the editor of Daily Coffee News by Roast Magazine.