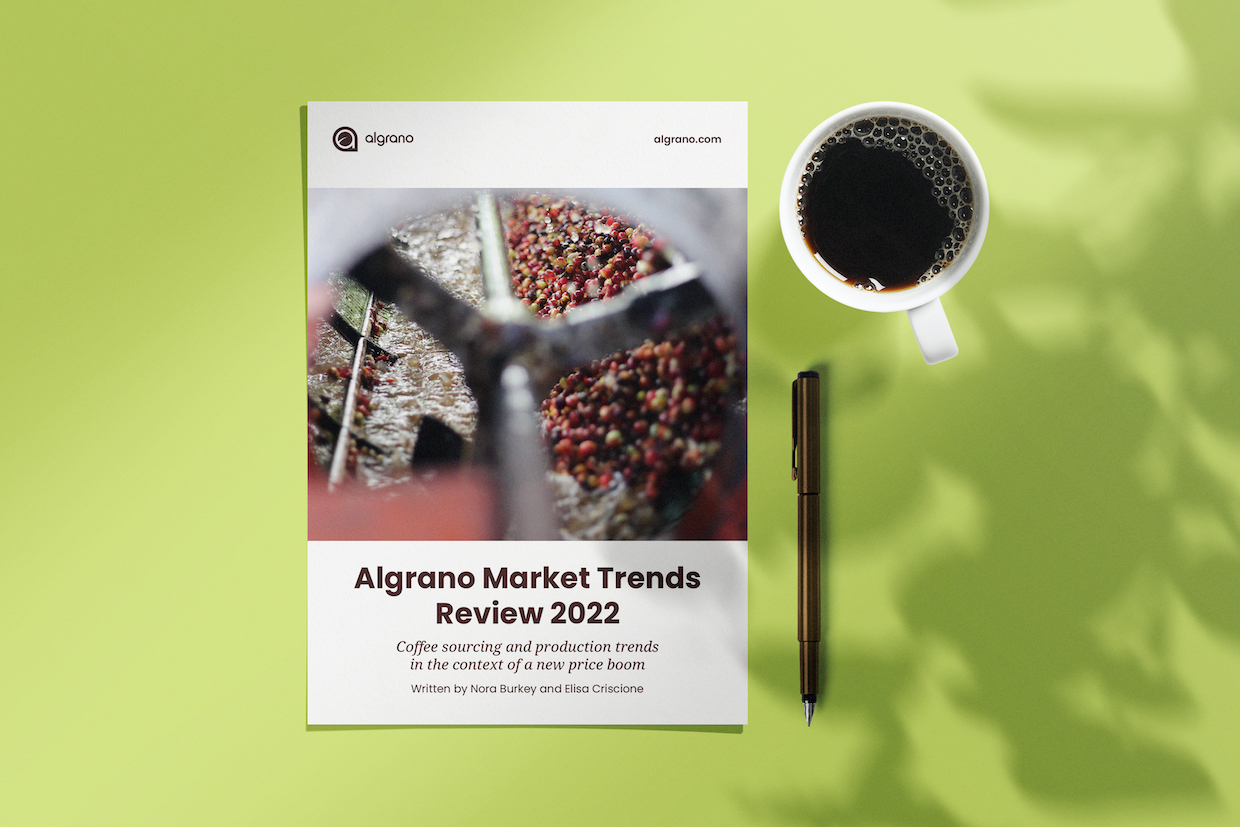 Switzerland-based green coffee platform provider Algrano has launched its second free global coffee market report.
The elaborately researched 54-page report, authored under contract by Nora Burkey of The Chain Collaborative and Elisa Criscione of Digital Coffee Future, promotes increased engagement in direct trade and long-term relationships among coffee roasters and coffee producers.
It also calls for collective action in the coffee sector to address the decades-long period of coffee price volatility.
The full report is available here (name and email registration required).
For the report, the researchers surveyed 54 roasters from 13 countries in Europe, and 76 producers from 15 countries in Latin America, Africa, and Southeast Asia. The report also leans on interviews from 26 coffee industry representatives, including independent roasters, farmers and NGO representatives.
Algrano offers an online coffee marketplace that allows for direct negotiations and contracting between coffee producers and coffee roasters, with a particular emphasis on single-origin specialty-grade coffees.
The average FOB (free on board) price for green coffee paid by roasters surveyed in the 2022 report ranged from $5.03 USD per kilogram ($2.28 per pound) to $17.46 per kilogram ($7.91 per pound).
Notably, the report did not rely on input from large coffee trading companies, which are likely to possess a wealth of valuable market data. In fact, in a foreword, Algrano CEO Raphael Studer pitched the free Algrano report as a kind of foil to traditional market reports that might offer a "top down" approach to information.
"We can't turn a blind eye to the fact that many buyers are still driven by a search for the "best deal,'" Studer wrote. "However, we do see the results and trends here presented as a sign that even if we as an industry haven't learned from previous boom and bust cycles, the supply chain is finally recognizing the value of businesses relationships and understanding that this is the most efficient risk management tool at hand."
---
Related Reading
---
The report explicitly explores current market conditions against the backdrop of the current relatively high commodities price (or "C price") for green coffee. It also also addresses other major market forces over the past two years, such as the COVID-19 pandemic, the ongoing supply chain crisis, political instability and frost in Brazil.
All these factors, the authors suggest, have only reinforced the importance of strong relationships among buyers and sellers in the coffee sector, while highlighting the imbalance of power dynamics that continuously threaten the economic viability of coffee farming.
"In addition to the current market having little to no impact on meeting living income benchmarks, it also, unfortunately, has had little to no impact on underlying power dynamics," the authors, referencing living income benchmarks for farmers, wrote. "Though some producers saw their prices increase this year and they were able to hold onto their coffee to wait for a higher price, the underlying inequities in the supply chain have, according to some, remained in place, if not worsened."
Find the full report here.
---
Does your coffee business have news to share? Let DCN's editors know here.
Nick Brown
Nick Brown is the editor of Daily Coffee News by Roast Magazine.