A new metal pourover device called the Graycano (think "volcano") is erupting from Germany. The conical filter holder is made from cast aluminum that is coated in ceramic, and it features a system of interior protrusions called Lava Ribs.
Like the ridges inside any pourover brewer, the ribs are designed to have specific effects on the interplay of water, air and temperature while brewing.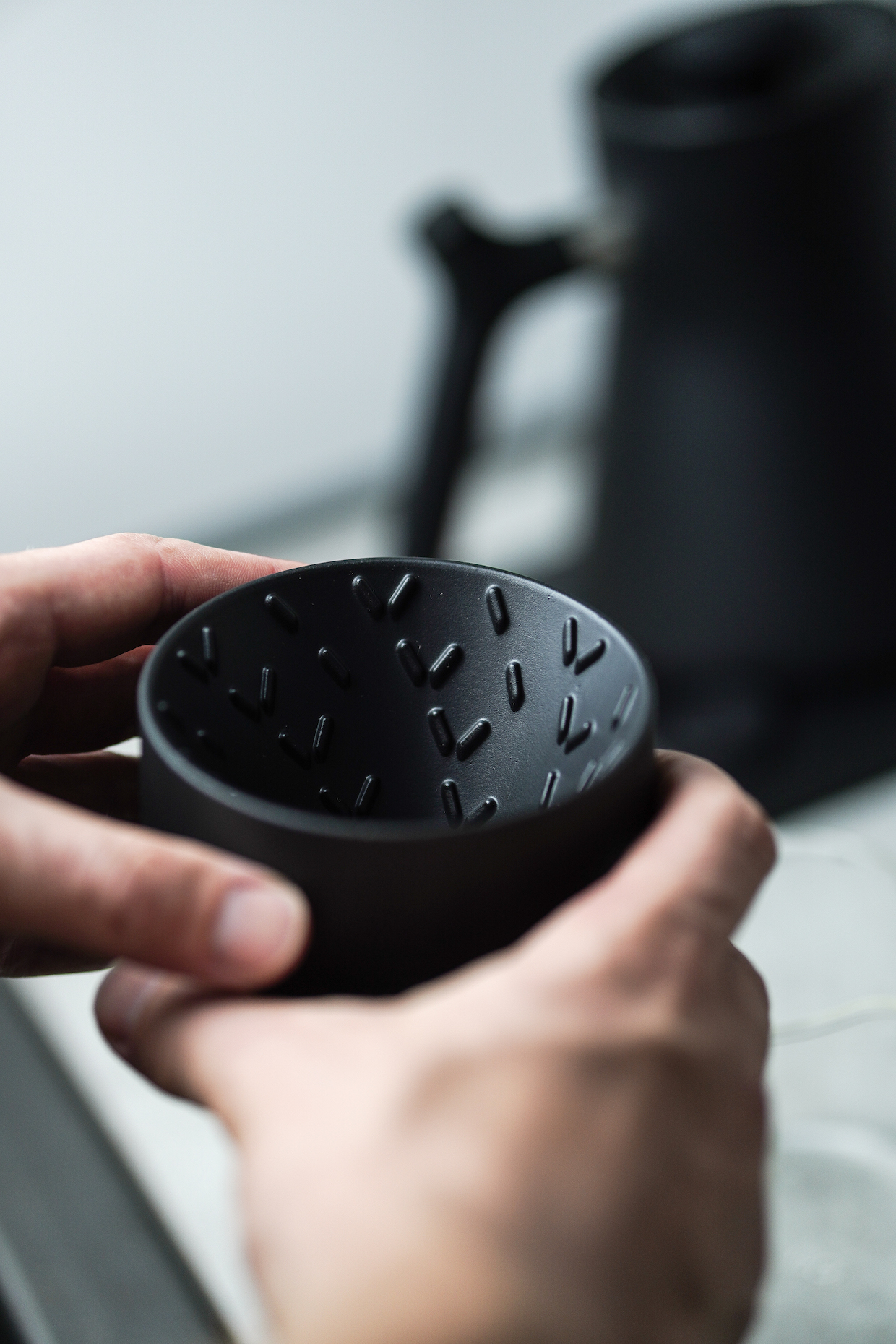 While most conical pourover brewer ribs are continuous and either vertical or curved, the Graycano's ribs form a pattern of disjointed V-shaped bumps along the brewer's interior wall.
"The structure of the Graycano was designed to break any air and water channel that might form," Graycano CEO Felix Brügmann told Daily Coffee News. "The water is allowed to freely flow between the gaps of the Vs and break these channels, resulting in an evenly wet coffee bed. Furthermore, the asymmetry of the Lava Ribs provides a natural agitation of the water. This agitation allows for a more intense flavor extraction and stronger body of the coffee."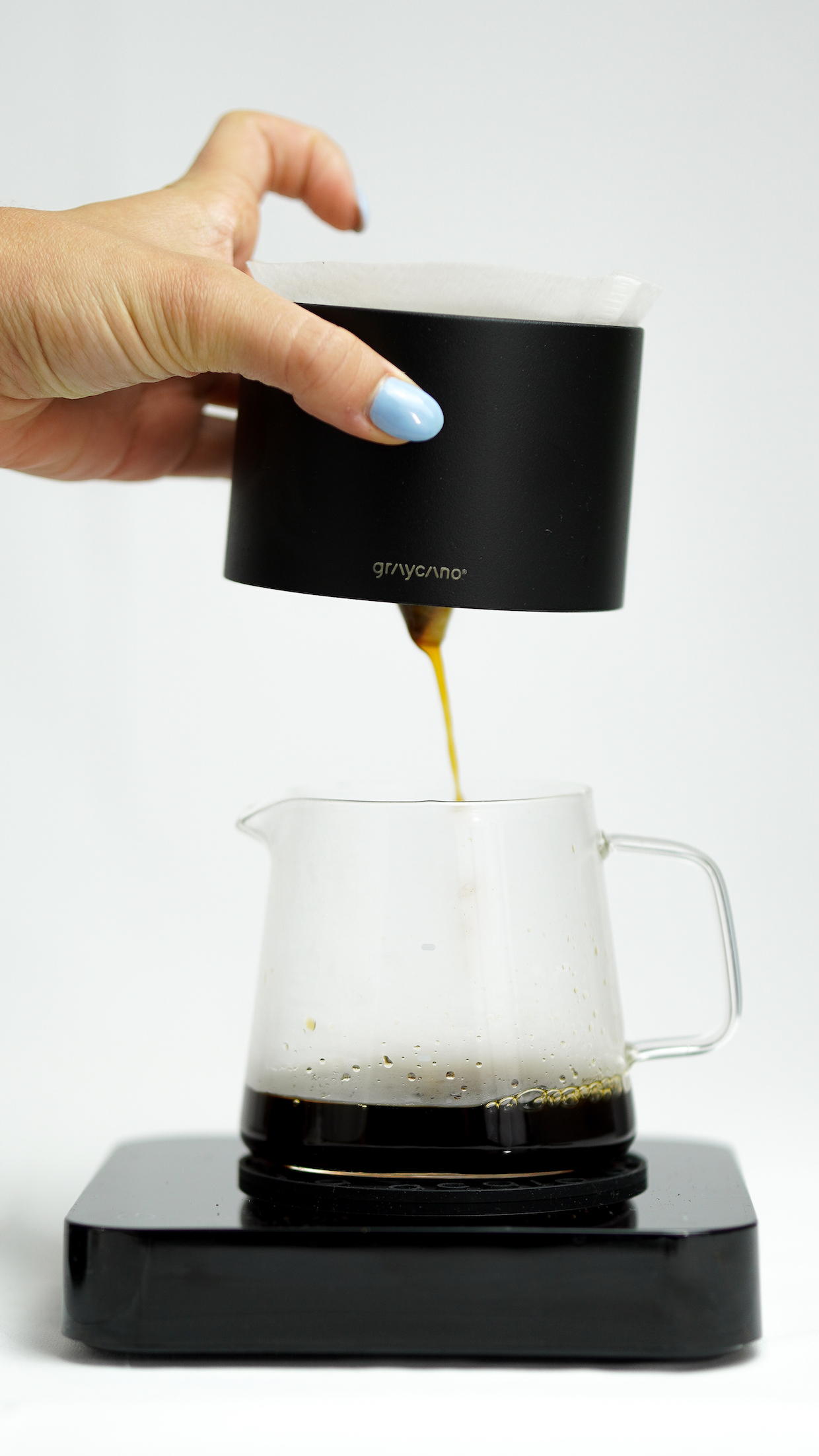 The company chose aluminum as its base material for the speed with which the metal absorbs heat. The brewer then sustains heat through a dual-wall construction.
Ceramic coating is applied to the surface of the aluminum to prevent any interaction between the coffee and the metal that might result in off-flavors or aromas.
"Our main goal with this material combination was to get the best out of the aluminum heat conduction through the brew, while leaving your coffee flavor untouched and pure," said Brügmann. "Through this thermal dynamic, the fruity and flowery notes of the coffee are intensely accentuated."
---
Related Reading
---
Cork sleeves — available in black, red or natural cork colors — surround the brewers to protect users' hands.
Said Brügmann, "To produce the cork sleeves we work with a social work company with people with disabilities from Berlin, who cut, sew and produce these beautiful and colorful sleeves that come with the Graycano dripper."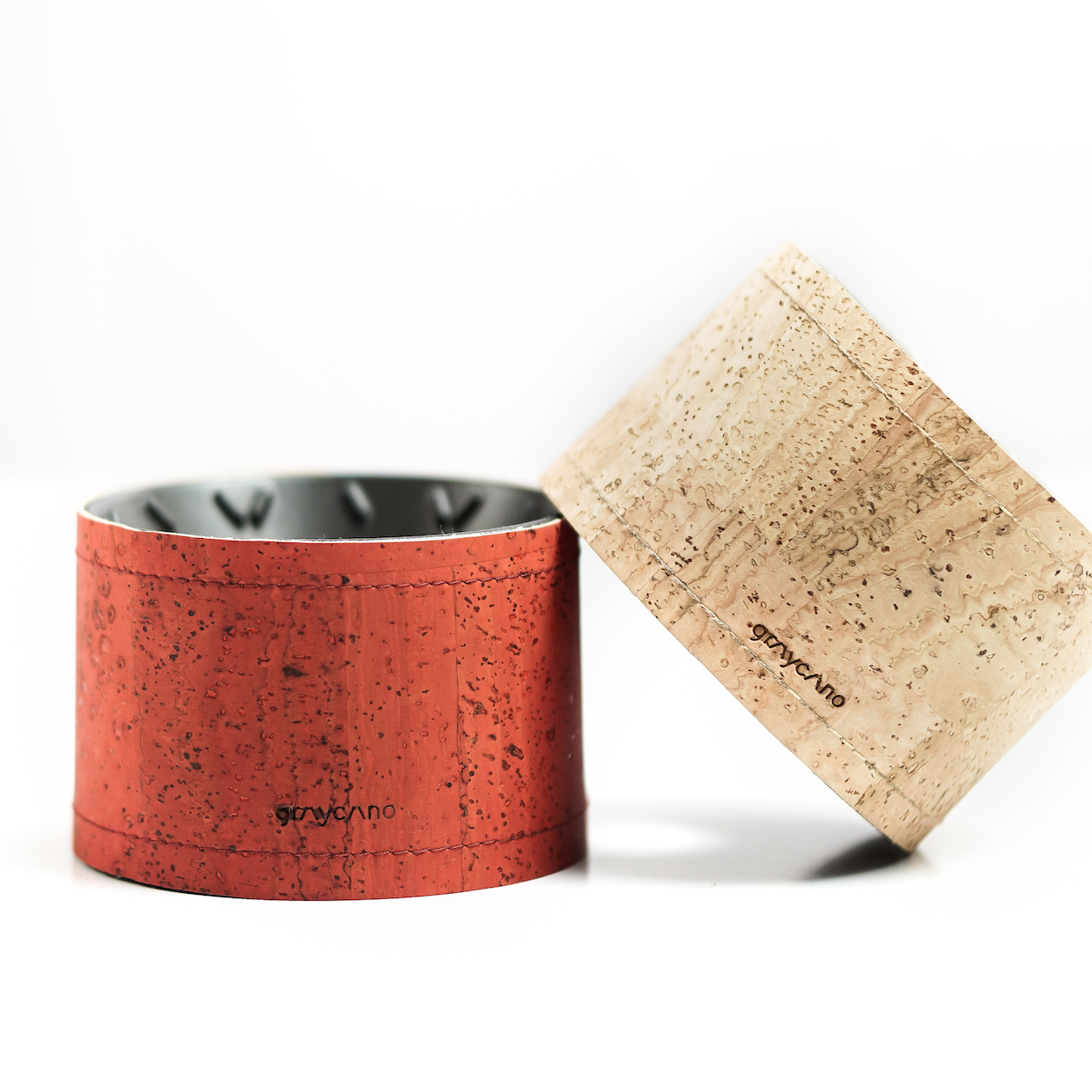 Earlier this month in Nuremberg, Germany, barista Nicole Battefeld-Montgomery won first place at the SCA's German National Brewers Cup while using a Graycano brewer.
In collaboration with Battefeld-Montgomery, Graycano will produce a special run of yellow and blue cork sleeves to be sold via Battefeld-Montgomery's Instagram account to raise money for relief organizations supporting people affected by the Russian invasion of Ukraine.
Brügmann founded Graycano in Leipzig, Germany in November 2020, and was soon joined by COO Nicole Chabot, who was born in Belo Horizonte, Minas Gerais, Brazil.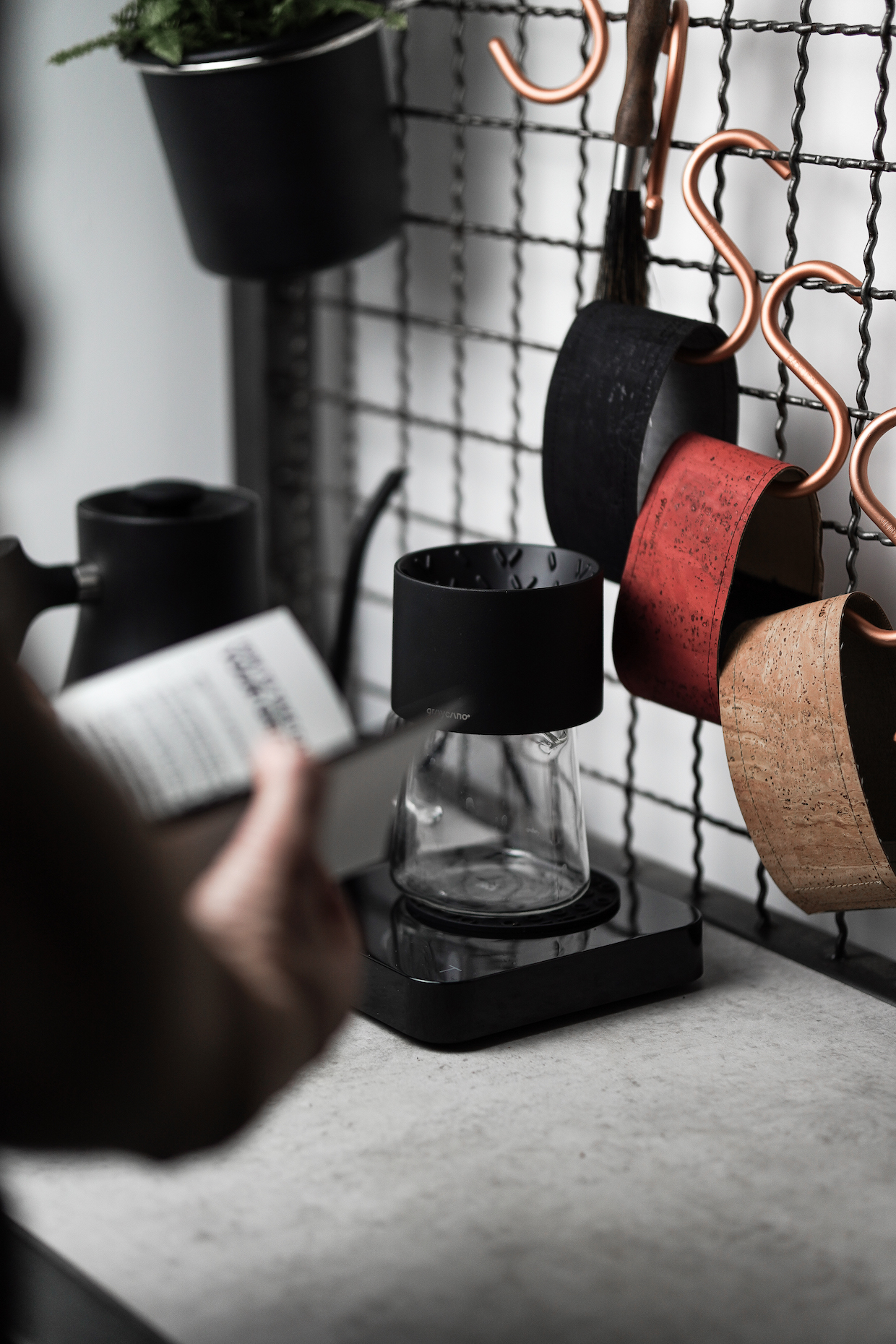 Chabot had previously worked in administrative positions within the real estate and construction industry in the United States. Brügmann is a former professional soccer player for the German regional league who later worked as social media marketer and project coordinator for Leipzig specialty coffee shop Franz Morish.
Brügmann told DCN the earliest concept of the Graycano occurred to him in early 2020, leading to a 21-month period of design, development and testing.
"It was definitely a fun, crazy, overwhelming, frustrating but incredibly fulfilling and exciting adventure," said Brügmann. "Developing a new product is not an easy task but it's just an amazing experience."
Today Graycano's materials are supplied by a German engineering company and manufacturing occurs mostly in Stuttgart. The ceramic coating is applied to the aluminum brewer using technology developed in Switzerland.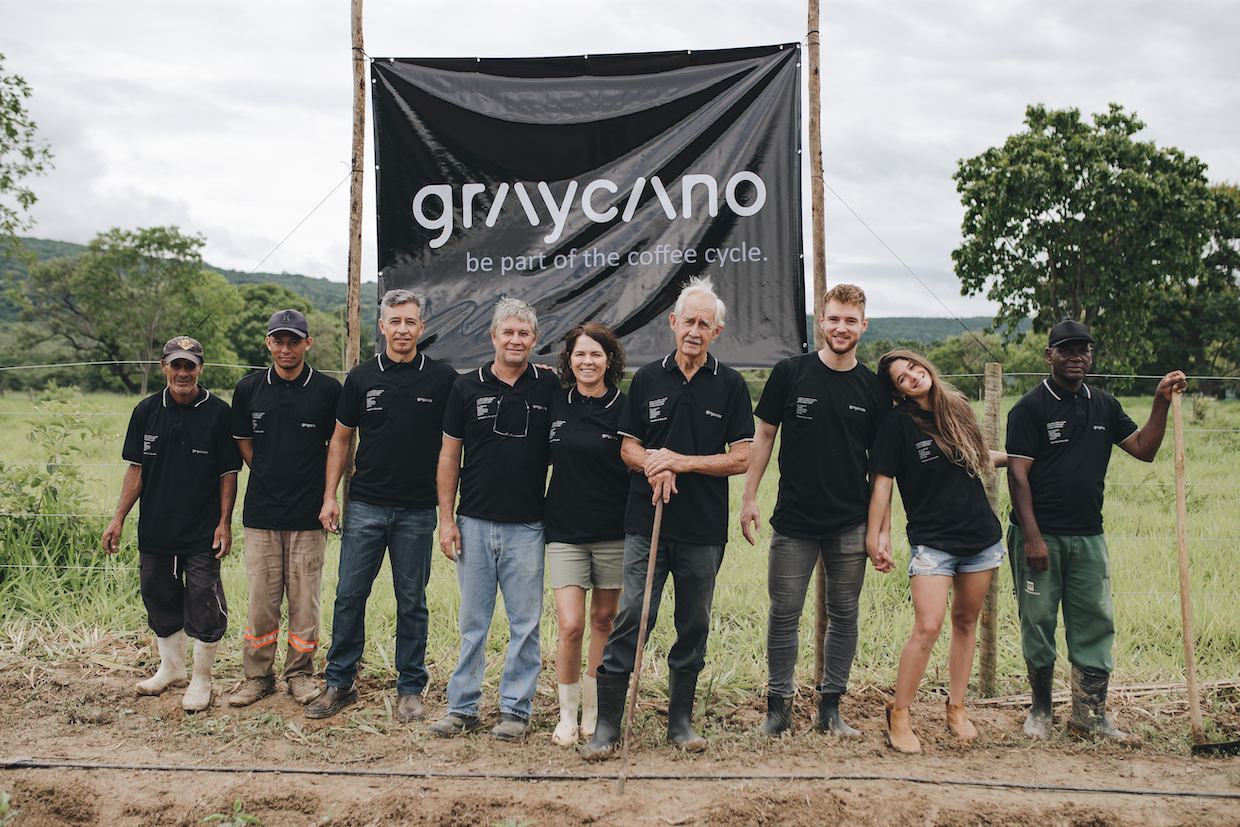 With every Graycano brewer purchase, the company will dedicate one coffee tree recently planted on Fazenda Jacarezal, a farm owned by Chabot's grandfather in Buenópolis, a town in the north of Minas Gerais. The initial planting of trees occurred in December 2021.
"They are still young and have a couple of years before their first harvest," said Brügmann. "However, we are already studying and analyzing the best possible and ideal method of processes for the cherries, to get the best out of the coffee in the region we are cultivating."
Customers will receive periodic photos and updates on the progress of their trees, and if all goes well, Graycano hopes to be able to offer these customers first dibs on purchasing the roasted coffee harvested from the farm.
"This is the first time that Paulo, the farmer, had the possibility and resources to cultivate his own coffee plantation," Chabot told Daily Coffee News. "The farm has milk cows, sugar cane, various fruits like guava, banana, and pineapple that [are] actually planted in alternation with the coffee trees."
Graycano pourover brewers are currently sold to customers worldwide directly from the company's website for €84.90 ($90.05 USD as of this writing) plus shipping and VAT. Meanwhile, a la carte tree adoptions are available for €34.00 ($36.33 USD).
[Editor's note: This story has been updated. A previous version incorrectly spelled the name of German Brewers Cup Champion Nicole Battefeld-Montgomery.]
---
Does your coffee company have news to share? Let DCN's editors know here.
Howard Bryman
Howard Bryman is the associate editor of Daily Coffee News by Roast Magazine. He is based in Portland, Oregon.