Massachusetts-based coffee equipment maker Chemex has launched a new brewer and decanter combo called the ChemAer.
Maintaining the general shape, brewing style and borosilicate glass construction of the original Chemex brewer, the ChemAer adds a pair of molded interior paddles to its lower containment area designed to promote turbulence for aeration.
Intended for use with either coffee or wine, the ChemAer concept draws inspiration from both beverage cultures.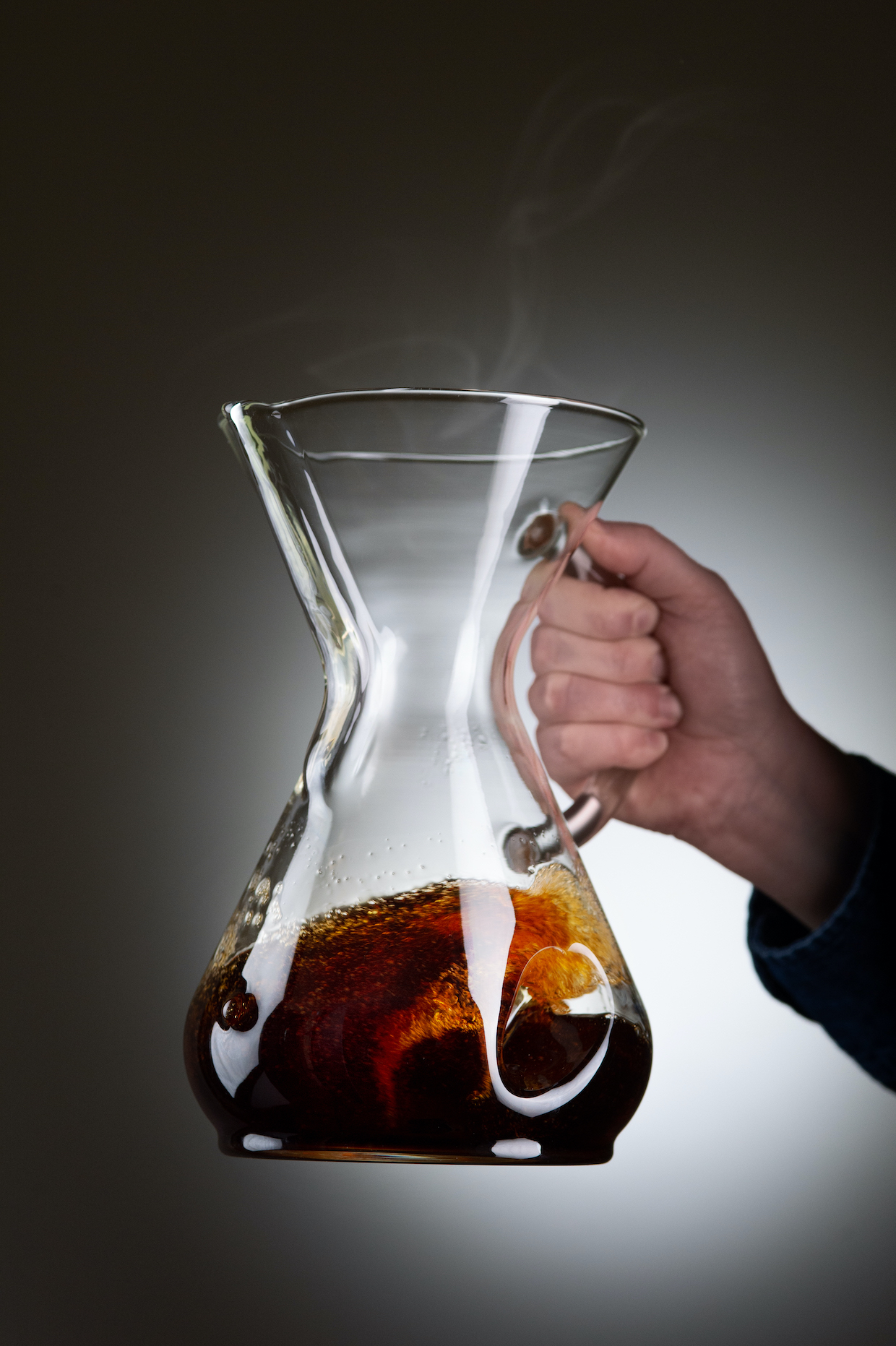 "While it is common knowledge that people decant and aerate wine, it was through our interaction with the specialty coffee community that we learned more about the idea of aerating coffee," Chemex Co-Owner and Vice President Eliza Grassy told DCN. "While the Chemex design already lends itself to being an excellent aerator and decanter, the possibility of creating an additional feature to optimize the process was in our mind."
In the 82 years since German-born chemist Peter Schlumbohm designed the Chemex coffee brewer, its form and functionality has remained essentially unchanged. The ChemAer upholds the principles, geometry and materials of the brewer — which maintains a spot in the permanent collection of the New York Museum of Modern Art (MoMA) — while subtly evolving it to encourage experimentation.
"It was January of 2022 when we started collaborating with our European partner Trendglas and Hungarian Barista Champion Attila Molnár on the ChemAer," Grassy said. "Our goal was to make a product with an additional option for people to easily experiment with flavor after extraction."
The ChemAer may be the largest swirl-friendly vessel to enter the specialty coffee world in recent years, but it is not the first. In the Summer of 2019, Pennsylvania-based equipment maker Icosa Brewhouse introduced its Avensi line of brewed coffee tasting glasses with molded lower interior portions that encourage swirling for aeration and cooling.
Later that year, Toronto-based Kruve expanded its Kruve EQ line of glassware to include the Propel espresso glass, featuring interior fins that stir the extraction for a destratification effect.
The ChemAer, meanwhile, can be used to aerate small brews, down to as little as 10 ounces, according to the company. As a brewer, it offers a 40-ounce ("eight cup") capacity. The brewer is now available on the Chemex website for $60.
Said Grassy, "We plan to release several new products in 2023, with the focus continuing to be on our beautiful borosilicate glass pieces that are functional works of art."
---
Does your coffee business have news to share? Let DCN's editors know here.
Howard Bryman
Howard Bryman is the associate editor of Daily Coffee News by Roast Magazine. He is based in Portland, Oregon.