Welcome to DCN's Weekly Coffee News. Keep up with all the latest coffee industry stories and career opportunities by subscribing to DCN's newsletter. Tell our editors about your news here.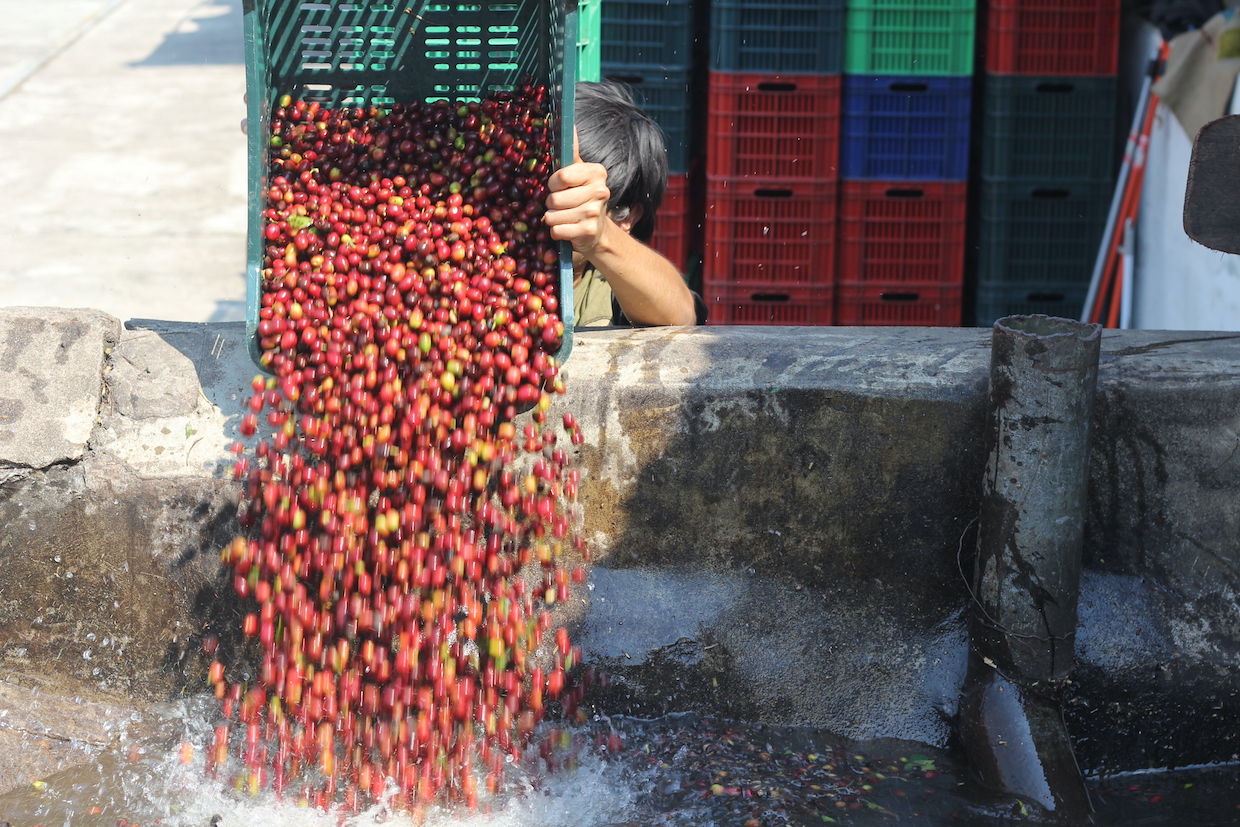 Fairtrade International's Minimum Price Increases Take Effect
As its minimum price increases for certified coffee took effect August 1, Fairtrade International (FLO) sounded the alarm on coffee prices and their historic perpetuation of coffee farmer poverty. The group described higher prices as "non-negotiable" for the sustainability of coffee itself. Last month, in response to the Fairtrade price raise, Fair Trade USA put a freeze on minimum prices and price premiums for all green coffee sold under its Fair Trade Certified seal through the end of 2023.
Coffee Masters NYC Applications Now Open
Applications for the annual Coffee Masters NYC are now open. The global tournament in conjunction with the New York Coffee Festival will feature 12 baristas competing across several disciplines: cupping, brewing, origin, latte art, order, signature drink and espresso blend. The New York Coffee Festival will take place Oct. 6-8 at the Metropolitan Pavilion in Midtown Manhattan.
Plaintiff Chapped in S'mores Lip Balm Lawsuit
For the moment, Starbucks can claim sweet victory as a defendant in a lawsuit over S'mores Frappuccino lip gloss, with the judge saying the plaintiff waited too long to sue, Reuters reported. An attorney for the plaintiff, lip balm company Balmuccino, said they plan to appeal the ruling.
Paris City Hall Supports €1 Euro Coffee Map
An interactive map shows all the places you can get coffee in Paris for €1. The initiative, first launched 10 years ago, can be found on the Paris City Hall website and is updated by citizens with the name, address and other information about establishments with cheap coffee. Last year, Italian coffee pioneer Ditta Artigianale was fined €1,000 for charging €2 for an espresso shot.
Dear Abby Tackles Coffee Carry-Ins
A recent Dear Abby column mulled over the socially, if not ethically, awkward predicament of outside coffee being carried into a breakfast restaurant. Addressing "Embarrassed in the East," whose friend routinely commits the offense, Abby naturally replies that, "It's possible she simply doesn't like the coffee that restaurant serves, although she does enjoy their food and your company." Read on for Abby's hot take.
JDE Peet's to Remain in Russia Despite Ukraine War
In an earnings call this week, global coffee giant JDE Peet's said it plans to continue operating in the Russian market, although it is adjusting its strategy to focus on local brands while phasing out international brands, according to a Reuters report. Numerous international coffee companies, including Starbucks and Paulig, have exited the Russian market due to the unprovoked war in Ukraine.
Equator Coffees, Emmi Group Launch RTD Cold Brews
California roasting company Equator Coffees has entered a joint venture with Swiss dairy manufacturer Emmi Group. The Emmi Equator RTD Coffee partnership comes with the launch of four cold brew coffees: Pure Black, Hint of Milk and Sugar, Velvet Mocha and Hint of Vanilla. Equator Coffees also recently opened its 10th cafe.
Scooter's Coffee Scores Frisco Bowl Sponsorship
Scooter's Coffee has been named the title sponsor of the Frisco Bowl college football bowl game. With the multiyear agreement, the game will now be called the Scooter's Coffee Frisco Bowl. It takes place in the Dallas/Fort Worth Metroplex.
Blind Tiger Coffee Roasters Backs Kombucha Brand
Tampa, Florida-based Blind Tiger Coffee Roasters is one of multiple investors in fellow Florida craft beverage business Mother Kombucha, the St. Pete Catalyst reported. The kombucha brand is already sold in all locations of Blind Tiger.
Torani Introduces Sweet Heat
Syrups maker Torani is spicing up its offerings with a new flavor called Sweet Heat. The concoction blends pure cane sugar with a dash of cayenne pepper, capitalizing on the trend of the "swicy" (sweet and spicy) flavor combination, according to the company.
In Case You Missed It
Here are some of DCN's top stories from the past week…
New Balance Just Released Blue Bottle Coffee Sneakers
Comfort-forward sneaker company New Balance and Oakland, California-based Blue Bottle Coffee have teamed up for a limited-release sneaker… Read more
Ansā Scores $9 Million More for U.S. Roasting Machine Launch
Israeli coffee tech startup Ansā closed a US$9 million funding round to support the launch of its countertop roasting machine in North America… Read more
Roaster-Retailers Kaldi's Coffee and Dancing Goats Coffee Merge
St. Louis, Missouri-based Kaldi's Coffee and Washington State/Atlanta-based Dancing Goats Coffee (formerly also known as Batdorf & Bronson) have merged, Kaldi's announced this week… Read more
German Coffee Association Completes Espresso Extraction Research
The German Coffee Association (Deutscher Kaffeeverband) and a prominent German food science nonprofit have published initial results of a three-year research project on espresso extraction… Read more
All Cleveland Coffee Co. Gives Some Back
Two beefy Cleveland sports figures are helping to provide sustenance to people in need in the greater Cleveland area through a new coffee venture called All Cleveland Coffee Co.… Read more
Nuova Simonelli Updates MDJ and MDXS On-Demand Grinders
Italian espresso equipment company Nuova Simonelli has introduced new versions of its MDJ and MDXS commercial espresso grinders. New features to the machines include larger touchscreen displays, improved user interfaces, motor suspension systems for noise dampening and more… Read more
Ostara Coffee Roasters is Spicing Up Texas Cold Brew
Led by two women in Fort Worth, Texas, a roasting startup called Ostara Coffee Roasters is making a name for itself through creative branding, a fiercely local focus… Read more