Welcome to DCN's Weekly Coffee News. Keep up with all the latest coffee industry stories and career opportunities by subscribing to DCN's newsletter. Tell our editors about your news here.
Compass Coffee and Washington Post Team Up for The Post Roast
In coffee news about coffee and news, Washington D.C.-based specialty coffee roaster Compass Coffee has partnered with one of America's great papers of record, The Washington Post, to launch The Post Roast. Packaged in recyclable tins sourced from a local manufacturer and commissioned artwork from Raul Urias, the coffee blend is helping to promote The 7, the Post's flagship newsletter and podcast.
Two Philly Cafes Drop Union Representation
The staffs at two Philadelphia locations of Good Karma Cafe will no longer be represented by Workers United, the group behind the wave of unionization efforts at Starbucks locations throughout the United States. After staff votes through the National Labor Relations Board, the board swiftly decertified the union representation.
Longtime Seattle Roaster Caffé Vita Leaving Original Shop
Seattle specialty coffee roasting institution Caffè Vita has announced it is not renewing the lease of its original coffee shop location in the Queen Anne neighborhood. The company, which rebranded under fresh ownership in 2020, will continue to supply coffees to the new location through the expected new tenant, Turtle Coffee.
GE Launches Grind and Brew Machine, Earns SCA Home Certification
Adding to its home-focused Café line of home coffee equipment, GE Home Appliances has launched the Café Specialty Grind and Brew Coffee Maker, an automatic brewer with a built-in conical burr grinder. The machine has received certification through the SCA's Certified Home Brewer Program.
Simonelli Group Opens UK Branch
Simonelli Group, the Italy-based owner of the Nuova Simonelli and Victoria Arduino brands, this week opened a UK branch. Based in London under the name Nuova Distribution UK, the office will be a hub for Simonelli sales, technical assistance and training. The group cut the ribbon for its Italian research and design campus earlier this year.
Nespresso Introduces N°20 Coffee Variety
Capsule coffee maker Nespresso launched a limited-edition product that it says features a new-to-market coffee variety by the name N°20. The Nestlé-owned company said the coffee product is 20 years in the making following trials and cultivation of the variety among 59 coffee farmers in Colombia. The capsule product, marketed by the company as "probably the most precious coffee in the world," sold out within days on the U.S. market.
Weber Unveils Upgrades to the Key Grinder
High-end boutique coffee equipment maker Weber Workshops is currently unveiling an updated version of its Key Grinder at the Specialty Coffee Association of Japan (SCAJ) annual trade show. Launched in 2021, the Key is an electric grinder with 83-millimeter conical burrs. A Weber spokesperson told DCN that new features include 50% more torque, a new magnetic anti-popcorning lid, customizable wood accents, an integrated single-dosing bean feeder and an improved magnetic tumbler.
Superlost Coffee Launches XP Concentrate with Built-In Measuring
Brooklyn, New York-based specialty coffee roasting company Superlost Coffee launched Superlost XP, a consumer-focused coffee concentrate with a distinct bottle designed to precisely measure coffee shots based on the user's squeeze. A full squeeze yields a shot that comes in at 100 milligrams of caffeine, according to the company.
Glissade Hosting Oct. 5 Throwdown to Elevate Women
Aurora, Colorado-based Glissade Coffee, which opened a sparkling 3,200-square-foot roastery cafe in March, is hosting the "Women and Femme-Identified Latte Art Throwdown" on Oct. 5. Competitor and guest RSVPs are dated Sept. 28. The event will feature coffees grown and roasted by women. Details are on Glissade's Instagram.
12 Baristas Named for Coffee Masters NYC Competition
Organizers of the New York Coffee Festival have announced the 12 barista competitors for this year's Coffee Masters NYC competition, a fast-paced barista skills competition that has taken place since 2015. The festival takes place Oct. 6-8 at the Metropolitan Pavilion in Manhattan.
Contact-Free Toby's Estate Concept Shop Opens in Kuwait City
The operator of the Australia-born Toby's Estate Coffee brand in the Middle East has unveiled a fully digitized contact-free coffee shop in Kuwait City, Kuwait. Operator Pinnacle Group has now opened 12 Toby's Estate locations in the Gulf Cooperation Countries (GCC) region. In the new shop, all orders are placed online or through the app, and baristas prepare orders out of sight, according to the company.
In Case You Missed It
Here are some of DCN's top stories from the past week…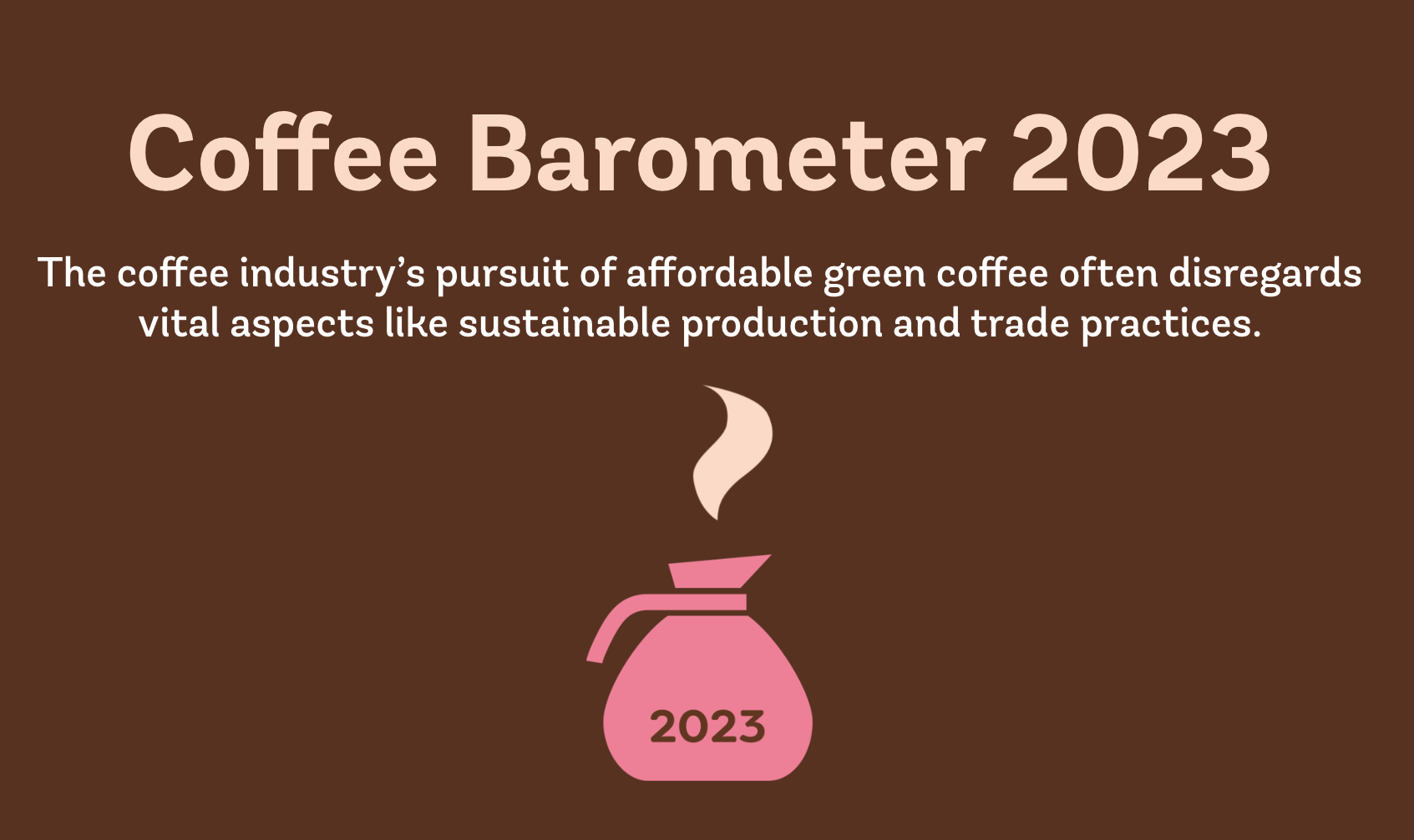 2023 Coffee Barometer Shows Growing Pressure for Sustainable Coffee
The 2023 Coffee Barometer launched today, describing an agricultural sector in a "state of crisis" while outlining mounting pressures on coffee companies to more clearly address sustainability in their own supply chains…
Starbucks Faces Suit Claiming it Misled Consumers Regarding Fruit Content
A U.S. District Court judge on Monday advanced a class action lawsuit that alleges Starbucks misled consumers regarding the fruit content, or lack thereof, in certain fruit-flavored drinks…
Coffee Consumer Trends: Inside the NCA's Fall 2023 Report
Overall coffee consumption has remained remarkably steady among United States coffee drinkers, while variables such as where drinks are consumed and what exactly is consumed continue to shift in the post-pandemic era, according to the most recent National Coffee Data Trends (NCDT) report…
Three Questions with Cydni Patterson of Sweet Finish
With manicured nails, sparkling wit and sometimes even a tank top with her face printed on it, Cydni Patterson packs an undeniable amount of charisma into her social media posts. Thankfully, she's all about coffee, too…
Virginia's Happ Coffee Finding Good Fortune in Waynesboro
The people behind the former Farmhaus Coffee are bringing coffee-fueled new life to a historic building in the Shenandoah Valley city of Waynseboro, Virginia, under the new name Happ Coffee…
New Chicagoland Roaster Angora Coffee Keeps it Clean
A Chicagoland startup roastery called Angora Coffee has opened its doors to the public, sharing a passion for high-quality, single-origin coffees and offering tightly packaged fresh bags to-go…
Starbucks Opens $220 Million Coffee Factory in China
Seattle-based international coffee giant Starbucks has opened a $220 million coffee production and distribution facility in China while signaling ambitious retail expansion plans…