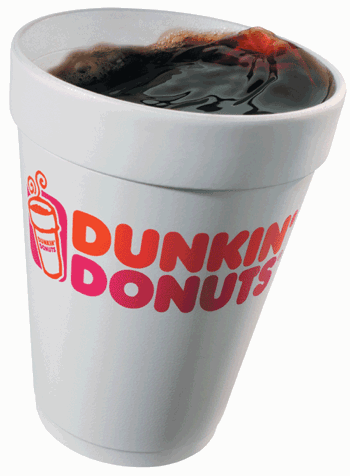 New York City Mayor Michael Bloomberg, whose regulatory legacy already includes headline-making bans on trans fats and giant sugary sodas, is now setting his sights on plastic foam food containers, including coffee cups.
Bloomberg's office has released portions of his 12th State of the City speech, which takes place today, in which Bloomberg announces his intentions to do away with the stuff, which is not biodegradable and is known to break into small pieces, littering city streets: "We can live without it, we may live longer without it, and the doggie bag will survive just fine," he plans to say.
While the ban, which would need approval from the city council, would likely impact numerous small coffee purveyors, the biggest hit would come to the city's leading chain, Dunkin' Donuts, which has 454 New York locations pushing coffee in foam cups. The company has told previous municipalities enacting bans that there are no "reasonable" alternatives to the packaging material.
In fact, the company has a section dedicated to foam cups on its FAQ page, saying:
Why doesn't Dunkin' Donuts use recycled paper coffee cups?
Dunkin' Donuts is committed to selling fresh brewed coffee in containers that are safe for the consumer. Our foam cup is one of the strongest in the industry and it insulates better than paper cups we have tested. By using foam, we are reducing the added waste that occurs with double cupping, cup sleeves and/or extra napkins. In addition, foam cups are recyclable, paper cups are not, and we encourage you to check with your local/municipal-recycling program as to whether or not they will accept #6 plastic.
Nick Brown
Nick Brown is the editor of Daily Coffee News by Roast Magazine.