The British coffee giant Costa Coffee has become the first coffee chain to include camel's milk on its menu, offering it as a cow's milk alternative at its 30 stores in the United Arab Emirates.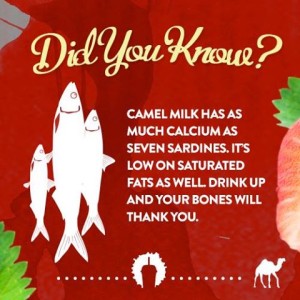 Available for an approximately 50 cent upcharge (2AED) over drinks with cow's milk, camel's milk represents a staple in the Bedouin diet for millennia. The company has even rolled out a camel's milk-based product for its Ice line, the Strawberry Camel Milk Cooler. In its marketing pitch to consumers, the company announces, "camel milk has as much calcium as seven sardines."
While camel remains widely consumed in many Middle Eastern countries, and the practice of milking camels has even taken some hold stateside. At least 14 U.S. states currently allow regulated milking of camels, while the rules regarding the sale of camel milk products vary widely state to state. The milk has higher levels of potassium, magnesium, iron, copper, manganese, sodium and zinc than cow's milk. It also contains much higher levels of vitamins C and has a higher fat content.
From Costa: "Camel milk is easy to digest, its has properties which boost your immune system and is lower in fat compared to Cow's milk…. Switching has never made more sense."
Nick Brown
Nick Brown is the editor of Daily Coffee News by Roast Magazine. Feedback and story ideas are welcome at publisher (at) dailycoffeenews.com, or see the "About Us" page for contact information.