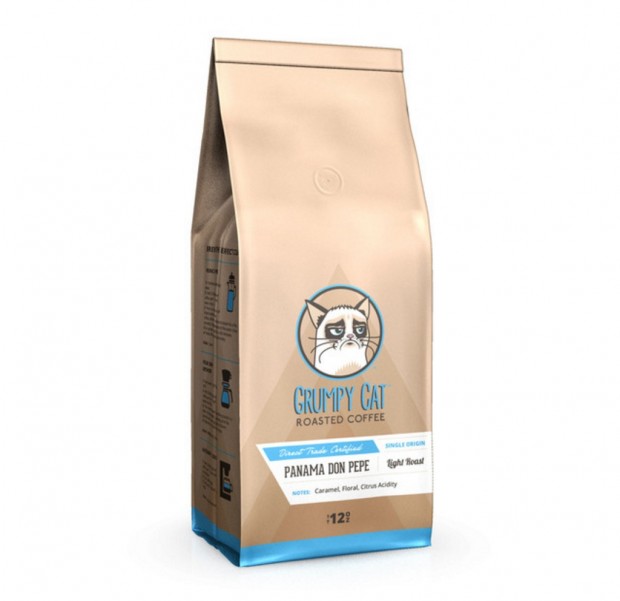 Those of you with the internet may be familiar with Grumpy Cat (birth name: Tardar Sauce), the meme-riffic curmudgeonly-faced cat who has racked up numerous awards and merchandising deals — ostensibly brokered by her handlers — since rising to fame in 2012.
Cat celebrity can be short-lived. Grumpy Cat herself won a lifetime achievement award while only months old at the 2013 Friskies Awards. That hasn't stopped numerous merchandisers from licensing the cat's image in hopes that the celebrity will sustain through all of Miss Sauce's nine lives.
One of those is Grumpy Beverage, a company that launched in 2013 with the Grumpuccino brand of RTD cold coffee beverages. Today the company, led by Co-Founder Nick Sandford, announced the launch of a whole bean bagged specialty coffee line under the Grumpy Coffee Company name.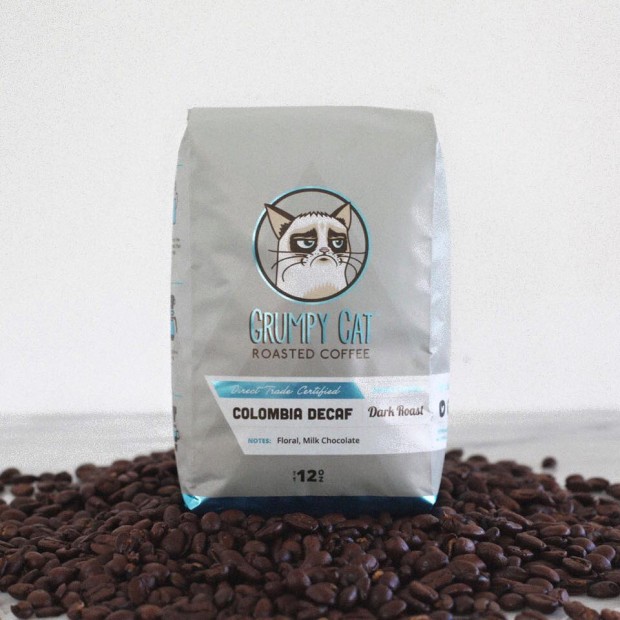 "From the beginning, we have cultivated a coffee experience of the often mutually exclusive virtues of impeccable quality and light-hearted humor," said Sandford. "The development of a roasted coffee line extension was the next logical step in building on the success of Grumppuccino."
The line includes four products, a dark roast Colombia Nariño, a medium roast Guatemala Antigua, a light roast Panama Don Pepe and a Colombia decaf. The 12-ounce bags retail prices are $18 or $20. Taking some well-established cues from the specialty coffee world, Grumpy Coffee is identifying individual regions and estates where the coffees were grown, identifying varietals, elevations, processing methods and flavor notes for each roast.
With a notable lack of specifics, the company is also boasting of direct trade relationships for all its coffees. "The new roasted coffees are specialty grade, artisan roasted, and sourced in Direct Trade with farmers from around the world," the company said today. "Direct Trade helps to guarantee sustainable farming, supports community development, and encourages the cultivation of the highest quality coffee possible."
Nick Brown
Nick Brown is the editor of Daily Coffee News by Roast Magazine.