Coffee and dairy have a complicated relationship. While an increasing number of roasters strive for coffee of such high quality and complexity that they hope to highlight as purely as possible, milk nevertheless remains central to the coffee shop equation.
It's a must-have for any espresso bar and a mainstay on the condiment counter, therefore the only non-confrontational solution is simply to source the highest-quality, most harmonizing dairy a shop can find. In the case of Virginia Beach's Lynnhaven Coffee Roasters, this actually fills another niche all its own.
"We're in the southeast corner of Virginia. We sell a lot of seafood in this area, but we haven't had a dairy in this area for years," said Lynnhaven Coffee co-founder Donnie Edwards, who certainly knows the local seafood trade, having also operated his own oyster farm for over a decade. Edwards now serves and sells fresh, local, high-fat-content Jersey-breed cow's milk to the good people of Virginia Beach, sourced from the Old Church Creamery in nearby Manquin, Va., which started with one cow only eight years ago.
As for coffee, it turns out Edwards has been a player on the coffee supply chain for far longer than he's been roasting or selling the stuff. For the past 15 years Edwards' primary occupation has been aboard a tugboat in New York. For about two weeks out of each month, Edwards guides container ships up to the docks for unloading, which is how he met the broker through which he eventually came to source his green coffees. Now, every 28 days like clockwork, Edwards drives his greens from the port down to his Virginia Beach roastery.
In the run-up to the launch of the Lynnhaven Coffee roastery, Edwards needed to take time off the tugboat job in order to devote sustained attention to setting up his 5-kilo Toper and mastering the craft, which he did under the tutelage of Todd Arnett of the Academy of Coffee Excellence in Williamsburg, Va.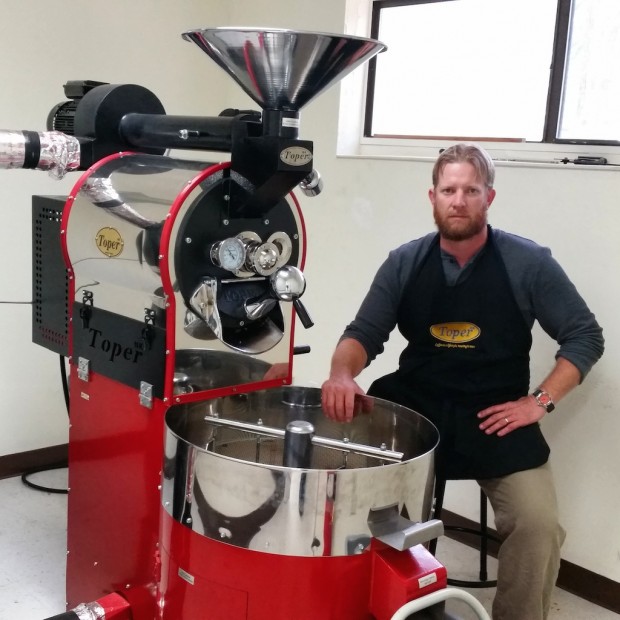 "I modeled my facility after his, made a mini-lab, took all his classes," said Edwards, who stayed afloat financially through the period on earnings from his oyster farm while setting up the production space that includes a public-facing educational display of different processing stages, incorporating items collected while in a relationship with a woman who grew up on a farm in Peru.
"We had gone down there before I was even home-roasting. We picked it and processed it," recalled Edwards, whose shop displays coffee plants, parchment coffee and photos of farms he visited in the region, from which he has since sourced coffee. "We introduce people to the whole process, and we bring them through the cupping lab."
Edwards said everything is done in keeping with the best practices he learned from the experts. "We're just trying to do it right," he said. "I'm not trying to reinvent the wheel."
Much like running a farmers' market through the winter — which  Edwards started as an outlet for his various products and continues to do now — or bringing fresh dairy to an area that needed it, the Lynnhaven coffee shop is another relaxed but much-appreciated void-filler. "Nobody's got to eat off of it," Edwards said of the shop's five owners . "We just wanted a coffee shop in our neighborhood."
Going forward, Edwards projects that Lynnhaven Coffee's Toper has the capacity to support several shops on par with the flagship, which includes an Astoria espresso machine alongside pourovers and batch brews. And even if they were tempted to rest on their laurels, a redevelopment plan in the works from the owners of the space the shop is renting will prevent them from getting too comfortable.
"That's almost a good thing because that drives us to look for a second location," said Edwards, noting also that new breweries are popping up in the area and some Slow Food Movement influence is long overdue to drift down from the bigger Northeastern cities in the region. Said Edwards, "I'm just trying to bring that to my hometown."
Howard Bryman
Howard Bryman is the associate editor of Daily Coffee News by Roast Magazine. He is based in Portland, Oregon.