For many coffee drinkers, the beverage is a daily ritual, part and parcel to the beginning of a new day. Breakfast usually comes at around the same time, and with an on-site bakery turning out fresh goods, new Lexington, Ky., roaster/retailer Daily Offerings Coffee Roastery fills both needs.
Yet the plurality in that company name implies more than just beans and breads — it's also a spirit of giving, sharing, and supporting one's community and the wider world that co-owner Lood Kotze hopes to bring to his customer's daily lives.
"We really approach the business with the mindset that we want to give back, and to use our business as an avenue to do good to other people," Kotze told Daily Coffee News, citing the poverty often experienced by communities in the world's coffee-growing regions as one particular ill worth combatting. "You have a habit of your daily coffee, you should have a habit of giving back daily."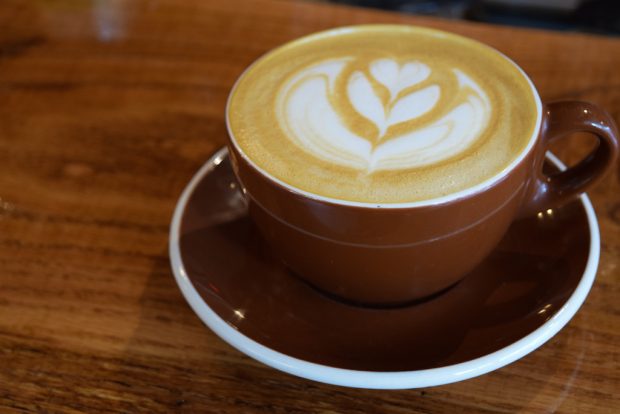 Lood and Kristie Kotze endeavor to do their part through the equitable sourcing of top-quality coffee, and by exposing their costumers to the virtues not only of excellent cups but of supporting the growers and their families through fair pricing. "That's where we see us growing into; really being able to invest back into the community, and in origin," said Lood Kotze.
Of Daily Offerings' 1,700-square-foot facility in Lexington, about one fifth contains the 100-percent gluten-free bakery, another fifth is the roasting and production area, where their 6-kilo-capacity Giesen stands separately but in full view of patrons, and the rest is the lively but relaxed café, warmly bedecked in custom carpentry the Kotzes did mostly themselves, including knotty cedar panels on the front of the bar and some hearty live-edge Red Oak wood slab tabletops, the latter made from trees grown on family-owned acreage in Kentucky.
With the Kotze's two young kids often spotted helping or frolicking in and out of the backrooms, the feel of a family business is pervasive.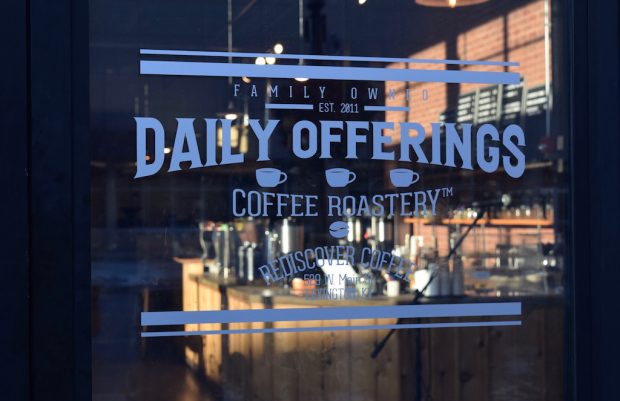 Yet while some mom-and-pop coffee shops might lean on the quaintness for their appeal, the coffee service at Daily Offerings is first rate, bolstered by a Synesso espresso machine paired with two Mahlkonig K30 grinders and an EK43 grinder for special small-batch roasts for the V60 manual brew bar. "We like to use reputable people that focus on the smaller producers and microlot coffees. We're interested in the higher end," said Kotze of their green sourcing practices, which involve working with Royal Coffee New York and a variety of other importing partners.
Coming from a background in the wine industry, Kotze's take on roasting is in keeping with the spirit of terroir. "Our focus on the coffee kind of mimics that in a way," said Kotze of the parallel cultures that inform his craft at the roaster, where he strives to bring out a maximum of each bean's distinctive flavors. "We don't roast anything really darkly. It's rare that we go past second crack."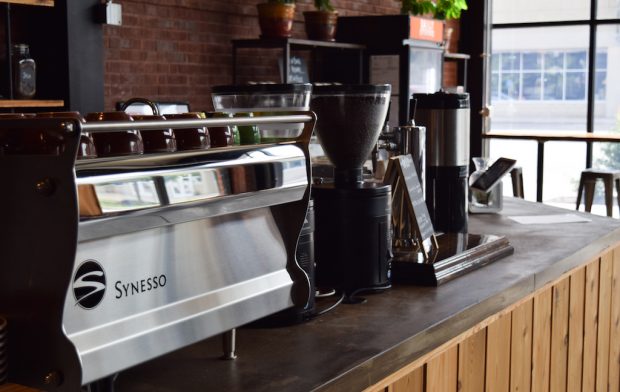 Kotze added that Daily Offerings also emphasizes education in the midst of their service, to help introduce their customers to qualities they may not have encountered in coffee before. It's an important aspect of business in Lexington, where Kotze describes the specialty coffee scene as still young and on the rise. While Kristie Kotze's family and roots are in Kentucky, Lood's are in South Africa, not far outside of Cape Town.
His university studies there were in enology, leading to an earlier pursuit of a career in the wine industry. It was a wine-focused agricultural exchange trip that first brought him to the United States, although it was on a later visit back to South Africa with Kristie that the two had their "a-ha" moment in coffee at a café in Cape Town called simply The Coffee Roasting Company. From there, Kotze's attention shifted fully toward coffee, leading him upon return to the U.S. to pursue educational training through Boot Coffee, and then a more hands-on educational roasting experience directed by Mike Perry at Klatch Coffee.
While the foundation of Daily Offerings was laid through a home-roasting operation that turned commercial in 2011, the more significant dawning for the business was upon its moving into the current Lexington location that opened to the public in April of 2015. Today they enjoy the continued embrace of their local home market, and in the future Daily Offerings intends to grow through expanded whole-bean retail and wholesale, eventually to include truly direct green coffee sourcing relationships.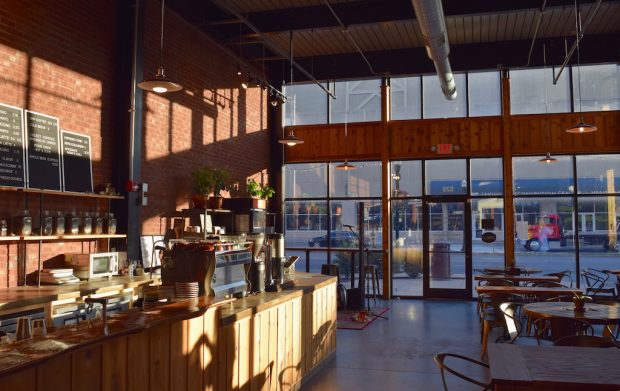 "As we grow, I hope to always keep increasing the quality of our product. I really hope to get into more direct traded coffees where we really have a relationship with the grower," said Kotze, who looks forward to a time hopefully within the next two to three years that Daily Offerings' volume of ordering and sales justifies the traveling expense. "I think that's the really where the future of specialty coffee is."
Howard Bryman
Howard Bryman is the associate editor of Daily Coffee News by Roast Magazine. He is based in Portland, Oregon.