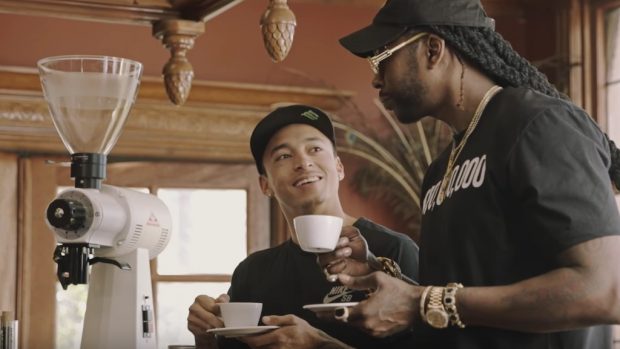 Condé Nast-owned GQ is now in Season 3 of its predictably droll "Most Expensive Shit" video series featuring rapper 2 Chainz, and it was only a matter of time before coffee's leading symbol of luxury, Kopi Lowak, was introduced.
Previous episodes have seen 2 Chainz smoking out of a $10,000 bong or meeting $165,000 kittens or tasting $1 million gold-coated popcorn. Why? We're not sure other than it provides a platform for some of the world's most fantastically expensive lifestyle products while 2 Chainz provides the comedy.
In the episode below, 2 Chainz meets with Blossom Coffee founder Jeremy Kuempel, creator of the Blossom One brewer. It gets good right away when Kuempel informs 2 Chainz that some tastings in the coffee industry are referred to as cuppings.
"That's hard," says 2 Chainz. "I like cupping. Cupping, cupping, cupping hard."
From there, Kuempel demonstrates his Blossom brewer as well as the commercially popular Mahlkonig EK43 grinder, featuring a kopi luwak coffee from Doi Chaang Coffee Co., which says the coffee was harvested from the droppings of wild Indonesian palm civets, as opposed to caged ones.
2 Chainz ends the video with a question to viewers — one that a controversial segment of the upmarket coffee industry has been actively testing: "Will you pay for this most expensive coffee that a cat ate and shitted?"
Nick Brown
Nick Brown is the editor of Daily Coffee News by Roast Magazine.