Suburban Chicago-based roaster Modest Coffee rolls out a special seasonal high-end coffee every year for Black Friday. For this year's release, the company focused not only on quality, but also on an important social issue at origin and at home.
The "Special Collector" offering is La Morena, a coffee from Guatemala that was produced entirely by women from start to finish — an attribute that, by its uniqueness, shines a light on the gender inequality that is rampant throughout the specialty coffee supply chain.
"The cool thing about this coffee is that it's an end-to-end women-produced coffee," Modest Coffee Co-Founder and Lead Roaster Marcus Contaldo said of the coffee that was grown, milled, processed and exported entirely by women at various points in Guatemala. Stateside, the coffee was imported by Siobhan Gottlieb and Teresa Von Fuchs of Genuine Origin Coffee Project, followed by roasting and packaging by Modest Co-Founder Jennifer Trilik-Contaldo, thus concluding the all-female supply chain.
Proceeds from the sales of each bag are then directed to non-profit Mutual Ground, a domestic abuse treatment center in Aurora, Illinois.
"We started with the idea to donate 25 percent of the sales of this coffee to Mutual Ground, but we wanted to take it a step further and see if we could amplify our voice and our dollars," said Contaldo, who reached out to other area businesses and institutions for partnership in the fundraising effort, seeking pledges of contributions of $1 per bag sold.
"As of right now, $8 to $9 from every bag sold is going to Mutual Ground with the help of four local businesses," Contaldo said. The goal is to expand the fundraising effort enough by the end of December to achieve a donation to Mutual Ground for 100 percent of the value of every bag. Modest Coffee is retailing its 2017 Special Collector – La Morena coffee for $20 with free shipping through the end of December.
The coffee company finds itself in a strong position for generosity as the calendar year winds down. After quietly opening a retail outpost inside a public library last year, the company also overhauled its website and revamped its graphic design. At that time a second café was under consideration, until an explosion in wholesale took the business down a different road.
"We actually closed our cafe because our wholesale side of the business really took off, and we decided to give that and our online experience 100 percent of our focus," said Contaldo. "We have experienced a 700 percent growth in business over the last year, and we are now placed in about 40 grocery stores and cafes in the Chicagoland area, with another dozen getting ready after the first of the year."
Contaldo partially attributes the growth to new packaging. "We introduced a new design and screen-printed bottles which give it a really slick look," Contaldo said, which reportedly saw a 200 percent uptick in sales after rolling out the new design.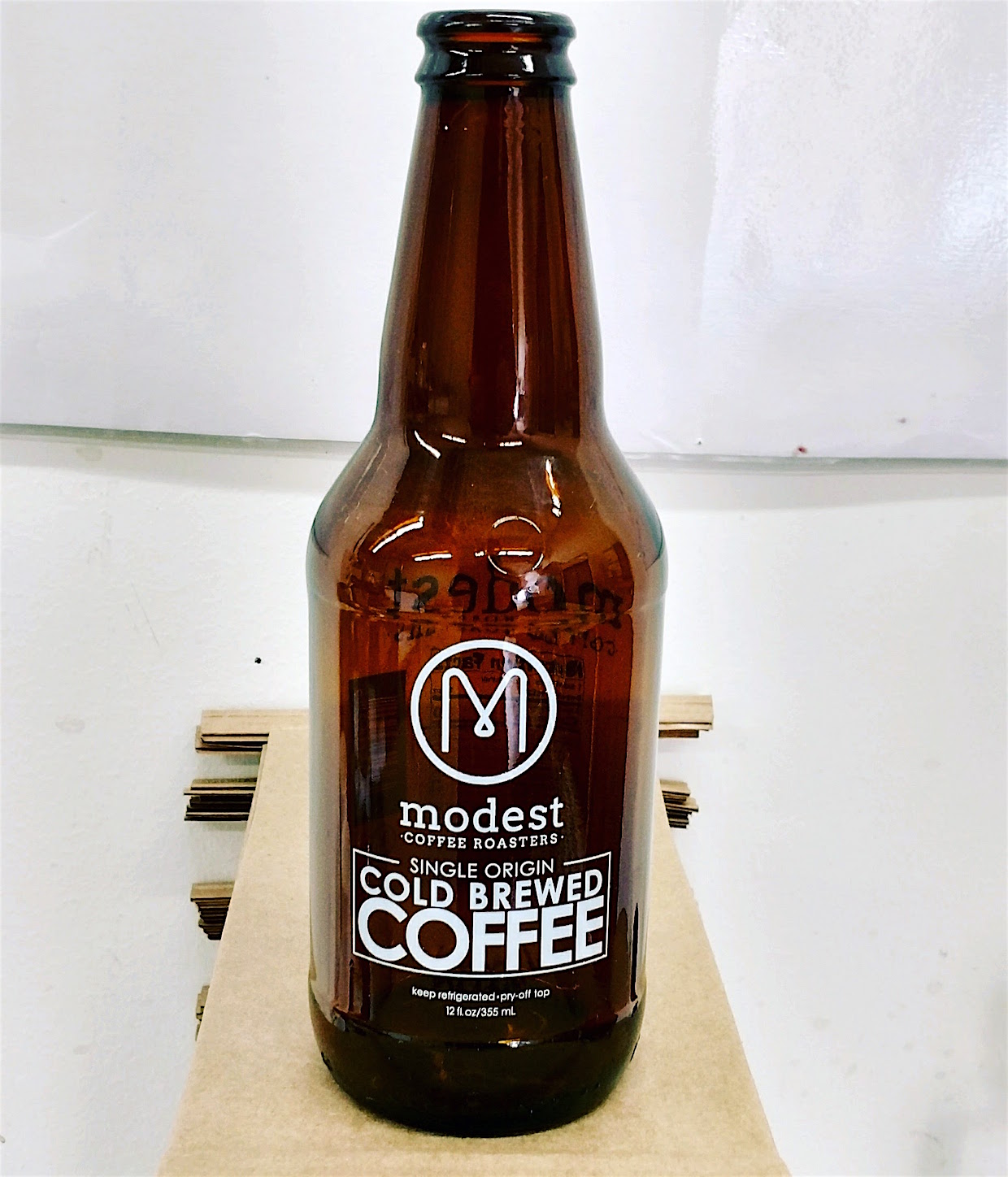 The new website, which launched in August, offers an an improved experience for subscribers, introducing a free trial and allowing for more flexibility in the plan. Modest also partnered with Mahlkonig, Fetco, Baratza, Technivorm, Beehouse and other equipment manufacturers to flesh out a robust selection of brewing equipment for sale.
Howard Bryman
Howard Bryman is the associate editor of Daily Coffee News by Roast Magazine. He is based in Portland, Oregon.