North Carolina's ShareWell Coffee has relocated its production roasting facility and opened its first retail espresso bar inside the handsomely converted barn of Appalachian Ridge Artisan Cidery in Hendersonville.
ShareWell's new home is on land that is in its ninth generation of ownership by the family of Alan Ward, which also owns Saint Paul Mountain Vineyards. ShareWell Co-owner Candice Pritz told Daily Coffee News the cidery's remodeled barn location "spared no detail" inside and out, including a large deck with "tremendous views" overlooking the orchards.
"This summer, [Ward] approached us and asked if we were interested in moving our roasting operation into his barn and helping him jump-start an espresso bar," said Pritz. "It's truly remarkable what they've done with this barn."
The ShareWell coffee bar is operated in partnership with the cidery and is named WildCat Brothers Espresso Bar, after Alan Ward's nickname for his grandsons. Drinks are crafted on a La Marzocco GS3 espresso machine paired with a Mahlkonig K30 grinder, with Bunn batch brew, Hario V60 manual pourovers and French presses also on offer. While ShareWell co-owner Zach Pritz handles barista duties on Saturday mornings, though the cidery is open daily from 12 to 6 p.m. and its staff has been trained by ShareWell to serve French press and ShareWell's bottled cold brew throughout the day.
"Sometimes Alan will coordinate a walking tour through the orchards with folks and will top off the hike with coffee," said Pritz. "Needless to say, between the winery and the cidery, which are located 0.2 miles from one another, there is always fun happening — live music, events."
Pritz said everything has gone "swimmingly" for ShareWell since installing its newer, larger roaster last month. The company has sold off its foundational 4-pound-capacity Arizona roaster and stepped up to a brand new BC 15 from Buckeye Coffee Roasters, which is now humming in a 300-square-foot space.
Also new to the company is production roaster Josh Dunkin, a local writer, performer, and restauranteur who came on board with Sharewell just in time to ease the pressure of another expansion — not of the company, but of the Pritz family.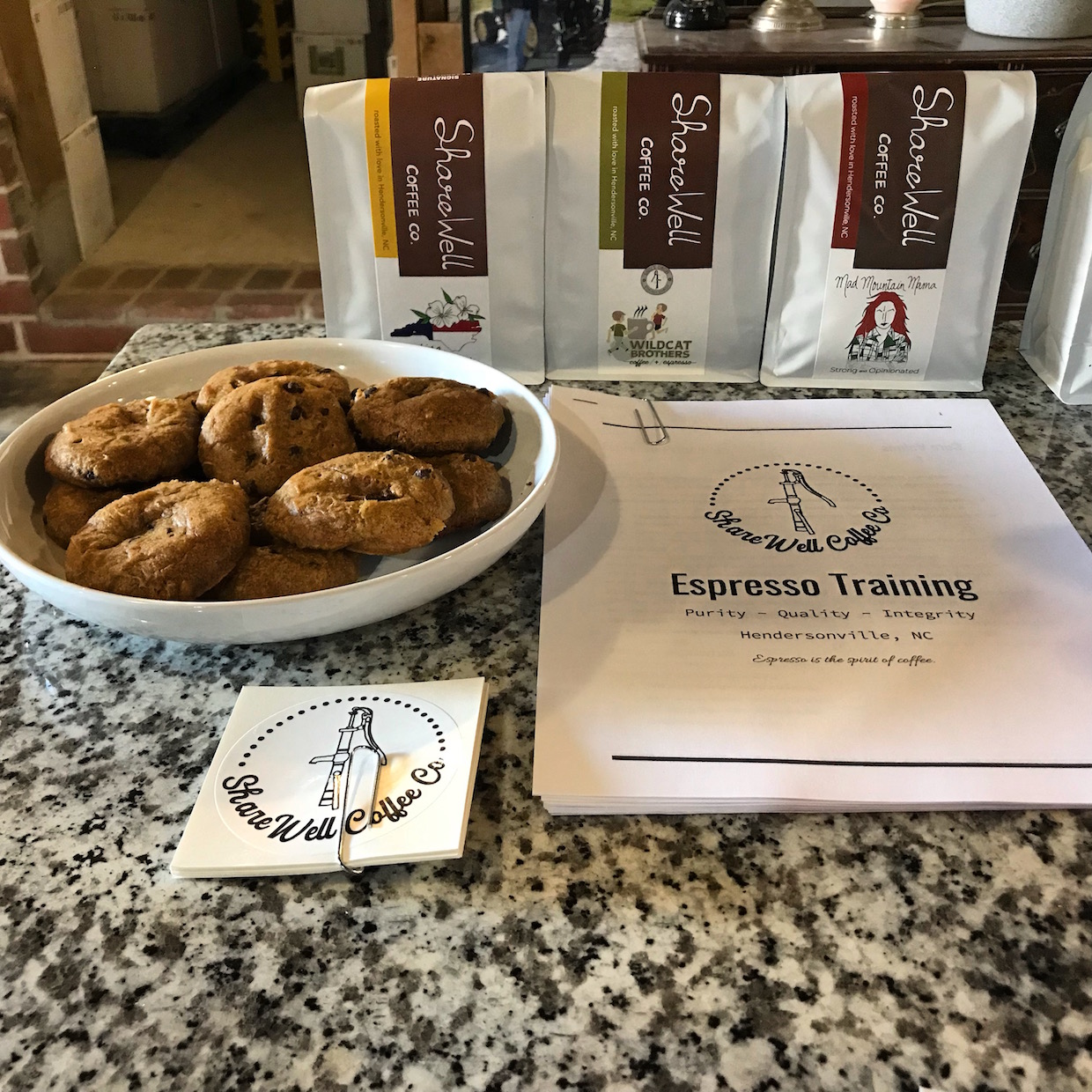 "The timing of meeting Josh and finding out his passion for coffee was absolutely perfect, because Zach and I were expecting the birth of our baby girl in November and we knew life was about to get crazy, and we needed help," said Candice Pritz. "Josh is the perfect compliment to ShareWell, he brings an artistic and creative mind. We actually call him 'Glue' because he is one of the most reliable humans we have ever met. He's pure gold."
As the company continues settling into its livelier and more capable environs, ShareWell intends to continue honing its existing systems while widening its interactions with the public and with clients with expanded training and consulting services for other coffee businesses and coffee education classes for the community.
Said Cowan, "This is a year of focus for us."
ShareWell Coffee is now open at 731 Chestnut Gap Road in Hendersonville, North Carolina.
Howard Bryman
Howard Bryman is the associate editor of Daily Coffee News by Roast Magazine. He is based in Portland, Oregon.