A prototype on-demand flash-chilling machine for beverages that was initially revealed at Coffee Fest Portland in 2017 by MIT graduate David M. Dussault and licensed Q Grader Ryan McDonnell has been given a name: The Snapchiller.
The device is currently being pre-sold with an anticipated 2019 Q4 delivery by the new Elemental Beverage Co., based in Massachusetts, which manufactures and sells the equipment, as well as its own upmarket brand of cold canned and bottled coffees.
The Snapchiller has undergone some subtle aesthetic polishing and only slight mechanical reconfiguring over the past couple years to to prepare for its positioning on coffee bars, professional kitchen counters and other culinary spaces. Air now flows through the machine from front to back rather than side to side, so that it can fit snugly in between other pieces of equipment.
Other tweaks include a centered, spring-loaded dispenser mechanism for easier and neater catching of the finished beverage, a powder coated metal and upgraded mesh exterior, and a small screen on the customer-facing side of the machine that displays the temperatures as they drop, as a theatrical bit of fodder for conversation with patrons about coffee methods and details.
All of this rolled out at once from the new company's booth at the SCA Expo earlier this spring, marking the culmination of a process one could say began roughly a year ago when the team of Dussault and McDonnell grew to include experienced management consultant and entrepreneurial investor Jonathan Chen as CEO.
Snapchill Technology, which Dussault described two years ago as being fundamentally similar to that of an air conditioner, takes hot liquids and cools them in an environment with precise temperatures as low as -10°F within minutes, if not seconds. The company says 12 ounces of liquid require approximately 1 minute of cooling time. The machine's capacity is anywhere between four and 16 ounces per cycle.
Elemental Beverage Co.'s Chief Marketing Officer Sarah Amitay, who joined the fray in September 2018, told Daily Coffee News that Chen recognized the Snapchiller as not only a breakthrough for cold coffee, but for a number of potential categories, including tea and spirits.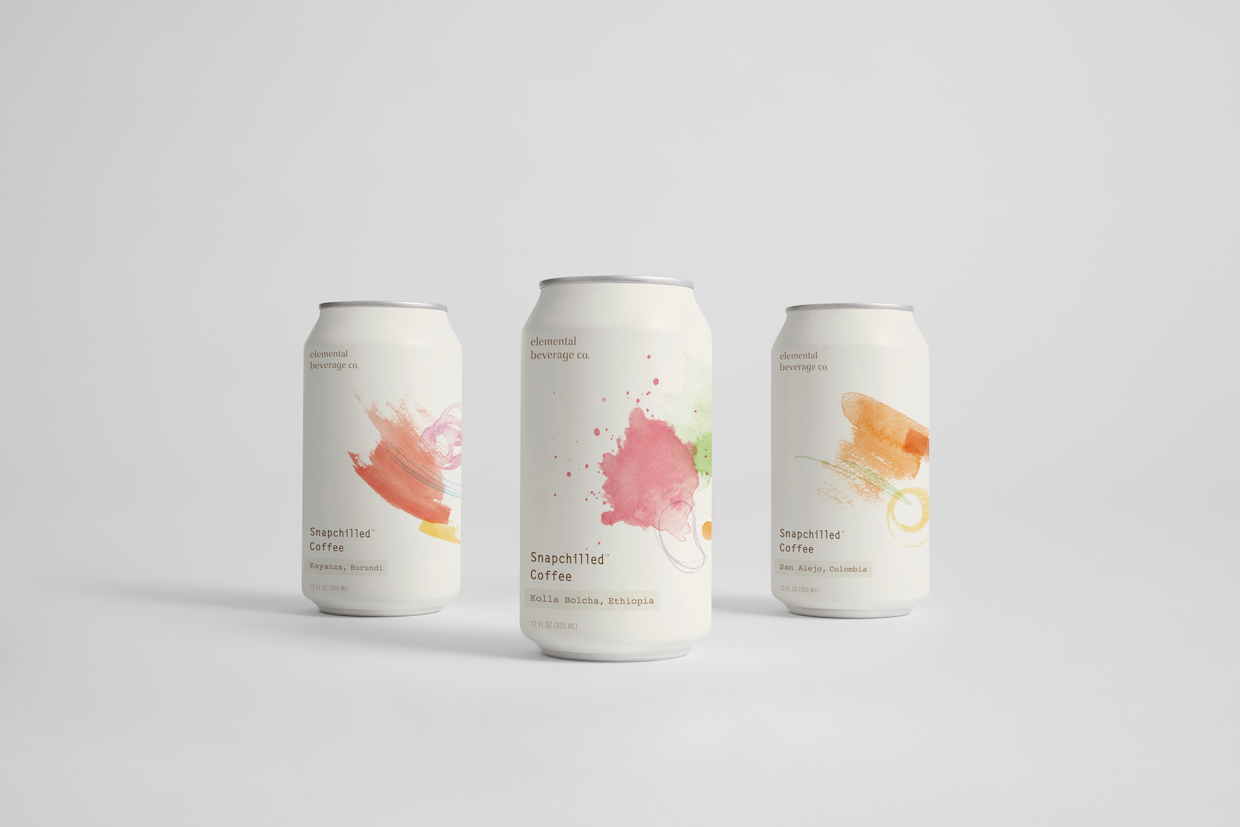 This in turn presents a significant market opportunity both for Elemental Beverage and for its potential clients, according to Amitay. Through its own RTD cans and bottles, Elemental is attempting to represent this potential.
"We knew that we were redefining what coffee could be, as an experience," said Amitay. "We knew that while we needed to fit in the coffee category, we also knew that we needed to stand out. Where we took that inspiration was from the single-origin coffees that we're putting out there."
Vibrant colors applied in painterly watercolor upon the otherwise sleek and minimalist off-white canvas of Elemental's can are intended to echo the flavor notes identified by McDonnell, who now has the title of chief coffee and tea officer. The company's initial line of three RTD "Snapchilled" coffees includes single-origin coffees from Kayanza, Burundi; Kolla Bolcha, Ethiopia; and San Alejo, Colombia.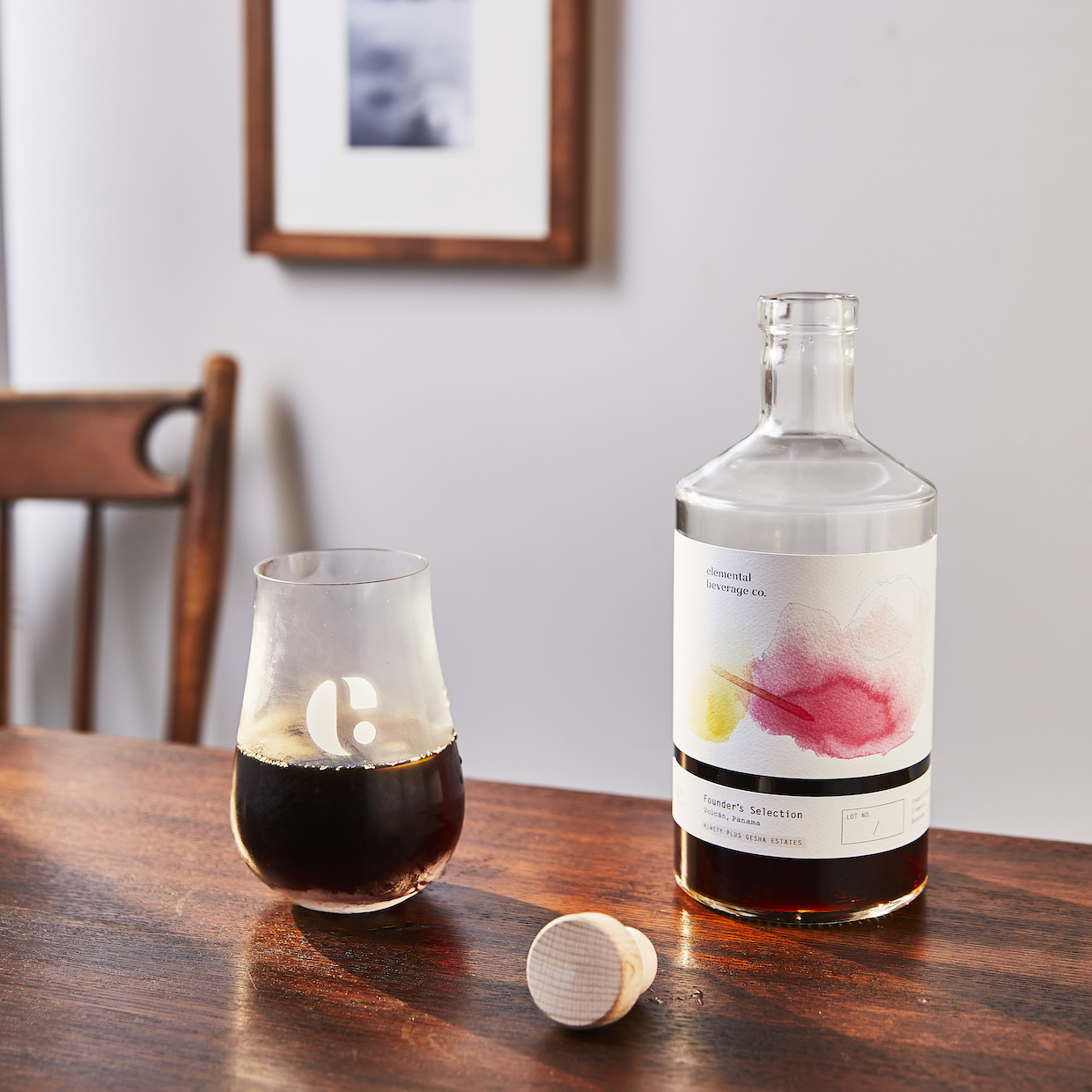 All Elemental Beverage coffees are roasted by Paolo Maliksi at Regalia Coffee, based in Long Island City, New York. Twelve-ounce cans are for sale on the company's website in six-packs, either of individual origins or in a variety pack, for $29.95. Also available in limited quantities is Elemental's first Limited Supply Offering (LSO), the Founder's Selection Gesha, selected personally by producer Joseph Brodsky of Ninety Plus Gesha Estates in Panama and processed in the estate's proprietary method.
The 750-ml bottle of the Gesha, described by the company as having notes of "super-ripe strawberries, pink lemons, crisp apples, and smooth cognac," is priced at $235.
"It's quite a bottle," said Amitay. "I think the pricing on that per pound was somewhere around $450 per pound. This is a coffee you just cannot get. It is not easy to get, and it is certainly not easy to brew and get right. We really wanted to put something super special in a bottle when we launched, and this is one that rose to the top. We put our money where our mouth is and put our technology to the ultimate test."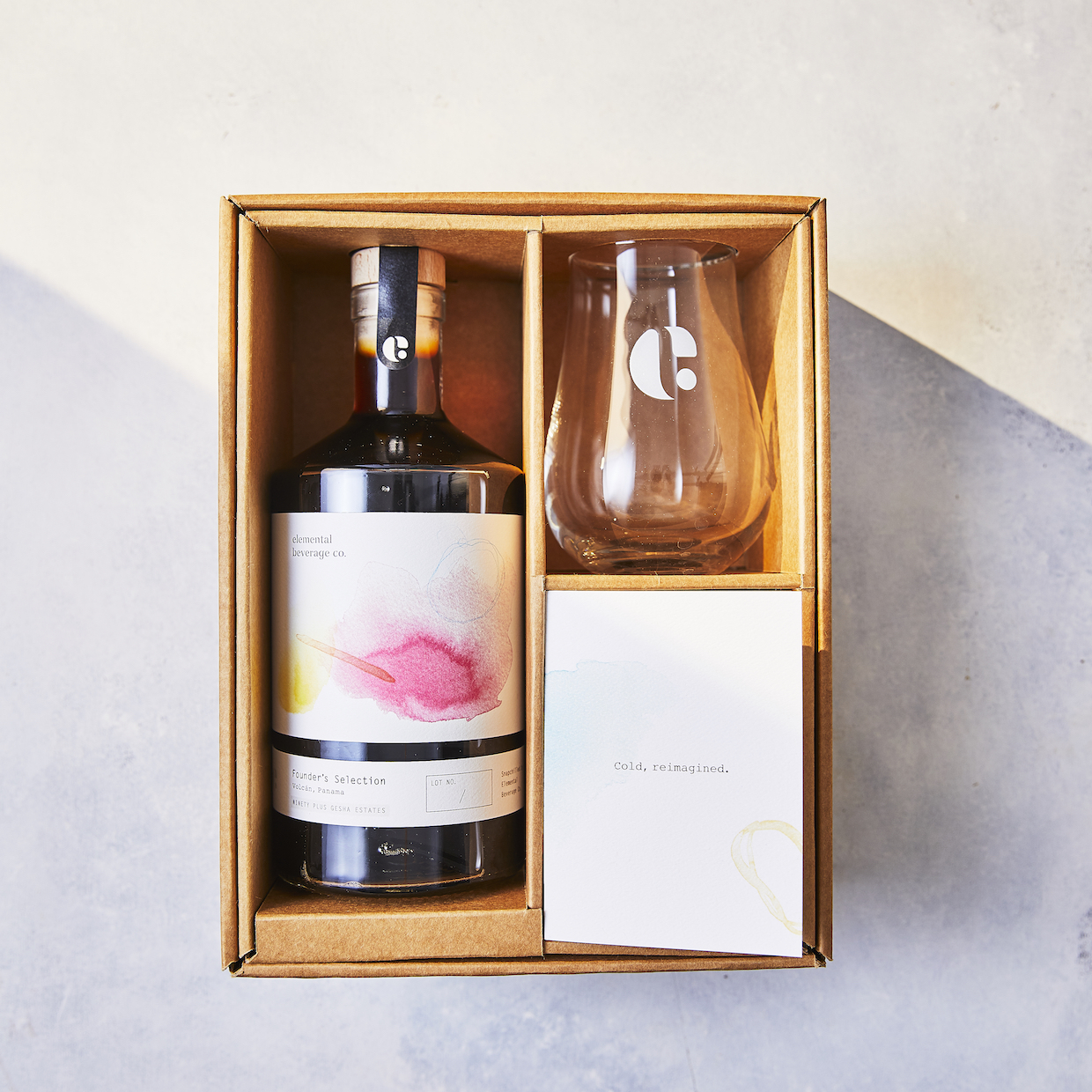 The Snapchiller is slated to begin shipping in the fourth quarter of this year and is priced at $5,995. Elemental's roadmap for 2020, according to Amitay is to determine wholesale pricing options, continue research and development for the Snapchiller's tea, spirits and mixology platforms, pursue co-branding RTD product opportunities with roasting companies and especially to keep building out its own selection of single-origin RTD Snapchilled coffees.
Said Amitay, "There's just so many exciting coffees out there that we're excited to bring to the market and make accessible to all."
Howard Bryman
Howard Bryman is the associate editor of Daily Coffee News by Roast Magazine. He is based in Portland, Oregon.