Indianapolis-based roasting company Tinker Coffee has gotten right down to business with its first forays into retail, opening two new coffee bars within the past month, with a third on the way.
The company opened its first coffee shop in a 900-square-foot space on Concourse B of Indianapolis International Airport. The soft opening of Tinker's second location, a station inside the new AMP marketplace at 16 Tech in Riverside, followed soon after. Another airport location is scheduled to open later this year.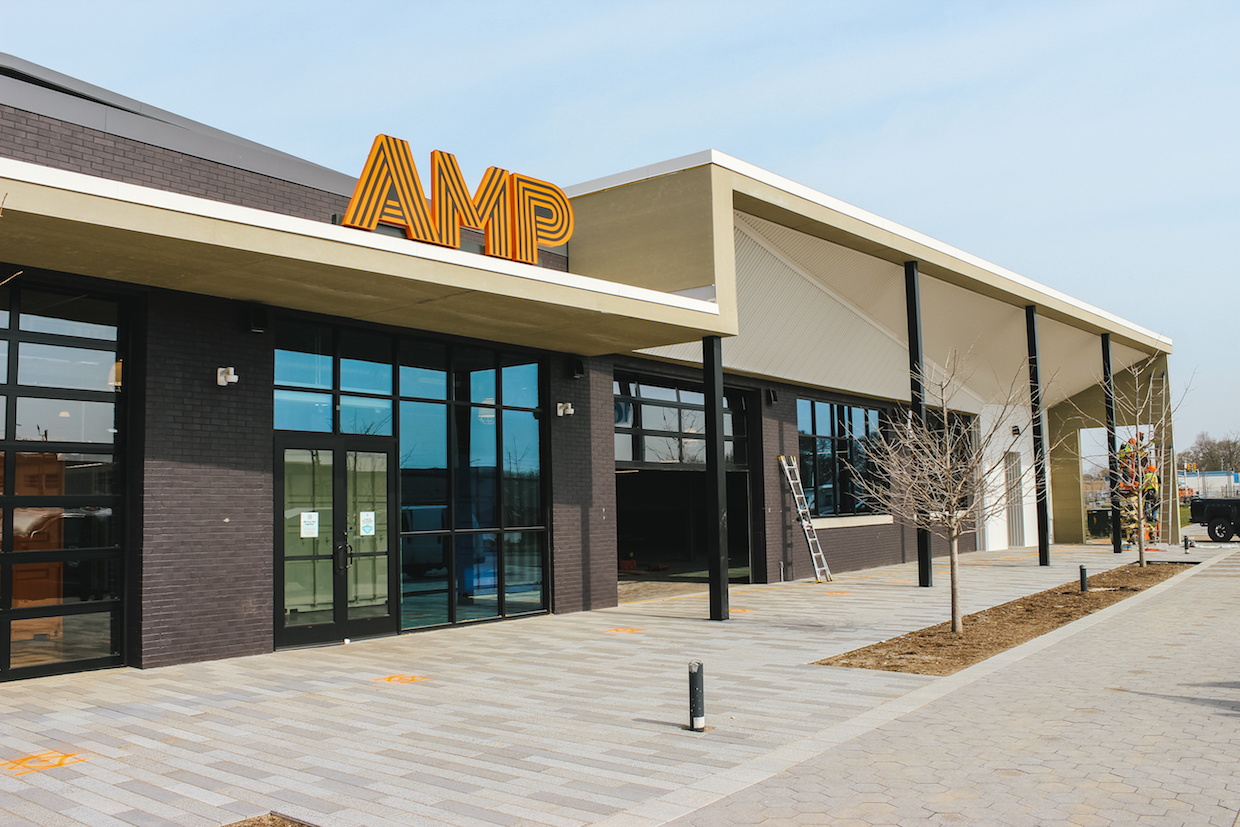 Steve Hall, who co-founded Tinker Coffee with Jeff Johnson in 2014, told Daily Coffee News that while the flurry of new activity has been a little overwhelming, help has come through having an operating partner at the airport bar, OHM Concession Group.
"Being an arm's length away from daily operations takes a little weight off our shoulders, but I'm up at the airport every Thursday behind bar or helping train staff to make sure the ship is running smoothly and that everyone has everything they need to run the cafe in the same way we would if we were there everyday," Hall told DCN. "I think the secret to juggling all these projects at once is certainly time management, and thankfully I've gotten much better at that over the past few months."
At the AMP food hall location, the bright and clean-lined aesthetic of the Tinker roastery is expressed through white subway tiles, concrete, stainless steel and natural wood. To bring forth some personality within the shipping container space provided by AMP, Tinker worked with Indianapolis design/build firm Solid State to wrap the container in light pine slats and install shelving on the outside for retail bags and coffee gear. The custom concrete bar is fronted with black steel, with the Tinker logo cut beneath the checkout station.
---
Related Reading
---
"It feels somewhat Norwegian in a way, but also fits in well with the rehabbed industrial nature of The AMP in general," said Hall. "Solid State was also able to build a really cool garage-door-style cage that features our word mark and closes down on top of the bar to keep all our equipment secure at the end of the day. It's a really cool element of the space, and physically pushing the button to open the gate in the morning is a cool experience."
At the airport, gleaming granite forms the bar wrapped in white paneling between white brick interior walls, where brick-colored wood paneling and large-format branding are designed to attract the eyes of weary travelers. For some hand-printed elements that recall existing designs at the Tinker roastery, Tinker re-enlisted local design studio Flatland Kitchen.
At both new retail locations, Mahlkönig grinders break the beans currently roasted in the company's Loring S35 Kestrel. Both offer drip coffees through Fetco XTS batch brewing systems, while Eversys Cameo machines handle the espresso.
"We've just always been so impressed with the shot consistency and quality of milk steaming possible with that machine," said Hall. "In situations like the airport where new employees may be coming in with little to no coffee experience whatsoever, putting everyone in the best position to be successful from day one is critical. The Cameo helps us do that better than any other machine we've found."
Coming in August on Concourse A of the airport will be Tinker Bistro, the company's third retail outpost and first foray into the restaurant business. Beer, wine and small plate dishes will be served in addition to Tinker coffees.
Tinker Coffee is open now on Concourse B at the Indianapolis International Airport, and at the AMP Food Hall located at 1220 Waterway Blvd, Indianapolis.
Howard Bryman
Howard Bryman is the associate editor of Daily Coffee News by Roast Magazine. He is based in Portland, Oregon.