Portland, Oregon-based Junior's Roasted Coffee has launched a farmer-focused CSA-style program called Community Funded Coffee (CFC).
Meanwhile, Junior's sibling brand, Guilder, has opened its second cafe, inside the iconic Powell's City of Books bookstore.
Community Funded Coffee
The CFC program offers customers an opportunity to secure a share of a particular lot of coffee before it's even been produced, much like a community-supported agriculture (CSA) program, through which customers buy shares of a farm's harvest in advance.
"It's about that deeper connection," Junior's Roasted Coffee Co-Founder Mike Nelson told Daily Coffee News, noting that patrons can have "a hand in the success of multiple businesses, and playing a part in a local and not-so-local economy."
For this project, Junior's is working with coffee-producing and importing parties that it has previously been engaged with through the roaster's ongoing Cost of Production Covered project.
In its inaugural year, the program aims to pre-finance a single 60-kilo bag of green coffee from a different farm for each quarter of 2022. Junior's arranges the advance payment for the Community Funded Coffee bag through contracts with the facilitating importer.
For the initial offering, a coffee from Jorge Rojas' farm El Jardin in Colombia secured through importer Shared Source, the payment was made with funding through Oatly's Big Idea Grant.
In the second quarter of 2022, Junior's is purchasing several bags of green coffee from Andres Fahsen's harvest from Pachuj-Finca Patzibir in Guatemala, and along with that will come a single bag of pre-financed coffee paid for via the CFC.
"Working with importers and farmers that we've worked with in the past not only helps streamline the process — asking for a single bag of a coffee alone from an importer or producer is an unreasonable demand — it shows our commitment to carry on long term," said Nelson. "We're a very small roasting company, and while we can't pre-finance containers of coffee, we see pre-financing any amount of harvest as a powerful way to link consumers with producers while also sharing risk."
Subscription options for the Junior's CFC range from one to three 12-ounce bags of coffee delivered monthly for periods of three months at a time. Customers pay for the coffee before the cherries have even ripened, and then receive monthly updates via email or the Junior's blog on crop conditions, harvesting, post-harvest processing, export/import, and, finally, roasting.
Junior's provides additional compensation to each producer for their time and labor in collecting data and details for the updates, and all information and imagery is shared with the producer's consent.
For Junior's, the comprehensive real-time transparency combined with pre-financing for producers amounts to the next phase of the Cost of Production Covered program it launched in 2018.
"For years we've been talking about folks making the connection with the Cost of Production Covered project by looking at farms as businesses just like ours, the roasters," Mike said. "We have very real expenses that we need to cover in order to make money, in order to survive as a business… I think people will be able to really make that connection, especially those subscribers that subscribe the following year to the same farm, like, 'Wow, geez, fertilizer really did go up this year.' To be thinking that way about this crop that's grown thousands and thousands of miles away, I think is a really beautiful thing."
Guilder Cafe at Powell's City of Books
Meanwhile in downtown Portland, Junior's roasted coffees can be savored by guests perched on the stadium seating inside Guilder Cafe, which opened late last year.
The second retail outpost for the coffee company has taken over the high-ceiling, window-lined 1,100-square-foot coffee shop space inside Powell's City of Books, the iconic, city-block-size bookstore and downtown Portland landmark.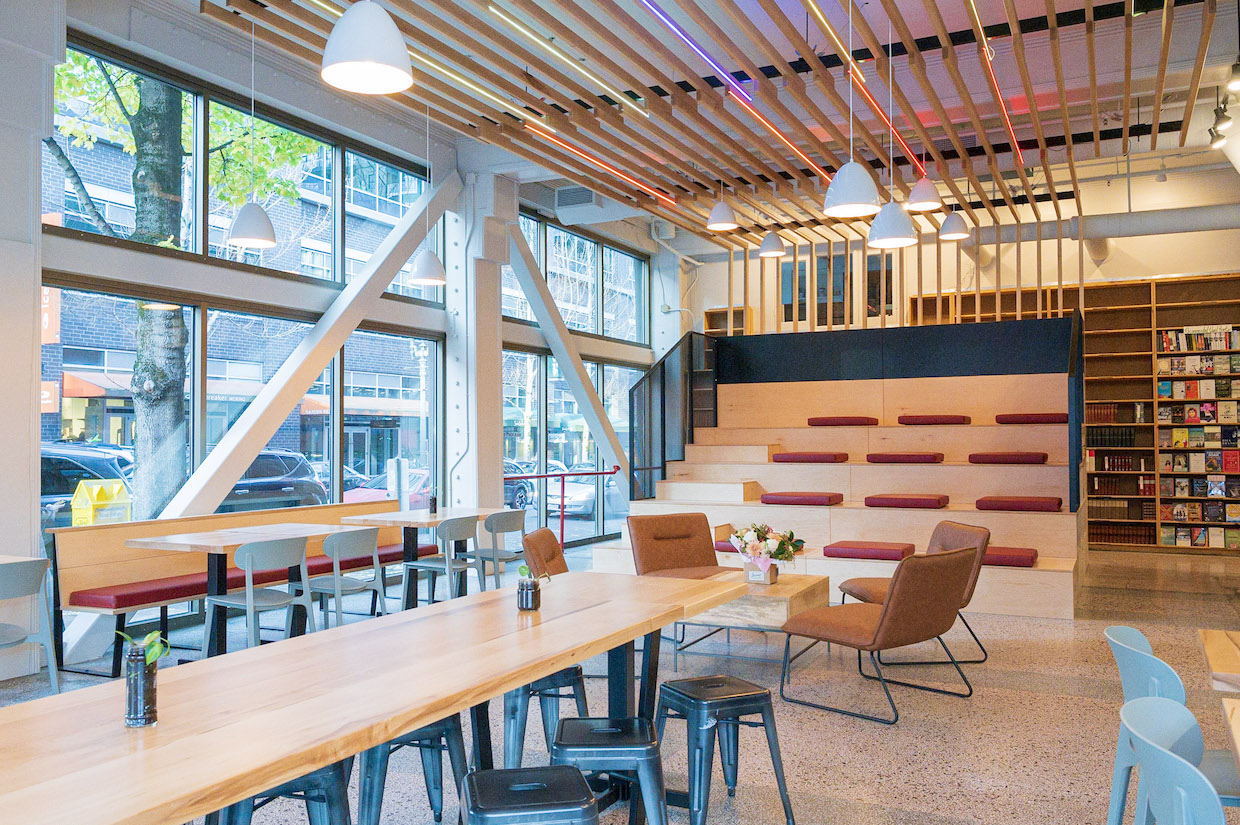 The interior was extensively remodeled to include the elevated seating at one end and a variety of comfortable tables, chairs and window bank seating elsewhere.
Helping the coffees flow are grinders by Mazzer and Mahlkönig, a Puqpress automatic tamper, a 2-group Synesso MVP espresso machine and a Curtis Twin batch brewer.
Custom wallpaper by Kate Blairstone depicts scenes from the book The Princess Bride — also referenced by the cafe's name — transposed onto Portland metropolitan and natural landmarks.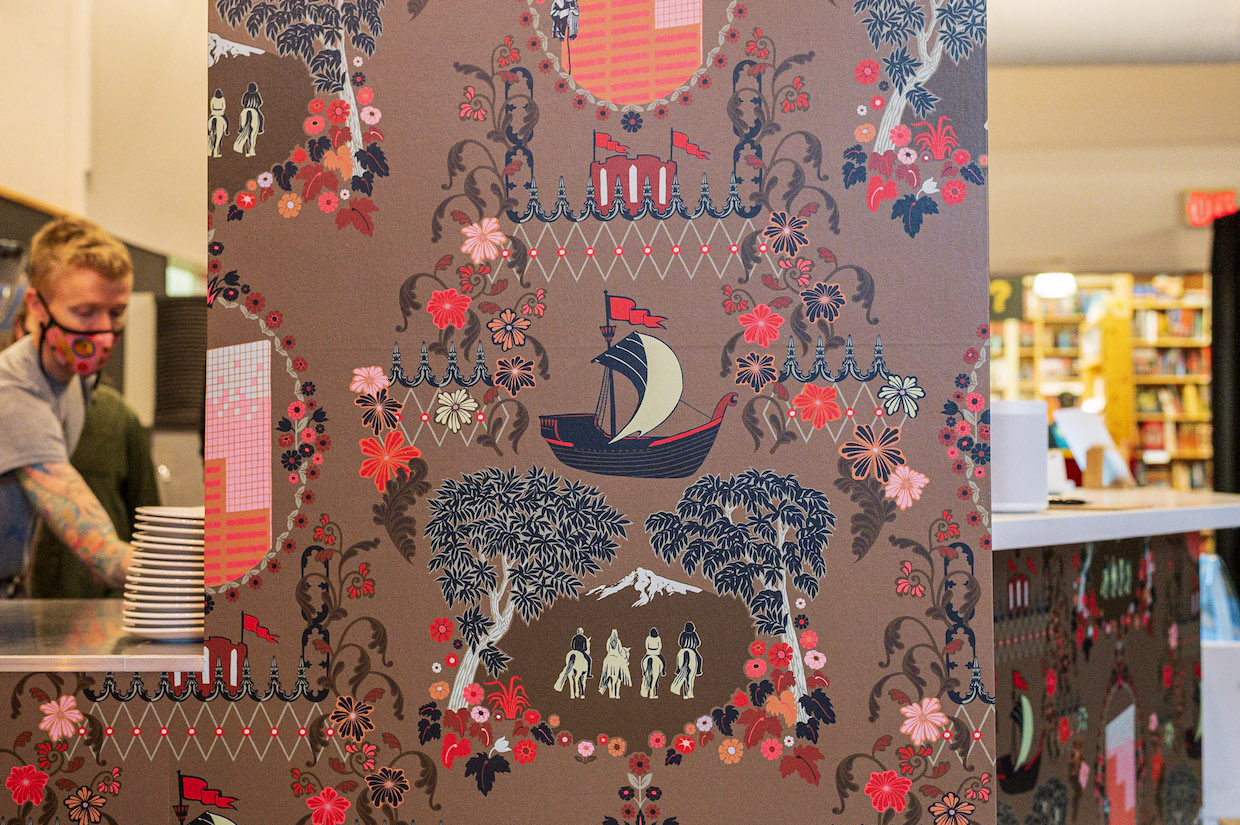 "We wanted something a little more playful in this cafe design," said Nelson. "We wanted more color just to make it feel warmer, and just to make it feel more welcoming to all folks."
---
Guider Cafe is located inside Powell's City of Books at 1005 W Burnside St. in Portland. Tell our editors about your new coffee shop or roastery here.
Howard Bryman
Howard Bryman is the associate editor of Daily Coffee News by Roast Magazine. He is based in Portland, Oregon.