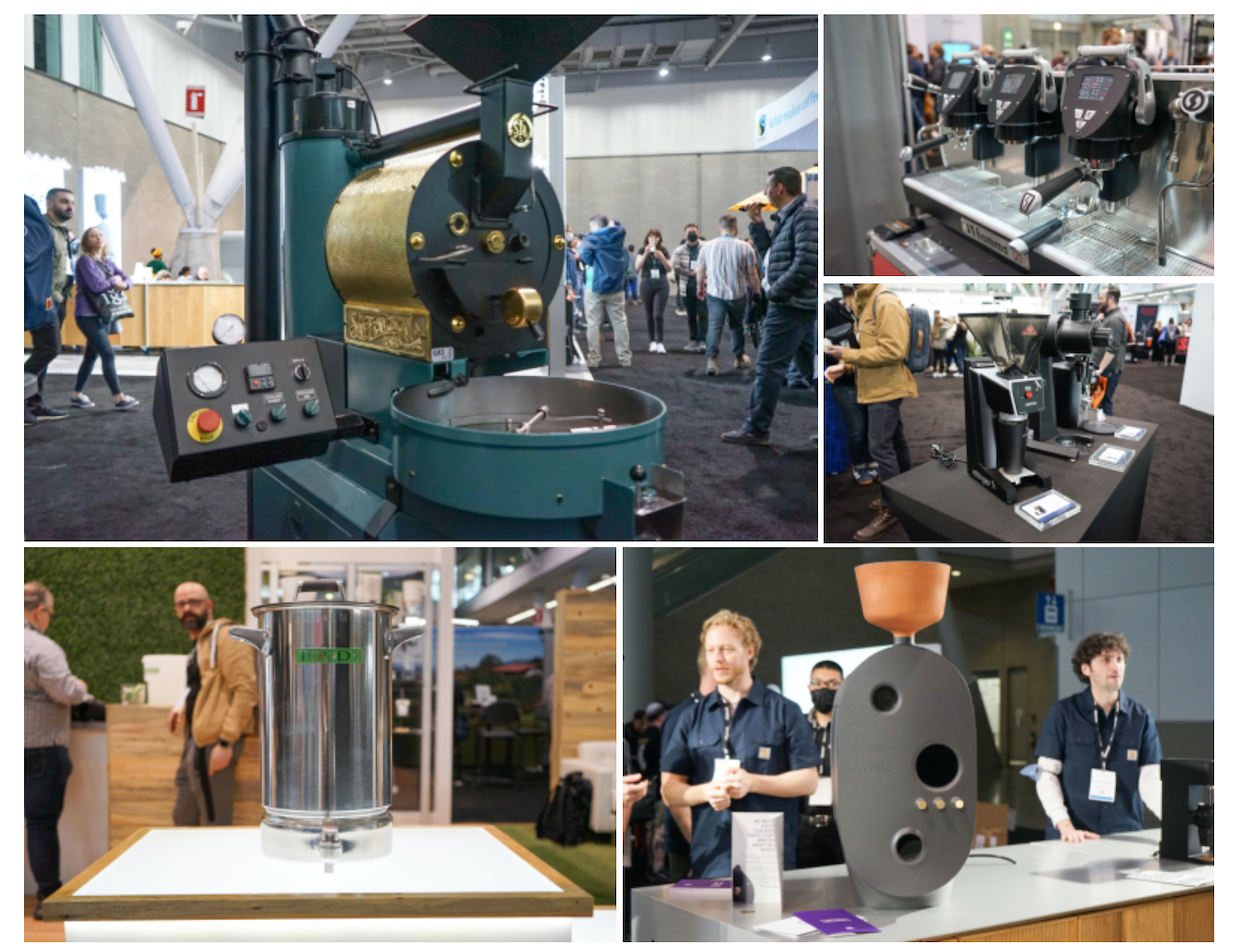 In the first part of our three-part series on new product releases at last week's Specialty Coffee Expo in Boston, we explored several exciting new products that had been previously teased or sold, but were making their first official public appearances.
For today's part two, we'll explore some additional new releases from some big names in equipment manufacturing that were held largely under wraps until showtime.
In part three (coming soon), we'll take a look at some interesting new startups and accessories that popped up at the Expo.
(See DCN's complete 2022 SCA Expo coverage here.)
Here are some major brand new releases that emerged at the 2022 Specialty Coffee Expo:
Aillio AiO
Taipei City, Taiwan-based roasting machine bran Aillio, maker of the small Bullet roaster, revealed its 2-kilo-capacity roaster, called the AiO.
The fully automated, all-electric drum roaster is induction heated and monitors both drum and bean temperatures using infrared temperature sensors (IBTS). Its modular internal design aims for easy maintenance and upgrades, while an AI system generates predictive outputs to aid in the development and execution of roast profiles. Stay tuned for DCN's full report.
Mahlkönig E80 GBW
German grinder-maker Mahlkönig revealed its best-of-both-worlds new variant, the E80 GbW. Internally identical to the big-burred E80 Supreme that initially launched in 2019, the E80 GbW also incorporates a load cell beneath its portafilter-holder for grind-by-weight functionality akin to the E65S GbW.
At the Expo, Mahlkönig parent company Hemro Group's U.S. product manager Nelson Icenhower told Daily Coffee News that the E80 GbW will launch for sale by mid-to-late Summer 2022 at a price of $4,200.
Rancilio Invicta
The Invicta is the first new machine to land in the Rancilio Specialty line since Italian espresso machine and grinder company Rancilio Group debuted the sub-brand in 2017 with the RS1.
Aiming to fill a gap between the RS1 and Rancilio's Classe line of volumetric machines, the Invicta combines the RS1 aesthetic with more straightforward operation. Forgoing the temperature profiling capabilities of the RS1, Rancilio's Steady Brew advanced heat exchange technology maintains stable group temperatures in the Invicta while the new machine's digital interface offers programmable shot profiles, including pre-infusion, maximum pressure and ramp-down phases. Stay tuned for our full report.
San Franciscan SF-6 "Super 6"
The San Franciscan Roaster Company showed off a new variant of its popular SF-6 model that the company is casually referring to as the "Super 6."
Whereas the standard SF-6 machine features a lever on the side that repurposes the fan from driving airflow through the drum to drawing air down through the cooling tray, the Super 6 instead features two fans, including one dedicated entirely to cooling the beans. This allows roasters to roast and cool at the same time, significantly increasing the number of back-to-back roasts a company can complete by the hour or by the day, according to the company.
Sanremo Coffee Machines F18
Italian coffee equipment maker Sanremo Coffee Machines focused its booth on the United States launch of the F18, its new entry-level espresso machine.
Inspired by its namesake fighter jet, the F18's massive 10-liter steam boiler is also the engine for individuated heat exchangers that provide user-programmable temperatures at each group. Temperature, pressure and other data are displayed digitally by interfaces styled after the gauges on the console of an F18 fighter jet. Sales commenced in late 2021 for the 2-group version at $15,000 USD, and $16,500 for a 3-group.
Toddy Cafe Series Brewer
Immersion-style cold brew equipment pioneer Toddy showcased its new Cafe Series brewing equipment. The 10-liter (2.5-gallon) stainless steel brewer is designed to shine, literally and figuratively, on customer-facing cafe counters. Compatible with the brand's single-use, compostable filters, the Cafe Series brewer also features a patented interior design tweak that aids in filtration, as well as a dispenser for serving directly from the brewer. Users can also connect a hose to the dispenser for filling kegs or other containers.
EtzMax Filter
Featured at the booth of the newly launched equipment company GH Grinding & Brewing Solutions was the new Etzinger EtzMax Filter grind-by-weight brew grinder. Boasting Etzinger's signature system of outer ring burr rotation with a conical burr set, the machine includes a cone burr optimized for drip coffee and other non-espresso methods, as well as grind-by-weight functionality. Stay tuned for more from DCN.
Marco Immersion/Percolation Cold Brewer
Ireland-based global beverage equipment company Marco Beverage Systems kept busy at the 2022 SCA Expo collecting accolades for its Pour'd counter-mounted font, which won the Best New Product award in the coffee preparation and serving category. Yet Marco wasn't too busy to display its upcoming automated cold brew percolation system, slated to launch worldwide this summer. (Editor's note: This description has been shortened from its original version to remove product specifications that have not yet been verified.]
La Spaziale S50
Italian espresso machine maker La Spaziale introduced its latest top-of-the-line commercial machine, the S50. Originally launched at the 2019 HOST trade show in Milan in conjunction with the company's 50th anniversary, the S50 features a digital touchscreen interface through which users can set independent temperatures at each group and program an automatic pre-infusion stage based on pressure.
A system of adjustable LED lights throughout the sides, back and bottom of the machine electrify its hot-rod aesthetic. Sales of the La Spaziale S50 are expected to launch in the United States later this year.
Fiamma Astrolab
After first introducing the Astrolab espresso machine in 2019, Portuguese espresso equipment brand Fiamma was finally able to showcase it before a North American audience.
Available with or without pressure profiling capabilities, the Astrolab system includes dedicated 0.5-liter brew boilers for each group and a programmable "e-lever" activation system on each group. Users can program different actions, volumes or shot profiles to be executed by different movements of the lever, such as forward or backward, multiple taps and more. A single-group Astrolab that runs on 110V power is slated for release in September 2022.
Elektra Verve Mini
Launching this spring in Europe and this summer in the U.S. is the Elektra Verve Mini, a lighter-weight and more compact version of the prosumer Elektra Verve. Maintaining the modern and customizable aesthetic of its bigger sibling, the dual-boiler Verve Mini users a vibratory pump to draw water from an onboard 2-liter reservoir. The machine will come with Wifi connectivity and an associated app for settings adjustments.