On a colorful pedestrian thoroughfare in New York City's Chinatown neighborhood, professional coffee roasters Spencer Okada and Khanh Tran have opened the first Artbean Coffee Roasters cafe, pairing high-quality drinks with high art.
Designed for takeaway service only, the 200-square-foot coffee shop doubles as a gallery for sculptures as well as portraits that hang on an 8-by-9-foot wall. Guests are welcome to take in the art while sipping traditional espresso-based drinks, lattes flavored with ingredients such as brown sugar and ube, cold brews, and drip coffees.
One current coffee option is the Frenetic Energy Blend, a blend of beans from Central America and Southeast Asia that was created in collaboration with featured artist Jocelyn Tsaih, whose artwork adorns the packaging.
"Proceeds from the artist blend and artwork go directly to a local nonprofit in Chinatown, Soar Over Hate, to aid those affected by the escalating violence in the Asian American Pacific Islander community," Spencer Okada recently told DCN. (Find Soar Over Hate here.)
With many coffees coming from New York-based importer Royal New York, the husband-and-wife duo of Okada and Tran apply their own art of coffee roasting at a shared facility in Brooklyn.
"We work with amazing coffee suppliers and importers who connect to different farms all over the world," Okada said. "We stick to those who have similar climate goals and morals, and who practice sustainable farming methods. We only source high-quality beans."
---
Related Reading
---
Those beans make their way to Artbean's new Modbar undercounter espresso system paired with a Mahlkönig E65S grinder, or to a new Ground Control Cyclops machine for batch brews or cold brews.
"Everything we built is intentional. At the Modbar, it's clean and minimal so the focus remains on our customers and the art that covers the cafe," said Okada. "While we originally started as an e-commerce company, we realized we loved our popups the most. They allowed us to be customer-facing and have interesting conversations, while creating connections with other coffee and art lovers."
At the height of the pandemic, the Artbean founders left their full-time jobs to pursue dual passions for art and coffee.
The company began selling 12-ounce bags of roasted coffee online and taking educational coffee courses.
Said Okada, "Where a lot of people in the pandemic picked up baking, Khanh and I picked up coffee roasting."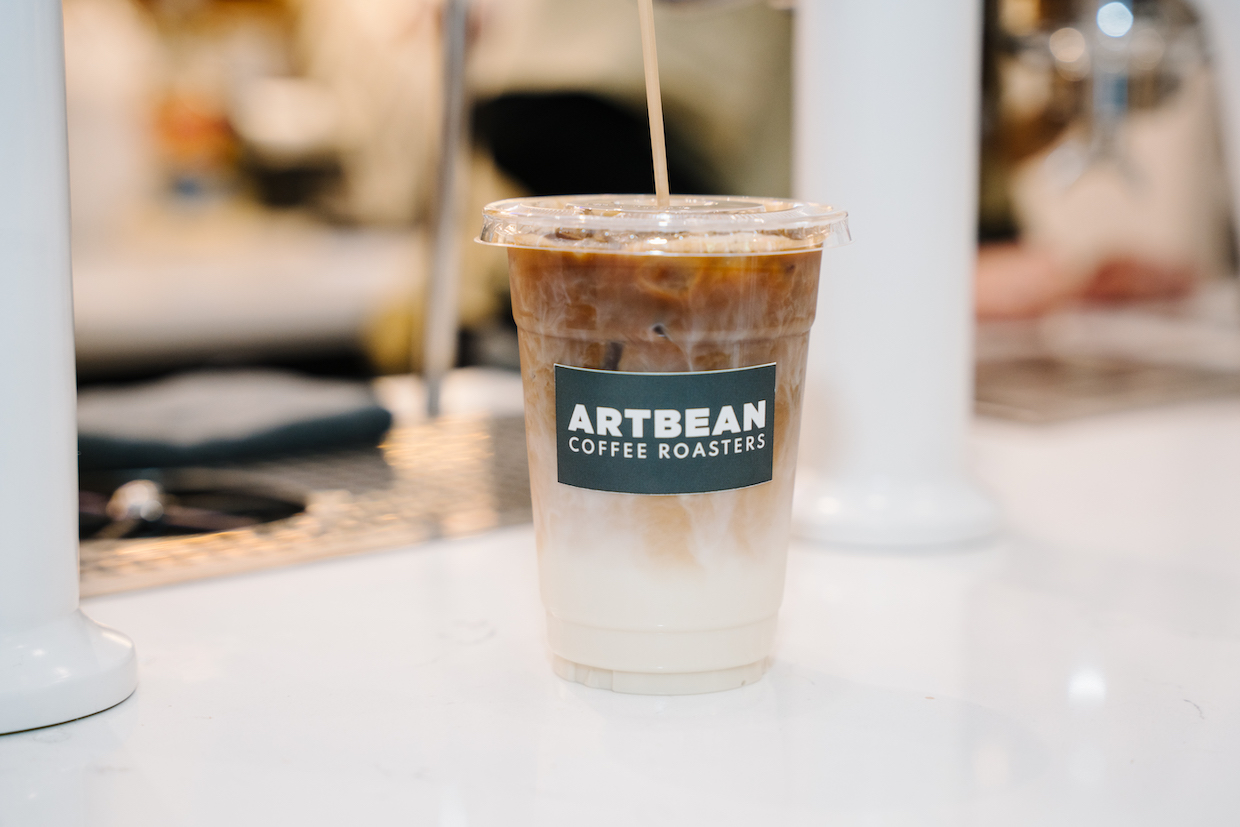 After working various pop-up shops around New York, the couple later found what they called, the perfect spot on Doyers Street in Chinatown, where Tran's background in interior design informed the aesthetic and functional space.
Okada, a Japanese-American born in Reno, Nevada, and Tran, who was born and raised in Vietnam, plan to tap into Asian cultural roots for coffee menu inspiration, while continuing to forge connections with local artists for community-involved projects.
Said Okada, "We want to be tightly knit while bringing a new spin on the traditional environment tourists are used to when they come to this part of New York City."
---
Tell DCN's editors about your new coffee shop or roastery here.
Shavantay Minnis
Shavantay Minnis is a writer based in sunny South Florida. She enjoys nature, giving back to the community and her sugar with a side of coffee.