San Francisco's Grand Coffee has grown a step truer to its name with the opening of a second retail location, Grand Coffee Too, located just a few steps away from the first.
While only about 275 square feet of space is devoted explicitly to Grand Coffee Too, its place inside a larger gallery facility in the Mission District grants a sense of grandiosity not found at the coffee company's original 200-square-foot shop. Yet both intentionally maintain a sense of intimacy around coffee.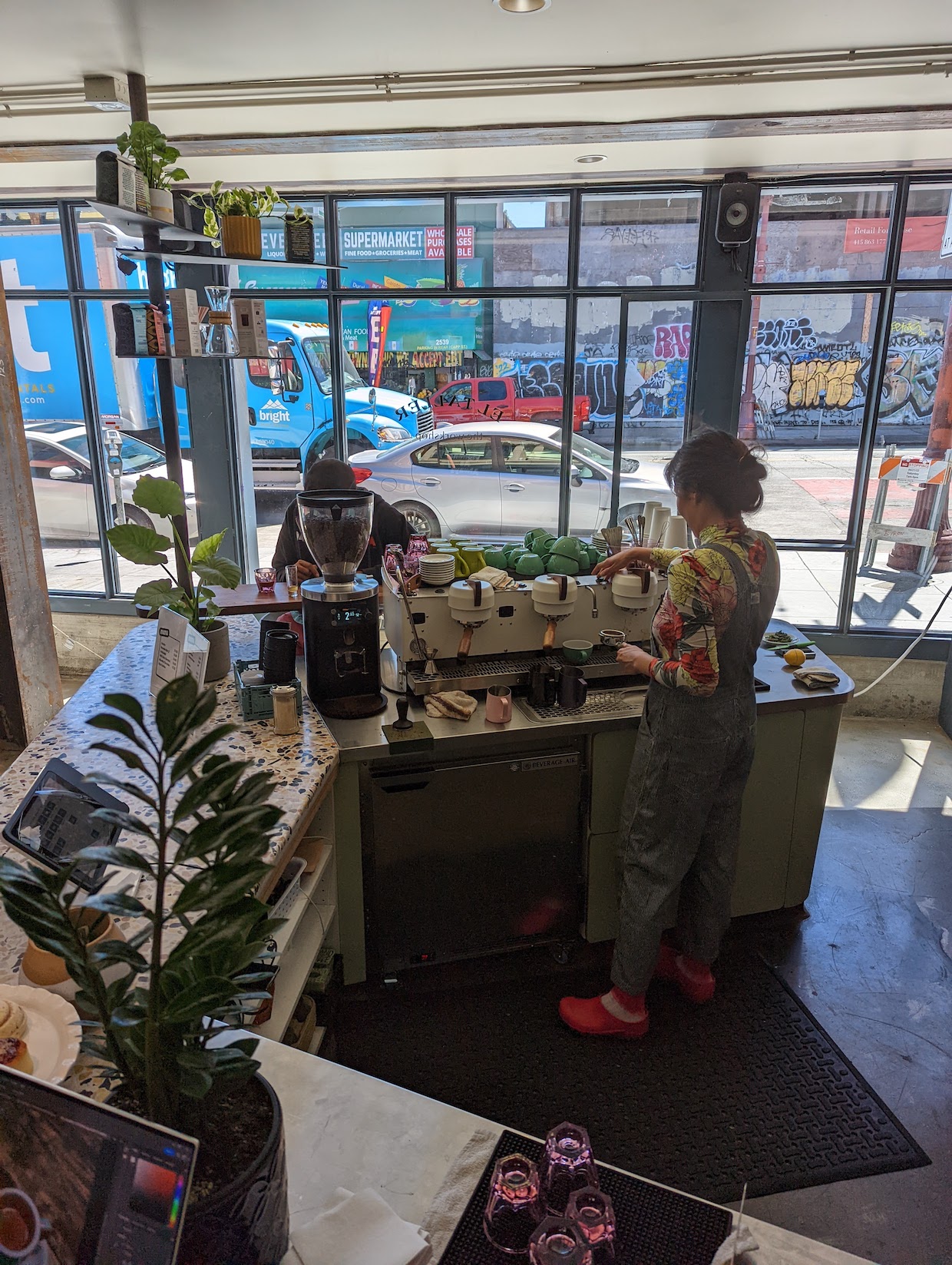 "We wanted to mimic the cozy feel of gathering around the baristas, and making the space one that sparks conversation between strangers, almost like a daytime bar," Grand Coffee Co-Owner Adrian Lopez told Daily Coffee News of the Grand Coffee Too design. "Our designers originally called for a more high-end, almost austere look, but we're no temple to coffee. We're tired of minimal coffee bar designs that obviously say 'this is a cafe.' We wanted a warm, charming, almost quirky space that feels mature while balancing a wide color and material palette."
The new shop features a horseshoe-shaped bar and clear lines of sight between the baristas and every seat in the house. The company also does its best to keep drink prices accessible, by San Francisco standards, with a $3 drip coffee always on offer. The priciest menu item is a $6 mocha.
Founded by Nabeel Silmi as a retail coffee shop in 2010, Grand Coffee served drinks made from beans roasted by Four Barrel Coffee for its first eight years in operation, then began its transition towards a house roasting operation in 2018.
By the following year, Grand supplied its own compact Mission Street bar while also branching into a wholesale roasting business.
---
Related Reading
San Francisco's Noe Valley Coffee Spins Laundromat into Noe Cafe
Coffee Equipment Maker Fellow Raises $30 Million in Series B Round
Equator Coffees Opens First Shop in Southern California
---
The wholesale business was spun into a separate company, also called Grand Coffee, which is now the parent company of Grand Coffee Too. Silmi remains the sole owner of the original cafe, while Lopez and Kimberly Kim joined as partners in the roasting company in 2019.
"We were both longtime employees of Nabeel's at his original shop and he felt it right to graduate us to ownership, in addition to acknowledging our strengths in a new business," said Lopez. "That company solely worked in wholesale and online sales until the opening of Grand Coffee Too."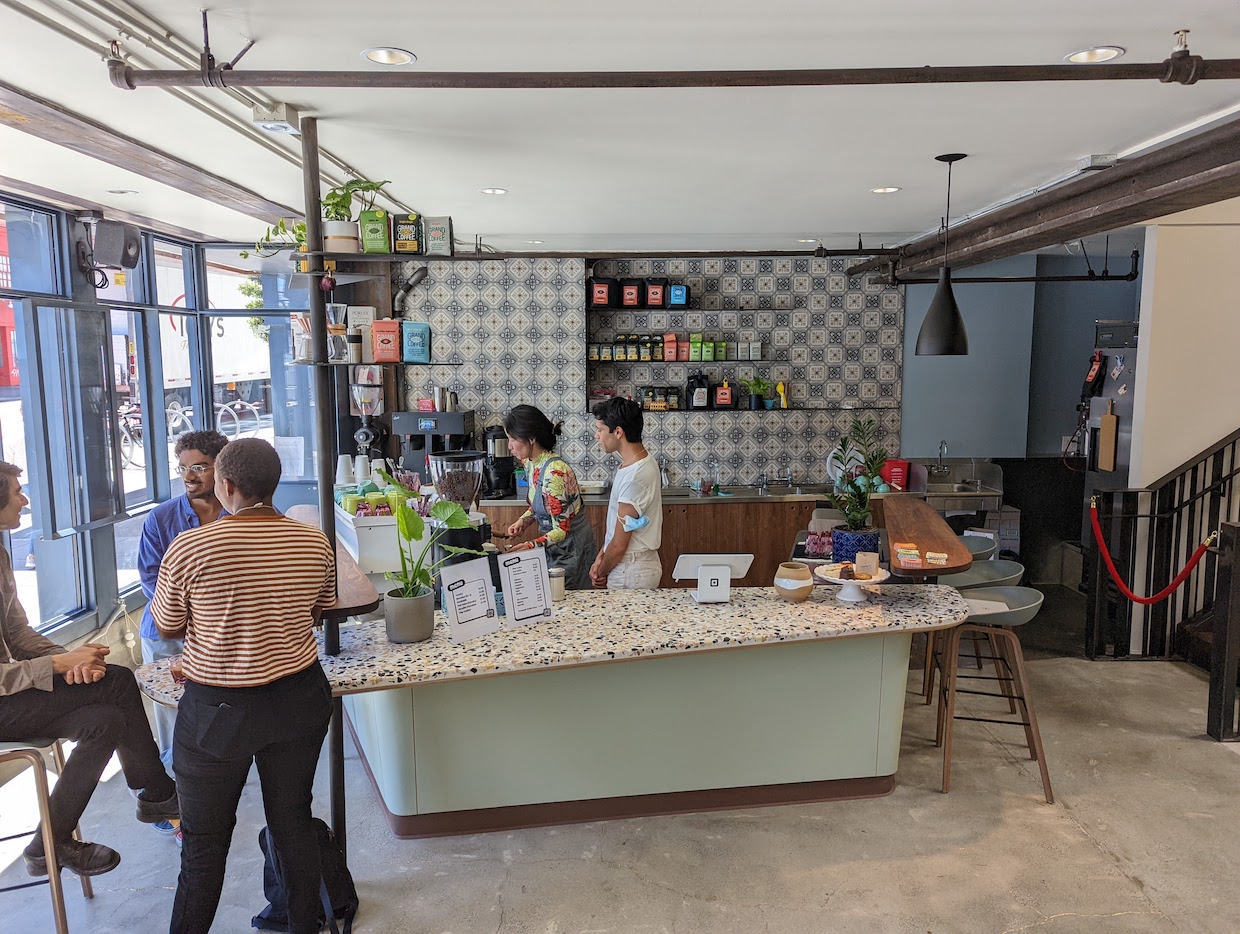 Silmi, Lopez and Kim continue to split roasting duties on the Probat UG-22 roaster at the Pulley Collective shared roasting facility in West Oakland.
"Our approach to roasting and selling coffee is more egalitarian, I'd say, as we're trying to provide coffees with approachable flavor profiles because we like for our coffee to be easy to enjoy — not too fussy or esoteric, and easy to work with for baristas," said Lopez. "As such, our lighter roasts are not so light as to be too tart. We love the warmth that a good medium roast offers, and we're not above offering dark roasts."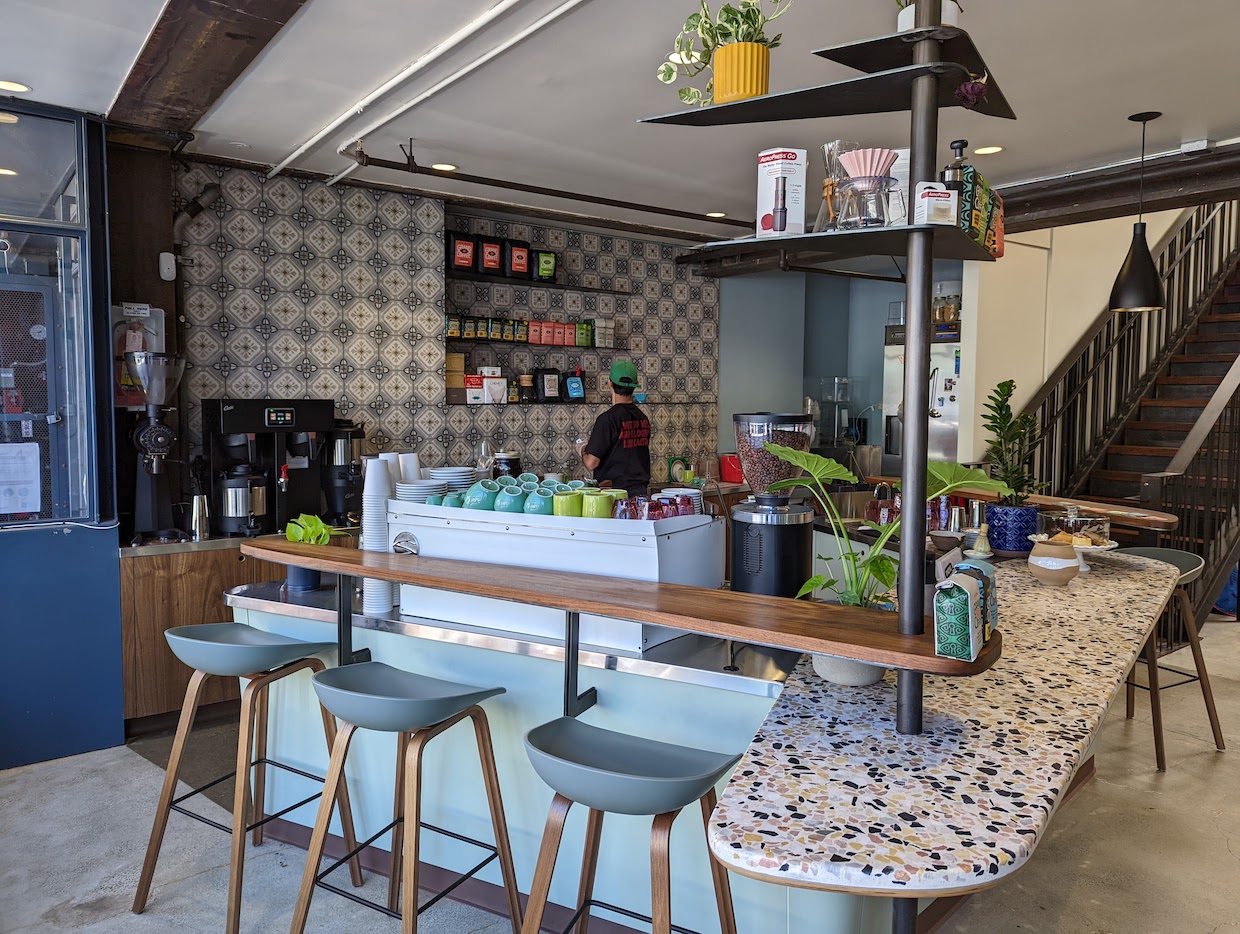 While sourcing green coffees through importers including Primavera, Mayan Harvest, La Baia Coffee Supply, Bean Voyage and others, Grand Coffee's purchasing strategies recently have had to adapt in order to continue to prioritize supporting producers, particularly women producers, as best it can.
"Sometimes that has meant paying quite the premium for certain coffees, especially with this year's C market volatility and logistics nightmares," said Lopez. "Coffees that have become expensive because markets are high we have stepped away from, but coffees that have become expensive because our traders outline how the extra money is going directly to our producers we have further committed to."
For pastries at both shops, Grand Coffee is the sole wholesale customer of Raquel Herrera Goldman and her company Norte 54, a modern Mexican bakery focused on quality local ingredients. Mexican culinary influence is also entering the mix of recipes for specialty drinks soon to roll out over the new bar.
"We're trying to work on some drinks that reflect each of our unique cultural backgrounds," said Lopez, who is Mexican American. Nabeel Silmi is of Palestinian heritage and Kimberly Kim's background is Korean.
"I'm doing a lot with pineapples and have crafted a few drinks inspired by Mexican tepache," said Lopez. "In the coming weeks is when we'll roll out all the other specialty drinks, like a supercharged version of that tea/pineapple mix as well as some sparkling beverages made with preserved lime and preserved lemon. We're also working on a Korean grain powder drink called misugaru, as well as a 'Mexigaru.'"
Growth going forward will emphasize the wholesale business, though Lopez said another retail location or two may also work their way into the Grand scheme of things.
"For the time being we're happy to grow this space and let it live its potential, but in the meanwhile we hope to grow our wholesale business and continue to partner with businesses who want to support a bunch of children of immigrants operating in what has historically been a white-dominated industry," said Lopez. "We're trying to do right for coffee growers while also trying to make specialty coffee more approachable for more people and more fun."
---
Grand Coffee Too is located at 2544 Mission St in San Francisco. Tell DCN's editors about your new coffee shop or roastery here.
Howard Bryman
Howard Bryman is the associate editor of Daily Coffee News by Roast Magazine. He is based in Portland, Oregon.