A Seattle-based company called Decafino is bringing a novel decaffeinating solution called the Decaf Pouch to coffee drinkers in the United States and Asia beginning this month.
Whereas decaffeination typically takes place at the green (unroasted) coffee processing stage, the Decafino Decaf Pouch is for use on otherwise ready-to-drink cups of roasted and brewed coffee.
Containing "Decafino Beads," the PLA-based Decaf Pouches are designed to steep like a teabag in individual hot or cold brewed 12-ounce cups. The company says the result a reduction in caffeine content of up to 80%.
The company has enlisted Taiwan-based Varino Ltd. as a manufacturing partner, and it is currently taking its first sales orders.
Each Decaf Pouch is reusable up to three times within 24 hours without any loss of efficacy, and can be used in drinks containing milk and additional flavors, according to the company.
Retail boxes include five individually foil-wrapped pouches for $8. The plant-derived PLA sachet and the Decafino Beads are compostable in municipal compost, the company said.
Decafino Founder and Inventor Andy Liu told Daily Coffee News that the product has undergone extensive development since its public debut in 2017. He said today's market-ready version can remove up to 65% of the caffeine in a 12-ounce cup in four minutes, and up to 80% in eight minutes.
According to Decafino, users can achieve nearly 100% caffeine removal by steeping more than one pouch at a time with additional stirring and a longer steeping time. The effect on flavor is minimal, although it may include a reduction in bitterness and acidity, according to the company.
"We have put in a lot of R&D effort to increase the caffeine adsorption ability while making sure the Decaf Pouch is selective towards caffeine," Andy Liu told DCN. "However, nothing is 100% selective. Therefore when adsorbing caffeine, it may also adsorb a small amount of other molecules that 'look like' caffeine, such as chlorogenic acids. As a result, the coffee may taste less bitter and less astringent."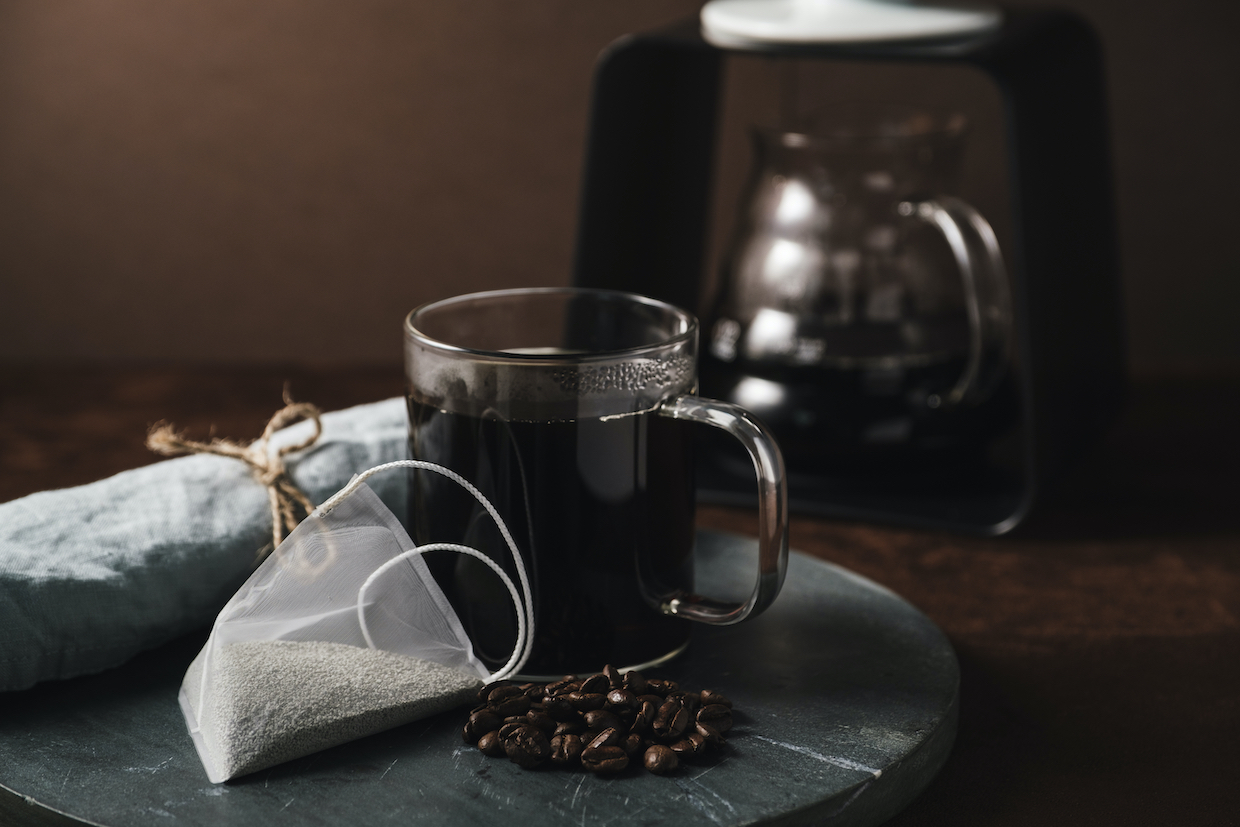 Liu told DCN the main caffeine absorbent inside the beads is bentonite, a natural mineral sometimes used as a detoxifying agent in nutritional supplements. Using the food processing technique known as microencapsulation, the bentonite is encased in a layer of alginate, an edible seaweed derivative often used as a thickener in jellies and cosmetics. The only other ingredients are calcium lactate and sodium tripolyphosphate.
"The caffeine molecules will be captured by the micropores on the surface of the Decafino Beads. Therefore, when you place the Decaf Pouch into your coffee or tea, you may see many tiny bubbles in your cup," said Liu. "They are air bubbles that were trapped in those micropores. Once the caffeine molecules have been adsorbed, they will stay in the Decafino Beads and will not be released."
Development of the Decaf Pouch began in 2015 and was boosted towards commercialization with an initial seed funding round of $22,500. The company has since received an undisclosed amount of further support from additional private investors.
Additional Decafino products in development include a pouch for cups of tea and a larger-format commercial coffee decaffeination pouch to be sold in packs of 25 for use in commercial and hospitality settings.
"In cafes and restaurants, especially later in the day, we see the Decaf Pouch being offered as an add-on option for their customers," said Liu, noting that the pouches are expected to have an 18-month shelf life. "This allows their customers to enjoy any delicious coffee with a peace of mind."
Decafino is accepting orders for the Decaf Pouch through its online store. Sales have also launched via Seattle-based Conduit Coffee. The company plans on expanding through additional partnerships with coffee shops, roasting companies and foodservice providers, with the goal of widespread availability.
---
Does your coffee business have news to share? Let DCN's editors know here.
Howard Bryman
Howard Bryman is the associate editor of Daily Coffee News by Roast Magazine. He is based in Portland, Oregon.