True to its word, Pinky Promise Coffee has expanded in Sturgeon Bay, Wisconsin, with a retail coffee shop now up and running at the front of its roasting facility.
The family-run company co-founded in late 2020 by married partners Sean Grorich and Josh Puetz held a grand opening celebration over the Memorial Day weekend, which also happens to usher in the main tourist season in Door County.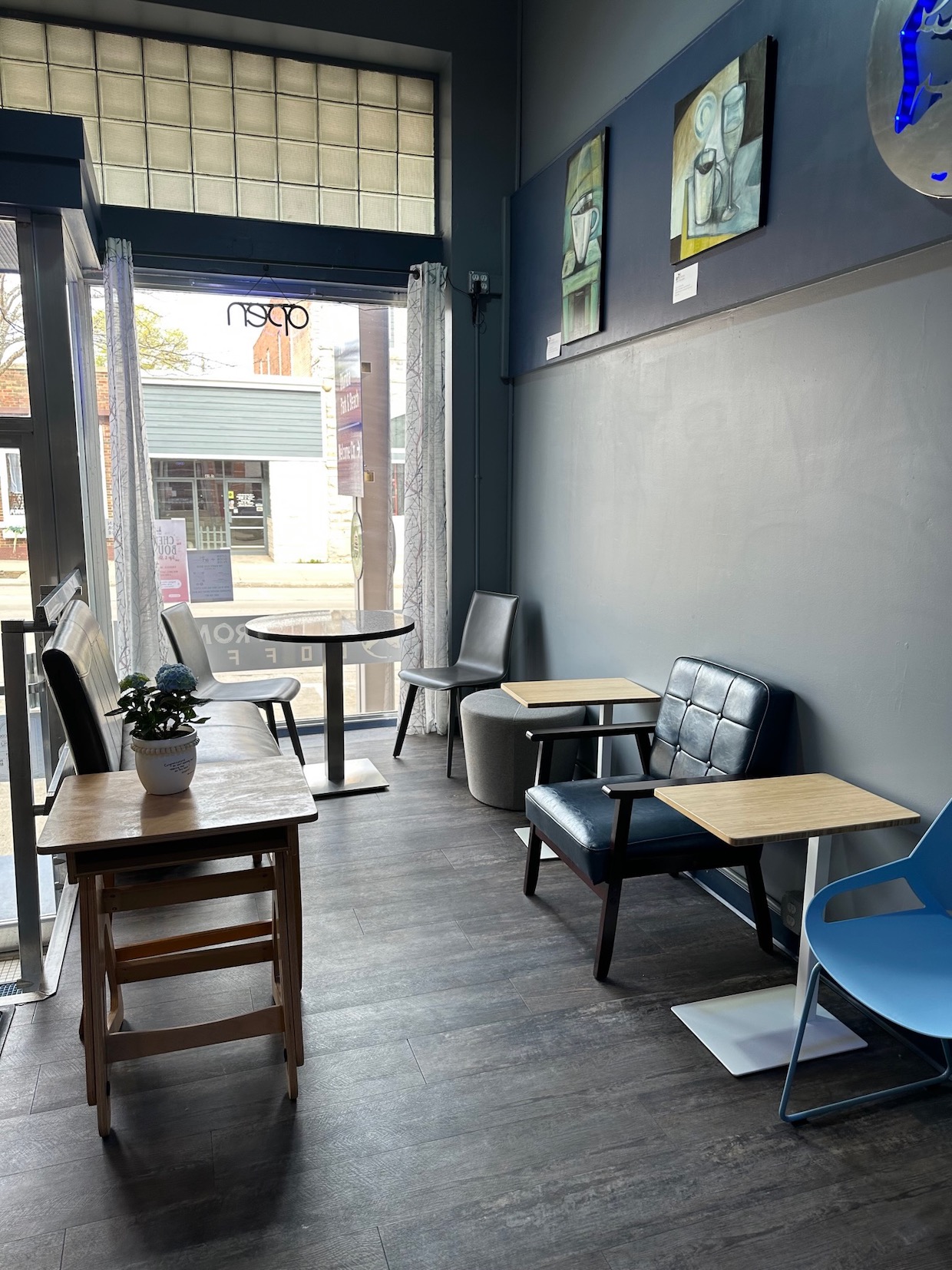 Within a cozy 400 square feet, Grorich found solutions at once colorful and practical, striking a balance between customer comfort, business flexibility and an openness that emphasizes important steps within the coffee craft.
The brand's bright blues, whites and grays are found on surfaces throughout the shop, including on custom powder-coated brewing equipment and on modular wall panels and shelving. The sturdy shelves designed for garage and workshop purposes are easily moved and reoriented to suit the cafe's evolving needs.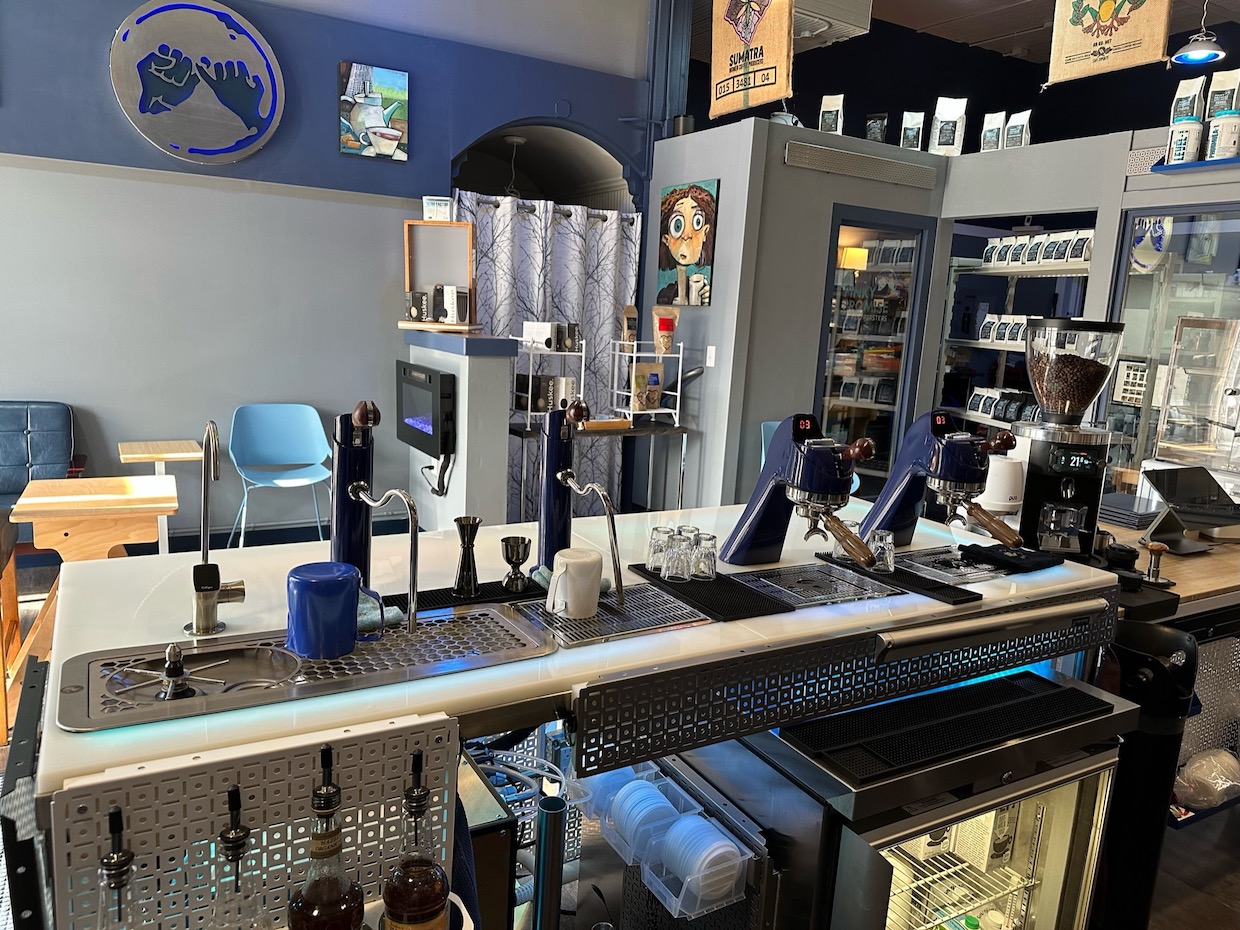 "We've only been here a couple of weeks and I've moved stuff around a dozen times," Sean Grorich told Daily Coffee News. "I can change it to my heart's content."
Systems behind the bar also balance performance with quality. As coffee travels from grind-by-weight Mahlkönig E80 grinders to a Puqpress auto tamper to the Modbar AV espresso groups with ABR (Auto Brew Ratio) scales built in, customers can see the baristas perform each step, while the equipment's unseen features drive precision, consistency and speed.
"It's definitely allowing you to be able to step away to grab something or do something else, but it's so open that the customers are seeing the shot being pulled," said Grorich. "It's not so automated that they don't feel like it's a craft coffee. It's still very interactive with the customers."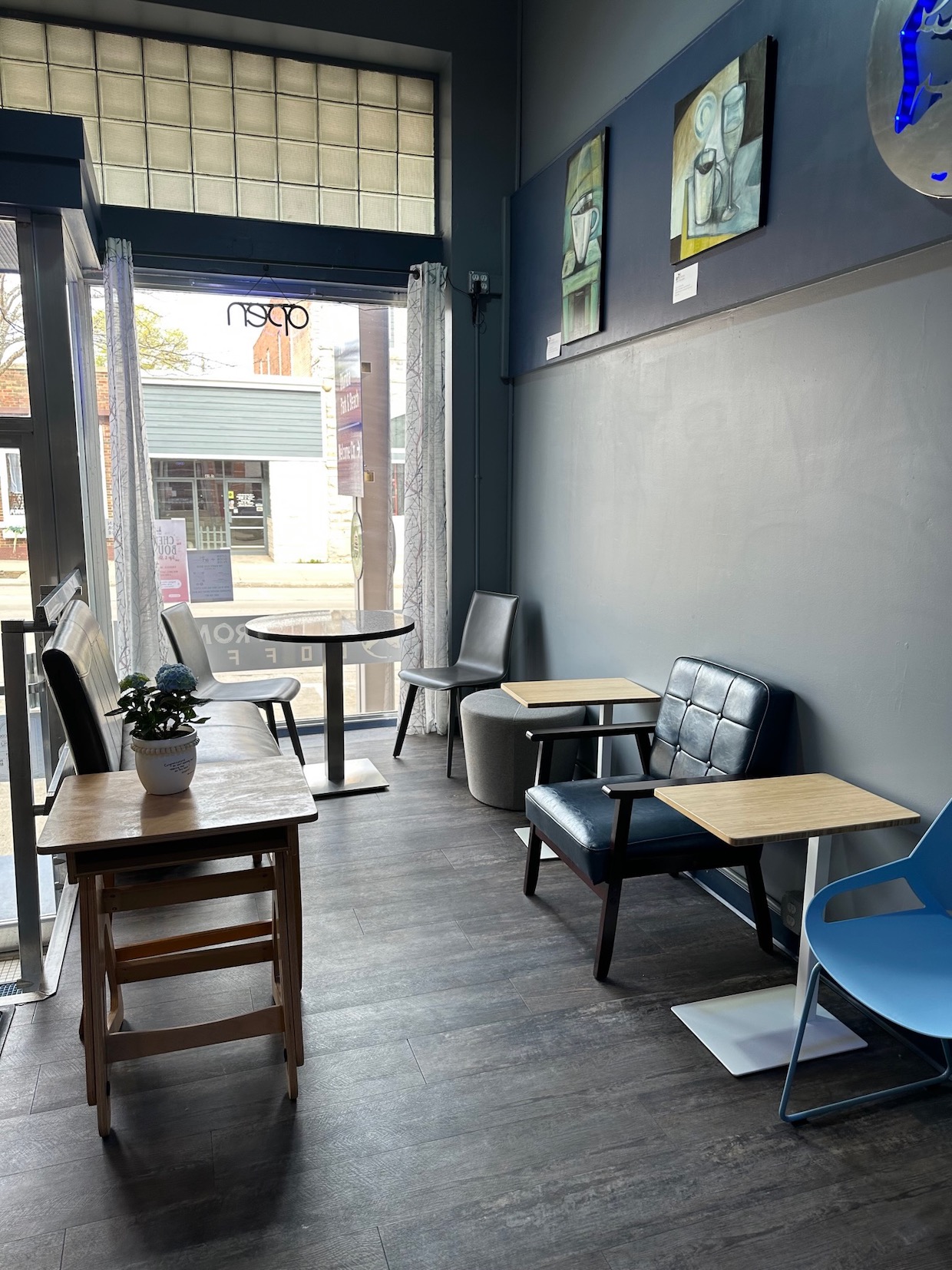 Coffee-focused interaction with guests remains a priority for the company, which maintains a Coffee With a Cause program that donates 12% of proceeds of each bag of blended coffee to various Door County charities.
"We're wanting to always be educating in coffee, and coffee is dried to 12% before it's bagged and shipped," said Grorich. "So that's the 12%. there's a little educational component to it."
Quick cups of hot coffee are drawn from a Ground Control brewing system, which Grorich also plans to use for the shop's cold brewed concentrate. Cold brew will also run through a Brood Nitro Brew System for nitro.
In addition to pastries from local bakeries, the shop offers a number of healthy food options, including powders and additives that are less sugary that some popular options. Said Grorich, "Everybody still loves to grab a carb and treat themselves to that, but I didn't want that to be the only option."
Grorich continues to take the lead on the company's Mill City Roasters 6-kilo roasting machine several afternoons per week, roasting for the shop, e-commerce and wholesale customers. With the latter group, Grorich is now also certified to deal in equipment from La Marzocco, Ground Control and other manufacturers.
Grorich and Puetz bought the building in downtown Sturgeon Bay in 2020 with the intent to open the roastery and cafe simultaneously, though the COVID-19 pandemic had other plans. Pinky Promise now shares the 3,200-square-foot ground floor of the 100-plus-year-old building with a gallery and studio called Articipation. The couple's daughter, Evelyn, occasionally pops in to earn her allowance.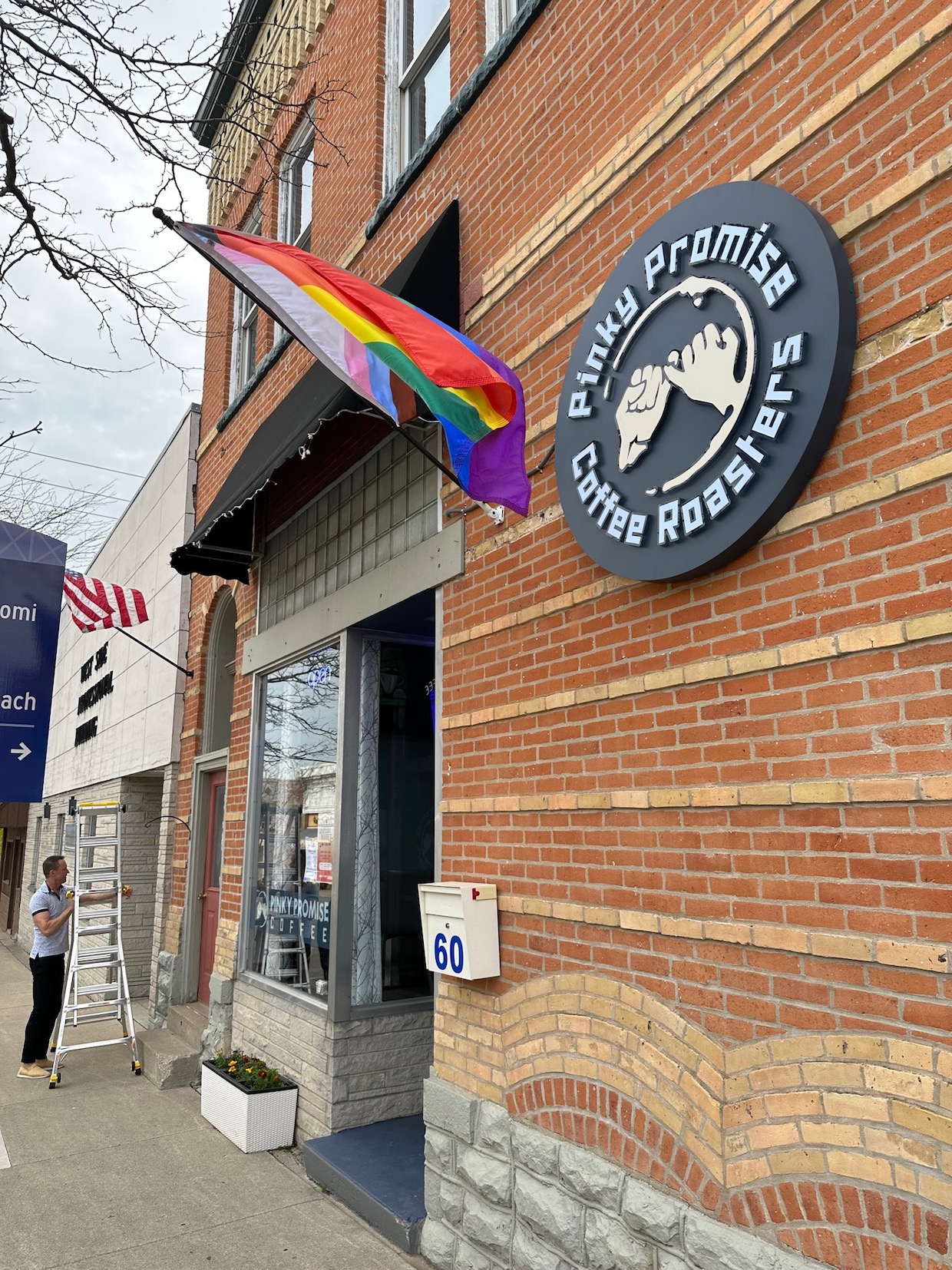 "She's technically not on the payroll, but she's down here helping us out and of course we help her out as well," said Grorich. "It's awesome having her coming down here… when doors open. The name of the business is based [on] our tradition with her, so it's perfect that she's here and actually learning to run a business."
---
Pinky Promise Coffee is located at 60 S Madison Ave. in Sturgeon Bay. Tell DCN's editors about your new coffee shop or roasting business here.
Howard Bryman
Howard Bryman is the associate editor of Daily Coffee News by Roast Magazine. He is based in Portland, Oregon.