The great industrial production roastery will always be the backbone of the industry, but as the boutique boom in specialty coffee continues to inspire smaller companies and individual shops to gear up into roasting on site, equipment manufacturers aren't sitting on their hands.
Roasting equipment start-ups and established manufacturers alike revealed new products aimed squarely at the roastery cafe in 2018, including two innovative ventless electric small-batch roasters made specifically for easy installation and use in cafes even by the most inexperienced entrants to the field.
Both of those new shop roasters come as parts of complete, farm-to-cooling-tray service systems that not only shorten or almost entirely remove the learning curve associated with craft roasting — via automation — but also do the same for green coffee sourcing. Interestingly, the green coffee front also saw some rare innovation this year. Two new electric green coffee sorters emerged this year, competing for the attention of producers and buyers alike with pitches of easy and fast improvements in green coffee quality.
Whether or not it always makes sense from a business standpoint, the proliferation of in-house roasting programs is like a self-fulfilling prophecy at this point. The more roasting programs go live inside cafes, the more consumers will come to expect such a display of dedication to quality and freshness. We expect that more manufacturers will respond by fleshing out their offerings in the mid-size and smaller range of machines with less capacity, smaller footprints and additional options for automation in the years to come.
There could even reach a point when wholesale coffee roasters pause to consider partnerships with roaster manufacturers in order to offer their cafe clients roasters in the 1-5-kilo capacity range, linked to their own curated green coffee programs and training services. Could roasting be the next pourover? That is, everywhere for a minute, then driven away by rampant inconsistencies and inefficiencies, only to creep slowly back into adoption with tidier, more streamlined and automated solutions? Time will tell.
For now, we look back at what time told us about roasting technology in 2018:
Hardware
From Coffee Shop to Roastery: A Sleek New Countertop Roasting System Emerges
A new end-to-end roasting solution for coffee shops and cafes made a surprising appearance this Spring. Currently called simply Roastery, the system is centered around a ventless, electric, countertop-friendly roasting machine with a clean, streamlined aesthetic that links to proprietary software that can automate the roasting action while providing a portal to green coffee resources.
San Franciscan Roaster Company Covers the Middle Ground With the SF10
The San Franciscan Roaster Company has added new machine to its lineup, the 10-pound-capacity SF10, sized strategically to land within the financial and sometimes legal means of start-ups and other companies in early growth stages.
Bellwether Coffee To Lead Cafes Into Roasting This Fall
The all-electric, ventless, roughly refrigerator-size machine is designed to fit seamlessly into the cafe environment and offer an easy entry into an in-house coffee roasting program, not only in terms of the installation and use of the equipment but in virtually all aspects of the endeavor. Bellwether Chief Operating Officer Arno Holschuh told Daily Coffee News that the company's research indicated that while many coffee shop owners were already taking the plunge into small-scale, in-house roasting operations, it was often at a financial loss. Others found it to be an all-but-impossible move, particularly for shops located on the ground floors of taller buildings in other circumstances where exhaust ducting alone may be the tip of the iceberg.
Loring Unveiling the Smaller-Capacity S7 Nighthawk Roaster
With a 1.4- to 7-kilo roasting capacity and a 22-square-foot (2-square-meter) space requirement, the S7 Nighthawk is the smallest production machine in the California-based company's line, while still featuring Loring's single-burner design for improved fuel efficiency and lower emissions. The company has been featuring a prototype of a significantly smaller-model machine at various trade events since at least as far back as 2016.
Ikawa Launches the Pro V3 Sample Roaster
With the same dimensions as the original roaster and weighing approximately nine pounds, the V3 builds upon Ikawa's original hardware and software platforms with the addition an Inlet Temperature Sensor, a reinforced "Strong" exhaust sensor, and significant changes and improvements to the app. The inlet sensor provides an entirely new way for users to craft profiles on the Ikawa, while data from both sensors are visualized in the app and enhance users' ability to translate profiles to their production roasting equipment.
The Kelvin Streamlines Countertop Fluid-Bed Home Roasting
A new device called the Kelvin Home Coffee Roaster builds upon the simplicity of a countertop fluid-bed solution, while boasting a modern, tidy appearance along with additional built-in features such as chaff collection and automatic cool cycle.
Solar-Powered Roaster for Farmers Wins Major ASME Award
The hybrid solar roasting machine captures and stores energy through solar panels while also roasting directly through a series of angled mirrors that generate heat directly from sunlight up to 200℃ (392℉) within a hand-rotated steel drum above a hand-powered cooling tray.
Software
Tracking System For Commercial Coffee Equipment Designed to 'Cover Your Assets'
The straightforward, functional system is composed of printed barcode stickers, a smartphone app for scanning them and an organized digital database into which users enter relevant info. Each barcode corresponds with a unique Asset Identification Number, which the company likens to an automobile's VIN number. The app pulls up the relevant record and takes note of the smartphone's GPS coordinates, with a time stamp for each scan. The result is confirmation of an asset's whereabouts along with easy access to records for that machine, streamlining the process of keeping everything up to date.
Loring Launches New Roast Profiling Software, Roast Architect
A key feature of Roast Architect is the new Loring Profile Designer, which allows roasters to create, edit, upload and share profiles through a newly designed user interface. The Profile Designer gives users control over which attributes to track, and it features a point-and-click curve editor. Once a profile is set, it can be automatically uploaded to the roasting machine to run the roast.
With Roasting Intelligence 4, Cropster Provides a Major UI Upgrade
Coffee roasting software provider Cropster is rolling out Roasting Intelligence 4 (RI4), representing some of the biggest changes in its core roast profiling and management software to date, including a dramatically revised user interface, additional syncing with other Cropster management features, a new modulation chart, and a new algorithm for more precise rate of rise (RoR) detail.
RoasterTools Launches Web-Based Wholesale Ordering Portal
Portland, Oregon-based RoasterTools, maker of online production management software for coffee roasting businesses, has launched a new wholesale ordering portal that works in conjunction with its production system. Released last month, the portal allows roasters' wholesale clients to place orders online from any computer or smartphone, and then integrates that info directly into the recipient company's production system.
Green Coffee Sorting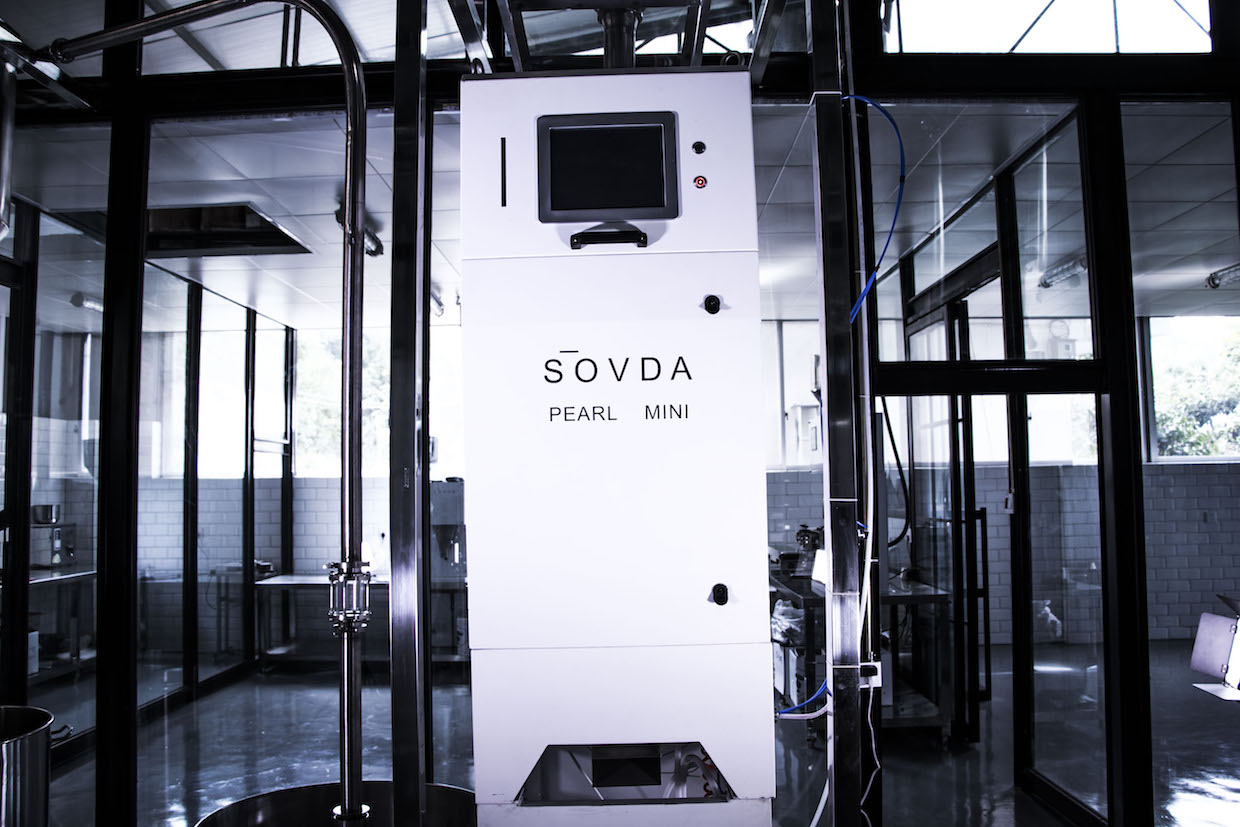 Sōvda Launches The Pearl Mini Sorter For Green and Roasted Coffee
A startup industrial equipment brand called Sōvda has launched a new optical sorting machine capable of sorting either green or roasted coffee, while fitting physically, aesthetically and financially into specialty coffee production spaces. Called the Pearl Mini, the machine can sort 250 kilos per hour for roasted coffee and 500 per hour for green coffee, according to the company, which makes it ideally suited to roasting facilities that operate 15- to 90-kilo-capacity roasters.
Swiss Manufacturer QualySense Sorting to New Heights with the QSorter
The QSorter measures the biochemical content of the product, not simply the physical appearance, allowing the operator to access key data about the content of the beans and get an indication of the presence of positive or negative flavor attributes. The company believes the use of this technology has the potential to be wide-ranging, with possible applications throughout the supply chain.
Howard Bryman
Howard Bryman is the associate editor of Daily Coffee News by Roast Magazine. He is based in Portland, Oregon.