Coffee grinder manufacturer Mazzer has rolled out its first grinder explicitly for the home market: the Mazzer Omega. The Omega is also the first manually operated, non-electric coffee grinder ever produced by the 73-year-old Italian company.
"At Mazzer, we wanted to design an iconic hand coffee grinder for a long time," Mazzer Marketing Manager Cristina Scarpa told DCN. "Omega is the first home grinder we produced, but it won't be the last. We intend to use our know-how in designing and manufacturing commercial coffee grinders and burrs to produce new products for home use."
The hand-cranked Omega's body is made of machined steel and aluminum, with a light-weight carbon fiber lever connecting an anodized aluminum knob to a steel axle. In travel mode, the knob is secured to the top of the grinder by neodymium magnets, while magnets also secure the handle to the grinder's side.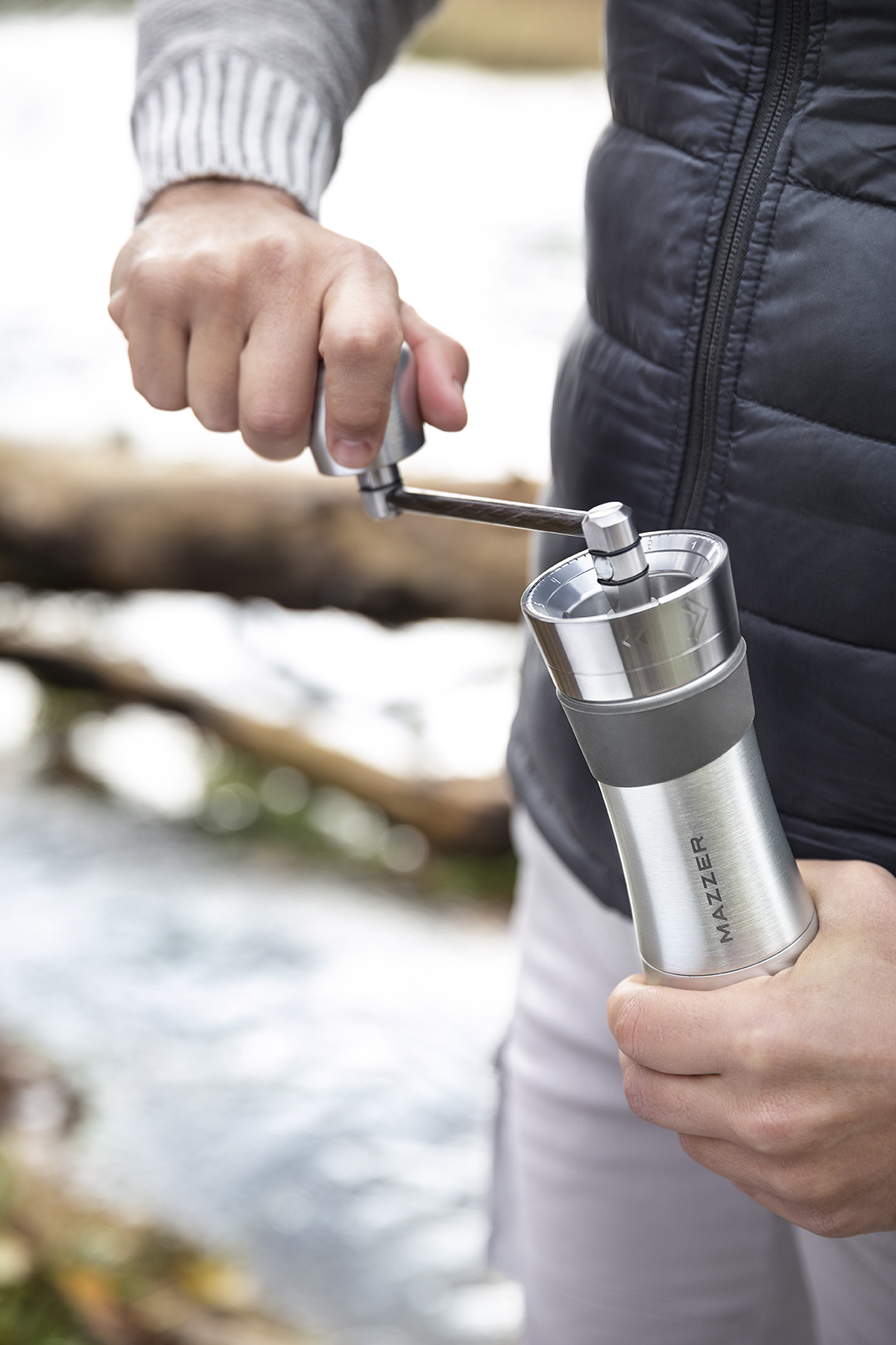 An aluminum catch cup shaped for efficiently transferring grounds into a filter, espresso basket or AeroPress brewer receives grounds from one of two optional sets of 47-millimeter hardened conical burrs Mazzer manufactured exclusively for the Omega. One set is designed for greater output speed; the other for ease of use.
Each click of its "microstepped" adjustment system results in 1/30-millimeter difference in burr gap, according to the company, and its maximum capacity for coffee is about 42 grams.
---
Related Reading
---
Founded and based in Venice, Mazzer has been producing commercial coffee grinders since 1948, building a reputation for durability at various espresso workloads and price points through core models such as the Mini, Jolly/Super Jolly, Kony and Robur. The company recently unveiled its new ZM+ and Super Jolly V Up grinders, plus an automatic tamping machine.
While commercial grinder brands do sometimes wade into the consumer category, it's rare to see one cut the cord and bring forth a fully manual product.
The Omega made its public debut at the HostMilano trade show last month. Scarpa said the Omega will be ready to ship to customers by the start of 2022. Pricing has not yet been disclosed.
---
Does your company have news to share? Let us know here.
Howard Bryman
Howard Bryman is the associate editor of Daily Coffee News by Roast Magazine. He is based in Portland, Oregon.