The Museum of Design Atlanta (MODA) is running a coffee-machinery-focused exhibit called "Passione Italiana: The Art of Espresso" through June 9. It shows a wide range of Italian and non-Italian machines of all shapes and sizes throughout the decades, including vintage Gaggia and La Pavoni machines up through the Brutalism-inspired AnZa machine, designs by Kees van der Westen, and more. From MODA:
Passione Italiana chronicles the evolution of the espresso machine and documents technological and industrial design developments. The exhibit showcases espresso makers used in Italy during the mid-twentieth century—alongside inventive coffee sets and unique crockery—and traverses through the decades, highlighting the influence designers such as Aldo Rossi, Toyo Ito, Richard Sapper and Massimiliano Fuksas have had on classic and contemporary models.

Appealing to both design lovers and coffee enthusiasts alike, the exhibition surveys the social and historical impact coffee and coffeehouses have had around the world, including the role of cafés as incubators in social justice movements and how they have helped fuel everything from literary and musical achievements to political revolutions.
Last week an exhibition on the history of the world's coffee industry also opened at the Coffee World Museum in Buon Ma Thuot, the capital city of Dak Lak Province in Vietnam's Central Highlands. Over 10,000 objects and photos from various historical eras and from every link in coffee's chain from seed to cup are on display, according to the communist party news service Nhan Dan:
Speaking at the opening ceremony, Vice Chairman of the provincial People's Committee Vo Van Canh said the eight-day exhibition, the first of its kind in Dak Lak, aims to spread the quintessence of Buon Ma Thuot-branded coffee.

The Coffee World Museum has been an ideal place for coffee lovers to explore the global coffee culture, he added.
Perhaps headed to a museum in the future are the "coffeemonsters," the creations of German artist Stefan Kuhnigk, whose brewed coffee droplet-based sketches were featured this week in a report by First Newspaper. Kuhnigk shares a bit about the process on his website:
I really enjoy every single one because i love creation and the determination or coincidence of the coffee hitting paper. After drying for about 4 to 6 hours i can draw directly onto the stain. I try to see a monster, character or figure in it and when i find something, i draw it.
New Zealand-based commercial and documentary photographer Giora Dan presented some great shots in a photo essay on cocoa and coffee production in Peru, picked up by PetaPixel. He also shared thoughts on the challenges of accomplishing this documentation without disrupting the scenes he hoped to capture:
By this stage, I had decided that I was going to shoot whoever I could and let the Fair Trade person chase the people photographed for signatures after the fact. As I had very little time at each location, I used every trick in the book to try and get images of people without influencing the scene or their behavior by presenting a camera to their face. Most of the time it works. However, when you are in somebodies kitchen, for example, it is hard to not be noticed.
Farmers Guardian focused even more closely this week, exploring the life and daily routine of a single coffee farmer, Christine Kyokunga, who works 0.6 hectares (1.5 acres) in a village in Southwestern Uganda she inherited from her father-in-law:
I normally get up around six in the morning and prepare the kids for school. Then I let the birds out to graze, and take the goats to the farm for morning grazing. I always tie the goats on ropes to avoid destroying neighbouring crops. After, I go and dig in the garden and weed the banana plantation. By 11am, if it's coffee harvesting season, I will harvest at least 3 trees of coffee. By 1pm, I start preparing lunch for the family and I normally prepare one meal for the day – lunch and supper combined. After lunch, I rest for at least an hour and go back to collect more coffee or tend to the gardens.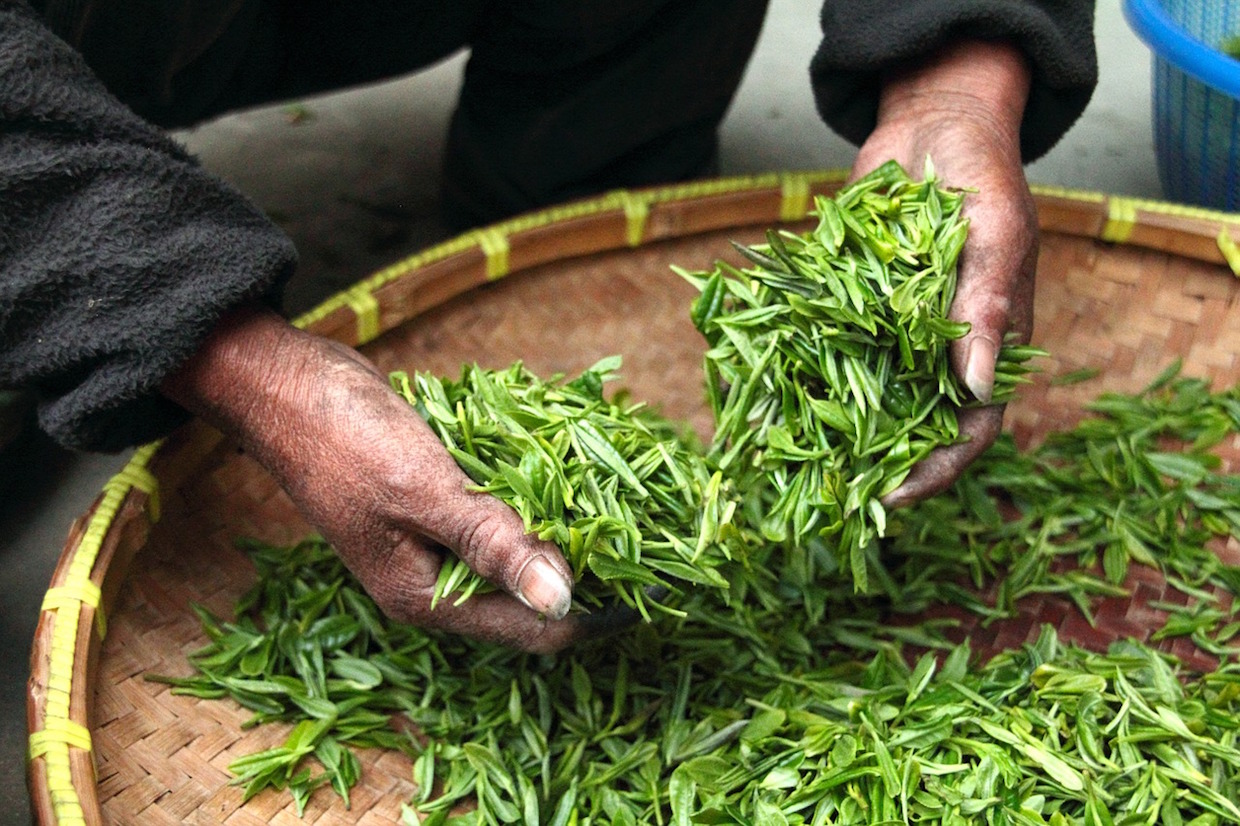 That's not the kind of story that sells coffee in China, according to research that Lumina Intelligence Analyst Oliver Nieburg shared with Food Navigator Asia.  An analysis of over 150 of the best-selling chocolate, coffee, black and green tea products sold by major retailers there revealed that only 9 percent of products made sustainability claims; those products were priced lower than products that did not make claims; and most of those claims were environment-related:
The most common type of sustainability claim in China was found to be the Rainforest Alliance Certified seal.

Some others used Mondelez's in-house sustainability programme symbol Cocoa Life, but no sign was seen of the International Fairtrade Certification Mark.

This was directly in contrast with India, Australia and all of the 20 other countries analysed, where Fairtrade was found to be the most prevalent sustainable claim.

"China is a blank canvass for fair trade claims," said Nieburg.
The New Yorker devoted the latest chapter in its Annals of Obsession series to the "The Rise of Coffee-Connoisseur Culture," gathering commentary from the likes of Aida Batlle, Counter Culture educator Hana Kaneshige, the owners of Bushwick, Brooklyn-based Sey Coffee, whose menu includes a $29 single cup of Elida Estate Green Tip Geisha brew. Topics include the culture of appreciation, explanation of the waves, the world of competition, and what exactly the Fourth Wave might bring. Also, no mainstream reportage of fancy coffee can be complete without wine comparisons:
There's a hint of younger-sibling rivalry in the way that coffee geeks refer to more established connoisseur cultures. "I can, like, relatively confidently say that if you were willing to spend somewhere around four to five dollars on a cup of coffee a day, you're drinking the best coffee in the world," Lance Schnorenberg, the co-owner of Sey Coffee, says. "You just can't say that about wine or any of these other things that people get really obsessive about." Other obsessives agree. "I don't understand why we can't put coffee on the same pedestal," Sara Samplawska, a Sey Coffee regular, says. "More delicious than a thousand kisses, milder than muscatel wine," Johann Sebastian Bach writes, in his "Coffee Cantata," from the eighteenth century. "Coffee, I have to have coffee."
Stumptown's award-winning in-house mixologist Jeffrey Morganthaler bringing his 23 years' experience to bear on the company's seasonal menu of specials, such as the Citrus Cold Brew Shrub and Honey Peppercorn Latte. Stumptown offered a Q&A with the creative drinkmonger on its blog:
Stumptown: What was your thought process when creating these drinks for us? They're brilliant – tell us what happened in your brain when you thought these up.

JM: (laughs) I don't know, I just kind of let my mind wander and when something sounded good I wrote it down and then messed around until I figured it out. I've never really had writer's block for drink ideas, my mind runs a mile a minute. I think a lot of bartenders are the same way, but I've never had that fear of failure, so I just make it work. I think a lot of people get kinda nervous and never try something for fear of crashing, but I just don't have that voice. Of course, what's the very worst thing that can happen in my line of work? I try a drink idea in my kitchen, and if I can't make it work I just scrap it and move on to the next idea. Doesn't sound all that scary to me. The first two drinks are meant to be reflective of the season: sitting between cold and hot, riding the line between austerity and richness, kinda hanging on to the remnants of winter while remaining hopeful for spring. So, you know, March.
How does Big Coffee feel about falling two waves behind, as it were? Bloomberg ran a piece examining the impact of cafes roasting their own, including co-roasting models, new equipment catering to "self-roasters," how importers respond to the demand for smaller quantities, and the view from the offices of old-guard coffee giants:
Rabobank says roasting shops alone aren't yet a major threat to Big Coffee, but as young consumers move away from traditional brands, that's forcing the old guard to adapt. JM Smucker Co., for example, has rolled out a new line of coffee called 1850 intended to attract younger drinkers who wouldn't think to pick up a pound of sister brand Folgers. Last month, Maxwell House-owner Kraft Heinz Co. took a $15.4 billion writedown on assets in a stunning acknowledgment that changing consumer tastes have destroyed the value of some of the company's most iconic products.
Howard Bryman
Howard Bryman is the associate editor of Daily Coffee News by Roast Magazine. He is based in Portland, Oregon.