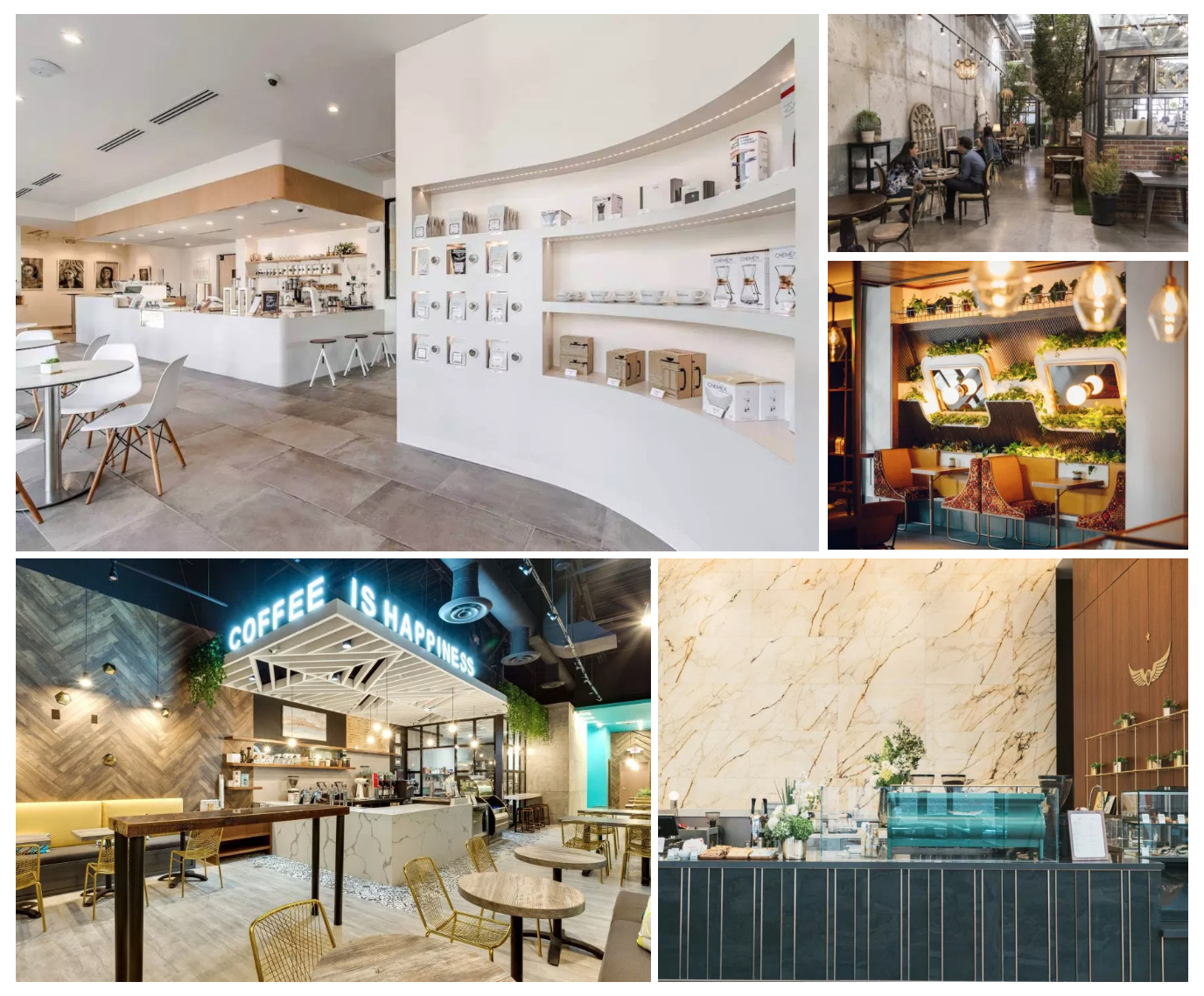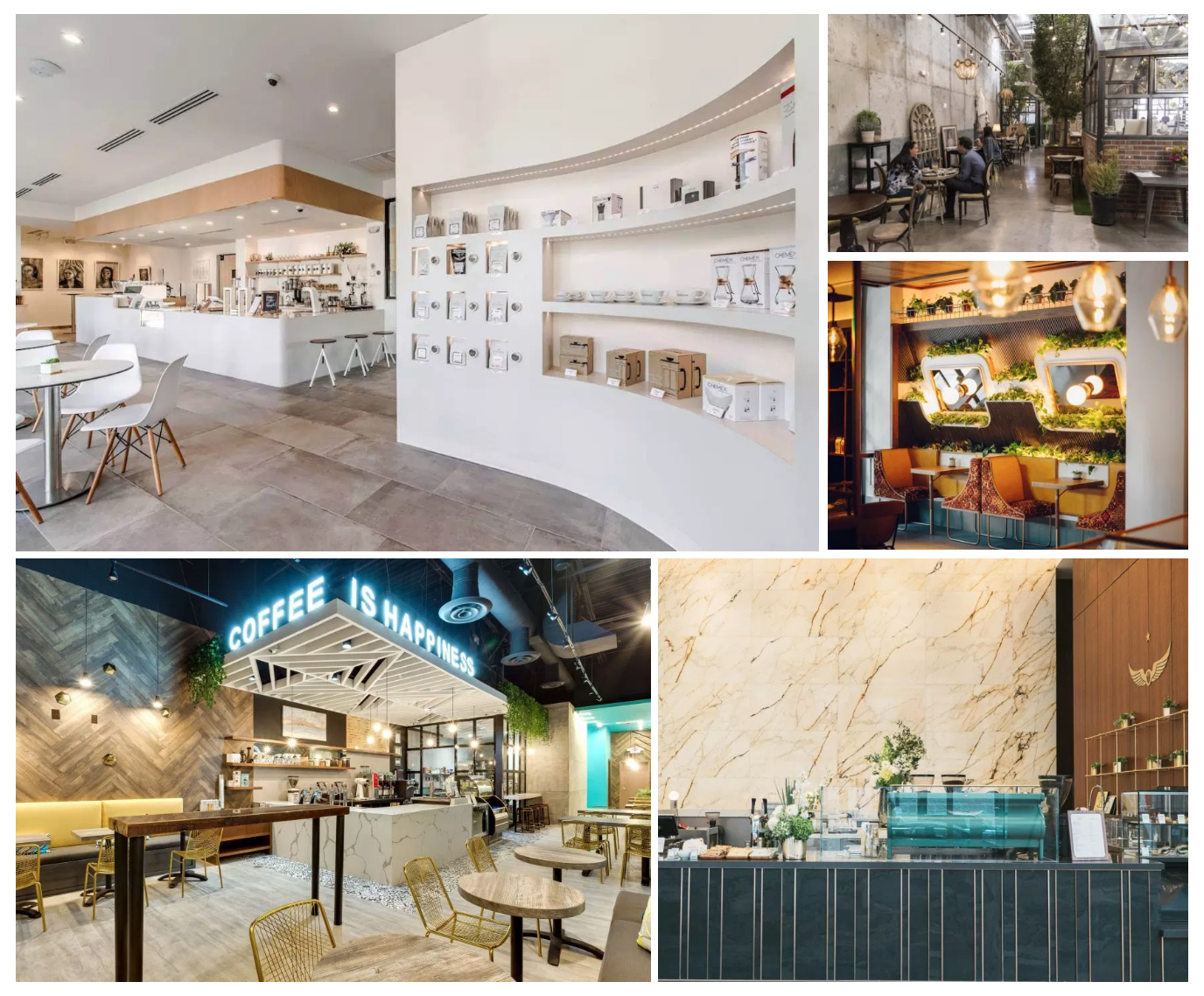 So many Edison bulbs, so little time!
Scandinavian and modern industrial design aesthetics continued to reign supreme in 2018. In some cases where pockets were deeper, some truly exceptional interiors brought new heights of refinement to the once humble cup 'o joe.
As is true in roasting coffee, both art and science are at play in high-functioning retail design. There's the aesthetic personality and architecture of a space, and then there's the anthropology of consumerism — the engineered flow of people through decision-making, ordering, paying, and ultimately consuming the products at hand.
When it comes to a product as complex as specialty coffee, these environments can be conceptually dense, as so much care is taken to incorporate any number of different stories, including reflections of the countries and people that grow the raw materials, the personalities of the cafe proprietors, connections to the local community, the spirit of craft, and sometimes some educational details about coffee itself.
Retail shops attempt to braid all this information in among an enjoyable balance of comfort, creativity, convenience and sophistication, and that's to say nothing of efforts seen and unseen to reduce the environmental footprint of it all.
Here we've rounded up 20 standout retail openings covered by DCN in 2018 that serve as an informative cross section of the many exciting ribbon cuttings this year, while plenty of smaller, quieter openings were also remarkable for their dedications to quality and the good hearts of the individual humans and strong communities involved:
Sweet New Roastery Cafe BlendIn Coffee Club Stands Out in Sugar Land
With so many choices and variables involved in the selecting, roasting and brewing of coffee, as well as for the layout and decor of a cafe, it's almost as if an aspiring shop owner must be both a biochemist and an interior designer. As it happens, just such a pair has opened a cafe.
Stay Golden Proves Its Mettle with Ambitious Roastery Cafe in Nashville
This time, the partners have taken a high-quality culinary angle with the Stay Golden, a dynamic coffee roastery, bar and restaurant that opened last month inside a 5,300-square-foot space in the city's Berry Hill area.
Craft Beverages Combine in Harmonious Landscape at Austin's Cosmic Coffee + Beer Garden
At the new Cosmic Coffee + Beer Garden on S. Congress Ave. just a few blocks north of Ben White, a beverage program that includes locally roasted craft coffee, locally brewed craft beer, wine and seasonally inspired cocktails runs through a sustainably designed bar out to approximately 1 acre of grounds that include a certified wildlife habitat, a rainwater irrigation system feeding an eco-pond, a horse-drawn carriage repurposed as a chicken coop, and large herb and vegetable gardens that will inspire the drink menus.
Better Buzz a Bigger Biz With Huge New Roastery Cafe in San Diego
San Diego coffee roasting and retail company Better Buzz Coffee came into the new year on a high, opening its most ambitious and creative shop to date: a 7,500 bi-level roastery cafe in Hillcrest.
Coffee Is Happiness at Reserva Coffee Roasters in McAllen, Texas
Quiroz's travels in her previous career informed several elements of Reserva, from the design to the espresso blend. Their Modbar espresso machine makes baristas visible to guests beneath Instagram-ready block letters that read, "COFFEE IS HAPPINESS." Greenery cascades from the suspended ceiling, accented by soft light, cement walls and wood textures.
Inside Foxtail Coffee's New Upscale Farmhouse in Central Florida
In Orange County, Florida, coffee roasting company Foxtail Coffee has swung open the doors to a new retail bar called the Farmhouse. Combining rustic and contemporary design elements, Foxtail's Farmhouse expands upon the brand's traditional menu with the addition of a "Gravity Bar," wines, cocktails on tap and coffee-brewing siphons at every turn.
Dark Matter Coffee Lights Up for Fans in Chicago's United Center
Chicago's coffee-loving sports fans are lighting up like an expired shot clock with last month's opening of Mad West in the United Center, a retail collaboration between local roaster Dark Matter Coffee (DMC), Heisler Hospitality, and Levy Restaurants.
Gäbi Coffee & Bakery Opens with Cinematic Flair in Las Vegas
A newly opened coffee roastery and cafe Las Vegas called Gäbi Coffee & Bakery is not intended to reflect contemporary South Korean coffee shop design, per se. The shop does, however, take some inspiration from contemporary Korean cinema, while a groundbreaking Korean-made Stronghold S7 roaster helps fuel the coffee program.
In West Virginia, Void Coffee is Filled with Ingenuity and Optimism
Drawing patrons in with a starkly modern motif, thought-provoking decor and molecular-gastronomy-inspired brewing techniques, Void Coffee Company opened its doors earlier this month to combine gravitas, levity, creativity and quality for an experience quite apart from the norm.
New Zealand Roots and Sacramento Style at Chocolate Fish's Third Cafe
As sunlight streamed into Chocolate Fish Coffee's third cafe that opened its doors earlier this month in a 1,500-square-foot space in the Land Park neighborhood of Sacramento, California, it marked a reawakening of the company's New Zealand roots. The new cafe presented an opportunity to reimagine fresh, local and healthy food offerings, with a beer and wine program also on the way.
From Bay Area CoRoasters Comes the CoRo Coffee Room in Berkeley
In addition to the self-described "hyper local" coffees from the approximately 20 roaster members, the sunlit cafe adjacent to the co-roasting space in West Berkeley will feature goods from other local purveyors, including breads and pastries from The Midwife and The Baker, jams and syrups by June Taylor Jams, chocolate from Tcho, and teas from Blue Willow Tea.
Stumptown Opens Third New York Cafe in Historic Brooklyn Firehouse
The 1860s firehouse was updated through the work of New York's TBD Architecture + Design Studio and design collaboration by Portland-based Jessica Helgerson Interior Design. According to an opening announcement from Stumptown, the goals were to keep the design "authentic and period-specific."
Boxwood Grows Bigger in New Jersey with 3,700-Square-Foot Roastery Cafe
Currently soft-opening in Westfield, New Jersey, is the second cafe from four-year-old roaster and retailer Boxwood Coffee. At 3,700 square feet, the location is more than three times the size of the company's original Summit, New Jersey shop, and is now home to Boxwood's roastery while also offering space for events, training and education programming.
Beer, Coffee and Community Overlap at Vennture Brew Co. in Milwaukee
The passions for quality and for experimentation, propensities to liven up any social situation and geek-caliber quests for intricate flavors and aromas are all ties that bind the craft beer and specialty coffee communities together. They're also now the founding characteristics of the new Milwaukee, Wisconsin, roastery/brewery concept Vennture Brew Co.
Espressotec Launching Roaster Central in Vancouver with Flights of Fancy Coffee
Vancouver, British Columbia-based espresso machine sales and service provider Espressotec is readying the opening of a new retail concept called Roaster Central, offering as many as 40 different roasted coffees at a time from specialty roasters hailing from B.C. and beyond.
Inside Intelligentsia Coffee's New Downtown Boston Bar
Intelligentsia says the Post Office Square design was was "influenced by the sense of guest intimacy and comfort found at great hotel lobby bars." Minus the guest rooms and the booze, the cafe does feature communal seating around an august cream-colored marble high bar with a front line bar for ordering efficiency. Brass, marble, steel and leather have all been incorporated into the design to complement the existing lobby.
Roast House's First Avenue Coffee Prizes Quality and Sustainability in Spokane
The 3,000-square-foot space has 20-foot ceilings and a 40-foot U-shaped coffee bar where baristas engage with guests while preparing their drinks, some of which pass through a sleek ModBar system. A 450-square-foot mezzanine provides extra seating while overlooking the space below.
Archetype Coffee Relocates Roastery Into New and Atypical Second Shop in Omaha
The specialty coffee scene in Omaha, Nebraska, continues to grow with a second location from established Big O player, Archetype Coffee. Now in its fourth year of operation, Archetype has expanded beyond its original Blackstone District roastery cafe with a new 3,200-square-foot facility in the up-and-coming neighborhood of Little Bohemia.
Coffee and Beer Make Peace At Civil Pour in North Dallas
In the bright and modern 2,500-square-foot bar and coffee shop, suds and perks align for a collective retail splash involving a row of 30 taps alongside a five-group Poursteady machine kept lively by an extensive multi-roaster coffee program.
The Coffee Behind the Stylish and Ultra-Progressive Eaton Workshop Hospitality Brand in D.C.
Apart from an on-site wellness center and spa, a radio station, a rooftop bar, event spaces and more, the facility located about seven blocks from the White House will also include a street-level coffee shop called Kintsugi, a restaurant called American Son and a full espresso and coffee bar within its 300-member co-working club. Kintsugi, American Son and the club bar collectively make Eaton Workshop one of the biggest clients for Floyd, Virginia-based roasting company Red Rooster Coffee, which has equipped, supplied and provided training for each.
Starbucks Opens 23,000-Square-Foot New York Reserve Roastery
Starbucks has opened its 350th store within New York's five boroughs.
Number 350 is quite unlike the rest, though. It's the company's second U.S. Reserve Roastery location. It spans an incredible 23,000 square feet and comprises multiple bars for coffee and cocktails, plus a Princi bakery and restaurant.
Starbucks 'Humbly' Enters Italy with a 25,000-Square-Foot Coffee Spectacle
Inside the historic Palazzo delle Poste in central Milan, the facility includes a working production roastery with an Italian-made Scolari roaster for Starbucks' Reserve-brand coffees; a main, wood-fronted, marble-topped first-floor bar for a range of espresso-based beverages; a mezzanine featuring a 30-foot Arriviamo bar, cut from a single block of marble, for light bites, classic Italian aperitivos and other Italian-inspired cocktails; and a Princi-brand bakery with a wood-fired oven built by hand, brick by brick.
Howard Bryman
Howard Bryman is the associate editor of Daily Coffee News by Roast Magazine. He is based in Portland, Oregon.