A Nielson report released this month indicates that products across multiple categories, including coffee, sell better when they include "certain sustainability claims." While the study found 16 percent sales growth in chocolate and bath products bearing sustainability claims over products that did not, a mere 1 percent growth was found in coffee.
There are many categories to choose from, but for this study we selected chocolate, coffee and bath products because they are sufficiently different from one another, and are among the most common fast-moving consumer goods (FMCG) purchases across consumer groups.

What did we find? Overall, sales of items with certain sustainability claims across all three categories grew faster than the total category.
For the red siskin's sake, hopefully Venezuela's future "bird friendly" coffees will get a much better bump. The origin country's population of this iconic little bird has diminished drastically due to deforestation. An article by the Associated Press this week reported on progress made by the three-year-old Red Siskin Initiative launched by the U.S. Fish and Wildlife Service in collaboration with private groups in the U.S. and Venezuela:
Planting organic groves with thick branches reverses a trend among farmers who boost bean production by thinning coffee groves for more sunlight, or cut them down altogether to plant vegetables that turn a quicker profit.

Farmers who meet the project's strict standards will win the right to market their beans with "Bird Friendly" labels and take advantage of a loophole in Venezuelan law to set prices for premium products, sometimes five times higher than price caps set by the socialist government. Eventually they hope to export the coffee.
Another coffee-nestled icon facing extinction right now is the Italian classic Bialetti Moka Pot. The Irish Independent reported on the financial woes of the longstanding brand:
When Alfonso Bialetti patented his design for the eight-sided aluminium stove-top coffee pot that forces pressurised boiling water up through a layer of ground coffee, the Italian economy was in a terrible state.

It was 1933 and banks were failing, unemployment was high and Italians were cutting luxuries like trips to cafes – hence the demand for an at-home coffee maker.

More than 105 million moka pots have been produced since then.

However, with 150,000 coffee bars in Italy alone – including a Starbucks that controversially opened in Milan in September – and despite more people than ever appearing to be enjoying coffee, moka makers have seen their market share decline.
Yet even if the original moka pot goes the way of the dodo, others will likely gurgle on, and Italian coffee giant Massimo Zanetti is determined to keep filling as many as possible. The company just forked over roughly $17 million to acquire Australian company The Bean Alliance. Reuters had the story:
The deal, which is expected to close by January, will strengthen Zanetti's exposure to the Australian market and open more opportunities in the Asian Pacific area, a fast-growing market for coffee.

Zanetti's acquisition follows other deals announced by Italian rivals Lavazza and illycaffe in recent weeks after coffee chain Starbucks inaugurated its first outlet in the espresso-obsessed country two months ago.
It so happens illycaffe is playing both sides of the fence — coffee and not-coffee, that is. Riccardo Illy, grandson of the company's founder, has been growing tea, chocolate and wine brands to diversify the family's business interests beyond the "intensely competitive" coffee industry. Reuters had more on that too:
The Illy group plans to grow and separately list its non-coffee ventures, starting with its tea brand, French-based Dammann Frères.

That is likely to be listed within two to three years in Paris, followed by the Italian chocolate business, Domori, said Riccardo Illy.

Together these two ventures accounted for 80 percent of Illy's total non-coffee sales last year of 53 million euros, which excludes outside interests in Dammann Frères and another Italian confectionery business, Agrimontana.
It's not just Italian coffee companies that are growing old. It's also happening to African coffee farmers, according to research by the Kenya Coffee Platform (KCF). A survey of 40 cooperatives in Kenya found an 83-percent male workforce, roughly half of those men being age 60 or older. All Africa chatted with KCF chairman Dr. Joseph Kimemia to learn more about the implications:
"If we can have youth indulge in coffee farming, it will be easy for them to increase production since they will agree to farm the new varieties that are of high-yielding as well as disease tolerant," said Dr Kimemia.

"The old are reluctant to accept change and what they are doing is forcing the already worn-out bushes to yield more. Imagine if the young people, after finishing their degrees, returned to the farms to put their newfound knowledge into practice. Imagine if they aspired to be producers, roasters, exporters and baristas — and they studied to advance those careers," he added.
Parts of the Democratic Republic of the Congo have been seeing a slow but promising return to their former strength in coffee production, albeit with a price per kilo the same as it was 30 years ago, according to a report from Global Press Journal:
Insecurity in the region in the 1990s and 2000s isolated many areas of North Kivu province, where Hutwe is located. Violence by armed groups that operate in the region continues to this day.

But now, the atmosphere in Hutwe is calm enough to begin to plan for a future in agriculture.

About 70 percent of the people in the village are involved in coffee production, Kisono says.
Verve Coffee this week launched its first canned RTD coffee product, Nitro Flash Brew Coffee, calling it "the only flash-brew ready-to-drink coffee on the market." Without parsing into flexible definitions of "the market," Daily Coffee News has previously reported on such hot-brewed, rapidly-cooled RTDs as Nossa Familia's Iced Coffee, Matchless Coffee Soda, Black Medicine, and Red Rooster's cold coffee available now at Eaton Workshop before it rolls out more widely soon. But hey, in good company or not, Verve's sounds mighty nice:
Verve's Nitro Flash Brew Coffee is created using a completely different brewing technique than cold brew or iced coffees. Flash Brew starts with Verve's finest directly-traded coffees, including Ethiopia Natural Mormora and Verve's Southern Colombian Farmlevel Coffees. The coffee is then brewed with hot water using state of the art craft brewing equipment. After precise extraction through a proprietary hot brewing process in an oxygen-free environment, it is flash chilled and infused with nitrogen. Nitrogen removes any remaining oxygen, keeping the coffee ultra-fresh and providing a creamy mouthfeel.
Mouthfeel is also high on Nestle's priority list for RTD coffee stuff right now, as it attempts to capture and deliver to consumers the coveted cafe-style sensation of freshly steamed milk. Beverage Daily had more:
For the most part, RTD drinks have not been able to replicate the frothy and foamy textures of a freshly poured latte or cappuccino.

Nescafé is trying to change that with its Cold Whipped Latte launch. The drink comes in 10oz plastic bottles in Coffee and French Vanilla flavors and uses a unique coffee production method to deliver the frothy latte feeling expected from a café. NESCAFE recommends shaking the bottles about 10 times to get the desired texture before drinking.

According to Avantika Chakravorty, marketing manager of Nescafé's RTD coffee business, indulgence is driven by two elements: taste and texture. With the Cold Whipped Latte, Nescafé believes that it's mastered the delivery of both.
Texture and originality aside, the real unicorn in RTD-land is decaf. Who knows if Swiss Water Decaffeinated Coffee may head in that direction, but the company has announced some major changes to its executive team. Per a press release this week:
Swiss Water Decaffeinated Coffee (SWDC) is pleased to announce the recent appointments of Iain Carswell to the position of Chief Financial Officer, based in Burnaby, British
Columbia, along with Matthew Scruggs to Vice President of Foodservice, and Erin Reed to Director of Marketing, both based out of Seattle, Washington.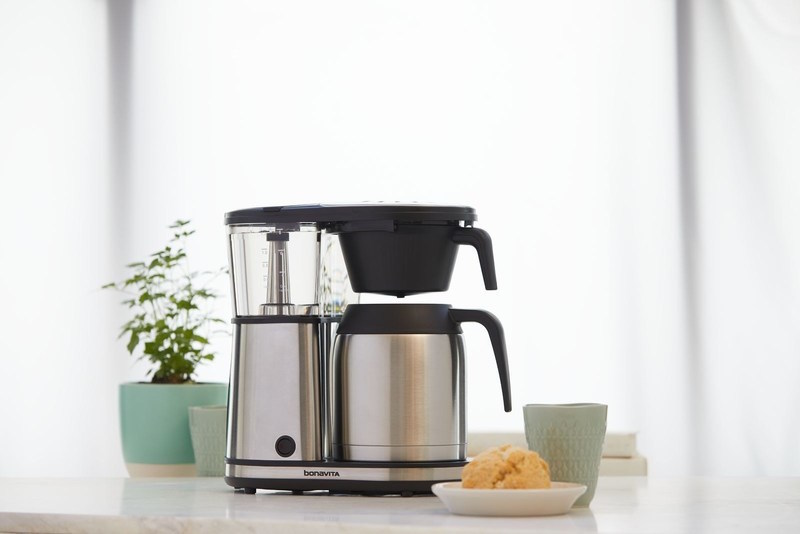 Finally, home brewing equipment brand Bonavita has achieved Specialty Coffee Association (SCA) "Certified Home Brewer" certification for its Connoisseur brewer, designed for ease of use while also mimicking a pourover. All Bonavita products are exclusively distributed by Seattle-based Espresso Supply. Per a press release:
"The SCA is committed to educating the coffee lover on how best to brew, and we're honored the Bonavita Connoisseur has been recognized as an essential tool that performs strongly," says Espresso Supply President, Laura Sommers. "With our Bonavita collection, we employ the highest level of coffee brewing technology while keeping the experience of brewing coffee simple and easy."
Howard Bryman
Howard Bryman is the associate editor of Daily Coffee News by Roast Magazine. He is based in Portland, Oregon.