To witness the convergence of the specialty coffee and craft beer industries has been like watching an espresso extraction emerge from a bottomless portafilter. This year especially, that extraction moved past the goopy slow drip of its beginnings and into a full-on glorious tiger-striped pour.
In 2019, plenty of roasting facilities from brand new coffee companies went live; coffee bars shifted into roasting their own; and existing roasting companies upgraded their capacity to keep pace with demand.
Yet another category this year stood out with remarkable frequency: beer companies branching out with full-on roasting operations bearing new brand names.
In Massachusetts alone, three craft beer companies cracked open genuine specialty coffee operations this year. And yet it's interesting to note that rarely, if ever, has a specialty coffee company taken a church key to its own in-house beer brewing program, despite the many companies that do expand into baked goods, scratch kitchens and cold brew canning and kegging operations.
Looking back on 20 notable roastery launches at the close of 2019, more than a quarter of them are the new roasting arms of our comrades at the hoppy end of the bar. Cheers!
New Brewer Roasters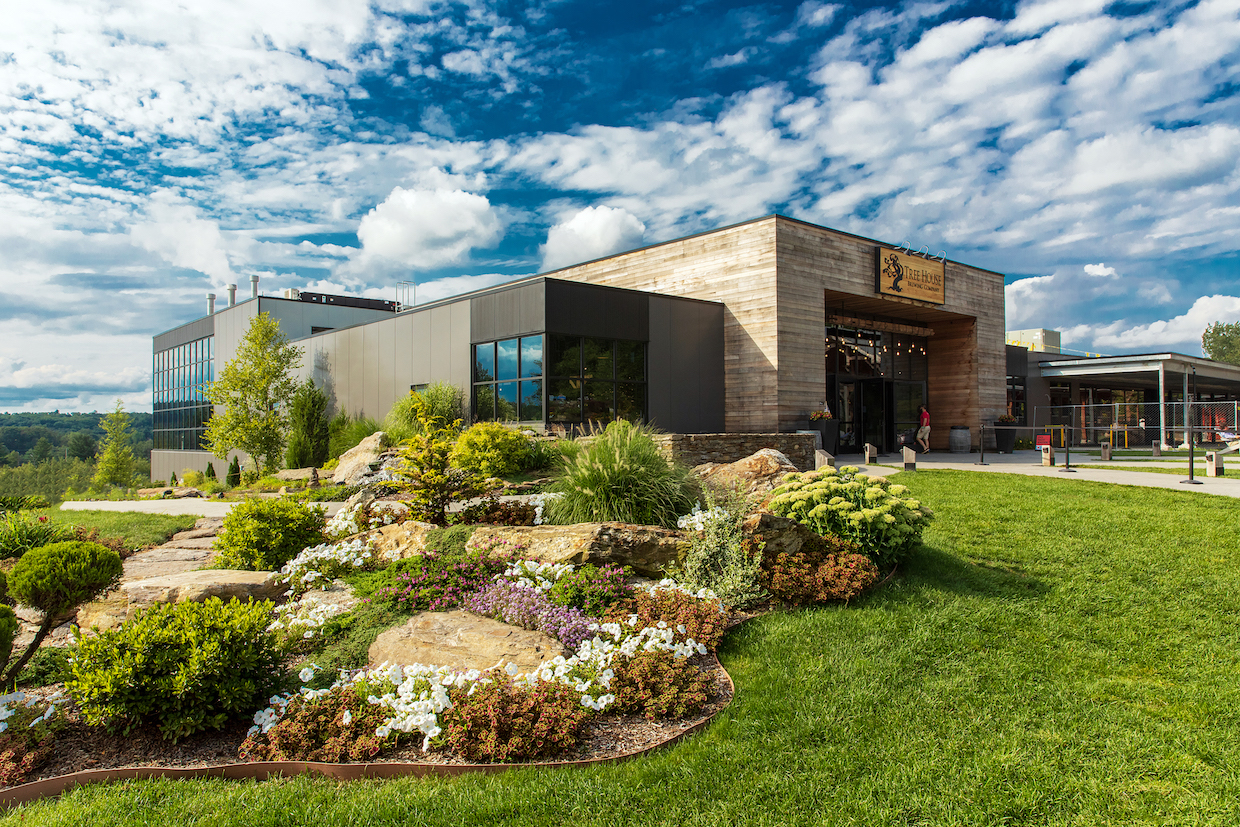 Tree House Brewing Goes Out On a Limb with Coffee Roasting Operation
The bean no longer falls far from the tree for folks in and around Charlton, Massachusetts, as the local multifaceted beermongers at Tree House Brewing have begun roasting coffee. The new roasted coffee brand is called Tree House Coffee Company, which officially launched in August…
Lost Shoe Brewing and Roasting Finds Firm Footing in Marlborough, Massachusetts
Any new industry seeking to re-mold the identity of Marlborough, Massachusetts, will have big shoes to fill, as the town's history in footwear manufacturing goes back more than 150 years.
Embracing rather than ignoring this heritage, Lost Shoe Brewing and Roasting Company has proven to be a comfortable fit in downtown Marlborough, where the company opened the doors to its production brewery, roastery and taproom earlier this month…
In Boston, the Sun Also Rises with Night Shift Roasting
No longer content to burn only the midnight oil, Boston's Night Shift brewing and distribution company is now up bright and early with the launch of a coffee roasting operation, Night Shift Roasting. The coffee arm of the business is showcased through a craft coffee bar inside Night Shift's new 12,000-square-foot Lovejoy Wharf location…
In Charlotte, Sycamore Brewing Rides the Waves with Beach Shack Coffee
The popular Charlotte, North Carolina, beer company Sycamore Brewing has launched coffee roasting brand called Beach Shack Coffee. Prior to Beach Shack's official launch in conjunction with Sycamore's five-year anniversary party this past weekend, Beach Shack contributed the beans for the cold brew that was infused into the Pumpkin Latte Blonde ale Sycamore rolled out in August…
Rochester Brewing and Roasting Co. Kicks Off With Coffee in KCMO
PB&J, Hall and Oates, Turner and Hooch. Some things just work better together than they do on their own. Increasingly, craft coffee and craft beer are attaining that kind of inseparability, as production and retail spaces increasingly are being designed to accommodate both.
The latest example of this phenomenon comes from Kansas City, Missouri-based Rochester Brewing and Roasting Co., which has soft-opened its coffee component for morning service in the Crossroads district. The beer brewery and taproom side of the equation is slated to be tapped soon…
Big Storm Coffee Company is Rolling In from Clearwater, Florida
Another craft beer company has taken the headlong plunge into coffee, as Big Storm Coffee Company has launched aside Clearwater, Florida-based Big Storm Brewing…
Other Big New Roasteries of 2019
Born in a Barn: The Impressive Digs of Coffee Lab International and Vermont Artisan
Longtime specialty coffee professional, educator and consultant Mané Alves technically swung open the doors to the 15,000-square-foot facility near the end of 2017. Now the custom-built barn is housing three existing coffee businesses and one new one.
Alves founded Coffee Lab International in 1995, providing a wide range of laboratory and consultative services to coffee companies of all sizes. That eventually led to the creation of the education-focused CLI School of Coffee. In 2001 came the specialty coffee roastery and tea-packing business Vermont Artisan Coffee & Tea…
Plowshares Finds New Ground with West Harlem Roastery and Cafe
The 10-year-old wholesale roasting company Plowshares Coffee Roasters is occupying new ground, relocating its production roastery and headquarters from Rockland County, New York, to West Harlem…
The New Pallet Coffee Roastery and HQ is Fully Jacked in Vancouver
With a production roastery, a training area and an expansive retail bar covering some 7,000 square feet, the newest location of Pallet Coffee Roasters is all jacked up in Vancouver, B.C…
A Whole New Joe: Iconic New York Brand Refreshes, Opens Roastery
The proudly New York City-born roasting and retail company Joe Coffee has just cut the ribbon on an all-new roastery, lab and cafe in Long Island City, Queens, while unveiling a comprehensive brand refresh…
Much More Than Meets The Eye at Moru Coffee in Denver
For casual coffee drinkers in Denver, an exciting new option for a diverse selection of cups has arrived with the opening of the first retail bar from three-year-old Moru Specialty Coffee Roasters.
Yet for the specialty coffee industry of Colorado and beyond, this new shop is only the tip of a widely progressive iceberg…
Candlestick Coffee Roasters Shines in Rural New Mexico
Introducing specialty coffee to markets in rural New Mexico is an endeavor some companies might approach like a journey into darkness, but for Candlestick Coffee Roasters, the path ahead is bright…
Passenger Coffee Rides Into New Roastery, Cafes and B-Corp Certification
It has been an exciting ride for Passenger Coffee and its associated brands over the past few months in Lancaster, Pennsylvania.
The innovative coffee company relocated its roastery and headquarters into a new space down the block; its sibling brand Prince Street Cafe has opened a new location; and the umbrella company that oversees both brands, Commons Company, has achieved B-Corporation certification…
Black Forge Hammers Out New Roastery and Music Venue Outside Pittsburgh
In response to noise complaints, the company dutifully turned the volume down, and now it has opened an expansive new roastery, second cafe and music venue in an area better suited to live music…
Linea Caffe Follows a Winding Path to New San Francisco Roastery
Beloved San Francisco specialty coffee company Linea Caffe has greatly expanded its operations with the opening of a new production roasting facility in the Potrero Hill district…
Verve Coffee Roasters Opens Big and Bright Los Angeles Flagship
Santa Cruz, California-born Verve Coffee Roasters tomorrow swings open the doors to its long-anticipated Los Angeles flagship roastery and cafe, known as the Verve Roastery Del Sur.
The 7,000-square-foot facility on Mateo Street, just west of the 4th St. bridge in the Los Angeles Arts District, essentially constitutes Verve's second California headquarters, and its 14th retail shop overall…
Not a Bird, Not a Plane: It's Superthing Coffee in Austin
Late last month, the partnership team behind Austin coffee shop Patika opened a second location called Patika Luncheonette, a casual eatery in the lobby of a downtown Congress Ave. office building that seats 16 while offering catering and group orders.
Though high-quality coffee has always been an emphasis at Patika, the company is now offering its own brand of coffee that's anything but workaday: the zany house brand Superthing…
Press Coffee Roasters Opens Huge Flagship Roastery Cafe in Phoenix
Phoenix, Arizona's Press Coffee Roasters has officially moved its roasting operation into a massive new two-story production facility that also includes the company's eighth coffee shop…
170-Year-Old Barn Gets Beautiful New Life at DoubleShot Coffee in Tulsa
There's been a second coming at DoubleShot Coffee Company in Tulsa, Oklahoma. The roastery and cafe that the company opened to the public earlier this month, called The Rookery, is within a 170-year-old wooden barn that originally stood in Berne, Indiana, before it was deconstructed, relocated, hand-hewn beam-by-beam and given new life by the coffee company…
Toby's Estate Doubles Capacity with New Bushwick Roastery Cafe
Toby's Estate has opened its second production roastery in the Bushwick neighborhood of Brooklyn, New York, alongside a new cafe space with seating for 40, a daily brunch menu and a pourover bar outfitted by Saint Anthony Industries…