---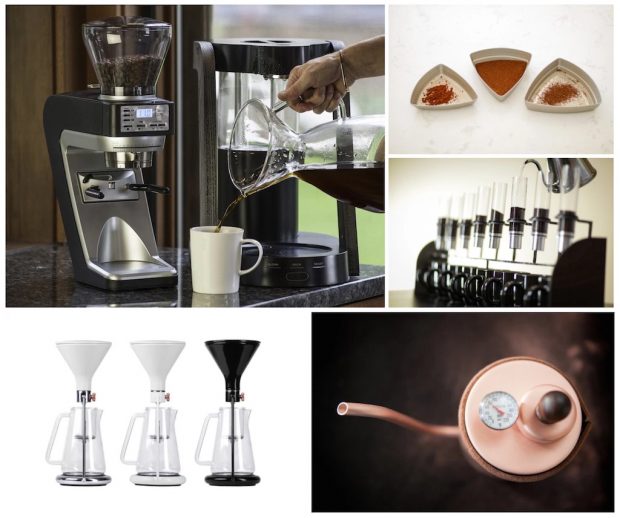 Once upon a time, coffee was hot dark stuff in a cup — end of story. Yet once you pry open that Pandora's Box even a sliver, a world of important details comes flooding out, never to be ignored again.
If this year's trends in consumer coffee product innovation are any indication, the industry is betting that folks are readier than ever to get deeper into their options beyond the simplest and automated brewers, and do battle with the devils in these details, particularly regarding grinders, water quality and a spirit of experimentation with a variety of manual brew methods.
While in the professional sphere there were some incremental evolutions in grinding equipment, one of the biggest releases of the year on either side of the counter was the Baratza Sette, a decidedly home-oriented grinder offering an innovative suite of features and specs with midrange affordability.
The year also saw a simple handheld system of sieves (formerly called Rafino, now called Kruve) for consumers to get the utmost of consistency out of literally any grinder, while three other entirely new consumer-focused grinder-makers also turned heads, each in its own niche.
One introduced a portable/rechargeable electric grinder (Voltaire) linked to an advanced freshness-sensing storage system; one rolled out a high-end pair of robust electric grinders (Monolith) specifically designed for single-dosing, the hallmark practice of aficionados; and the third (Kinu), a German company launching a line of three manual coffee grinders featuring its own unique alignment system and other novel attributes.
As for the question of which brewing method one prefers, the message this year seemed to be that the more you know, the more likely you might be to switch it up from time to time. Catering to the brew-curious, there were at least three multiple-method combo brewers that progressed towards the public this year, each hinging upon the variability of flow by way of a shutoff valve that also enables a long steep for cold brew.
Perhaps most surprisingly, though, was the progress this year in tackling that most daunting devil of a detail: Water. Two different products, one boxed water and one capsule of minerals for people to blend into purified water themselves, take square aim at leveling the playing field and raising the quality of the stuff that makes up 98 percent of our treasured beverage. While professionals employ elaborate in-house filtration and treatment systems to achieve consistent and balanced water for brewing in their shops, the quality and mineral makeup of consumers' home water has to this point been awash in unpredictable chaos.
On the ever-widening home espresso spectrum, new ground was broken on opposite ends: One new machine (Decent) is a supremely high-tech, connected jack of all factors, while another (Flair) is lightweight, minimalist, portable and free from any electronics whatsoever. For pourover lovers, of course, nearly a dozen new products demonstrated a deepening appreciation for materials and aesthetics, underscored by a furtherance of the discussion of the ideal angle for brewer geometry.
Here's a roundup of some of 2016's most intriguing developments in the consumer product arena.
Kinu Grinders Put Another Quality Option in Consumers' Hands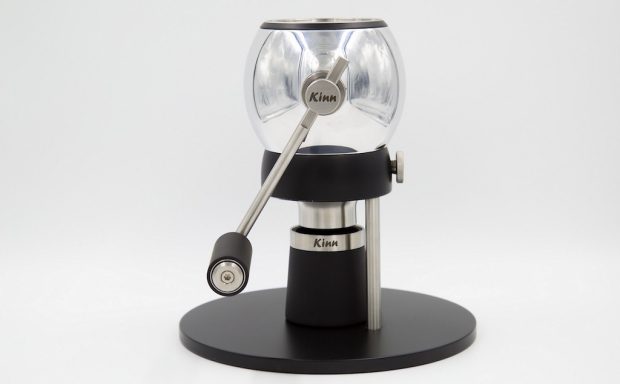 In September, Kinu Grinders launched with a line of three grinders, the specific designs for which were three years in the making, while the manufacturing and engineering expertise of the company has evolved over a quarter century.
Finishing the Year with Three More Pourovers: Stagg, Blue Bottle, and MultiBru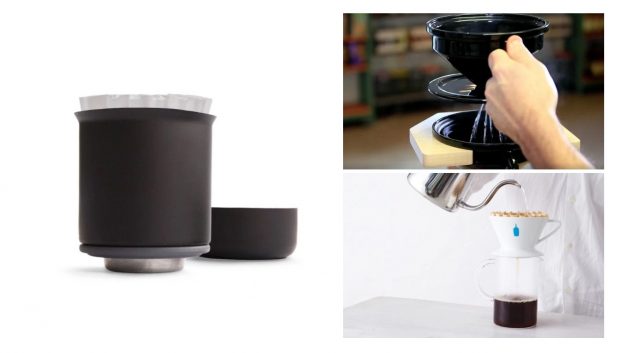 It seemed somehow unfulfilling to let 2016 wind down having only reported on only about half a dozen new manual pourover brewers this calendar year, and so we before we turn the page, here are three more worthy of attention.
Third Wave Water Aims to Float All Boats For Quality, Consistency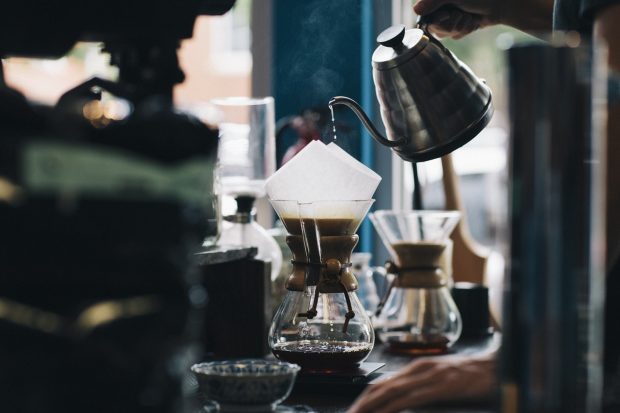 "Third Wave Water has arisen, offering small, light capsules of carefully prepared powders that, when combined with the right amount of purified water, provide a consistent platform for optimal extraction."
Monarch Methods Vies for Throne in the Kingdom of Manual Brew Gear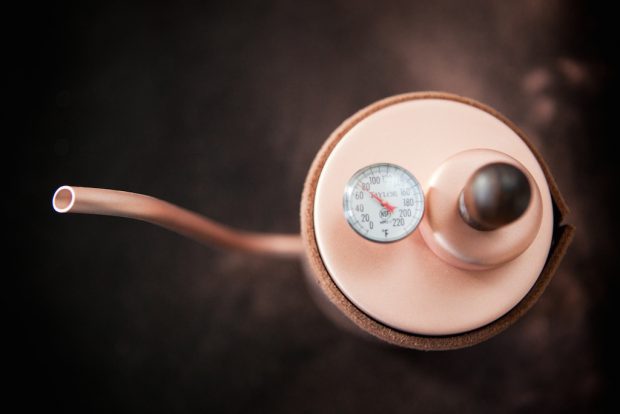 "Handmade out of strong, efficient copper, the Monarch kettle features a handle-free design that affords the pourer a greater degree of control and accuracy over water delivery during manual brews. Its all-copper build aims to store heat as effectively as possible, and its industrial cork insulation furthers that goal while protecting the pouring hand and providing a stable grip. The cork is removable for easy cleaning, and the kettles are sized precisely for baristas to fill and pour quickly without worrying about weighing or measuring water."
Monumentally Modest, the Decent Espresso Machine Brings Wave of Innovation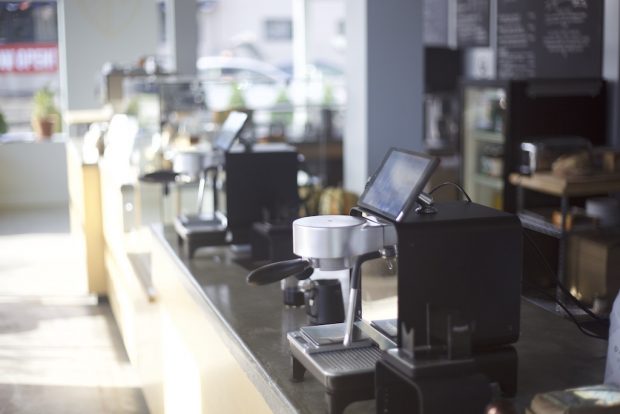 "Buckman is loath to make too many bold, loud claims about the capabilities of his machine or how it compares to other giants in the industry. Rather, he's hoping that the sheer litany of advanced features, its performance in the demos he's currently conducting on a West Coast tour, and that its co-designer is renowned coffee luminary Scott Rao will set the stage for swift adoption and embrace by the very demanding home and professional espressosphere."
The Flair Machine Spreads Pizazz to the Portable Espresso Market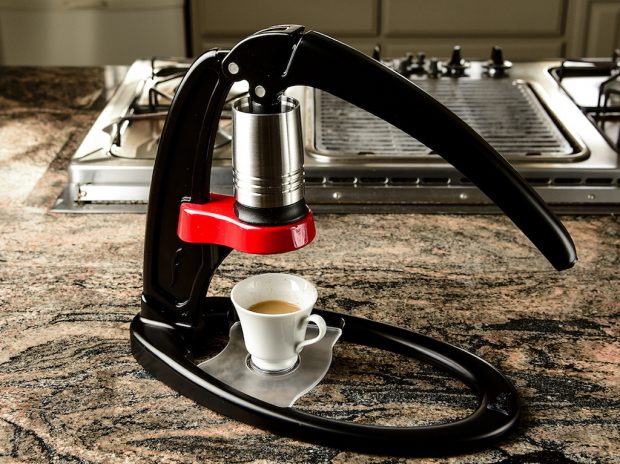 "The Flair espresso machine, coming soon to market from the launch pad of a nail-biter of a successful Kickstarter campaign, endeavors to bridge this divide: An appealingly minimalist, robustly constructed espresso-maker with no electronics that assembles and disassembles quickly for easy transport and stowing."
Goat Story Herds Another Crowdfunding Success With Bluetooth-Enabled Gina Brewer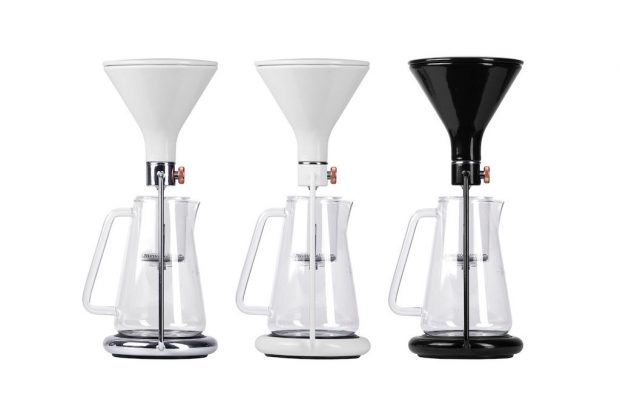 "Beneath the Gina's deceptively simple ceramic pourover-style cone is a food-grade stainless steel valve. With the valve wide open, users can make traditional pourover; with it closed, and topped with the included ceramic lid, an immersion brew. With an included additional grounds-holder suspended under the valve and water or ice in the cone, the valve can be set to drip at a slow, steady interval for Kyoto-style cold brew."
The Minimalist, Multipurpose Trinity One Brewer is Shipping Soon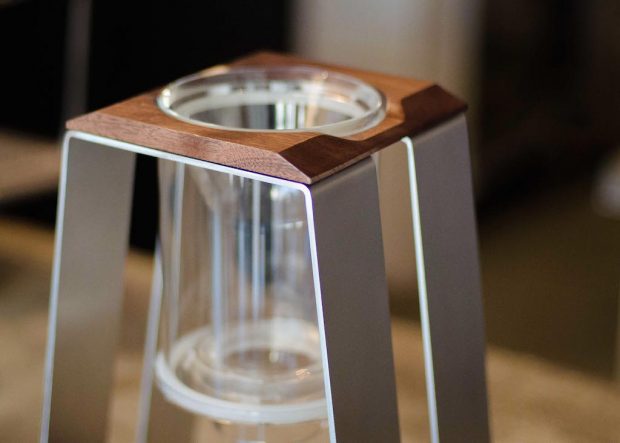 "Coming soon to market is The Trinity One, a versatile single device with a minimalist design intended to give its users a multitude of brewing options as efficiently and cleanly as possible."
Vertical Innovation: Proper Coffee's New Cylindrical Pourover Brewers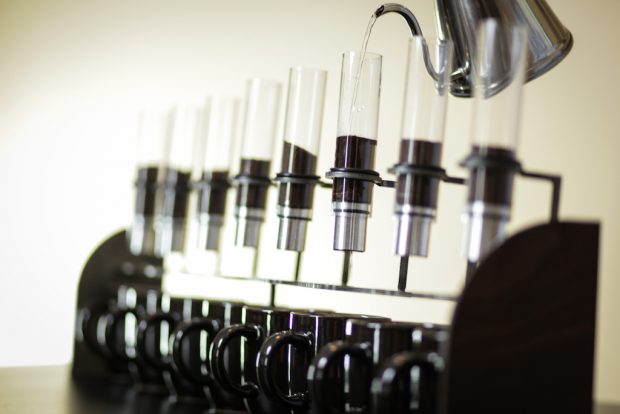 "The Proper Coffee Pour Over Drip brewer consists of a 6-inch-tall Pyrex glass cylinder that's 1.5 inches in diameter, held by a steel framework that balances on top of a cup or brew station. At the bottom of the column is a stainless steel mesh filter, variants of which are available from 20 up to 100-micron mesh, rising in increments of 10. Plugging the bottom is an aluminum 'drip tip,' through which the coffee ultimately passes after the filters."
Aquiem is Literally Water for Coffee
"Aquiem is water specifically formulated for coffee — water that has been purified to zero mineral content, then combined with a precise and purportedly ideal recipe of minerals and other components."
The Voltaire Smart Grinder Gets to Know Your Coffee Better Than You Do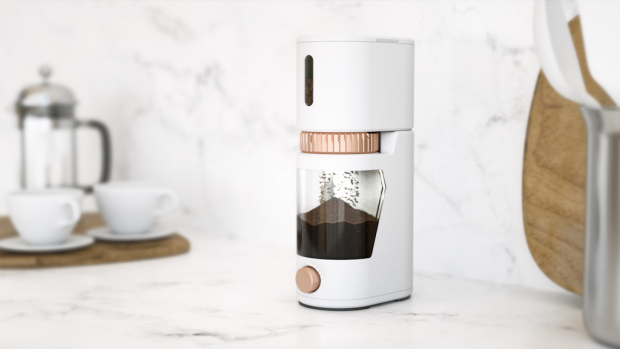 "Other effective mechanical design elements include a direct grind path from the hopper through to an illuminated, anti-static catch cup, a stepless adjustment collar and minimalist LED-based timer knob with memory. Things get particularly intriguing, though, with the inclusion of a built-in sensory platform that accompanies either the grinder or the Airvault coffee storage accessory."
Sieving is Believing: The Rafino System Seeks a Particular Perfection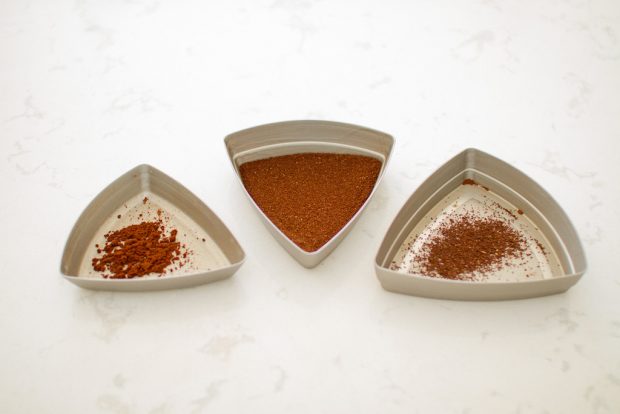 "The Rafino is a simple, patent-pending handheld system of three stacked stainless steel sieves with an aluminum framework and handsome bamboo lid. Users add ground coffee to the top, shake it back and forth for a few seconds, and through its internal sieves the variously sized particles are separated with micron-level precision."
Baratza Reveals the Sette: One Rotating Ring to Rule Them All
"'The grinding mechanism in the Sette is what's really news,' Baratza Co-Founder and Chief Engineer Kyle Anderson told Daily Coffee News. 'It's a whole new generation, it has nothing in common with our existing family of conical burr grinders.'"
Behold, the Monoliths: Commercial-Caliber Single-Dose Grinders For the Home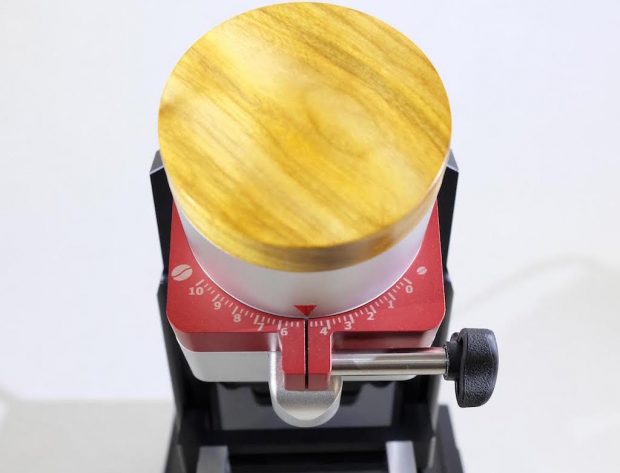 "It was roughly 10 months ago that Lyn Weber Workshops, the makers of the HG One manual grinder, unveiled the EG-1, an innovative and robustly engineered grinder designed specifically for single-dose grinding in a commercial environment. Now another brawny but compact single-dose grinder has commenced shipment of its first proper production run: The Monolith, by new Seattle-based manufacturer KafaTek."