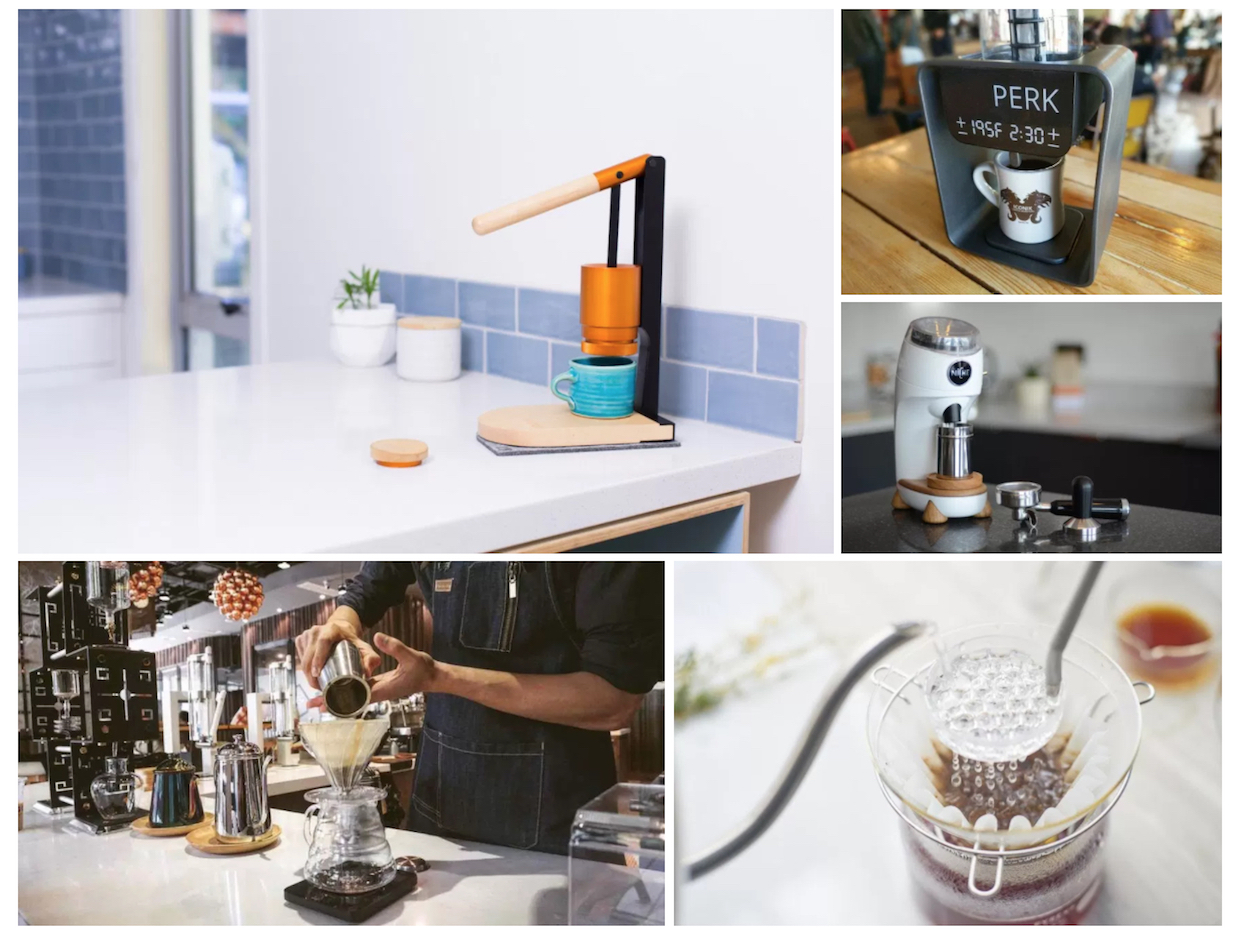 While there seem to be innumerable routes by which to separate ground coffee from water, a cup of joe is still a Rome to which not all roads lead with equal speed, convenience or control.
Each year, new products on both the commercial and consumer specialty coffee markets present new shortcuts and new scenic routes alike, while established routes (to strain the metaphor) are also maintained and upgraded.
For consumers, particularly those who love espresso but hate electronics, there has been much to celebrate with at least three high-end, unplugged devices for which to pine: The upgraded throwback Cafelat Robot, the austere Kiwi lever The Newton, and a Brazilian twist on hand-cranked espresso, the Aram Espresso Maker (feature story coming soon).
Several attractive grinders, both manual and electronic, have also been revealed, and fans of the Aeropress especially have had a banner year in 2017 as its inventor announced his intention not only to maintain control of the company but also to release the first new products in the line since its inception, all while third party accessories have proliferated to extend the device's functionality.
Below is a look back at just a few of the noteworthy hardware developments that came to light over the course of 2017. Our predictions for consumer coffee goods in 2018: Instant cold brew, a "smart" espresso mortar and pestle, and a robot that can free-pour a swan but only with rice milk (Just kidding! Maybe…).
High-End Hand Grinder Makers Kinu and Kanso Looking Toward a Fine 2018
As 2017 draws to a close, two players in the handheld grinder space are looking forward to a bright new year: Kinu Grinders is establishing its U.S. base of operations in Florida while readying a new product line; and the new Canadian company Kansu Coffee is releasing its first product, the Hiku Grinder…[read more]
Brooklyn, New York-based coffee brewing equipment maker Alpha Dominche has announced plans to launch its first piece of home brewing equipment, a press-style brewer called The Flask…[read more]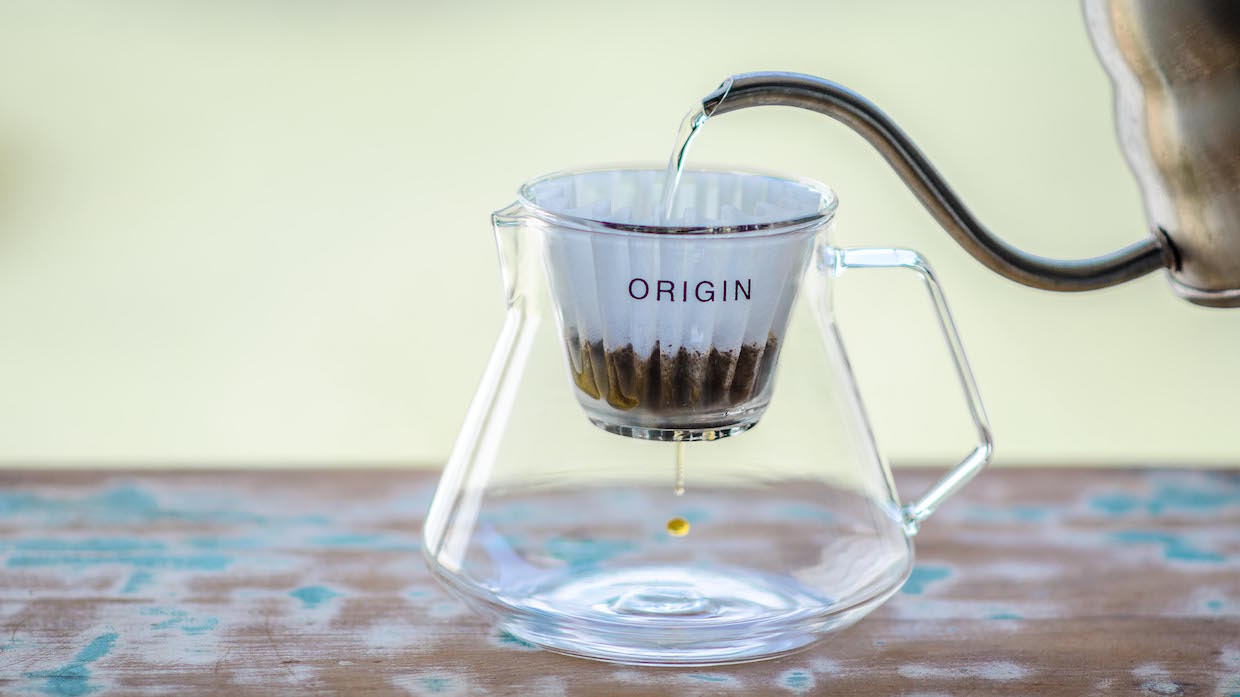 It has been roughly a year since Australian designer Mark Folker's multifaceted Trinity One brewer emerged from down under to provide early adopters with its variety of sophisticated brewing options. Now Trinity Coffee Co. is releasing another brewing device, the Origin Decanter, which offers its own system of flow control and works either in conjunction with or independently of the Trinity One brewer… [read more]
Not shying away from a little extra heft for the sake of quality, espresso machine manufacturer Rocket Espresso last month unveiled the Portavia, a full-on prosumer espresso machine with a traditional, lever-activated 58-mm E61 grouphead, drip tray, Ulka vibration pump, pressure gauge, and the ability to brew and steam milk simultaneously, all built directly into a hard-shell carrying case with a handle on top…[read more]
Developed by Los Angeles-based entrepreneur and Voom Works Founder Terry Li, Voom's large built-in LCD screen displays in real time the brewing curve, weight, time, a dynamic coffee-to-water ratio, and ongoing brewing instructions throughout the duration of multiple brew methods. The unit's onboard memory stores over 20 brewing profiles. And by sidelining the smartphone, users are less likely to be distracted from the brewing process by incoming messages or notifications…[read more]
Aeropress inventor Alan Adler has confirmed to Daily Coffee News that, contrary to statements made a year ago, he is retaining the coffee-focused division of his company. Additionally, Adler's company intends to add products to the Aeropress line in 2018…[read more]
Whether it's an overnight full-immersion steep or a six-hour slow-drip, traditional cold brew takes a long time to extract in a natural, unpressurized environment. Under pressure, however, that brewing time can be dramatically reduced. The Starbucks method takes just 45 minutes; the BKON Storm gets it done in 15. And now, on the consumer coffee front, an upcoming product called Dash Rapid Cold Brew purports to generate a finished cold brew coffee drink in five minutes…[read more]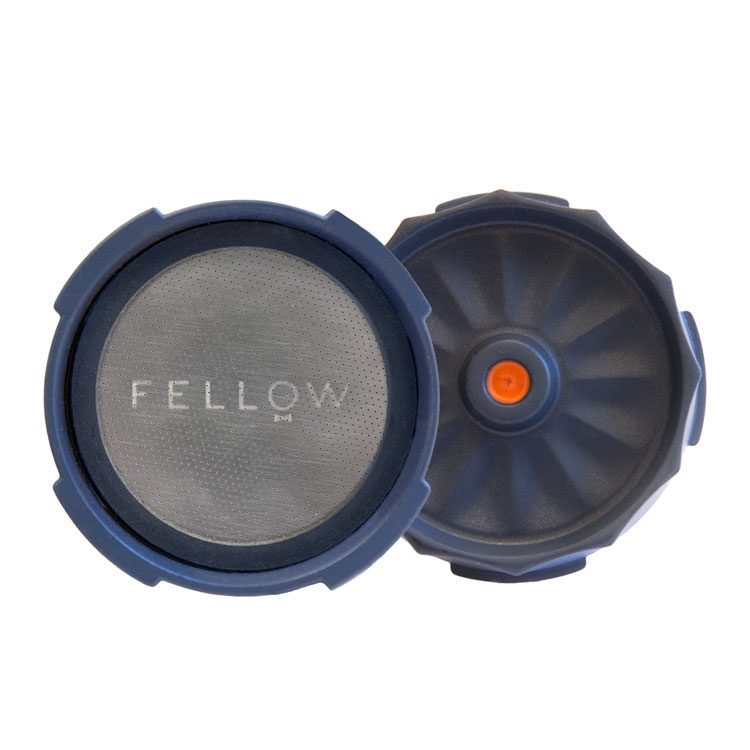 The forward-thinking designers at San Francisco-based Fellow Products — makers of the Stagg kettle — are now endeavoring to bring the Aeropress closer than ever to fulfilling its claim of espresso capability, with a new pressurization attachment called the Prismo…[read more]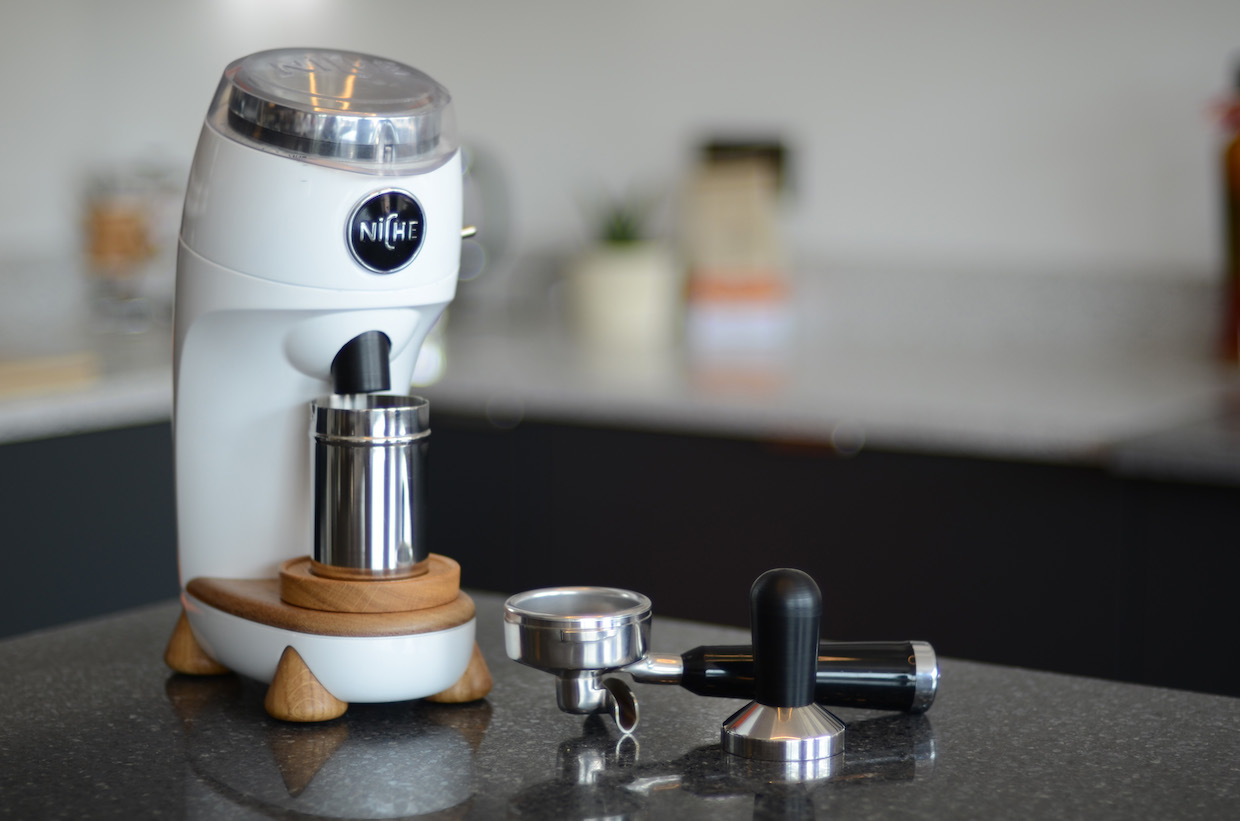 The Niche Zero Coffee Grinder will be built around hardened steel conical burrs that are 63 millimeters in diameter, which is considerably larger than the average consumer grinder burr. Its stepless adjustment mechanism is also uncommon to home grinders, and its low rotation speed of 330 RPM purportedly delivers cool grinds at a noise level five times quieter than competing consumer-class grinders, according to its designer…[read more]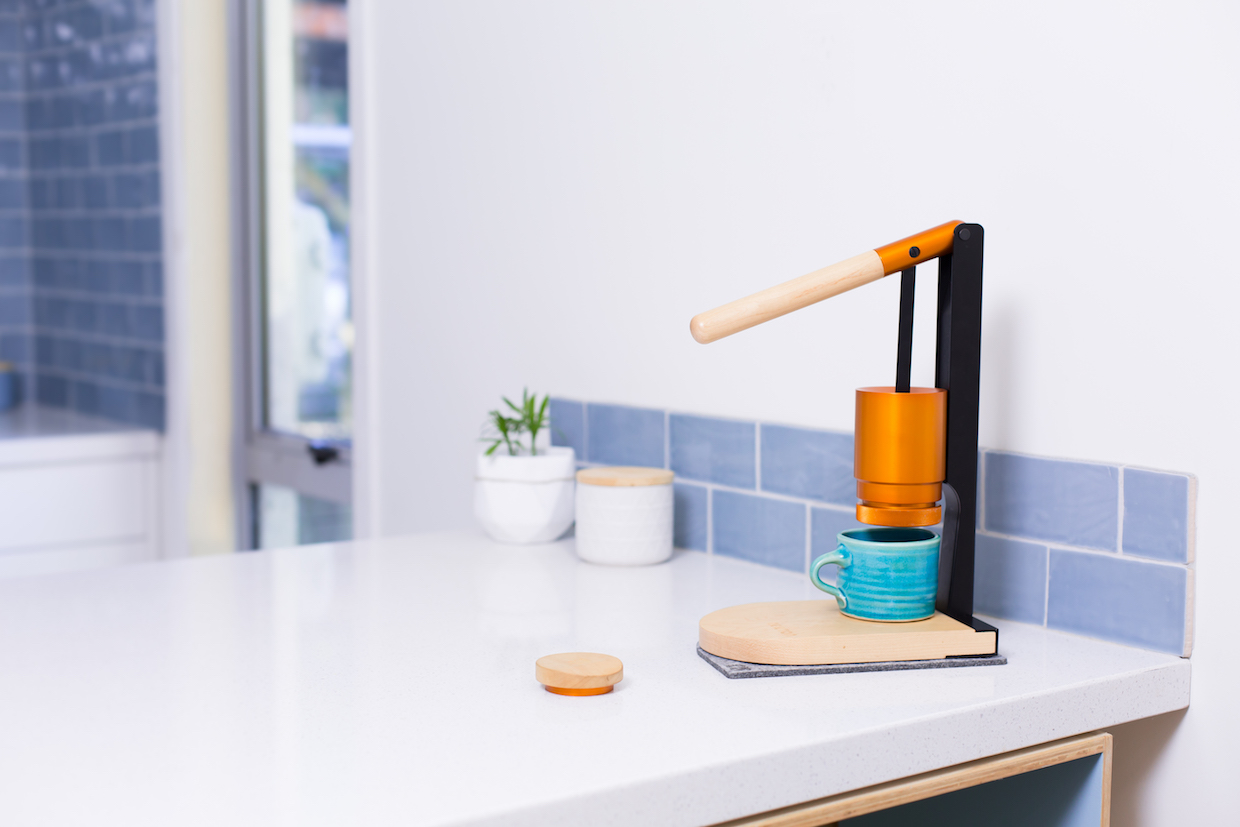 The clean-line, minimalist aesthetic given to so many of today's new cafés has flowed throughout these interior spaces all the way to the equipment by the bar, where baristas bring the coffee experience to life through the aid of functionally advanced yet sleekly designed tools…[read more]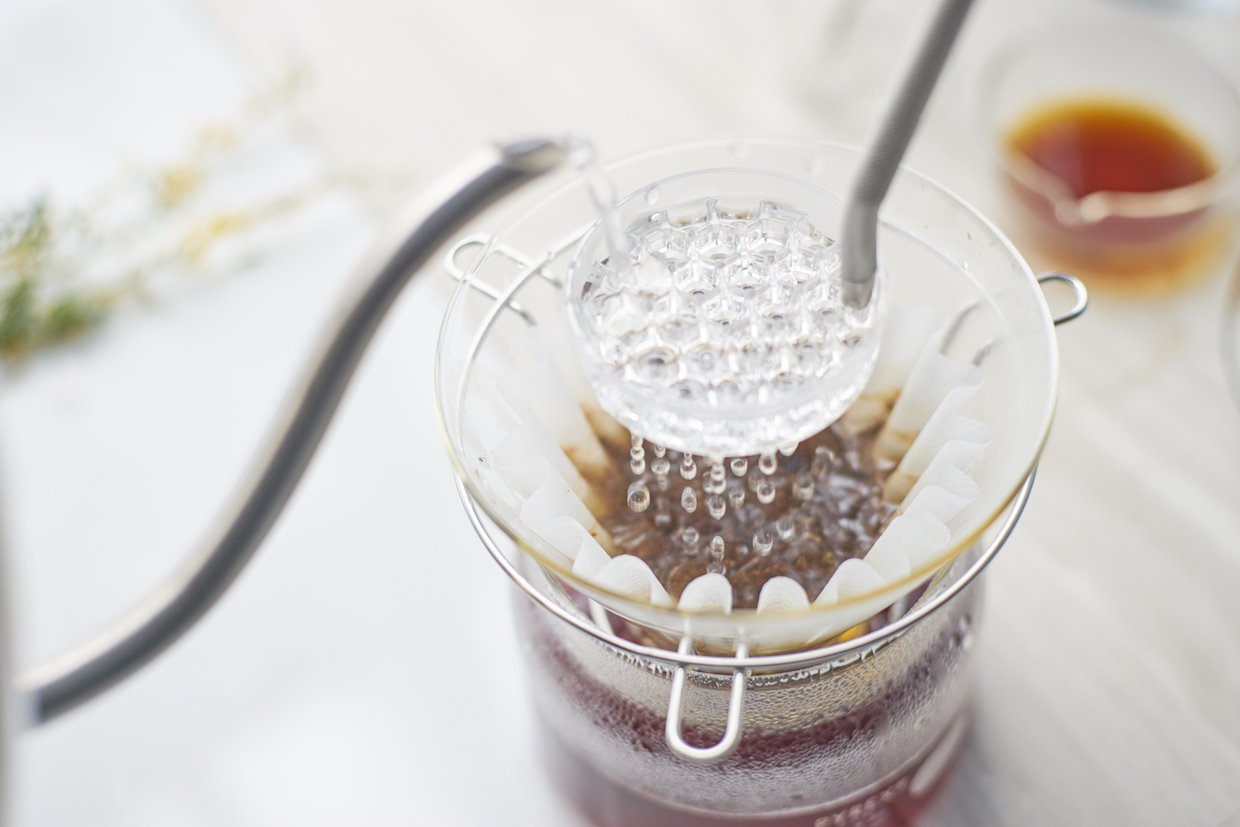 There is consensus among professionals that for the best results from the manual pourover method of brewing coffee, some agitation of the grounds is required. Plenty of prominent practitioners advocate stirring the grounds by hand — Hoffmann, Rao, Perger, the list goes on — yet the potential inconsistencies this might cause in a busy café can make execution difficult. Some also contend that a deft pouring technique alone could achieve adequate agitation…[read more]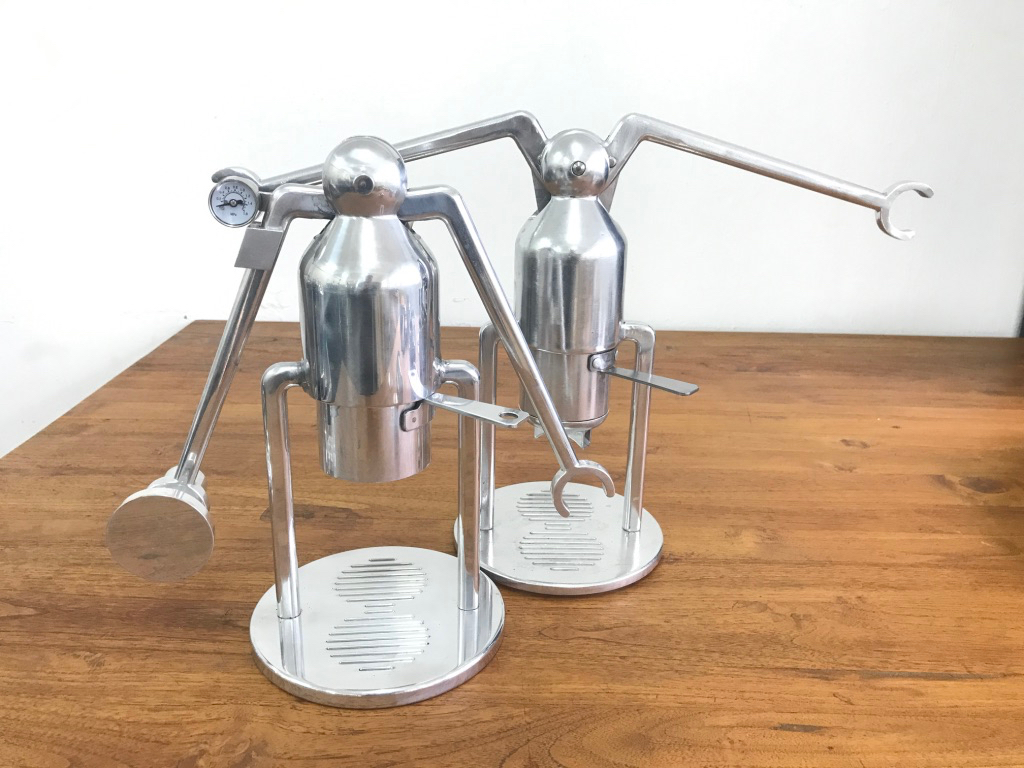 The Robot is a small, fully manual espresso maker based on 1950s vintage technology with a 1960s vintage look. With its C-shaped handles and of course its name, Robot, one can only wonder if it would start flailing and hollering "Danger! Danger, Will Robinson!"…[read more]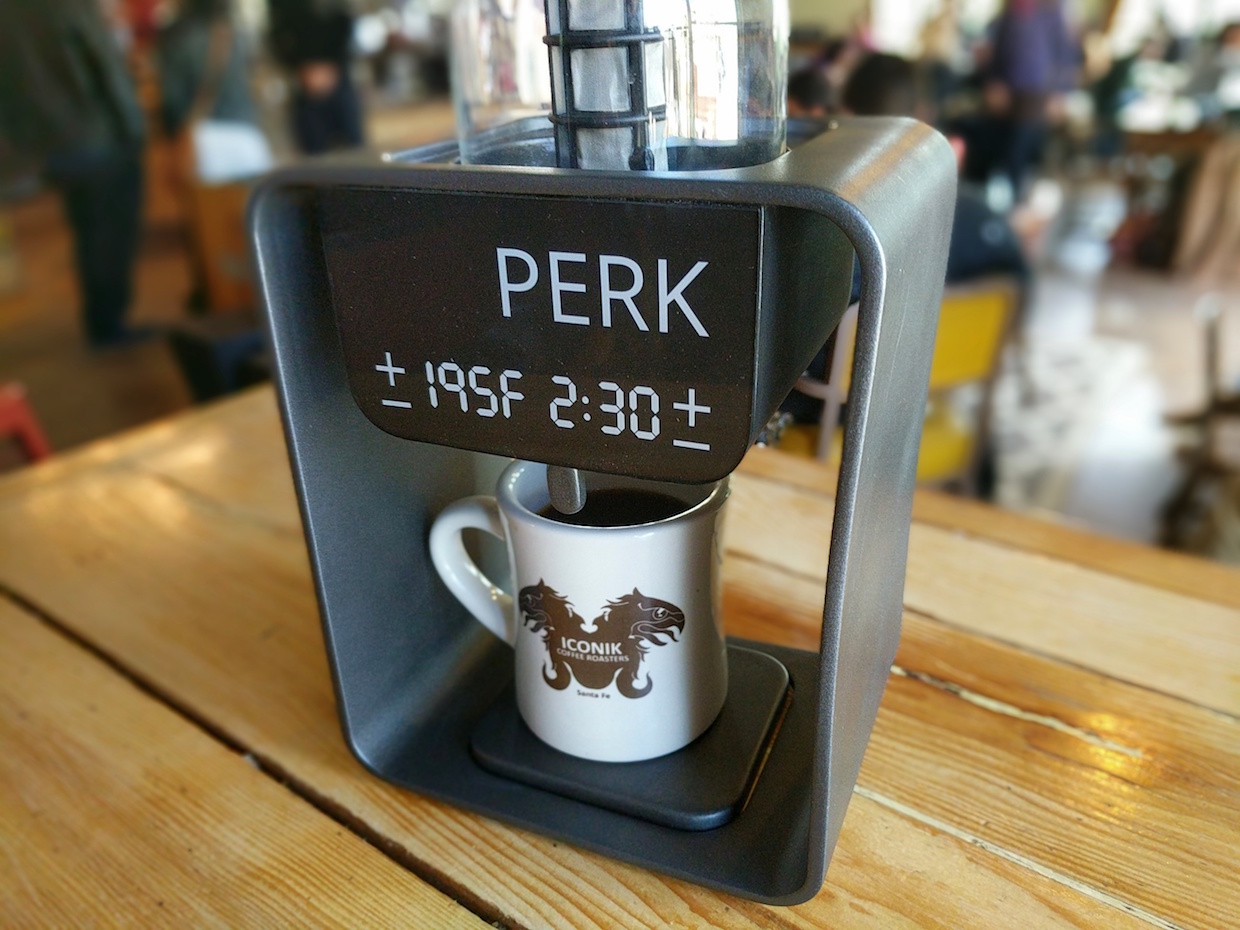 The single-cup Perk machine utilizes the re-circulatory mechanics of old-fashioned percolator brewing for a result that the Santa Fe, N.M.-based Perk company says is akin to a pourover in clarity, acidity, sweetness and mouthfeel. With a quiet, durable centrifugal pump and PID heater control, the Perk sends liquid of a precise temperature — water at first, and eventually brew — upwards into a brewing chamber to interact with grounds before it flows back down to repeat the route, for as long as the user chooses…[read more]