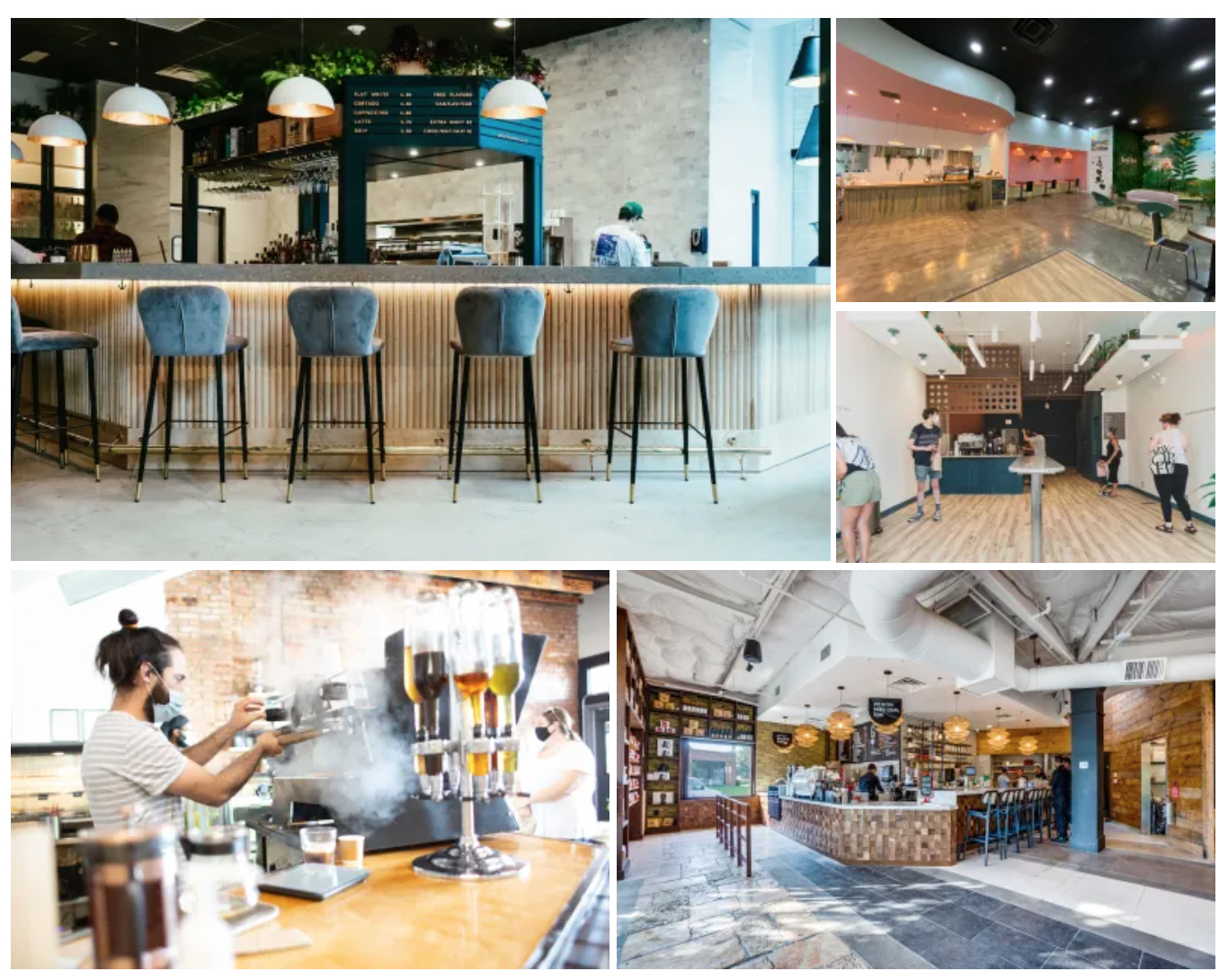 The geographic center of the United States was like a disco ball reflecting every angle of specialty coffee in 2021.
From the Great Lakes to the gulf and the Great Plains to Appalachia, ribbons were cut on shops celebrating the coffee cultures of Australia, Scandinavia, Central America, the Middle East, and more. Some shops were designed specifically to rally Black and Latinx communities that have been under-represented in the specialty coffee space, while others were inspired by environmentalist concerns, dogs, Dogecoin, the symphony or the stage.
Here are 21 of the biggest shop openings in the Central United States in 2021, as covered by DCN:
---
[Editor's note: This feature is part of our ongoing 2021 year-end coverage. Click here for additional stories, updated daily through Dec. 31. You can also tell our editors about your new coffee shop or coffee roastery here.]
---
With Ties to Honduras, Coffeestamp Arrives in St. Louis
The roastery cafe was opened in the Fox Park neighborhood in the latter half of last year by brothers Patrick and Spencer Clapp, who eight years ago moved to the United States from Tegucigalpa, Honduras.
The Cafe ZunZun Roastery Cafe is Humming Outside Houston
Sustainability-minded Cafe ZunZun has brought its new Loring S7 Nighthawk roaster online and will soon be greeting guests inside a conscientiously designed building in Cypress, Texas, just outside Houston.
Australia-Inspired Coffee Down Under is Fueling Up Detroit
Australian-style coffee has come to Detroit by way of Coffee Down Under, a new coffee bar serving Proud Mary beans literally below the ground floor of a downtown financial district building.
Costa Rican Coffee Jungle Comes to Dallas in The Berni Bean
A connection between Dallas and Costa Rica has grown like a verdant jungle vine with the opening of The Berni Bean Coffee Company cafe. The new downtown spot soft-launched last month, selling brewed coffee drinks and roasted Costa Rican beans in a space bursting with vibrant leafy greens, both painted and real.
SK Coffee Gallops Into First Retail Coffee Bar in the Twin Cities
The Dala Horse of Saint Paul, Minnesota, at last has a pasture of its own. SK Coffee, whose colorful geometric logo takes the shape of the traditional Swedish toy horse, has opened its first retail coffee bar in the bright lobby adjacent to its roastery on the ground floor of the Vandalia Tower in Saint Paul.
Deeper Roots Coffee Opens Biggest Branch in Cincinnati
Once fully open, the shop will seat roughly 40 people in a bright and open space with high ceilings and modern globe pendant lighting, with additional standing room to spare. At the center of it all is Deeper Roots' long-cultivated coffee program.
Fresh Fare and Fuzzy Feelings at Velvet Robot Coffee Lab in Rockford
Combining precision-made coffee drinks and a warm and fuzzy approach to customers, Velvet Robot Coffee Lab has opened a brick-and-mortar cafe in downtown Rockford, Illinois.
Indy Roaster Tinker Coffee Not Fiddling Around, Opens First Two Bars
Indianapolis-based roasting company Tinker Coffee has gotten right down to business with its first forays into retail, opening two new coffee bars within the past month, with a third on the way.
Certain Feelings Channels Happy with New Indianapolis Roastery and Bar
Certain Feelings Coffee, the latest addition to Indianapolis-based Small Victories Hospitality group, is experiencing those warm fuzzies with the opening of a stylish roastery and coffee bar inside The Garage food hall, offering freshly roasted coffee for beverages and bags.
Coma Coffee is Wide Awake with Expanded Bar and Kitchen Outside St. Louis
Following a pandemic-induced downturn, Missouri-based Coma Coffee Roasters has found a new lease on life, opening a retail headquarters with an all-day program of fresh food and drinks in suburban St. Louis.
Prequel is the Newest Chapter for Longtime Chicago Coffee Space
Before he was the owner and maker of Damn Fine Coffee in Chicago's Logan Square neighborhood, Josh Miller held a number of jobs in coffee.
One of those was at Atomix Coffee, a staple serving coffee and food in West Town, which closed in 2019 after nearly 20 years in business. Miller and a team of coffee people have now returned to the former Atomix space at W. Chicago and Damen to open an entirely new coffee shop, called Prequel.
Proud Hound Coffee Unleashes Food-Forward Cincinnati Roastery Cafe
It has been a "ruff" pandemic year since Proud Hound Coffee moved its Loring S15 roaster into a 5,000-square-foot space just outside Cincinnati, though it's ended with a wag-worthy treat: the grand opening of the Proud Hound roastery cafe.
Yemeni Coffee Meets Modern Methods at Haraz Coffee in Dearborn
At the shop, brews through traditional Turkish and Yemeni methods can be purchased through decidedly modern means such as Dogecoin and Bitcoin.
Pioneer Collective Coffee Pulls Into Roastery Cafe in Massillon, Ohio
Exploring the frontier of quality coffee in Massillon, Ohio, comes Pioneer Collective Coffee, a 2,000-square-foot coffee shop that pairs modern coffee with a vintage train station aesthetic.
Nexus Coffee & Creative Grows Outward with New Little Rock Roastery
The four-year-old company executed a major undertaking over the past year, expanding its original 1,600-square-foot coffee shop by taking over an adjoining corner space. The combined 4,000-square-foot Nexus coffee epicenter now includes the roastery, a performance space and an expanded retail area.
The Rise of Ascension Coffee in Dallas Continues Under New Leadership
Dallas-based Ascension Coffee is on a rocket-like trajectory this year as it opens or reopens Texas-sized retail locations, expands its roasting and culinary operations, and follows a new leadership team.
Lekko Coffee Off to a Sound Start with Cleveland Cafe
The rhythmic hum of a white La Marzocco espresso machine pump establishes the flow for the customers of the new Lekko Coffee in Cleveland.Lekko's cafe occupies the space recently vacated by another specialty coffee shop, Foyer, in Cleveland's bustling Ohio City neighborhood.
Coffee and Cocktails Share the Stage at Parterre in Dallas
Occupying a downtown Dallas space that was previously an Ascension Coffee shop, Parterre carries forth the combination of coffee roastery cafe, a full kitchen and a cocktail program first established at La Reunion, catering to guests from early morning well into the evening hours.
Lucabe Coffee Gives New Life to a Harry Weese Building in Central Indiana
Lucabe co-owners Tyler and Alissa Hodge coordinated with the Nashville, Indiana-based architecture studio Daugherty Design Plus for a substantial remodeling of the iconic glazed brick building's interior, giving it new life as a coffee shop while also restoring and highlighting many of the original interior details.
Houston White's The Get Down Coffee Co. Starts Up In Minneapolis
The 1,100-square-foot coffee shop in North Minneapolis is co-branded with Houston White Apparel & Accessories, a clothing company committed to "Black excellence."
Monday Coffee Elevates the Everyday Brew in Chicago
The coffee cart at the Conservatory is the third outpost for the Black-owned Windy City coffee purveyor, which also serves brews and beans at the Retreat at Currency Exchange Cafe in Washington Park on the South Side and on the first-floor coffee bar at the Soho House Chicago hotel in the Fulton Market district.