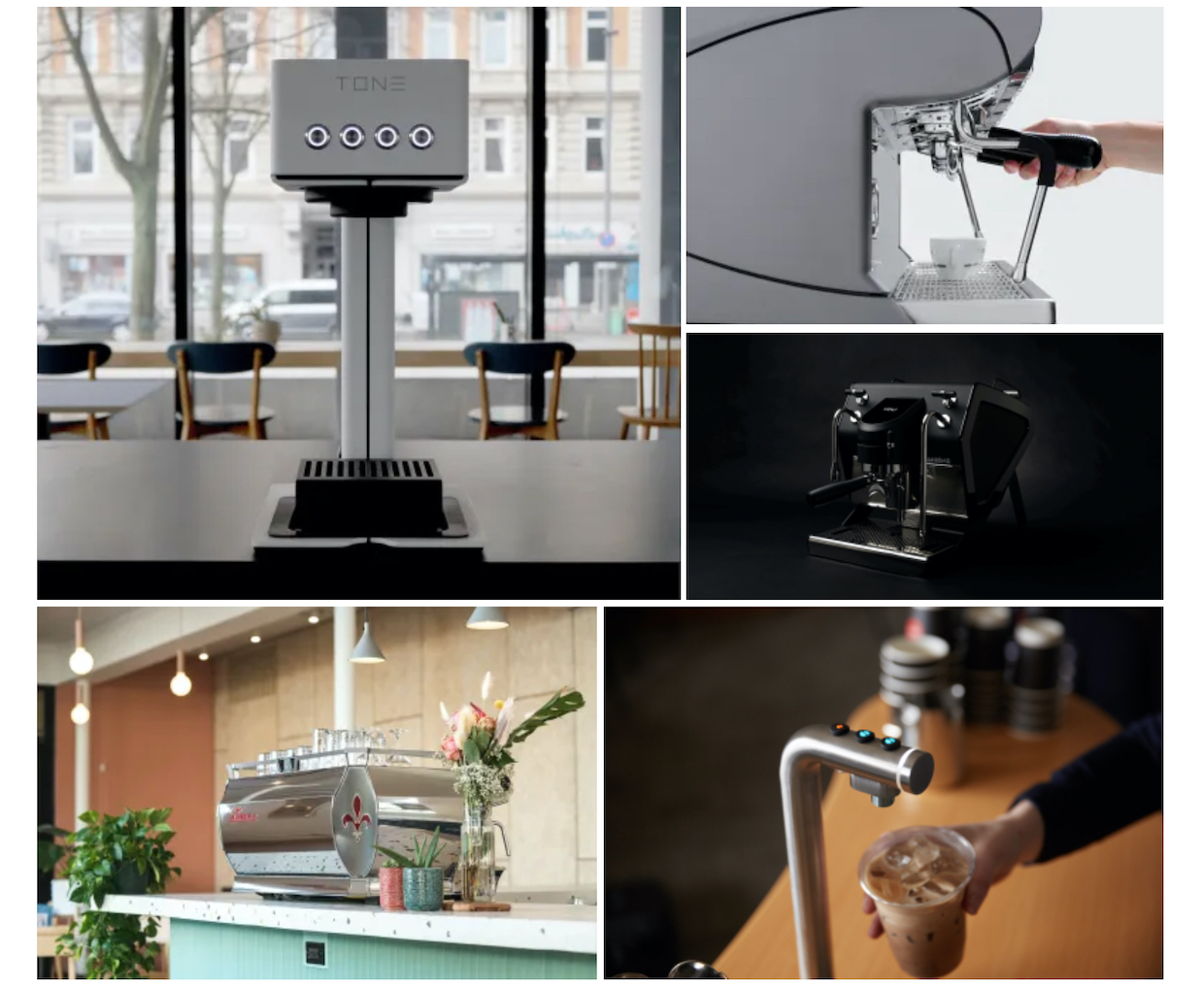 After a quiet 2020 in which trade shows were shut down and product launches delayed, the makers of equipment for commercial espresso and drip coffee had a lot to reveal in 2021.
No fewer than six new new products were aimed squarely at the commercial cold brew segment, while not one but two machines were dedicated completely to the heating and texturing of milk for espresso-based drinks.
As if to keep up with it all, this year also saw the launch of the Certified Commercial Equipment Program by the SCA.
Many of the notable espresso machine innovations were focused on some element of drink-making flexibility, with machine makers adding pourover and other non-espresso brewing possibilities to the mix.
XLVI's pourover module and the Pure Brew feature on the Victoria Arduino Black Eagle Maverick are two examples, along with Faema's inclusion of water delivery options specifically for drip coffee under the group of its (prosumer) Faemina machine.
Here's a look back at just 21 of the remarkable new products launched in 2021 for the commercial espresso and coffee brewing markets.
---
[Editor's note: This feature is part of our ongoing 2021 year-end coverage. Click here for additional stories, updated daily through Dec. 31. To reach our editors with new equipment news or other company news, click here.]
---
The Matrix Makes Real-Life Refinements to Espresso
Made from a porous stainless steel material, the Matrix shower screen is described by the makers as providing tens of thousands of channels as small as 4-5 microns wide through which water flows towards the bed of ground coffee, as opposed to offering an array of much wider holes and layered metal mesh, as found in traditional screens and filters.
Innovative Italian Coffee Equipment Manufacturer XLVI Eyes North America
XLVI's aesthetically customizable multi-group, multi-boiler espresso machines offer individual group water temperature and volumetric controls, and are available either with classic E61 or saturated group heads, yet they also offer a number of more unusual features.
Commercial Cold Brewer Baby HardTank Growing Up Fast with Spring Launch
The machine performs a patented brewing process inside a transparent chamber, then deposits its finished cold brew coffee, cascara tea or other beverage into a 5-liter keg for dispensation on tap on a coffeehouse bar. A full batch is done in less than an hour, the company says.
Tone Hopes to Strike a Chord with Touch 03 Commercial Brewer
For use with open-topped manual brewers such as pourover drippers or Chemexes, the new machine is designed to quickly heat water for single cup brews or larger drip brews of up to 2 liters. Phased brewing occurs at the push of one of four pre-programmed recipe buttons.
Alto Cold Brew Launches Cold Brew Cupping Kit
Cold brew coffee equipment company Alto Cold Brew has introduced a cupping system designed to streamline quality control for coffee shops, roasters and other users of the brand's filters and brewing systems. The company has also launched an associated kit of cupping tools.
La Marzocco Introduces Next Generation of Classic GB5 Espresso Machine
While featuring technological advancements made since the model's launch in 2005, the new La Marzocco GB5 X and GB5 S also introduce features not yet present on other LM machines.
Dalla Corte Adds a Big One: The Zero Heads to US Market
There are two variants of the Dalla Corte Zero: Classic and Barista. The Classic version offers Zero's engaging design as well as Dalla Corte's patented multiboiler technology applied to larger 0.75-liter independent groups, while the Zero Barista is additionally equipped with a system of advanced flow-profiling capabilities.
For Cold Brew, the Osma Pro Goes Further with the Flow
The Osma Pro takes the shape of an espresso machine but functions very differently. Building upon the liquid recirculation principles of the original Osma, the Osma Pro's core technology centers more distinctly on the microcavitation effect created by recirculation.
Nuova Simonelli Launching Aurelia Wave UX for High-Volume Settings
The Wave UX is the first espresso machine to include the company's Independent Temperature Setting (ITS) system, composed of a heat exchanger with thermostatic mixers installed between the machine's large single boiler and each individual group. The technology is designed to customize then stabilize water temperature for each individual group.
La Marzocco Unveils Custom Design Studio Officine Fratelli Bambi
Italian espresso machine giant La Marzocco has launched the Officine Fratelli Bambi (OFB), a custom machine design studio within the company's coffee academy and innovation hub (the Accademia del Caffè Espresso) outside Florence.
Marco Beverage Systems Wants Cafes to Get Pour'd
Maintaining the brand's focus on under-counter solutions for streamlined above-counter use, the Pour'd system is available in a variety of configurations to deliver cold coffee or concentrate, as well as hot or cold water, in programmable volumes.
Torr Industries Rolls Out a Suite of Cold Brew Production Equipment
Designed in collaboration with cold brew consultant and adviser Randy Anderson, the new systems — called the Brew50, TwinBrew and Quadbrew — are built to accommodate small-, medium- and large-volume operations, respectively.
Ronnoco Beverage Solutions Rolls Out Quick Cold Brewing Machines
The new proprietary machine continuously pumps fresh water through 16 ounces of Ronnoco-supplied coffee grounds to make a 192-ounce (1.5-gallon) batch of ready-to-drink cold brew in 60 to 75 minutes, according to the company.
Flow Coffee Telemetry Streams Espresso Shot Data from Older Machines
The three-part hardware and software kit taps into any traditional volumetric machine's flow sensors, measuring the speed and volume of every shot pulled.
La Marzocco Introduces the Wally Milk Steamer
With proprietary software, a custom vortex steam wand tip and sensors for both temperature and volume, the Wally aerates dairy or non-dairy milks to preprogrammed specifications, with different profiles stored for different types of drinks or milks.
Wilbur Curtis Single-Cup Brewing System Genesis is Born
The new super-automatic machine grinds roasted coffee coarsely, deposits the grounds into a brewing chamber and lightly tamps it. From there, hot water and coffee are combined and pressurized for fast and thorough extraction to produce coffee drinks ranging from 12 to 24 ounces with a head of foam on the surface.
Sanremo Unveils the You, a Compact Dual-Boiler Espresso Machine
Italian coffee equipment brand Sanremo Coffee Machines has introduced its first professional dual-boiler, single-group espresso machine, the You (styled by the company as YOU).
The Aēralab Steaming System Promises to Recognize Milk Type
Through spectral analysis and a cloud-connected algorithm, the Aēralab steamer scans and identifies the actual liquid in the jug, then recalls and automatically executes the ideal steam profile associated with that liquid, according to the companies.
Victoria Arduino Unveils the Black Eagle Maverick Espresso Machine
Following previous Black Eagle models, the Maverick features significant innovations in energy efficiency and a proprietary extraction method called "Pure Brew," designed to broaden the range of extraction possibilities for barista-led experimentation.
Carimali Debuts Heylo Machine Brand, Featuring Innovative Induction Heating
Two machines on their way from Heylo include an espresso machine and a separate milk heater/frother, designed to either stand alone, stand alongside one another, or be part of a larger modular setup.
Mavam Launches a Trio of Espresso-Focused Innovations at Coffee Fest PNW
Launched this past weekend at the Coffee Fest PNW trade show in Portland, Oregon, were a single-group version of Mavam's commercial countertop espresso machine, the Mach 2; pre-infusion technology for the brand's under-counter espresso units; and a new under-counter steam unit.
Howard Bryman
Howard Bryman is the associate editor of Daily Coffee News by Roast Magazine. He is based in Portland, Oregon.