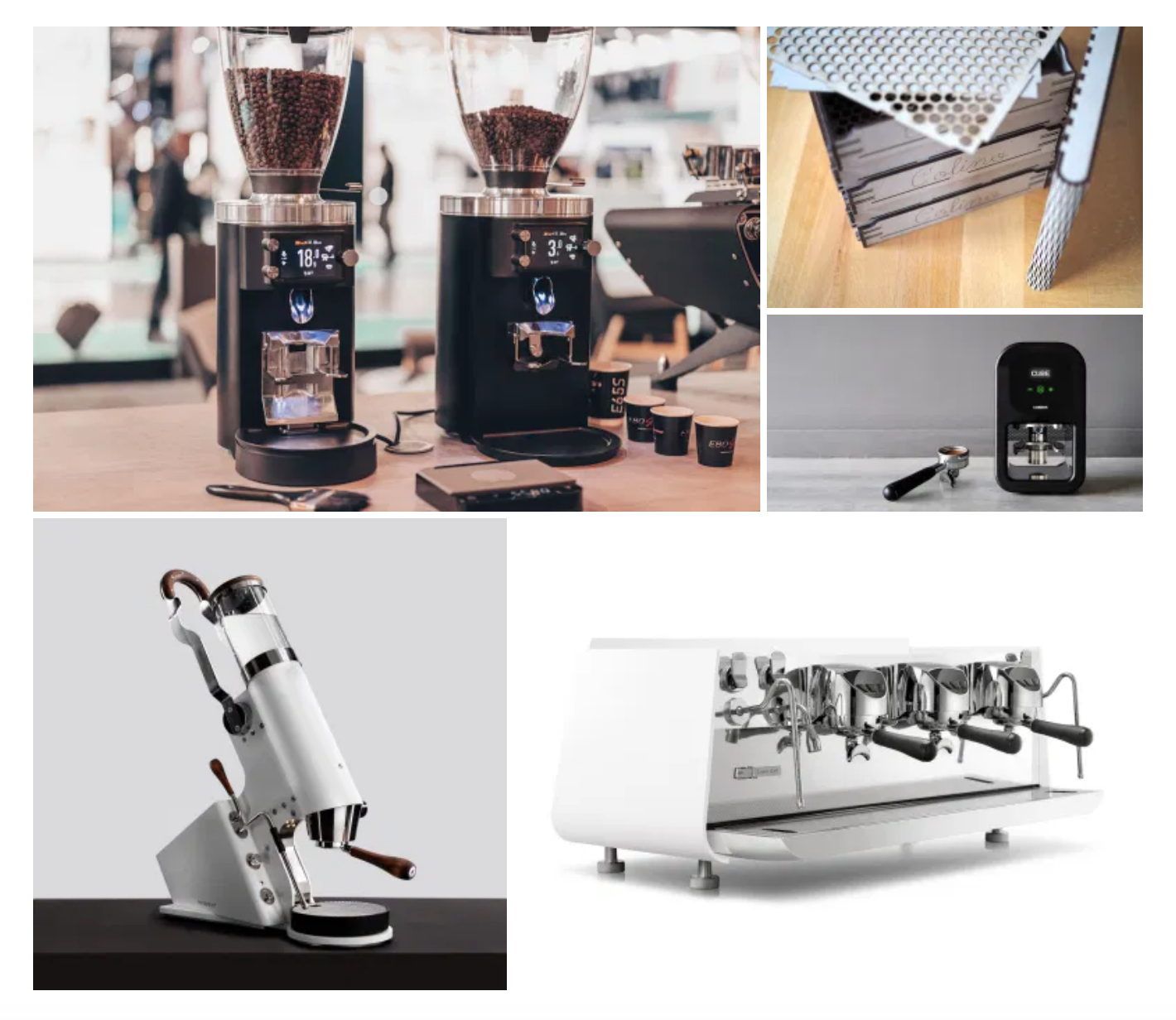 With many coffee retailers struggling, skittish investment markets and the near-complete shut down of in-person trade events in 2020, the commercial coffee equipment segment experienced a noticeably quiet year.
Yet coffee itself was still sorted, analyzed roasted, packed and shipped, and some coffee equipment manufacturers managed to hold launches for products long in the making.
This was true for roasting equipment giant Probat, which rolled out a number of new machines, as well as for espresso machine brand Victoria Arduino, which went head with the ambitious launch of its eco-forward Eagle One machine and later its single-group offspring the E1 Prima.
In a sign of the times, there was also an interesting shift in the world of robotic barista equipment. Grappling with how to safely, affordably and consistently continue to prepare and serve quality drinks directly to customers in the middle of a pandemic, a handful of companies began experimenting with robotic solutions, while new resources also emerged to provide more companies with such equipment.
The biggest examples of this came with the announcement by UK coffee giant Costa Coffee of its acquisition of Austin, Texas-based automated coffee kiosk maker Briggo, and while Rozum and Robo Esso launched turnkey, customizable robo-barista installation and support services. Even when face-to-face services return to some kind of normalcy, it would not be surprising to see more robots plugging in behind more counters in the years to come.
As for the year that was, here's a look back at some of the new commercial coffee equipment in 2020.
Makers of Artisan and Tonino Launch the Colino Coffee Sorting Sieves
The clever and industrious Germany-based design duo behind the Tonino roast color analyzer has returned with another quality control solution for specialty coffee professionals, this time for evaluating coffee before it's roasted. The Colino green coffee sorting kit is described by its creators as an eco- and budget-friendly solution for sorting and grading green coffee beans by size.
Probat Shows Off New Tech with Electric Sample Roaster and Px 120 Drum Roaster
Both machines demonstrate the iconic German roaster brand's embrace of new technology, and while the new sample roaster would look at home in a scientific laboratory, the 120-kilo-capacity Px 120 maintains a classic Probat appearance.
Nestlé Launching the Roastelier, a Countertop Roaster for Coffee Shops
Nestlé is pitching the Roastelier system as a complete sourcing, roasting and quality control solution for coffee retailers. The company is offering users green coffees from its existing global supply chain, including ideal roast profiles and other quality- and profile-related information as determined by roasting professionals at Nestlé.
TinyTanks Makes Big Splash in Small-Scale Cold Brew Production
Cold coffee brewing equipment maker CoffeeWorks is thinking small, in a big way. After introducing its line of larger scale brewing equipment three years ago, the same team behind CoffeeWorks has launched a second company, TinyTanks, offering a turnkey brewing system designed to give roasters, retailers and other makers of smaller-batch cold brew more power over their production techniques and filtration.
The Victoria Arduino Eagle One Has Landed
A more compact machine than its forebears the Black Eagle and the White Eagle — the former soaring to prominence in part due to its appearance for years at the Unites States and World Barista Championships — the Eagle One emphasizes energy efficiency, precise controls and aesthetic versatility, according to its maker.
The Rozum Cafe Offers a Customizable Robotic Espresso Setup
Unlike with earlier examples of robotic coffee kiosks such as Briggo, Cafe X, Truebird or b;eat project by Dal.komm, the coffee-making equipment, kiosk exterior branding and cup branding of the Rozum automated espresso stations are all customizable, according to the company.
Furthermore, Rozum's core achievement, the robotic barista arm, can be purchased independently of a complete cafe setup, and installed in any existing cafe environment.
Celebrating 100 Years, La Cimbali Launches M100 Attiva Line
As part of the celebration of its 100th anniversary, Italian espresso machine manufacturer La Cimbali has unveiled a new range of professional machines called M100 Attiva.
Cupping Cold Brew: Toddy Launching Kits, Forms and Protocol
Cold brew coffee equipment maker Toddy has developed a cupping protocol, score sheet and equipment kit specifically for the evaluation and comparative analysis of long-steep-method cold brew.
U.S. Roaster Corp Launches Heat-Recirculating Revelation F5
Compact and fully automated, the new 5-pound roaster features a heat recirculation system for low emissions and fuel efficiency and a touchscreen interface running USRC's own roast profiling software.
Mahlkönig Unveils E65S GBW and E80 Grinders, Adds Stefanos Domatiotis
Two new grinder models recently launched by Mahlkönig, the E65S GBW and the E80 Supreme, are making their way to distributors around the world right now. As part of that sales effort, the brand has also enlisted a new ambassador, 2014 World Brewers Cup Champion Stefanos Domatiotis.
With ACE Brewer, Brew Bomb Lands Cold Brew on Shop Countertops
For coffee retailers seeking a front-of-house cold-brew solution that's as easy on the eyes as it is to keep consistent from shop to shop, the ACE Brewer brings the Colorado company's high-precision Kyoto-esque slow-drip brewing process into a countertop-friendly footprint while maintaining its digital controls and adding cloud connectivity.
Pardon My French: The Bravura Press Offers a Large-Volume Solution for Cafes
The Bravura Press has launched as a French press-style brewing machine that aims to yield higher volumes of brew for coffee retailers. In addition to volume, the machine's makers also pitch commercially critical brew consistency and ease of cleaning.
With a Hybrid Burr System and Advanced Features, Grindie Goes Solo
The Solo's naturalistic wooden face conceals a bevy of advanced technological features, including an available hybrid flat and conical burr system and a grind-by-weight system that is also used to recognize individual portafilters by their tare weight for automatic dispensation of pre-programmed doses.
Hip To Be Rectangular: BKON Launches Bag-In-Box KegX System
Cold coffee brewing technology company BKON has launched a new bag-in-box system for bulk or wholesale cold brew served through a kegerator called the KegX.
Showroom Coffee Launches With Small Package Greens and the Arc S Roaster
The Arc S is a 50-gram-capacity sample roaster offering the option to connect up to four units together on shared gas and airflow lines while maintaining individual environments of heat, airflow and cooling. Other features include speed drum variability, ports for connectivity with roast profiling software, stepless airflow adjustment and an interface designed for intuitive use by roasters of all experience levels.
The Cinoart Automatic Coffee Tamper Makes Its First Impression
The Chinese maker of a latte art printing machine is attempting to make an impression of a different kind with the Cinoart TP-1908 Automatic Coffee Tamper.
Probat Plans Virtual Launch of New P05 and P12 Roasters
The new 5-kilo-capacity P05 III and 12-kilo P12 III represent the third major iteration of Probat's P series roasters, designed for smaller commercial roasting applications.
Weber Workshops Wraps Up Summer with Spring Clean Backflush Device
The spring, set to resist 9 bar of pressure, is gradually compressed by the incoming water up to a full volume of 250 milliliters. An indicator at the bottom of cylinder changes color to signal when full volume has been achieved, at which point the user turns off the pump, allowing the spring to push that water back up through the dispersion screen, brew line and solenoid valve for a more vigorous and extensive flush than what the machine ordinarily achieves from its own line pressure.
Victoria Arduino Hatches Single-Group Eagle One Called E1 Prima
The E1 Prima is presented as offering the same technologies, energy efficiency and flexible aesthetics of its two-and three-group forebears, but in a more compact footprint. There is also the flexibility of an on-board 1.5-liter water reservoir that frees the machine from the necessity to be plumbed in.
Roast Vision Sets Its Sights On Affordable Roasted Coffee Quantification
With a straightforward name, Roast Vision is a roasted coffee color analysis tool designed to yield accurate results and uncomplicated data at an affordable price for home users and startup coffee roasters.
Grinder Maker Compak Unveils the Cube Tamp Automatic Tamper
The round-edged rectangular device offers a tamping pressure range from 10-30 kilograms, set from a screen on the front panel. An induction sensor automatically recognizes when a portafilter is inserted, and the height of the portafilter holder is adjustable with a manual knob.
Orange is the New Group: Wega Unveils the WBar Machine
The streamlined model consolidates its controls into a vertically oriented cylindrical column at each group that is dressed in an bright, anodized orange color. Backlit keypads on each cylinder provide four programmable buttons per group, plus an automated cleaning cycle activated by pressing two buttons at once.
Colorado Startup Robo Esso Offers a Franchise Model for Robotic Coffee
Robo Esso is also currently taking pre-orders for franchising that involves equipment setup and customization, training and technical support services, with no robotics or programming experience required.
The Cafelier C2 Group Head Cleaner is Ready for a Spin
Revealed on Cafelier's website last week, the C2 offers improvements to the build, performance and ergonomics of the original device that emerged in 2018 to give baristas a mechanized alternative to the traditional nylon brush for cleaning group heads.
First Run of Manument Leva Espresso Machines Entering the Field
One of the most intriguing pieces of equipment introduced at last year's World of Coffee event in Berlin, the Manument Leva spring-lever espresso machine is now ready to enter the field.