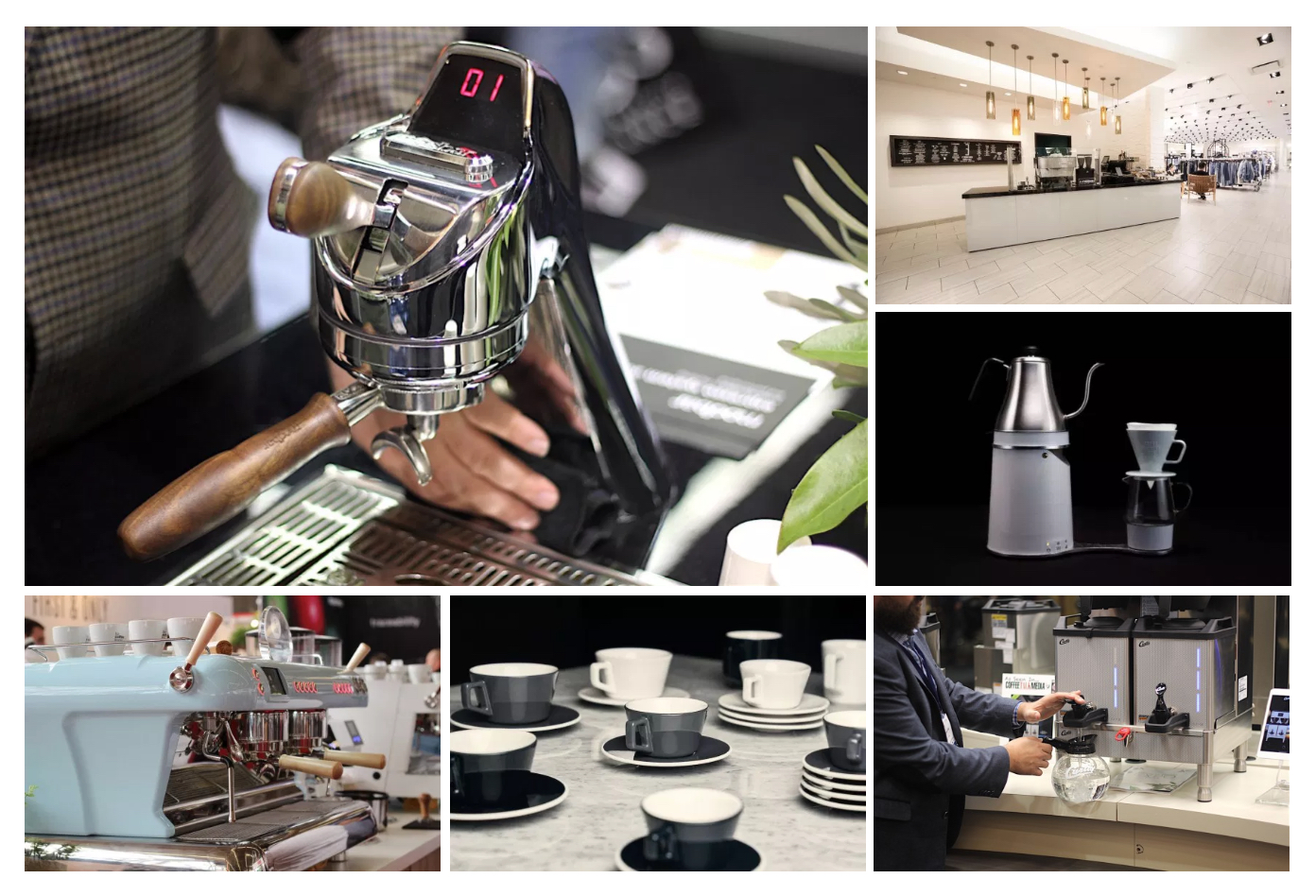 When cartoons and real humans interacted in unprecedented ways in the 1988 movie "Who Framed Roger Rabbit," it blew kids' minds.
Reviewing 2018's crop of launches and rollouts in the commercial specialty coffee equipment sector, we can't help but be reminded of that breakthrough, as this year a couple surprisingly physical flowers blossomed amid an otherwise shimmering meadow of zeroes and ones.
For the most part, commercial espresso machine manufacturers were striving to win sales through beauty and brains. The technological pageantry yielded a dizzying number of stylish exteriors ranging from Art Deco to Brutalist inspirations, an automotive motif, sleek modernity and more. Under these hoods, meanwhile, were some admirably updated electronics aimed toward greater efficiency in terms of lower overall power consumption and faster, more precise and more consistent espresso drink service.
Yet while enhancing their traditional platforms with upgraded looks and smarts were many companies' way of "having it all" this year, Duvall Espresso revealed that there was, in fact, still room to move the needle where the fundamental, physical mechanics of espresso are concerned. Equally dependent on some algorithmic wizardry though it may be, the novel syringe-like approach of the FC-1 constitutes a dramatic departure from espresso-as-usual when it comes to the movement of water through a bed of ground coffee.
Grinder-wise, similarly, the industry continued to focus on temperature maintenance by way of displaced, belt-driven motors and digital programability, while one company, Slingshot, took a very different tack, with its imaginative and refreshingly non-digital approach to the doser platform, aimed particularly at high-volume scenarios.
The wonders of plain old gravity also still played their earthly role with coffee in the commercial sphere in 2018, with the bigger brew-related headlines having to do with classic pourover-style solutions. Given the fast pace and myriad distractions behind the busy counters of bustling cafes, equipment makers offered solutions to save the traditional medium from the pitfalls of its manual nature by further transferring it into the colder, more precise and no less lovable hands of some fascinating robots.
Below is our round-up of the tastiest new tech to have emerged over the course of the past year. What may come of the next go-round? We predict (only half-jokingly):
Surrealism-inspired espresso machines will combine under-counter and on-counter designs, with angled boilers folding within cases that wrap around edges and corners of coffee bars
The Flozetta: an insulated handheld pen-like instrument connected by a braided line to an under-counter automated milk heater/frother; dispenses perfectly textured milk on demand for dazzling new heights of latte art!
Instant Instant: Saving the waste of to-go cups and increasing the efficiency of delivery by drone, new equipment will allow baristas to dry and granulate fresh cups of coffee on demand
Espresso Machines
Duvall Espresso's Revolutionary FC-1 Machine Goes With the Flow
With its forthcoming flagship machine called the FC-1, a new company called Duvall Espresso claims to have achieved an exceptionally precise control over flow rate, and it takes a dramatically different mechanical approach to reach that end.
Iberital's Brutalist-Inspired Vision Offers More Than Meets the Eye
Barcelona-based espresso machine manufacturer Iberital has stepped into the spotlight with its latest product launch, the Vision, which marks the company's first stride into the field of multi-boiler equipment with independently programmed groups. Combining a unique Brutalist aesthetic with unusual materials with a variety of forward-thinking features, the Vision has garnered multiple awards for its energy efficiency and overall design.
Kees Van Der Westen To Unlock Customization With The Slim Jim
High-style Dutch espresso machine manufacturer Kees van der Westen has introduced its latest addition to its lineup, the Mirage Slim Jim, which revs up with the same speed-invoking, automotive aesthetic as other designs in the Kees garage, yet with a groundbreaking emphasis on customization.
Ascaso's Big Dream Awakens with Best New Product Award at World of Coffee
Ascaso claims the Big Dream is the first espresso machine in the world to replace 100 percent of its internal components with stainless steel. By replacing copper and brass with stainless steel, the company said the Big Dream is designed to offer a more hygienic, more sustainable, and more efficient product with simpler maintenance requirements beneath its curved, retro-style polyurethane case. Its backlit 4.2-inch high-definition capacitive LCD display also contains some innovations of its own.
Slayer Gets In the Groove With 'Box Set' of New Machines
With more space now free on the company's Seattle factory floor for manufacturing, Slayer is steadily rolling out what it calls a Box Set of new Steam variants. The Steam X launched roughly six months ago; pre-orders for the Steam EP opened last month over the Expo weekend; and the Steam LP is slated to launch in the latter part of 2018.
Rancilio Specialty Makes US Debut at SCA Expo
Rancilio has long maintained a sturdy line of commercial coffee equipment, including its Classe series of espresso machines that culminates in the high-tech Classe 11, where Xcelsius temperature profiling technology allows baristas to brew either at one consistent temperature or to decrease or increase the temperature over the course of pre-infusion and extraction.
Machines in the new Rancilio Specialty line adopt this and other new technologies while delivering it in an attractive package, with a customizable steel case, classy cup-rail and a new red logo that evokes Art Deco style.
La Marzocco and Modbar Reveal the Modbar AV System at SCA Expo
The Modbar AV combines the original Modbar's low-profile under-counter format with autovolumetric dosing and thermal stability systems modeled after the Linea PB, yet with the option of an integrated driptray scale. For enhanced precision and consistency in stopping a shot at its designated target, La Marzocco also developed a new feature call "drip prediction," which the company said can accurately predict and automatically account for how much additional coffee flows into the cup after the pump ceases.
Synesso Unveils the S200 Compact Volumetric Espresso Machine
The S200 is intended to offer a sturdy, all-volumetric yet relatively economical addition to the Synesso range for shops with a smaller footprint.
Astoria Launches High-Tech Espresso Machine The Storm
Their input ostensibly contributed to the development of features such as the Super Dry technology, which applies additional heat to steam as it travels from the boiler to the wand, with Steam Boost and Extra Steam Boost options available to provide extra wattage to the steam boiler for faster recovery.
A version of the Storm offers the ability to manually set and digitally store preinfusion and extraction profiles on each group. Shot profiles are set through manipulation of a lever on each group, and can be adjusted both by duration and by volume in milliliters of flow to the group.
The Cafelier to Offer a Powered Solution for Group Head Scrubbing
A Slovenia-based product is currently emerging with the aspiration of freeing baristas from awkwardly angled nylon-bristled brushes and the errant coffee bits and hot droplets those brushes tend to fling. Called the Cafelier C1 and poised to launch this month, the portafilter-shaped device locks onto an espresso machine's brew group and scrubs it automatically while also providing the backflush seal of a blind portafilter basket.
Brewing
Striking a Nerve, the Automatica Evolves from Art Piece to Commercial Brewer
Further, the fascinating and uncompromising mechanical statement that was characterized by SAI and MM Founder Khristian Bombeck at the SCA Expo as equal parts work of art and coffee-making tool has now evolved substantially further towards the latter. While fundamentally the same on the outside, the machine has been rebuilt with expanded features for more versatile and longer-lasting use in commercial cafes.
Bubble Lab Launching Drop Milk Dispenser and Drip Pourover Arm
The Drop is a counter-mounted automatic milk dispenser. The Drip is an automated, mostly under-counter robotic pourover arm that emerges on command to gracefully and dramatically position itself over the user's choice of pourover brewer and deliver water in a user-designated pattern, temperature and flow profile. It then disappears back down into the surface of the counter.
Voga Coffee to Unveil the Cyclops Single-Group Batch Brewer
Featuring the same patented multi-stage extraction process as the Twin machine involving several cycled immersions, agitations and then desiccations of the coffee bed by vacuum force, the Cyclops is designed to offer cafes a lower minimum volume at a faster pace. The Cyclops will also feature a smaller countertop footprint, stylized brew handle, and lower introductory price.
Wilbur Curtis Unveils the GemX IntelliFresh Coffee Brewer
While maintaining the same countertop footprint, standards of efficiency and performance, and the familiar set of brewing features and settings found in the Gemini line, the GemX brings an updated and techier aesthetic. One of the new visual features is a cool multicolor LED system the company calls FreshTrac technology that allows workers in restaurant, retail and hospitality settings to determine volume and freshness of a satellite vessel's contents from afar.
Wilbur Curtis Heads to the Pourover Bar with the Corinth Hot Water Dispenser
The Corinth adds to Curtis' selection of minimalist counter-mounted dispensers connected to under-counter boiler equipment — a category that previously only included the Seraphim Undercounter Coffee Brewer. Whereas the Seraphim is a complete brewing system that automates the pourover process, the Corinth is an ostensibly simpler tool aimed at cafes whose baristas execute manual pourovers with old-fashioned human flair.
Grinders
The Volumetric Slingshot Grinder Takes a New Approach to the Doser
Currently emerging from Australia, the Slingshot grinder takes a novel approach to the doser concept. A smaller chamber neatly dispenses precise, user-settable doses without thwacking. With a variety of other features, the Slingshot aims to preserve the traditional benefits of a doser-type grinder, while adding several capabilities not found elsewhere.
S We Can: Mazzer Unveils the Robur S and Kold S Grinders
Mazzer Sales Director Luca Maccatrozzo told Daily Coffee News that the Robur S is an almost entirely new Robur, with the motor and the burr set being the only two components carried over from its previous iteration.
A First Look at the Simonelli Group's Mythos 2 Grinder
Visitors to the Nuova Simonelli booth at last month's Specialty Coffee Association Expo in Seattle were given an early glimpse of the highly anticipated Mythos 2 espresso grinder, designed to be bigger, faster, cooler and more controllable than its already successful predecessor.
Löfbergs Takes Grind Particle Analysis to the Bar with CPA Launch
Full-service Swedish coffee roasting company Löfbergs has introduced a new smartphone-connectable optical measuring tool designed to give coffee shops greater precision in determining particle size in coffee grinding.
Service Wares and Tools
Bar Maker Capsule Adds Flexibility with New Product Line, The Station
With three new rectangular and square-shaped sectional "cubes" available in two different heights and in a wide variety of finishes, the new line goes beyond the flexibility of the extended Alpha, Beta, Gamma and Delta configurations rolled out last year as fixed size additions to the original mobile units.
Kruve EQ Glassware Tweaks the Levels In Your Brew
The company found its niche with its first product, the Sifter, which consists of a system of sieves that refines the output of any given grinder. Now two years since the Sifter launch, Kruve has followed up its second product, the Kruve EQ, a line of striking glassware designed to amplify a drinker's perception of specific attributes of coffee after it's been brewed.
Fellow Partners with Barista Hustle, Makes Several Launches
Coffee and tea equipment maker Fellow is ending the year with a bang, releasing a bevy of new products that are taking the brand further into categories such as tea, espresso, dry coffee storage and even cocktails.
Curtis Taps Into Cold Coffee Markets With New Nitro Infuser
According to Curtis's patented design, the infuser unit stands or mounts inside an under-counter cooler for use in conjunction with either a nitrogen generator or bottled nitrogen and is compatible with all kegerators, according to the company. It requires no electricity itself, nor any additional regulator or pump. Available in one-, two- and three-tap models, the Infuser features an easy-access knob on its front for increasing or decreasing the amount of nitrogen infused into the drink.
Created Co. Rebrands, Launches Three New Ceramics Lines for Specialty Cafes
Created Co. has named its new collections Curve, Angle and Drip, each offering its own aesthetic and functional properties. The Angle and Curve sets include 3-ounce espresso, 6-ounce cappuccino and 12-ounce latte cups, each with saucers, as well as a 12-ounce drip coffee mug. The Drip line includes three styles of 12-ounce and one 16-ounce mug. All three collections are offered in white, grey, or black, with logo customizations available.
Howard Bryman
Howard Bryman is the associate editor of Daily Coffee News by Roast Magazine. He is based in Portland, Oregon.